The global sleep apnea devices market was valued at USD 5.66 billion in 2020 and is projected to grow at a CAGR of 8.7% during the forecast period. Factors driving the growth of the sleep apnea devices market include growing cognizance about the unpleasant effects of untreated sleep apnea, high-tech developments in sleep apnea devices and increasing number of establishments attempting into the sleep apnea and oral appliances markets.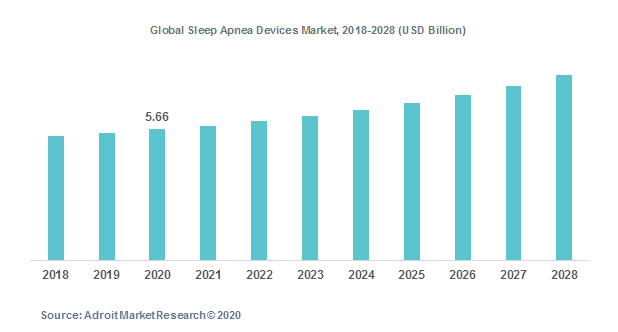 Sleep apnea happens in around 25% of men and 10% of women. Sleep apnea can distress individuals of all ages, comprising babies and children but is mostly seen in persons above the age of 40 and individuals who are overweight. Folks with untreated sleep apnea discontinue breathing frequently in the course of their sleep, occasionally hundreds of times through the night.
Regionally, North America accounted for the largest market share of the global sleep apnea devices market attributable to considerable venture capital funding. Leading players of the global sleep apnea devices market include Curative Medical Inc., Somnomed, Philips Respironics, Oventus Medical, ResMed, Löwenstein Medical Drive, Fisher & Paykel Healthcare, Compumedics, Cadwell Laboratories, Invacare Corporation, Devilbiss Healthcare among others.
Key segments of the global sleep apnea devices market
Type Overview, 2018-2028 (USD Billion)
Therapeutic devices
Diagnostic devices
End-use Overview, 2018-2028 (USD Billion)
Sleep laboratories and hospitals
Home care settings
Regional Overview, 2018-2028 (USD Billion)
North America
Europe

Germany
United Kingdom
France

Asia Pacific
South America
Middle East & Africa
Reasons for the study
Increasing prevalence of obstructive sleep apnea
Increasing awareness regarding the target condition
Increasing medical coverage for sleep apnea devices
What does the report include?
The study on the global sleep apnea devices market includes qualitative factors such as drivers, restraints and opportunities
The study covers qualitative and quantitative analysis of the market segmented on the basis of type and end-use. Moreover, the study provides similar information for the key geographies.
Actual market sizes and forecasts have been provided for all the above-mentioned segments
The study includes the profiles of key players in the market with a significant global and/or regional presence
Who should buy this report?
The report on the global sleep apnea devices market is suitable for all the players across the value chain including product manufacturing companies, suppliers/distributors, R&D labs, CROs, healthcare organizations, medical reimbursement and insurance providers
Venture capitalists and investors looking for more information on the future outlook of the global sleep apnea devices market
Consultants, analysts, researchers, and academicians looking for insights shaping the global sleep apnea devices market
Oral appliances (OAs) are devices that can be used in the treatment of sleep disorders, more specifically, sleep apnea. One of the main hurdles to development in the OA market is billing. It is essential that sleep dentists and medical doctor work collectively for the referral process, so that dentists participate in medical billing. The intricacy involved in medical billing where they have conventionally stayed aloof due the complication of insurance coding and settlements has retained many dentists away from these produces in the previous years. The bulk of OAs are remunerated by private coverage or out of pocket as Medicare has been inadequate in its readiness to consent them as a sleep apnea treatment.
The global sleep apnea devices market is categorized based on type and end-use.
By type: The therapeutic devices segment is expected to show promising growth by 2028 due to the growth in usage of oral appliances and its associated reimbursement.
By end-use: The sleep laboratories and hospitals accounted for the largest share of the global sleep apnea devices market in 2020 owing to growth in the number of sleep labs and sleep tests performed.
In the US, nearly 93% of the sleep apnea population uses only positive airway pressure (PAP). In contrast, parts of Europe use OAs more frequently as a primary treatment and they have become a standard of care. Some may attribute this to Europe's socialized healthcare, which recognizes the cost benefits of OA treatments. With the ability to price cap payments to dentists, OAs are generally half the price, without out-of-pocket expenses. This makes it a less-expensive treatment for payers than traditional PAP. Others could fault insurance and PAP companies who have been slow to recognize alternative treatments to PAP. However, a few companies in the US are looking forward with mergers and acquisitions.