The global silicone elastomers market was over USD 1.26 billion in 2019 and is expected to grow with a CAGR of 6.1% over the forecast period. Prevalent use of silicone elastomers, owing to its increasing investment in cosmetics and personal care along with the medical industry are contributing factors driving the global silicone elastomers market.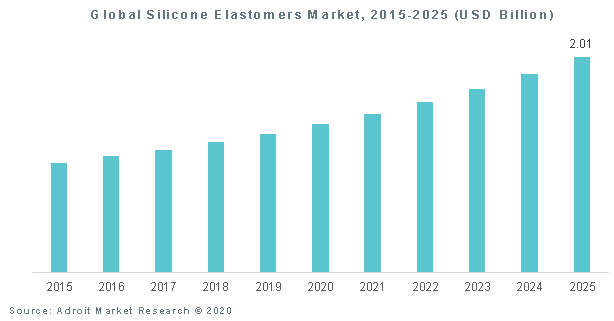 In most commercial processes, single-component silicone elastomers are conventionally prepared either by crosslinking a polysiloxane component in a silica-reinforced base with peroxide (HCR, high-consistency rubber) or by a moisture-curing method (condensation RTVs, room temperature vulcanization). Another more versatile solution for the commercial manufacture of silicone elastomers is the use of two different forms of silicone elastomers. They react with each other, most of the time in a platinum-catalyzed reaction (LSR, silicone fluid, RTVs of 2 components). Whatever cure mechanism is needed, the polysiloxane can be represented in dissipated form and shaped silicone elastomers have the same tensile strengths, 500-1000pi, and elongations, between 200-800%.
Silicone elastomers are used most commonly and their long-term characteristics are well known by real rather than synthetic coatings, as are many other materials. They are optically transparent and can be used as supports for protein attachment employing surface oxygenation and modification for binding active biologics such as fibronectin to facilitate cell adhesion. We are liquid as such. Also, at high viscosity the ability to function as a fluid and display visible fluidity results from lack of crosslinks. Silicone gums are considered very viscous polymers in this class. Silicone elastomers are incorporated into the polymer. Linkages limit the polymer's ability to move freely and shape a stronger network.
Key Segments of the Global Silicone Elastomers Market
Type Overview, 2015-2025 (USD Million) (Kilo Tons)
Process Overview, 2015-2025 (USD Million) (Kilo Tons)
Extrusion

Liquid Injection

Injection

Compression
End-Use Overview, 2015-2025 (USD Million) (Kilo Tons)
Transportation

Electronics

Healthcare

Consumer Goods

Industrial Machinery
Regional Overview, 2015-2025 (USD Million) (Kilo Tons)
North America
Europe

Germany
Spain
United Kingdom
France
Rest of Europe

Asia Pacific

China
Japan
India
Rest of Asia Pacific

Latin America

Brazil
Mexico
Rest of Latin America

Middle East & Africa
Reasons for the study
Key factors affecting market dynamics
Increasing millennial population with rising need for cosmetics and personal products proliferate the demand for silicone elastomers
High consumption rate of silicone elastomers in cosmetics and liquid injection
What does the report include?
The study on the global silicone elastomers market includes qualitative insights such as drivers, restraints, challenges and opportunities
Additionally, the market has been evaluated using the Porter's Five Forces analysis
The study covers qualitative and quantitative analysis of the market segmented on the basis of process, end-use industry, and type. Moreover, the study on silicone elastomers market provides similar information for the key geographies.
Actual market sizes and forecasts have been provided for all the above-mentioned segments
The study includes the profiles of key players operating in the market with a significant global and/or regional presence
Who should buy this report?
The report on the global silicone elastomers market is suitable for all the players across the value chain including raw material suppliers, distributors, suppliers and end-use industries
Venture capitalists and investors looking for more information on the future outlook of the global silicone elastomers market
Consultants, analysts, researchers, and academicians looking for insights shaping the global silicone elastomers market
Organo-silicone polymers are a wide range of compounds used in many types of formulations. The reason why they are so common in cosmetic and personal care formulations is that in many skin formulations they provide a specific esthetic. Specifically, organo silicone may also give a specific esthetic, shape films, reduce the transfer of pigments, and shape hydroalcoholic foam solutions with a appropriately selected polymer. Silicones elastomers can swell in aqueous solution and it is difficult to fix defects or wear and tear. If a thin barrier layer is used, which makes delamination more possible, the resistance to water transport will be aggravated. Poor mechanical and delamination properties can be partially overcome by increasing thickness, but only in certain applications can this bulking of the material be accomplished.
Elastomers, in particular those changed by the simple addition of organic silicone polymers, are an efficient method to modify the skin esthetics of a very wide range of personal care items that are formulated for the skin. This method offers a set of specific esthetic characteristics of the skin in cosmetic formulations. Such esthetic products have perceptible differences in the formulas of which the only difference is the chosen elastomer. Nonetheless, organo-functional silicone elastomers are beneficial esthetic modifiers of hair treatment materials.
The new materials listed here are specifically polysiloxanes derived from polymeric uncross linked high molecular weight fluids, which have exceptional elongation when formed into nanocomposites. Such materials are also ready to be manufactured and meet structural demands for extendable and implantable long-term instruments with integrated fluid and soft tissue electronics.
The global silicone elastomers market has been segmented based on process, type, end-use industry and region. Based on type, the global silicone elastomers market is categorized into HLV, LSR, RTV. HTV contributes 45.1% of the total market share of silicone elastomers followed by LSR. Whether by means of platinum catalysts or organic peroxides HTV elastomers are cured at high temperatures. The cured rubber is applied to mechanical power with reinforcing fillers. Due to its excellent characteristics such as high strength siloxane connections, electric conductivity, irradiance resistance, steam resistance, flame retardance, oil and extreme temperature resistance, HTV silicone rubbers have wide application areas.
The silicone elastomer segment of the liquid injection molding process is expected to report the highest share for both volume and value of the projected period. Liquid injection molding involves extruding unvulcanized rubber into a closed heated mold through a nozzle. The price of production is small per component, and high production levels can be achieved. The method involves short molding cycles and needs no preform planning or cutting of the correct mold material.
Automotive & transport, based in the end-use sector, is both in terms of volume and value, the largest segment on the silicone elastomer market. Silicone elastomers for the manufacture of pumping tubes, connector joints, turbogen hoses, silicone wiper blades, gaskets, and ignition cables have been widely used in the automotive & transport industry. The use of these elastomers in the automotive and transportation industry has revolutionized design and manufacturing processes.
The growth in global silicone elastomers market growth has been significant across each of the geographies including North and Latin America, Europe, Asia Pacific, and the Middle East & Africa. However, North America is expected to witness the highest growth in the silicone elastomers market during the forecast period.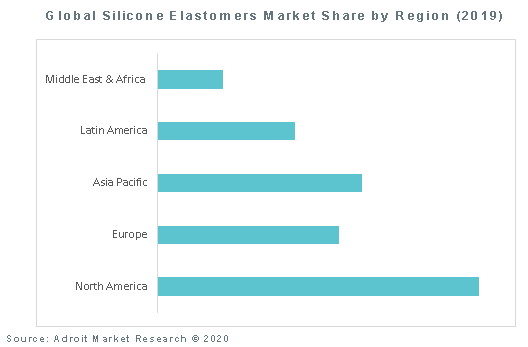 North America accounted for the highest revenue for the silicone elastomers market, however the region of APAC is the world's leading user of silicone elastomers and is projected to be the fastest growing as it is an emerging economy. During the forecast period, the area is expected to report both volume and value in the highest CAGR. The business growth in the APAC area is due to the easy access to cheap labor and the region's raw materials. However, in the emerging economies of countries like China, Indonesia, Taiwan and India new investments are being made in these countries, leading to growth of different industries in this area.
The European market is expected to expand by CAGR of 5.9% over the forecast period, but high investment in capital and the need for professional workplaces to carry out silicone elastomer operations is expected to restrict growth in the region. Germany is expected to increase its increasing automotive technology center to boost market demand. The United Kingdom, Italy and France also show significant growth over the time. In 2016-2025 demand in North America is expected to propel at CAGR 6.2%. Increasing popularity in the US for cosmetic surgery and the aging population is projected to affect regional demand positively.