The Silicon Carbide Fibers Market is expected to reach during the forecast period at a % CAGR.
The expansion of the nuclear power industry has necessitated the application of advanced technologies and methods. SiC fibers are a crucial material that is rapidly being used in a variety of nuclear applications. Its utility in the nuclear sector is due to its ability to withstand high temperatures while remaining lightweight and having a high tensile strength. Furthermore, these fibers are considered to be corrosion and oxidation resistant, and they are used to make a variety of materials in the nuclear industry, including nuclear fission and fusion reactors, fuel cladding, and radiation blankets. SiC fibers have outperformed metallic and non-metallic materials due to their inherent properties and applications.
The aim of the report is to estimate the size of the market for Silicon Carbide Fibers and the future growth potential of the market for Silicon Carbide Fibers across various segments, such as type and Form. The base year considered for the analysis is 2019 and from 2020 to 2028 the market size is estimated
Its high strength combined with its light weight, durability at high temperatures, and resistance to oxidation and corrosion make it an ideal material for a variety of applications in aerospace and defense, power and energy, chemical, automotive, and other industries. The aerospace industry's demand for high-performance structural materials is being driven by a growing emphasis on improving the performance of commercial and military aircraft. Due to their exceptional strength, physical properties, and stiffness-to-density ratios, composite materials have gained acceptance for aviation and aerospace applications.
The production of advanced silicon carbide fibers that can be used in high-temperature structural applications is being aided by technological advances provided by globally renowned research centers. The product's operating characteristics are expected to improve as a result of the advancement of new designs and processing technologies.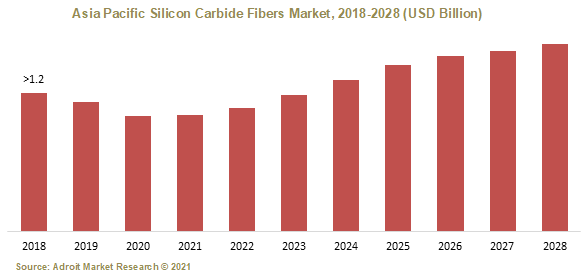 Key Segments of the Global Silicon Carbide Fibers Market
Fiber Type Overview, 2018-2028 (USD Billion)
First
Second
Third Generation
Form 2018-2028 (USD Billion)
Regional Overview, 2018-2028 (USD Billion)
North America
Europe
UK
Germany
France
Rest of Europe
Asia Pacific
China
Japan
India
Rest of Asia-Pacific
Middle East and Africa
UAE
South Africa
Rest of Middle East and Africa
South America
Brazil
Rest of South America
Important Companies in Global Silicon Carbide Fibers market
American Elements
BJS Ceramics GmbH
COI Ceramics, Inc.
General Electric Company
Haydale Technologies Inc.
Free Form Fibers
NGS Advanced Fibers
Specialty Materials, Inc.
Suzhou Saifei Group Co., Ltd
Ube Industries, Ltd
Reasons for the study
The purpose of the study is to give an exhaustive outlook of floor coating Market Benchmark yourself against the rest of the market.
Ensure you remain competitive as innovations by existing key players to boost the market.
What does the report include?
The study on Silicon Carbide Fibers Market includes qualitative factors such as drivers, restraints, and opportunities
The study covers the competitive landscape of existing/prospective players in the field service management industry and their strategic initiatives for the product development
The study covers a qualitative and quantitative analysis of the market segmented based on solution, service, and industry vertical. Moreover, the study provides similar information for the key geographies.
Actual market sizes and forecasts have been provided for all the above-mentioned segments.
Who should buy this report?
This study is suitable for industry participants and stakeholders in the global Silicon Carbide Fibers Market. The report will benefit: Every stakeholder involved in the Silicon Carbide Fibers Market.
Managers within the field service management industry looking to publish recent and forecasted statistics about Silicon Carbide Fibers Market.
Government organizations, regulatory authorities, policymakers, and organizations looking for investments in trends of global Silicon Carbide Fibers Market.
Analysts, researchers, educators, strategy managers, and academic institutions looking for insights into the market to determine future strategies.
Frequently Asked Questions (FAQ) :
The type of the silicon carbide fibers market First, Second. Third Generation.
The base year for the report is 2021 in silicon carbide fibers market.
The Global silicon carbide fibers market is Segmented on the basis of Fiber Type, Form, And Geography.