Polymers come in a variety of forms and have recently been used as the foundation for a number of flooring installation items, especially for wood flooring. They have a one-of-a-kind combination of adhesion and, in some cases, sound-dampening properties. The rising demand for porcelain tiles has provided these materials with yet another growth opportunity. Silane adapted polymer-based systems, which have now entered the European and American markets, are a good option for elastic bonds and seams in a variety of industries, including automotive, transportation, building, and many others.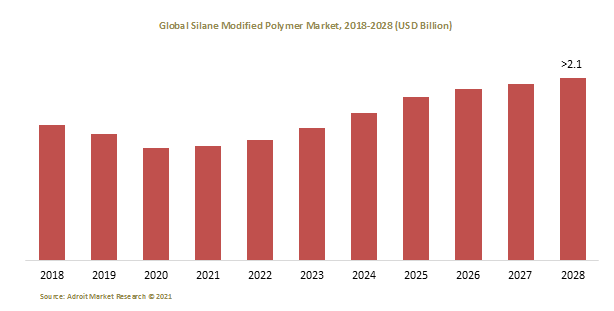 The aim of the report is to estimate the size of the market for Silane Modified Polymer and the future growth potential of the market for Silane Modified Polymer across various segments, such as type and Form. The base year considered for the analysis is 2019 and from 2020 to 2028 the market size is estimated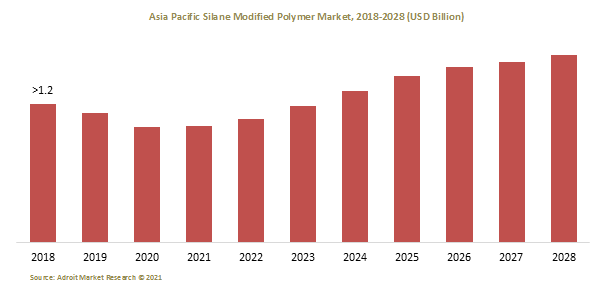 Silane based polymer adhesives and sealants incorporate the benefits of polyurethanes and silicones thus eliminating their drawbacks. Silane modified polymers are also extremely flexible, as they can be applied to almost any surface and can be customised, making modified silane an excellent option. Polycondensation, also known as moisture curing, cures modified silane polymer systems at room temperature. This ensures that the materials harden by absorbing moisture from the substrate or the environment. For some items, curing begins on the outside and progresses to the inside. As a result, it's important not to add too many layers, as this can lead to poor curing and device failure.
Key Segments of the Global Silane Modified Polymer Market
Type Overview, 2018-2028 (USD Billion)
Polyurethane Modified Silane
Polyether Modified Silane
Application 2018-2028 (USD Billion)
Construction
Automotive
Industrial
Regional Overview, 2018-2028 (USD Billion)
North America
Europe
UK
Germany
France
Rest of Europe
Asia Pacific
China
Japan
India
Rest of Asia-Pacific
Middle East and Africa
UAE
South Africa
Rest of Middle East and Africa
South America
Brazil
Rest of South America
Important Companies in Global Silane Modified Polymer market
Henkel Ltd.
DowDuPont
Evonik
Kaneka Americas Holding, Inc.
Wacker Chemie AG
TONSAN Adhesive,Inc
Bostik
Reasons for the study
The purpose of the study is to give an exhaustive outlook of floor coating Market Benchmark yourself against the rest of the market.
Ensure you remain competitive as innovations by existing key players to boost the market.
What does the report include?
The study on Silane Modified Polymer Market includes qualitative factors such as drivers, restraints, and opportunities
The study covers the competitive landscape of existing/prospective players in the field service management industry and their strategic initiatives for the product development
The study covers a qualitative and quantitative analysis of the market segmented based on solution, service, and industry vertical. Moreover, the study provides similar information for the key geographies.
Actual market sizes and forecasts have been provided for all the above-mentioned segments.
Who should buy this report?
This study is suitable for industry participants and stakeholders in the global Silane Modified Polymer Market. The report will benefit: Every stakeholder involved in the Silane Modified Polymer Market.
Managers within the field service management industry looking to publish recent and forecasted statistics about Silane Modified Polymer Market.
Government organizations, regulatory authorities, policymakers, and organizations looking for investments in trends of global Silane Modified Polymer Market.
Analysts, researchers, educators, strategy managers, and academic institutions looking for insights into the market to determine future strategies.