The ship rudders industry will benefit from urbanization, increased seaborne trade, and good economic conditions during the prediction period.
Covid-19 Impact & Market Status
Due to the tightening of rules, Covid 19 has had an influence on the market for ship rudders, although demand is rapidly returning. Because the expansion of the manufacturing sectors is related to the growth of ship rudders, the market for ship rudders is predicted to expand more slowly than other markets.
The manufacturing and supply chain has been disrupted as a result of such schemes. Covid-19's possible consequences include raw material shortages, supply chain disruptions, and contract terminations to save costs. The supply side had a smaller influence on the ship rudder market, while the demand side had no effect.
The Semi- Balanced Ship Rudder Segment is anticipated for the Significant Growth in the Predicted Timeframe
The balanced and unbalanced rudders posed major issues, according to researchers and ship operators. However, if the steering gear system fails while the ship is being turned. With its angle of attack at that angle, the rudder would remain stationary. Designing an efficient Semi-Balanced Rudder was the answer to this problem.
The Cargo Ships Segment will Hold Majority of the Market Revenue in the Coming Future
Cargo ships are also known as freighters, and there are hundreds of them swarming the world's oceans at any given time since they handle the vast majority of international commerce services. Even now, shipping is regarded as the most efficient means of transporting and transferring trade commodities and other commercial items. This is because it is both safe and inexpensive when handling fragile materials. General cargo vessels, multi-purpose boats, dry-bulk carriers, and, last but not least, tankers are the four primary types of cargo ships that are classed according to the cargo they transport. Food, footwear, clothing, chemicals, machinery, furniture, and motor cars are among the items carried by general cargo boats.
APAC Market is projected to be a Maximum Growth Rate in the Future
The Asia-Pacific region is expected to grow at a faster rate due to greater water transportation and industrialization, as well as rising imports and exports in the region's emerging countries. Rising commerce and the cost-effectiveness of marine routes are the primary factors driving the expansion of marine vessels throughout the region, which is predicted to be prominent during the forecast period. Countries like India, Vietnam, and China, are likely to lead the ship rudders market.
The expansion of the ship rudders market will be aided by the incorporation of automation into modular ship rudders techniques.
Owing to the rising demand for fishing, marine tourism, submarine transportation, and other related activities, the global ship rudders market is growing significantly. The high intensity of bulk carriers as well as the considerable expansions in cargo transportation is driving the industry. The global ship rudders market contributes to increased operational effectiveness, work-life balance, and profit margins. The global market demand for ship rudders is likely to be fuelled by the adoption of new technology. The global ship rudders market is predicted to reach over USD 2.7 billion at a CAGR rate of 5.2% during the estimated period.
A ship's rudder is a crucial command surface that guides a ship, boat, submarine, or other moving conveyance through a moving liquid. Ship rudders are the primary steering devices for ships, and they are typically located at the stern rear of the propeller to create a horizontal force and steering moment around the ship's center of gravity by redirecting water flow in the direction of the foil plane.
The performance of a ship's rudder is determined by the rudder design. It aids in ship maneuverability, fuel economy, and cavitations reduction. Above all, rudders should be capable of producing enough maneuvering power to assure navigational safety, especially for ships that often sail through congested waterways or in adverse circumstances. The rudder must also be efficient, meaning it must create the least amount of drag for the required lift. Last but not least, cavitations performance should be evaluated in order to save maintenance and repair time and costs.
The key restriction for the ship rudders market is the relatively high prices associated with various standards, which has resulted in the market dissolving and becoming extremely competitive as a consequence of the existence of big competitors in the global market. Ship rudders have a small market in underdeveloped nations, and qualified staff is also a major bottleneck in global markets. The supply and demand mismatch in the ship rudder industry provides greater opportunities for new entrants.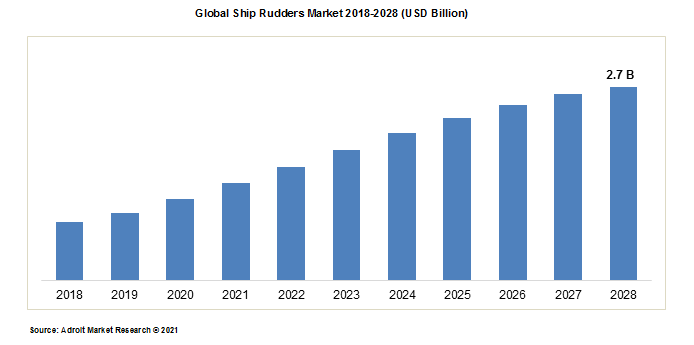 Our researchers give insight into the financial statements of the major competitors, as well as notable developments, product benchmarking, and SWOT analysis, in the market research section dedicated solely to prominent players in the global Ship Rudders market. Damen Marine Components, Teignbridge Propellers International Ltd., Becker Marine Systems GmbH, Nufoss Services Pte Ltd., Torqeedo GmbH, Mecklenburger Metallguss, Hamworthy KSE, Hazelhurst Management T/A Alpha, and Breezemarine are some of the leading firms in the market. Financial overviews, company plans, corporate descriptions, and current events have all been used to define market actors.
Latest Innovations in the Global Ship Rudders Market: a Snapshot
• In June 2021, Damen Marine Components contributed significantly to 10 ships for the Irish shipping business Arklow Shipping, the most recent of which, the Arklow Artist, is scheduled to enter service soon. Ships are made with BARKE high-lift flap as well as Van der Velden MASTER rudders to deliver noteworthy lifting forces.
• In July 2021, Schottel, a German propulsion manufacturer, has been awarded a contract to supply main propulsion units for five tugs that emit significantly less greenhouse gas (GHG). HaiSea Marine, a joint venture between the Seaspan ULC and a Haisla Nation, a Canadian marine transportation firm, commissioned the tugs. Schottel will provide 10 rudder propellers and two transverse thrusters to Turkish Sanmar Shipyards within the terms of the deal.
This market research study's goal is to provide detailed information on the global market for ship rudders. The study decodes complex data to reveal the industry's present and historical positions, as well as future market trends and growth. In a variety of industries, the study looks at market leaders, investors, customers, and new entrants.
Ship Rudders Market Scope
| | |
| --- | --- |
| Metrics | Details |
| Base Year | 2020 |
| Historic Data | 2018-2019 |
| Forecast Period | 2021-2028 |
| Study Period | 2018-2028 |
| Forecast Unit | Value (USD) |
| Revenue forecast in 2028 | USD 2.7 billion |
| Growth Rate | CAGR of 5.2% during 2021-2028 |
| Segment Covered | Product Type, Ship Type, Regions |
| Regions Covered | North America, Europe, Asia Pacific, Middle East and Africa, South America |
| Key Players Profiled | Damen Marine Components, Teignbridge Propellers International Ltd., Becker Marine Systems GmbH, Nufoss Services Pte Ltd., Torqeedo GmbH, Mecklenburger Metallguss, Hamworthy KSE, Hazelhurst Management T/A Alpha, and Breezemarine |
Key Segments of the Global Ship Rudders Market
Product Type Overview, 2018-2028 (USD Billion)
Semi- Balanced Ship Rudder
Pleuger Ship Rudder
Flaps Ship Rudder
Unbalanced Ship Rudders
Spade or Balanced Rudder
Ship Type Overview, 2018-2028 (USD Billion)
Cargo Ships
Container Ships
Passenger Ships
Tankers
High-Speed Craft
Fishing Vessel
Other Ships
Regional Overview, 2018-2028 (USD Billion)
North America
Europe
Germany
France
UK
Rest of Europe
Asia Pacific
China
India
Japan
Rest of Asia Pacific
South America
Mexico
Brazil
Rest of South America
The Middle East and South Africa
Frequently Asked Questions (FAQ) :
The ship rudders market is studied from 2018 - 2028.
The ship rudders market is growing at a CAGR of 5.2% over the next 7 years.
APAC is growing at the highest CAGR over 2021- 2028.
Damen Marine Components, Teignbridge Propellers International Ltd., Becker Marine Systems GmbH, Nufoss Services Pte Ltd., Torqeedo GmbH, Mecklenburger Metallguss, Hamworthy KSE, Hazelhurst Management T/A Alpha, and Breezemarine