Global sheet face masks market was valued at a revenue of USD 282.3 million in 2018. The market is further expected to grow and reach USD 448.6 million in revenue by the year 2025. Market revenue is projected to grow at a CAGR of 6.9% during the forecast period from 2019 to 2025.
Sheet masks are face-shaped sheet fabrics soaked in nutrition-packed solution called serum. The sheet is made up of different materials, like paper, fibers or gel kinds. These sheet masks are distinct from face masks (type of paste), which only require the use, removal or padding of additional serum rather than the washing of paste after application and placement of other skin care products. Usually, the sheet mask is manufactured and packed in sachets, making it fast and simple to use and also portable.
There are diverse types of serum used to make sheet face masks. Most commonly used masks are the hydrogel sheet face mask, bio-cellulose face mask, and micro-fibre face mask and clay face mask, which have distinct characteristics. Among these, hydrogel masks have great absorption system, and also aptly fit the shape of the face. The most in-expensive sheet face masks are the micro-fibre and clay sheet face masks, yet they come with their own limitations; and consumers with lesser spending capacity prefer these types.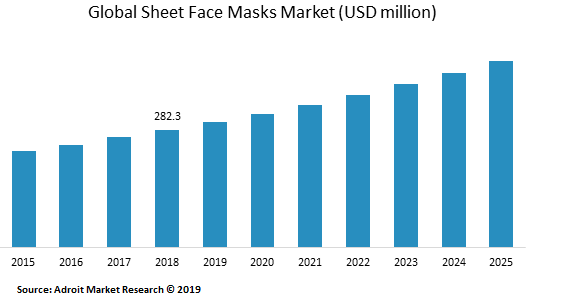 Sheet Face Masks Market Scope
| | |
| --- | --- |
| Metrics | Details |
| Base Year | 2019 |
| Historic Data | 2017-2018 |
| Forecast Period | 2020-2025 |
| Study Period | 2015-2025 |
| Forecast Unit | Value (USD) |
| Revenue forecast in 2025 | USD 282.3 million |
| Growth Rate | CAGR of 6.9% during 2021-2028 |
| Segment Covered | Product Type, Skin Concern, Distribution Channel, Regions |
| Regions Covered | North America, Europe, Asia Pacific, South America, Middle East & Africa |
Key segments of the global sheet face masks market
Product Type Overview, 2015-2025 (USD million)
Microfiber sheet masks
Hydrogel masks
Bio-cellulose masks
Clay sheet masks
Skin Concern Overview, 2015-2025 (USD million)
Hydration and relaxation
Anti-ageing
Skin brightening
Acne control
Others (oil balancing, soothing, etc.)
Distribution Channel Concern Overview, 2015-2025 (USD million)
Regional Overview, 2015-2025 (USD million)
North America
Europe

Germany
France
UK
Italy
Rest of Europe

Asia Pacific

China
Japan
India
Korea
Thailand
Rest of Asia Pacific

Central and South America

Brazil
Mexico
Rest of South America

MEA
Reasons for the study
The study offers an comprehensive outlook of the global sheet face masks industry
Growing awareness for skin care products and its uses
Online shopping also contributing for the growth and sales of the sheet face masks and offline stores being the dominant distribution channel in the industry
Increase in number of new entrants in the sheet face masks industry with substantial differentiation of products like the different types of serum used
What does the report include?
The report focuses on sheet face masks market product type, skin concerns and distribution channel
The study on the global sheet face masks market includes qualitative factors such as value chain and sales channels analysis, drivers, and restraints along with vendor landscape of the market
The study covers qualitative and quantitative analysis of the market segmented on the basis of product types, skin concerns and distribution channels. Moreover, the study provides similar information for the key geographies
Actual market sizes and forecasts have been provided for all the above-mentioned segments.
The study includes the profiles of key players in the market with a significant global and/or regional presence
Who should buy this report?
The report on the global sheet face masks market is suitable for all the players across the value chain including reagent, serum, and other raw material manufacturers & suppliers of various cosmetics and skin care products
Venture capitalists and start up salons looking for more information on the future outlook of the global sheet face masks market
Market specialists and intermediaries in the value chain seeking vertical integration may also benefit from this study
Over the years, enhanced preference for addressing skin concerns has always been a contributing factor for the growth of this market. Increasing cognizance of sheet masks with its benefits such as the skin-hydration, relaxation and anti-ageing is also a significant factor for the development of this market. The Korean beauty products have been in demand in accordance to its natural and potent ingredient base namely the aloe extracts and green tea formulation which is projected to drive the market in the next few years. The region is also viewed as the pioneer in sheet face masks segment and is therefore rendering dominance to Asia Pacific on the global front.
The increasing number of clients has attracted a growing number of international face mask brands. Furthermore, famous brands of facial masks concentrate on the delivery of best serum-based masks with better results that are delivered to the customers across all regions. Hydrogel masks mainly have been used with their feature of hydrating and relaxation, which is the most sought application, especially in major advanced markets such as South Korea, Japan, the United States, etc.
Hassle free use is driving popularity of sheet face masks in the cosmetics and beauty market. The distribution channel of the face masks is not restricted to only offline stores like the supermarkets, retailers, distributors or convenience stores, but also are easily available online. Famous brands have made their products easily available on their websites as well as other online shopping platforms. Convenient mobility is one of the driving factors of the sheet face mask market as it allows the consumer to freely move and carry on with work while the mask is on. This feature makes it more preferred for the consumers while travelling or while performing other chores. The consumers having a hectic lifestyle and owing to their sedentary work style choose this product due to their limitations regarding time.
Hydrogel masks are dominating the market with its steady growth over the years and is projected to forecast significant growth by generating revenue of approximately 229 USD million in 2018. These masks boost the cellular function of skin. Mainly hyaluronic acid is infused with these masks, which is known to reduce the appearance of fine lines, wrinkles and splits. However, compared to biocellulose or cotton masks, these masks are expensive. The use of this product during the forecast period can thus be hindered. The fabric in these masks allows the base serum, which simultaneously clears the dirt from the skin caused mainly caused due to pollution and also the serum acts as a moisturizer to the skin which keeps the skin always hydrated. Furthermore, the skin's natural transpiration process is not impaired because of its soft texture and porous nature.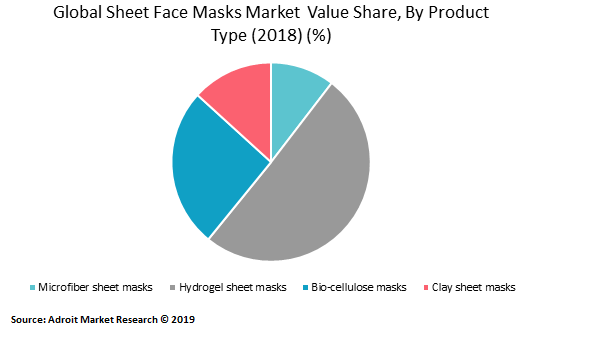 Due to their better performance, however, bio-cellulose masks are being significantly traced. The masks are made from cellulose produced in highly controlled laboratory settings from certain bacteria. The cellulose obtained is cleaned and collected for production. The masks adhere firmly to the skin and prevent the ingredients from evaporating rapidly, due to the sticky property of cellulose. Therefore masks made of bio-cellulose material demonstrate better efficacy and results. This will drive the segment growth throughout the forecast period. Conversely, high cost of these products may restrict the segment growth from its full potential.
The microfiber sheet face mask segment has the least market share. As the fabric contains cotton threads which is difficult to recycle, hence disposal of the face mask is a major concern affecting the growth of this segment. These masks are come in plastic and aluminum disposable bags. Additionally, ample availability falsified products not made from microfibers have also reduced the credibility of these products. The segment's growth in the coming years will be hampered by such factors.
Due to high product consumption in countries such as South Korea and China, Asia Pacific dominated the global market. Due to the increasing demand for skin care products in these countries, continuous product innovation has been witnessed in the recent years. The general population in the Southeast Asia follow extensive skin care practices. Continuous introduction of novel products is further facilitating demand generation. With advanced distribution channels and evolution of new sheet face mask products, the growth in Asia Pacific is robust. These factors are also expected to drive demand in China, as it is one of the leading cosmetic industries worldwide. This is expected to positively influence the global sheet face mask market growth.
The increased demand from Japan and trendsetting attributes of Korean skincare will further penetrate in Asia Pacific over the forecast period. In 2017, sheet masks were one of the most sought-after skin care products in Japan, according to the skin care trends published by Google. As a result, its first line of sheet face masks was launched by a well-known Japanese brand Flowfushi. The masks were of three types–around eyes, face line, and around lips–based on the target area. It is expected that such product launches and innovations will drive the market in the coming years.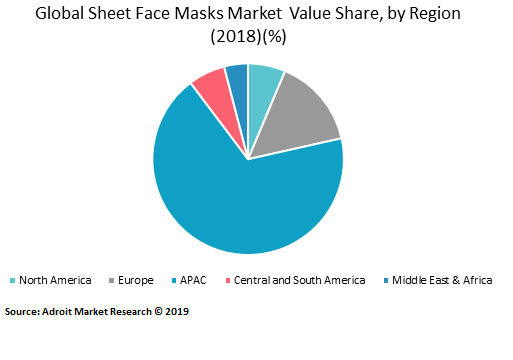 It is anticipated that North America, and Central and South America will develop swiftly with a 7.0% CAGR over the forecast period. Because of Korean beauty products' success in Asia Pacific, major global players are focusing on enhancing penetration in the U.S. market. Most Korean products consist of naturally occurring ingredients such as green tea, bee venom, bamboo sap and herbs. In order to boost market growth, demand for sheet masks based on natural ingredients like bio-cellulose and hydrogel masks is expected to increase.
In addition, celebrity influencers play a significant part in driving North America's skin care and makeup trends, which will fuel the development of the industry in the coming years. Due to the presence of major global players in this region, Europe is expected to witness steady growth over the forecast period. Improved product penetration is expected to increase product visibility, creating market demand.