While the industry 4.0 movement has already begun in numerous countries, the profitability of servo motors and drives is expected to drive the global servo drive market.
Covid-19 Impact & Market Status
The business environment will be further complemented by rising government interest in achieving digitization in both developed and emerging countries, as well as increased financing for building development. The use of servo motors and amplifiers will increase as the industry's need for high speed and precision functioning of the motor system grows. Furthermore, market expansion is expected to be aided by technical advancements combined with regulatory tax rebate policies focused on the reinforcement of operational upgrades. Furthermore, organisations that allow employees to work from home, along with restrictions on labour migration, have become a driving factor for industrial automation, ultimately improving the business landscape.
It's being expected that by 2030, the Servo Drive market cap will hit USD 22 Billion at a CAGR growth of about 6%.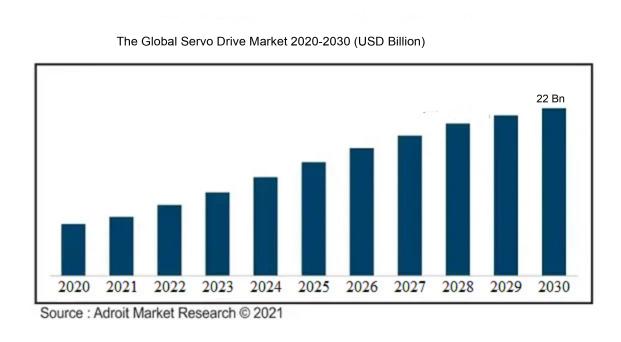 In the first quarter of 2020, the new coronavirus had an impact on the global economy. As a result, many businesses, organisations, educational institutions, and government agencies are requiring their employees to work from home in order to assist prevent the virus's spread.
Due to the installation of lockdowns and curfews throughout several countries, commercial operations were interrupted as a result of the breakout of COVID-19. In March 2020, the World Health Organization designated the coronavirus to be a pandemic and a worldwide health threat, causing major economies to limit public travel.
The supply chain systems were interrupted as a result of the COVID-19 epidemic, as a number of basic equipment and commodities are heavily reliant on imports from other nations. Furthermore, the stringent command of governing authorities to obey social distance standards compelled enterprises to operate with a minimum staff, resulting in a fall in the sectors' output rate. As a result, all of these problems harmed the Servo Drive market.
AC Drives have a substantial market share thanks to their operational flexibility.
The market is divided into two categories based on drive: AC drive and DC drive. Due to its versatility in functioning at various speeds and cost-effectiveness as compared to DC drives, AC drives now maintain a significant market share. Other significant advantages of AC servo drives include the elimination of brushes and commutators, which reduce replacement costs and hence need less maintenance. AC drives include a backup mechanism that allows the motor to continue to run at a steady speed even if the controller fails.
Low Voltage Drives with a Wide Application Range to Help the Low Voltage Segment Grow
The global industry may be divided into three categories based on voltage: low (up to 1kV), medium (1kV-6.6kV), and high (over 6.6kV). The rising application areas for low voltage motors are fueling the expansion of the Low voltage range sector. The use of low voltage drives has been aided by the growth of residential sectors, agricultural activities, and small-scale enterprises all over the world. With the growing number of applications for servo motors, medium and high voltage drives are likely to grow in popularity.
Automotive Sector Rallied to An Upward MArcj Terms of Revenue and CAGR Growth
The need for servo drives in the industrial sector has increased as a result of the introduction of industrial automation to improve the precision and efficiency of processes. Also, the increased use of solar tracking devices, which are used to follow the sun's rays as they travel throughout the day, presents prospects for these drives. Apart from these two categories, the automobile sector offers tremendous market potential as electric cars. In the future years, electric vehicles (EVs) are predicted to be the most popular mode of transportation for reducing greenhouse gas (GHG) emissions. These drives are now employed in the automobile industry for a variety of applications, including fuel injection, anti-lock braking, cruise control, and speed control pedal systems.
APAC Region Is To Witness The Highest Market Share Across All Regions
North America, Asia Pacific, Europe, the Middle East & Africa, and Latin or South America are the five primary regions that have been studied. Due to increased industrialization, oil and gas operations, infrastructure activities, and a strong agricultural legacy in developing economies like as India and China, the Asia Pacific is expected to dominate the worldwide servo drive market share in the next years. The region's population has been growing at an exponential rate, resulting in significant urbanisation during the previous decade. As a result, demand for products and services has increased across a variety of industrial verticals, resulting in the development of potential market places.
Also, rise in energy demand, increased exploration and production, increasing use of renewable energy resources, North America and Europe may witness significant growth in forecast years. These areas also serve as manufacturing hubs for a variety of items in many end-use industries, such as electronics, and the expanding demand for these products throughout the world will aid in the adoption of these drives. Similarly, the market in Latin America and the Middle East is predicted to accelerate across many application industries. Brazil, Mexico, and the Gulf Cooperation Council nations are likely to be the market's hotspots in these areas.
The preference for servo motors over other alternatives is growing, which will accelerate the use of servo drives furthering the development of global servo drive market.
To improve working cycles, drives are used to adjust the frequency of the electricity flowing into the motors. They also allow motors to operate at varying speeds rather than the standard 'zero speed' or 'full speed,' lowering running expenses significantly. Other key performance factors regulated by drives include desired torque and position, which increase total energy efficiency. Machineries that require precise position control include servo motors and drives. Advanced Tools and Services are being introduced to boost production output and shape market dynamics.
Thus its use is incarseed in industrial operations automation such as packaging machines, automobile manufacturing sectors, food processing, health care industries, semiconductors.
Motors are one of the most significant components for running the equipment required to undertake everyday operations in a variety of industries, including agriculture, residential, commercial, and infrastructure. Servo drives are at the heart of many motor operations because they control the motor's actions based on commands or feedback signals received from the control system.
A significant supply and demand gap for servo drives across regions is expected to stifle global market growth. Concerns about the spread of the coronavirus have had a severe influence on all supply networks and manufacturing businesses throughout the world. As a result, governments have imposed tight laws in order to prevent the spread of the virus and ensure public safety. Since a result of the disease's spread, demand for these drives has changed, as the usage of motors and the desire for more motors has decreased across industries such as oil and gas, mining, automobiles, food processing, petrochemicals, and others.
Rising Populations and Increasing Energy Demand Create Lucrative Opportunities. The expanding population has fueled a significant increase in energy consumption in countries throughout the world over the previous decade. This has resulted in the construction of new commercial and industrial infrastructure, higher electricity generation, enhanced vehicle usage, a booming product manufacturing industry, expanded agricultural operations, and increased exploration activities. These activities need the usage of servo motors, and as a result, demand for servo motors has increased in tandem with the pace of activities, making servo systems a profitable business for industry participants. According to Enerdata, worldwide energy consumption climbed by nearly 12% in a decade, from 12,484 (megatonnes) Mtoe in 2010 to 13,975 Mtoe in 2017.
When it comes to motors that aren't servo motors, a new type of motor must be invented to accommodate diverse torques and speeds. Servo motors, on the other hand, integrate this dynamic speed/torque range in a single unit, making them a better option in the present market than other alternatives. These motors also require less maintenance and are brushless, which is a significant advantage.
Howver, external factors such as variable international crude oil prices, the lack of new investment, the fall in energy consumption, interruptions in value chains, and continuous pricing wars are hampering the global servo drive market.
At the same time, various industry players are always attempting to engage in research and development (R&D) efforts in order to strengthen their position and increase production through sophisticated technologies and industrial automation. Since a result of this tendency, demand for servo motors has risen dramatically in recent years across all industries, as they improve energy efficiency and reduce corporate losses. As these drives govern the activities done by servo motors, anticipated to be a growth opportunity to the global servo drive market.
The major players in global servo drive market are Schneider Electric, Fuji Electric, Danfoss Drives, Siemens, Nidec Motor, ABB, WEG, Anaheim Automation, Rockwell Automation, Mitsubishi Electric Automation, and Toshiba International among others.
These firms are investing heavily in research and development (R&D) efforts, as well as partnering with institutions and other rivals to create novel solutions targeted at achieving energy efficiency with little waste. Different corporations dominate in different parts of the world, thanks to their well-trained supply networks that reach a large number of clients. The key companies in the market for servo motors and related equipment, ABB, Siemens, and Schneider Electric, are projected to maintain their dominance in the industry.
Latest Innovation in the Global Servo Drive Market: A snapshot
MHI's Solutions Community and Conveyor & Sortation Systems (CSS), the leading material handling, logistics, and supply chain trade organisation in the United States, have announced their service expansion to Beckhoff Automation's "New Automation Technology," which provides servo motors and servo drives across 60 countries. The firm has invested in intralogistics and material handling and will continue to do so in the future.
Servo Drive Market Scope
| | |
| --- | --- |
| Metrics | Details |
| Base Year | 2022 |
| Historic Data | 2020-2021 |
| Forecast Period | 2022-2030 |
| Study Period | 2020-2030 |
| Forecast Unit | Value (USD) |
| Revenue forecast in 2030 | USD 22 Billion |
| Growth Rate | CAGR of 6 % during 2020-2030 |
| Segment Covered | By Type, By Voltage Range, By End-User Industry, Region. |
| Regions Covered | North America, Europe, Asia Pacific, South America, Middle East and Africa |
| Key Players Profiled | ABB Ltd., Yaskawa Electric Corporation, Schneider Electric, Siemens AG, Mitsubishi Electric Corporation, Rockwell Automation Inc., Delta Electronics, Inc., FANUC Corp., Kollmorgen Corp., Bosch Rexroth AG. |
Key Segments of the Global Servo Drive Market
Drive Overview (USD Billion)
Voltage Overview (USD Billion)
Low (up to 1kV)
Medium (1kV – 6.6kV)
High (Above 6.6kV)
End User Overview (USD Billion)
Automotive
Healthcare
Industrial Machinery & Equipment
Semiconductors & Electronics
Printing & Packaging Equipment
Others
Regional Overview (USD Billion)
North America
Europe
Germany
France
UK
Rest of Europe
Asia Pacific
China
India
Japan
Rest of Asia Pacific
South America
Mexico
Brazil
Rest of South America
Middle East and South Africa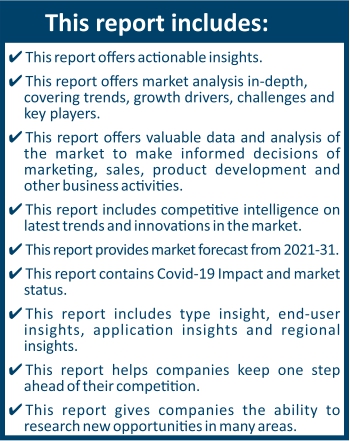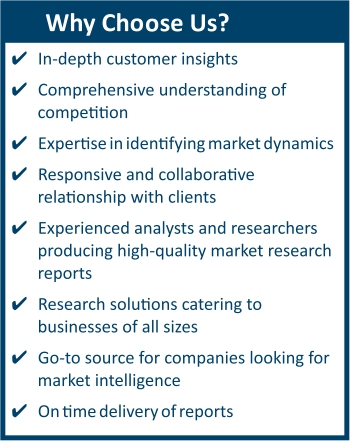 Frequently Asked Questions (FAQ) :
The market value of servo drive market in 2029 was USD 9.31 billion.
The servo drive market is growing at a CAGR of 6.4% over the forecast period.
Asia Pacific dominated the market for servo drive market and accounted for the largest revenue share.
The top companies that hold the market share in servo drive market are Schneider Electric, Fuji Electric, Danfoss Drives, Siemens, Nidec Motor, ABB, WEG, Anaheim Automation, Rockwell Automation, Mitsubishi Electric Automation, and Toshiba International.
To get latest version of servo drive market report can be obtained on demand from the website.