The global semiconductor laser market size was valued at USD 5.46 billion in 2017. The market is primarily driven by the rising demand for high speed optical network applications. Semiconductor lasers have witnessed an increasing demand in the optical communications applications due to its low costs, easy tune ability of wavelengths and the low power consumption levels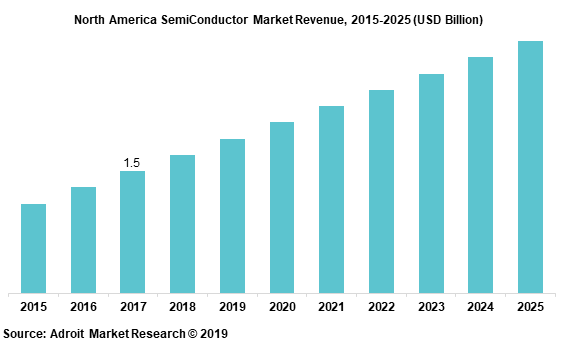 Semiconductor laser also known as laser diode is a device which enables laser oscillation by transmitting an electric current to semiconductor. Semiconductor lasers are primarily diodes which produces coherent light through the process of stimulated emission suing a semiconductor gain as a medium. They are widely used in optical communication as a light source for data transmission because of their compact nature, ease of integration, increased output power. The semiconductor laser market applications have expanded with the advancements in the field of lasers and its enabling technologies, rendering the production of inexpensive commercial semiconductor lasers.
The global semiconductor laser market is witnessing an upward momentum in terms of its application mainly due to its high efficiency rate at a compact size. Semiconductor laser output can be conveniently increased by controlling the junction rate. The R&D activities in the production of semiconductor lasers are being carried out an accelerated pace globally. This has enabled availability of cheaper commercially available laser diodes, which has extended the semiconductor laser market applications.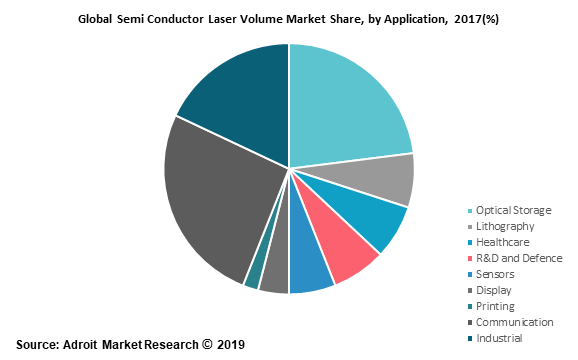 The global semiconductor laser market analysis segmented on the basis of its applications is dominated by the communication industry, constituting more than 30% of the global market. The high rate of applicability in optical communication has been the primary driver of the global semiconductor laser industry. Laser diodes have become a key component of broadband communication systems. These lasers are deployed as a high speed transmitter in digital and analog fiber optic networks, as high power pulsed lasers for testing and field measurement, and to pump lasers in Erbium doped amplifiers (EDFAs). However, the healthcare industry is expected to exhibit attractive growth opportunities during the forecast period due to increasing medical procedures in the field of dermatology, dentistry, ophthalmology, and cardiovascular surgeries using semiconductor lasers.
Asia Pacific held the largest market in terms of revenue in the global semiconductor laser market due to rapid advancements in communication technology and healthcare sector. The fast growing economies in this region are setting up optical communication throughout their respective countries to keep pace with the modern day technological advancements in high speed data transmission. The advancements in the healthcare sectors in countries such as India, China, Japan, and Southeast Asia is also propelling the demand for semiconductor laser industry.
Over the years, semiconductor lasers have become a widely used tool in a diverse range of applications. Advances in printing techniques with the introduction of 3D printing is further expected to solidify the demand for semiconductor lasers in industrial applications. Furthermore, the increasing significance of laser diodes in mission critical aerospace and defense applications is expected to accelerate the global semiconductor laser market size.
Semiconductor Laser Market Scope
| | |
| --- | --- |
| Metrics | Details |
| Base Year | 2019 |
| Historic Data | 2017-2018 |
| Forecast Period | 2020-2025 |
| Study Period | 2015-2025 |
| Forecast Unit | Value (USD) |
| Revenue forecast in 2025 | USD 7.75 billion |
| Growth Rate | CAGR of over 4.7% during 2015-2025 |
| Segment Covered | Type, Application, Regions |
| Regions Covered | North America, Europe, Asia Pacific, Latin America, Middle East & Africa |
| Key Players Profiled | ASML Holding N.V, Axcel Photonics Inc. (Sheaumann Laser), Coherent Inc., Han's Laser Technology Industry Group Co. Ltd, IPG Photonics Corporation, Newport Corporation, Rofin-Sinar Technologies Inc., Sharp Corporation, Sumitomo Electric Industries, Ltd, and Trumpf GmbH + Co. KG |
Key segments of the global semiconductor lasers market
Type Overview, 2015-2025 (USD million)
Fiber Optic Laser
Vertical Cavity Surface Emitting Laser
Compact Disc Laser
High Power Diode Laser
Red Laser
Violet Laser
Green Laser
Blue Laser
Application Overview, 2015-2025 (USD million)
Optical Storage
Lithography
Healthcare
R&D and Defence
Sensors
Display
Printing
Communication
Industrial
Regional Overview, 2015-2025 (USD million)
North America
Europe

UK
Ireland
Spain
Italy
France
Germany

Asia Pacific

South Korea
Japan
India
Australia

Latin America
Middle East & Africa
Reasons for the study
The purpose of the study is to give an exhaustive outlook of the global semiconductor laser market industry.
The increasing demand for optical fiber network across the globe has presented tremendous growth potential for semiconductor lasers. The increasing deployment of high powered lasers for high speed data transmission is witnessing a rapid surge.
Improvements in the brilliance of high-power semiconductor lasers have been the result of a wide range of unforeseen technology advancements. While new innovations are required to continue this trend, there is reason to believe that innovation in semiconductor laser technology is far from exhausted.
What does the report include?
The study on the global semiconductor laser market includes qualitative factors such as drivers, restraints, and opportunities
Additionally, the market has been evaluated using the value chain and Porter's Five Forces' analysis
The study covers qualitative and quantitative analysis of the market segmented on the basis of type, application and region. Moreover, the study provides similar information for the key geographies.
Actual market sizes and forecasts have been provided for all the above-mentioned segments
The study includes the profiles of key players in the market with a significant global and/or regional presence
Who should buy this report?
This study is suitable for industry participants and stakeholders in the semiconductor laser industry. The report will benefit:
Executives of semiconductor laser manufacturing companies
Managers within financial institutions looking to publish recent and forecasted statistics pertaining to semiconductor lasers
Venture capitalist looking into investing capital
Government organizations, regulatory authorities, policymakers and financial organizations looking for innovative solutions
Analysts, researchers, educators, strategy managers, and academic institutions looking for insights into the market to determine future strategies