As more consumers are gravitating toward upscale goods, jewellery consumption is now on the rise. The product's many favorable qualities include helping to draw attention to specific physical aspects of the body, showcasing current fashion trends and styles, enhancing appearances, and others. The use of the product by high-income earners as a status symbol is growing in popularity, which is causing the consumption rate to increase.
Due to high levels of disposable income and purchasing power, the expanding global economy is driving up demand for luxuries like decorations. Additionally, various traditions people around the world practice surrounding the use of decorations are anticipated to significantly increase product sales.
The development of digital media, which promotes high fashion through reality programs, movies, music, and other mediums, has led to an increase in consumer spending on items, including ornaments. Additionally, the ease with which purchased items can be distributed to friends and family members via phone calls, text messages, or social media posts has boosted the industry.
Additionally, digital marketing initiatives to the appropriate target group, including SEO, pop-up ads, email marketing campaigns, and others, play a critical role in increasing consumption.
The increasing tariff placed on the products is a result of the growing number of nations maintaining rigorous rules on the import and export of ornamental goods. As a result, this raises the final cost of the goods and turns away a lot of customers. Additionally, the growing political unrest among nations, which has led to a prohibition on the import of a number of decorative products, is predicted to pose a danger to market expansion.
The consumption of the product is being increased by manufacturers that increasingly combine technology with ornamentation. For instance, the Ringly Luxe Smart Ring has a 14k gold-plated base and large jewels. It also has a number of technical functions, including activity tracking for things like burned calories, distance traveled, and steps taken. In addition, it's anticipated that the inclusion of GPS safety features in several ornament items would help to boost demand for the item.
One of the most recent trends taking off in the Global Semi-Precious Jewellery industry is the rise of cross-cultural designs. Over the projected period, it is anticipated that demand for jewellery with Italian, European, and Egyptian cultural influences would dominate the market under consideration.
The increase in urbanization has caused consumer behavior to change with regard to accessories, moving away from wearing more jewellery to keeping it simple and elegant while preserving the fashion statement. The demand for single-stoned stud earrings, pendants, and rings has increased significantly as a result of these changing dynamics.
The value of the Global Semi-Precious Jewellery Market was US$ 25.30 Billion in 2021, and it is anticipated that from 2021 to 2031, total revenue will increase at a rate of US$ 21.35 Billion, or 21.35% CAGR.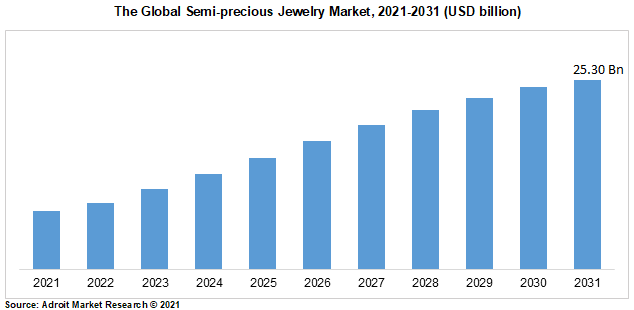 Key companies in the Global semi-Precious Jewellery Market are concentrating on improving the appearance and design of jewellery goods to fulfill the constantly changing demands and desires of consumers, and this is expected to have a favorable impact on the market.
The presence of major players like LVMH, Buccellati, PANDORA JEWELRY LLC, Chow Tai Fook Jewellery Company Limited, The Swatch Group AG, Tata Sons Private Ltd, De Beers Jewellers US Inc., Signet Jewellers, Richemont, and Swarovski Crystal Online AG makes the global semi-precious jewellery market extremely competitive. In order to broaden their geographic reach and build a larger consumer base, major businesses are concentrating on online distribution channels for the online marketing and branding of their products.
Segment Analysis
50-150 USD to Expand More
Over the forecast period, the 50-150 USD segment is anticipated to experience a sizable CAGR of 15.3%. A cost-effective choice for semi-precious jewellery has drawn in a number of buyers. Because customers like quirky along with bright jewellery, stackable and expressive semi-precious jewellery that is available in a variety of colorful possibilities is becoming more and more popular. Affordable ness is semi-precious jewellery's main benefit over exquisite jewellery. For everyday use and business attire, customers overwhelmingly pick semi-precious jewellery costing up to 150 USD. As a result, it is expected that the category would have the highest CAGR during the projection period.
Online Retailers Will Expand Significantly
Online sales are predicted to grow significantly (15.6% CAGR) during the projection period. The primary benefit of indirect distribution to the customer is convenience and quickness. Online sales channels make it simple and quick for businesses to enter new markets, generally with no risk and expense. Many jewellery merchants have been compelled to hastily establish an online presence because of the substantial expansion possibility in the online jewellery industry. By 2031, McKinsey and Company predict that 18% of jewellery sales will take place online. The segment is therefore expected to grow at a remarkable CAGR during the projection period.
Women Segment to Grow Exponentially
Over the forecast period, the women's category is anticipated to experience the quickest CAGR of 15.0%. This is due to increased economic independence, societal perception changes, as well as global shifts in the dynamics of relationships. Additionally, the producers provide a wide range of semi-precious jewellery that is specifically created for female customers. Additionally, the product's acceptance in this market is aided by the fact that women love it for improving their appearance. The category is therefore expected to grow at the fastest CAGR throughout the course of the projected period.
Asia Pacific will experience the fastest growth
With a share of nearly 45.0% in 2021, Asia Pacific had the largest market. The region's substantial concentration of important players, like Tanishq, Queelin, and others, has significantly fuelled consumption. The demand for semi-precious jewellery in the region is further fuelled by the allure of wearing it on customary occasions like Diwali, Chinese New Year, Shogatsu, and others.
Impact of COVID-19 and Market Status
The world market for Global Semi-Precious Jewellery has been negatively impacted by the coronavirus outbreak. The market for semi-precious jewellery has declined since the COVID-19 epidemic first appeared. Due to lost income, postponed engagements and weddings canceled events, and other pandemic-related effects, the sale of semi-precious jewellery fell in 2020. Customs costs, a drop in exports, and other challenges were already causing the jewellery industry problems. Due to the unexpected price rise, recent sales have already fallen. The pandemic caused huge losses because every retail location was shut down.
Latest Innovation and Developments in Global Semi-Precious Jewelry: A Snapshot
• Together, Otiumberg Ltd. and Hunza G Ltd. developed the best gold earrings. The line combines the distinctive crinkle of Hunza G with the renowned hoop design of Otiumberg to produce something fresh.
• A new collection of semi-precious jewellery made with recycled gold and conflict-free diamonds has been introduced by Missoma Ltd.
Semi-precious Jewellery Market Scope
| | |
| --- | --- |
| Metrics | Details |
| Base Year | 2022 |
| Historic Data | 2021-2022 |
| Forecast Period | 2022-2031 |
| Study Period | 2021-2031 |
| Forecast Unit | Value (USD) |
| Revenue forecast in 2031 | US$ 25.30 Billion |
| Growth Rate | CAGR of 21.35 % during 2022-2031 |
| Segment Covered | by Type, By Application, Regions |
| Regions Covered | North America, Europe, Asia Pacific, South America, Middle East and Africa |
| Key Players Profiled | LVMH, Buccellati, PANDORA JEWELRY LLC, Chow Tai Fook Jewellery Company Limited, The Swatch Group AG, Tata Sons Private Ltd, De Beers Jewellers US Inc., Signet Jewellers, Richemont, and Swarovski Crystal Online AG makes |
Key Segments of the Global Semi-precious Jewellery Market
By Type Overview, 2021-2031 (USD Billion)
• 50-150 USD,
• 151-300 USD,
• 301-500 USD,
• Others,
By Application Overview, 2021-2031 (USD Billion)
• Online Store,
• Flagship Store,
• shopping mall,
• Others,
By End-User Overview, 2021-2031 (USD Billion)
• Men
• Women,
By Regional Overview, 2021-2031 (USD Billion)
North America
• U.S
• Canada
Europe
• Germany
• France
• UK
• Rest of Europe
Asia Pacific
• China
• India
• Japan
• Rest of Asia Pacific
South America
• Mexico
• Brazil
• Rest of South America
Middle East and Africa
Frequently Asked Questions (FAQ) :
Semi-precious Jewelry Market is projected to reach US$ 25.30 Billion by 2031, growing at a CAGR of 21.35 %
The Semi-precious Jewelry market is estimated to grow at a CAGR of 21.35 %
The top leaders analyzed in the Semi-precious Jewelry market study are LVMH, Buccellati, PANDORA JEWELRY LLC, Chow Tai Fook Jewellery Company Limited, The Swatch Group AG, Tata Sons Private Ltd, De Beers Jewellers US Inc., Signet Jewellers, Richemont, and Swarovski Crystal Online AG makes