Covid-19 Impact & Market Status
The report offers a comprehensive overview of the global reporting tool software market with briefings on key challenges, investment opportunities, key segments, growth projections, competitive environment in national and international market, etc.
The pandemic created a widespread impact on the global sales contract management market due to travel bans and lockdowns imposed by countries across the world. The pandemic resulted into change in customer behavior, slowdown in economic growth, reduced spending power directly or indirectly impacting the global SDN and NVF market.
The present COVID-19 pandemic has had an influence on Internet usage. Several large IT infrastructure providers must migrate their networking architecture to support the work-from-home concept. Work from home model adopted by companies and businesses across the world led to internet traffic. To address the internet traffic issues and run business operations smoothly, the IT infrastructure suppliers adopted SDN and VNF.
The size of the global market for SDN and NFV is expected to reach USD 96510 million by 2028, expanding at a compound annual growth rate (CAGR) of 16.4%.
Market players amidst the pandemic for market sustenance and fortification, have come up with new strategies and business models prompting individual as well as worldwide Sales Contract Management Market growth.
ITES and Telecommunication are expected to be lucrative segment
In recent years, IT service industry has witnessed significant growth the globe. Increased penetration of advanced technologies such as Cloud Computing, IoT and Machine Learning has revolutionized ITES industry. Increased adoption of modern and complex technology in ITES industry will upsurge the demand for SDN and NFV solutions. Also, the telecommunication industry has been becoming advanced day by day, the world is shifting towards 5G services. Implementation of NFV and SDN plays a key role in the commercialization of 5G wireless communication in recent 5G installations. The main benefit of deploying these technologies in 5G is that it will automatically supply the network functions that users have requested.
Increased digital transformation in BFSI sector especially in emerging economies coupled with rising number of FinTech start-ups makes BFSI a lucrative industry for players involved in SDN and NFV market.
North America is the region of focus for Market Players
The dominant portion of the SDN and NFV market is estimated to be in North America. In SDN and NFV, it's a market with a lot of room for expansion. Adoption of cloud computing technologies, IoT have accelerated SDN and NFV business in North America. High industrialization in countries like the United States and Canada has always been a beneficial element in facilitating rapid expansion in a variety of commercial sectors. North American countries have advantageous standards and networking laws, which aid in the expansion of the SDN and NFV markets. Several SDN and NFV infrastructure providers are based in North America. It's also a potential investment sector, offering up new avenues for SDN and NFV infrastructure adoption. The usage of SDN and NFV has expanded in the region as a result of growing 5G deployments. However, because the controller controls the entire network in NFV, the adoption necessitates a number of organisational, functional, and cultural changes within enterprises.
Network design, engineering, configuration, and management can be rewritten thanks to software-defined networking (SDN) and network function virtualization (NFV). SDN and NFV are used to change the service and network architecture. SDN does not require frequent software update whenever new protocol is implemented. SDN controls the sending and receiving of packets from source or to designated destination. SDN controls the network by informing packets arriving from a source where they should go and sending them to a designated destination.
The increasing number network connected devices, rising network applications, new approaches implemented for network design, management, and operations are the key factors for growing demand of SDN and NVF. Researchers using SDN and NVF improved their ability to automate network behaviours quickly and gain control over their networks by making the devices adjustable and programmable centrally. SDN is a method of designing, constructing, and managing networks. NFVs are network function virtualization software activities that can be arranged on NFV infrastructure.
SDN and NFV technologies are rapidly gaining traction among all stakeholders involved in mobility, networking, IoT, and other domains, and are redefining networking design. Growing need for advanced network architecture, changing traffic patterns, adoption of cloud services, digitalization, growing demand for mobility services, massive networks of large businesses requiring advanced network architecture are the key factors encouraging the SDN and NVF adoption. With the implementation of OpenFlow standards, SDN and NFV technologies simplify the effort of arranging complicated network infrastructures and reduce the capital expenditure required for traditional network architecture.
Despite the rising demand for NFV and SDN technologies, the lack of expertise and a clear business case generates obstacles in the organization, lowering the value of SDN and NFV and perhaps causing integration issues. Across addition to other industries, SDN and NFV are providing effective and efficient networking environments in numerous industry verticals. Industries such as telecommunications and information technology, as well as cloud service providers, are large users of SDN and NFV. The primary limitations in the worldwide SDN and NFV market are data transmission security concerns and a lack of industry standards.
Significantly increasing network size and growing network complexities enabled businesses to adopt SDN and NVF that allow directly address these allowing businesses traffic control and increase network efficiency. Thus majority of Communication Service Providers are investing SDN and VNF technology.
SDN and NFV technologies change network design and are being used by networking partners in the IoT, networking, mobility, and other fields. Network operators are not supposed to employ high-cost proprietary hardware to deliver network chain by adopting SDN and NFV. Also, as we progress from one generation to the next in terms of technological improvement, cost reduction becomes increasingly crucial as we use less network capacity and increase latency. The entire network becomes modular and agile when SDN and NFV are used. SDN and NFV can provide all users with a consistent, reliable, and high-quality service, which improves the user experience and helps retain consumers.
Existing and emerging NFV and SDN market participants can benefit from rising usage of private clouds and innovative services by telecom operators, developing SDN infrastructure, value-added resellers (VARS) & vendors, and technological advancements.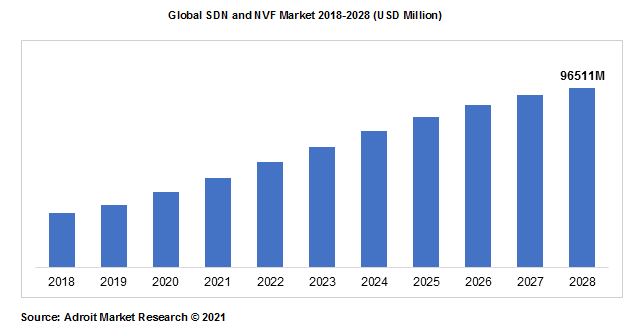 The major players of the global SDN and NFV Market are Cisco Systems Inc., NEC Corporation, Aricent, Oracle Corporation, Arista Networks, BigSwitch Network, ADARA Networks, DELL Inc., Enterasys Networks, Brocade and Huawei among others.
Key Developments in the Global SDN and NFV Market: A Snapshot
AT&T announced in April 2020 that its investments in software-defined networking (SDN) and network function virtualization (NFV) have helped the business keep up with increased Internet traffic caused by the new coronavirus.
SDN and NFV Market Scope
| | |
| --- | --- |
| Metrics | Details |
| Base Year | 2020 |
| Historic Data | 2018-2019 |
| Forecast Period | 2021-2028 |
| Study Period | 2018-2028 |
| Forecast Unit | Value (USD) |
| Revenue forecast in 2028 | USD 96510 million |
| Growth Rate | CAGR of 16.4% during 2021-2028 |
| Segment Covered | Type, by Application, Regions |
| Regions Covered | North America, Europe, Asia Pacific, Middle East and Africa, South America |
| Key Players Profiled | Cisco,Ericsson,Huawei,Nokia,Intel,HP,IBM,Juniper Networks,Broadcom,Dell,Oracle,NEC (Netcracker),Ciena (Blue Planet) |
Key Segments of the Global SDN and NFV Market
Solution Overview, 2018-2028 (USD Million)
Enterprise Size Overview, 2018-2028 (USD Million)
Small and Medium Sized Enterprise
End - Use Overview, 2018-2028 (USD Million)
ITES
Telecommunication
BFSI
Defense
Government
Healthcare
Energy & utility
Others
Regional Overview, 2018-2028 (USD Million)
North America
Europe
Germany
France
UK
Rest of Europe
Asia Pacific
South America
Mexico
Brazil
Rest of South America
Middle East and South Africa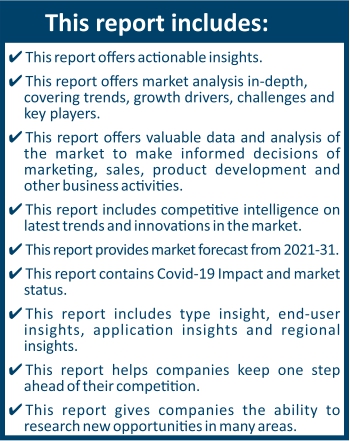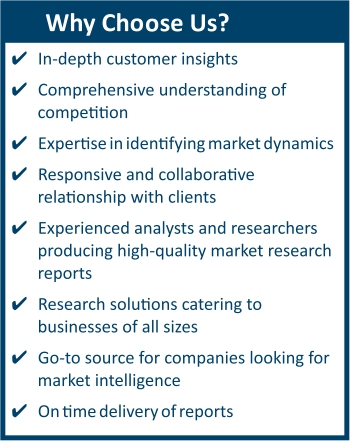 Frequently Asked Questions (FAQ) :
The market value of SDN and NFV market in 2028 was USD 96511 million.
The SDN and NFV market is growing at a CAGR of 16.4% over the forecast period.
North America dominated the market for SDN and NFV and accounted for the largest revenue share.
The top companies that hold the market share in SDN and NFV market are Cisco Systems Inc., NEC Corporation, Aricent, Oracle Corporation, Arista Networks, BigSwitch Network, ADARA Networks, DELL Inc., Enterasys Networks, Brocade and Huawei.
To get latest version of SDN and NFV market report can be obtained on demand from the website.