The global Sauerkrauts market is projected to reach USD 4909.58 million by 2029, growing at a CAGR of 5.00 %
An important factor that has contributed to the expansion of the global sauerkrauts market is the growing recognition of the health advantages of sauerkrauts
COVID-19 Impact
Numerous research has shown that sauerkraut has the capacity to fight COVID-19, which might be advantageous for the sauerkraut industry during the SARS-CoV-2 epidemic. A study published in Clinical and Translational Allergy found that sauerkraut-eating countries like Germany had fewer fatalities from the condition. When taken in significant quantities, sauerkraut may suppress ACE2 levels, making it harder for the new coronavirus to enter the body. These studies might thus provide the sauerkraut industry with several prospects for expansion. However, the consumption rate of sauerkraut poses health risks for people with cardiovascular and renal diseases, which is anticipated to limit the market's expansion for this product.
Household end-users' industry will grow significantly for the Sauerkraut market
People are becoming more health conscious and gravitating toward healthier foods. It has several health-promoting properties. However, when dealing with sauerkraut as a functional food, undesirable effects such as intolerance reactions must be considered. It is high in lactic acid, tyramines, vitamins, and minerals and contains few calories.
North America will dominate the Sauerkraut Market
Due to a growing number of health-conscious customers and developing regional product awareness, North America dominates the sauerkraut industry. Consumers have a high need for mouthwatering flavour and taste, thus this industry is going through an innovation phase that will drive the total demand for sauerkraut from 2022 to 2029.
Asia-Pacific region will see a stable growth for the Sauerkraut Market
Due to the region's increasing demand for packaged food, nutritious food, and items that promote good health, Asia-Pacific is predicted to rise considerably between 2022 and 2029.
The Sauerkrauts Market was worth USD 8,672.46 Million in 2022 and is expected to reach USD 14,118.77 Million by 2029, expanding at a CAGR of 6 % between 2022 and 2029. The rapid rise in fermented food consumption in various emerging economies is a factor in the sauerkraut market for its growth.
The sauerkraut is made from chopped cabbage and is fermented, giving it a sour flavor and crunchy texture. Fermentation enhances the availability of minerals, fiber, and vitamins A, C, K, and B in sauerkraut. Good sources of iron, manganese, copper, sodium, magnesium, and calcium may be found in sauerkraut. It contains lactic acid and microorganisms that aid in the treatment of digestive disorders and cancer.
Consuming sauerkraut lowers the risk of breast cancer, according to research. Increased use of fermented foods, due to their health advantages, drives the worldwide sauerkraut market. China created sauerkraut before the Germans truly adopted and popularized it. Western Europe's concentration on fermented product innovation is producing supply-side demand, and Germany and France are spending heavily in research. It is believed that this will act as a catalyst for the growth of fermented foods like sauerkraut. Increasing per capita income, developing lifestyle, modernity, availability of quick meals, ease of consumption, and fermented foods in a range of flavors enhance the worldwide sauerkraut industry.
An important factor that has contributed to the expansion of the global sauerkrauts market is the growing recognition of the health advantages of sauerkrauts. A food preservation method that has been around for more than 2,000 years is fermentation. The fermenting process generates beneficial bacteria, and these probiotics are responsible for most of the health advantages of sauerkraut. The industry is also being driven by the significant rise in consumer disposable income, and modernization has compelled customers to spend on better food and leisure items. In addition, the market for sauerkraut is expanding as a result of rising consumption of fermented foods, the availability of a wide range of fast foods, the world's population expansion, the availability of a wide variety of fermented foods at affordable prices, the ease of consumption of these foods, and the product's extended shelf life.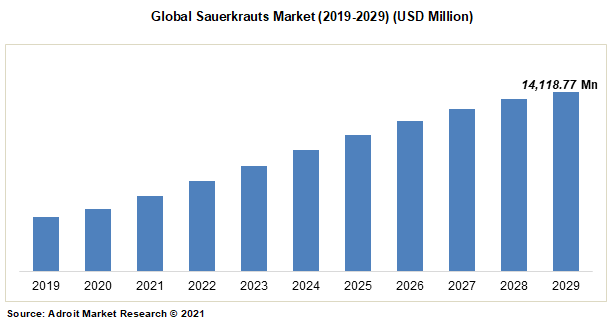 In the study on the global sauerkrauts market Carl Kühne KG GmbH & Co., B&G Foods, Inc., WILDBRINE, HENGSTENBERG GMBH & CO. KG, Libby's, Leuchtenberg GmbH., Wasta Konserven Fischl GmbH & Co., Kleindienst Großhandels GmbH, and Pepero-Polo are identified as the key players. Major firms in the Pillow Packing Machine industry have used acquisition, collaboration, and corporate growth to improve their goods and services.
Recent Developments for the Global Sauerkrauts Market
A French start-up called La Note Bio makes ready-to-eat, unpasteurized, and lactofermented veggies using an ancient method. In order to preserve the nutritious benefits of the fermented veggies, the manufacturer further seasons it differently and advises customers to consume it raw.
Leading sauerkraut manufacturer Salt and Savor has introduced a variety of tasty varieties, including Caraway Sauerkraut, Horseradish Sauerkraut, Apple Ginger Sauerkraut, Red Cabbage and Ginger Sauerkraut, and Garlic Dill Sauerkraut.
Sauerkrauts Market Scope
| | |
| --- | --- |
| Metrics | Details |
| Base Year | 2020 |
| Historic Data | 2018-2019 |
| Forecast Period | 2021-2028 |
| Study Period | 2018-2028 |
| Forecast Unit | Value (USD) |
| Revenue forecast in 2028 | USD 14,118.77 Million |
| Growth Rate | CAGR of 6.0 % during 2021-2028 |
| Segment Covered | Type, End-user, Packaging, Application, Regions |
| Regions Covered | North America, Europe, Asia Pacific, Middle East and Africa, South America |
| Key Players Profiled | Carl Kühne KG GmbH & Co., B&G Foods, Inc., WILDBRINE, HENGSTENBERG GMBH & CO. KG, Libby's, Leuchtenberg GmbH., Wasta Konserven Fischl GmbH & Co., Kleindienst Großhandels GmbH |
Key segments in the Global Sauerkraut Market
Type Overview, 2022-2029 (USD Million)
End-user Overview, 2022-2029 (USD Million)
Commercial Users
Household Users
Packaging Overview, 2022-2029 (USD Million)
Application Overview, 2022-2029 (USD Million)
Regional Overview, 2022-2029 (USD Million)
North America
Europe

Germany
Switzerland
Russia
UK
Italy
Rest of Europe

Asia-Pacific

China
Thailand
Philippines
Indonesia
South Korea
India
Rest of Asia-Pacific

LAMEA

Latin America
Middle East
Africa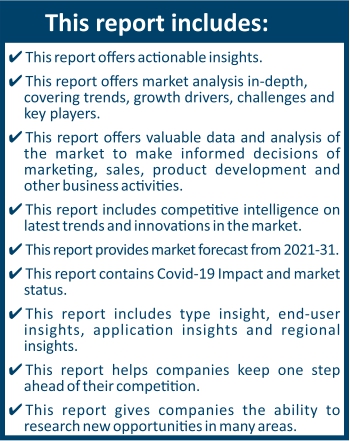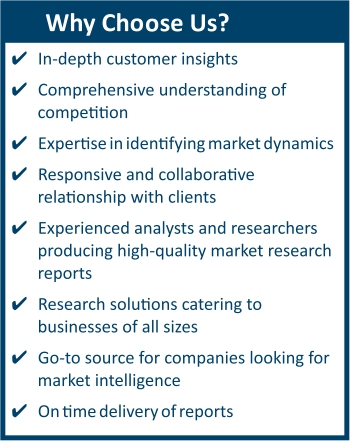 Frequently Asked Questions (FAQ) :
The market value of sauerkrauts market in 2029 was USD 14,118.77 Million.
The sauerkrauts market is growing at a CAGR of 6.0% over the forecast period.
North America dominated the market for sauerkrauts market and accounted for the largest revenue share.
The top companies that hold the market share in sauerkrauts market are Carl Kühne KG GmbH & Co., B&G Foods, Inc., WILDBRINE, HENGSTENBERG GMBH & CO. KG, Libby's, Leuchtenberg GmbH., Wasta Konserven Fischl GmbH & Co., Kleindienst Großhandels GmbH & among others.
To get latest version of sauerkrauts market report can be obtained on demand from the website.