Homeowners now have easier access to rubber flooring. Global Rubber flooring is frequently linked with gyms and hospitals, but because it can withstand high foot traffic and has a distinct aesthetic, it has developed into a well-liked option for interior design. Global Rubber flooring is popular because of how durable it is in general. Rubber flooring is more commonly found in home gyms or kids' playrooms today. Global Rubber flooring is becoming a stylish, all-purpose choice for contemporary homes.
The market expansion has been boosted by increased construction activity, fast urbanization, rising urban population, and rising disposable incomes, providing a promising outlook for the flooring sector. Global Rubber Flooring sales have grown steadily as a result of increasing urbanization, population expansion in urban areas, industrialization, and disposable incomes. Due to their low price and outstanding durability, rubber and vinyl flooring have been in increasing demand, and this trend is expected to continue during the forecast period. The market for Global Rubber Flooring has expanded due to increased use in the shipping and transportation industries.
In a variety of settings where sturdy, resilient, and inexpensive floors are required, rubber floor coatings are used. Rubber floor coatings can be employed in a variety of settings, including a park, a gym, and a garage. Rubber flooring materials can be produced using synthetic materials, which are frequently manufactured from recycled auto tires, or natural rubber from trees.
The desire for fresh design and innovation in the Rubber Flooring market has increased as a result of the real estate market's expansion and the new trend of selling off properties. The market is anticipated to continue to grow as more residential and commercial real estate developments are completed. Additionally, because of the rise in these projects, particularly residential ones, suppliers have turned to and grown more dependent on residential centers and online retail channels.
It is anticipated that the industry will be significantly impacted by the availability of enhanced building solutions that are long-lasting and require less maintenance. However, a key factor in determining the success of flooring solutions is consumer awareness and desire to use the product. The sector may face difficulties since floor solutions are perceived to be complex to install and expensive and opulent. Consumers' growing environmental awareness and the use of hazardous chemicals, such as those used to make poisonous carpet dyes, in the textile industry are predicted to restrain market expansion.
Rubber Floor tiles come in a wide range of hues and patterns. The most popular floor tiles are black with colorful dots that resemble confetti. Additionally, following many years of stagnation, the building industry in a number of nations is anticipated to continue to improve, driving up demand for flooring products. The market for flooring materials is mostly influenced favorably by the materials' resistance to dangerous substances and high temperatures.
Rubber flooring is a robust material that may be applied in a variety of settings. Although it was first developed to provide a surface that would lessen fatigue, it has excellent sound-dampening properties and has been utilized for decades. Metal joists are typically used to suspend rubber flooring from the ceiling or to lay it on the ground (or beams). If you need rubber mats for heavy use as opposed to domestic use, the thickness will vary.
The Global Rubber Flooring Market is anticipated to increase at a 6.1% CAGR from 2021 to 2031, reaching a size of US$ 252.0 billion.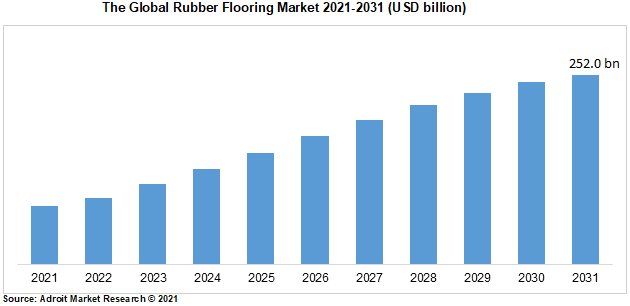 In both wealthy and developing nations, major actors are well-represented. The following companies are significant players in the global market for rubber flooring: Nora, Mohawk Group, LGHausys,Tarkett, Mannington Mills, Gerflor,MONDO SOFTER, and Altro.
Key Segments
Synthetic Flooring to Lead the Market
The least environmentally friendly Rubber Floor coverings are those composed of synthetic materials. Synthetic rubber is produced using petroleum, a non-renewable resource. This chemical is still very energy-efficient and has a minimal effect on the environment. Alternatives made of natural rubber are less strong and less long-lasting than synthetic rubber floors. Although they require the use of finite resources in their creation, the extended lifespan of the finished product partially offsets this. At the conclusion of its useful life, rubber flooring can be recycled.
Commercial Gym to rise in its Use
Rubber Flooring is durable, inexpensive, and simple to install. Rubber floor tiles are perfect for a range of uses and for practically any exercise setting. They may be added at any moment, are simple to assemble, and fit in any location. Commercial gyms are the perfect place for rubber flooring. They are excellent for heavy traffic areas and huge rooms that see a lot of activity because they are incredibly resilient and affordable.
Asia Pacific to Dominate the Market
With a revenue share of 41% in the flooring market in 2021, the Asia-Pacific region is expected to continue to lead the market throughout the forecast period (2021-2031). As they need durable, hygienic flooring to meet high-quality, 24-hour requirements, many residential and commercial buildings in this area frequently have the flooring installed. The Rubber Flooring Market is anticipated to expand significantly over the future years due to the spike in new construction projects.
Impact of COVID-19 and Market Status
The COVID-19 outbreak created significant economic issues and difficulties for the household and commercial sectors of the economy. There was widespread fear and financial difficulty for the flooring business as a result of the government of several economies announcing tough regulations to halt the spread of the coronavirus.
Due to a lack of finance, a number of projects were still in the early phases. The Global Rubber Flooring Market's growth was restrained throughout the projection period due to difficulties the construction sector also faced, including supply chain disruption, a lack of subcontractors and materials, and the termination of contracts to reduce costs. In numerous places, construction work was temporarily halted.
Latest Innovations and Developments in the Global Rubber Flooring Industry: A Snapshot
• Exchange and Theorem are two brand-new luxury flooring collections from Armstrong Flooring.
• A brand-new vinyl flooring option from Gerflor Flooring has antiviral characteristics that aid in the fight against bacteria and viruses.
Rubber Flooring Market Scope
| | |
| --- | --- |
| Metrics | Details |
| Base Year | 2021 |
| Historic Data | 2020- 2021 |
| Forecast Period | 2022-2031 |
| Study Period | 2021 – 2031 |
| Forecast Unit | Value (USD) |
| Revenue forecast in 2031 | US$ 252.0 billion |
| Growth Rate | CAGR of 6.1 % during 2021-2031 |
| Segment Covered | Type, Application, by End-Use, Regions |
| Regions Covered | North America, Europe, Asia Pacific, Middle East and Africa, South America |
| Key Players Profiled | rubber flooring: Nora, Mohawk Group, LGHausys,Tarkett, Mannington Mills, Gerflor,MONDO SOFTER, and Altro. |
Key Segment on Rubber Flooring ,2019-2029 (USD Billion)
Application Overview, 2019-2029 (USD Billion)
Natural Rubber

Synthetic Rubber
Location Overview, 2019-2029 (USD Billion)
End-User Overview, 2019-2029 (USD Billion)
Health Club

Gym

Hospitality

Health Care

College/University

Office and Playground
Regional Overview, 2019-2029 (USD Billion
Europe
Germany

France

UK

Rest of Europe
North America
Asia Pacific
China

India

Japan

Rest of Asia
South America
Mexico

Brazil

Rest of America
Middle East and Europe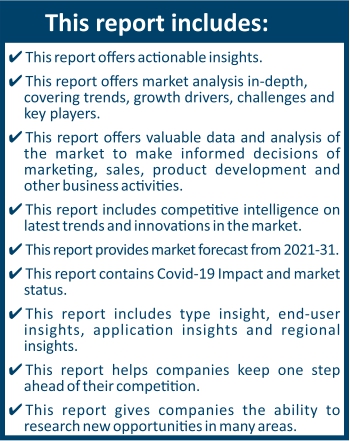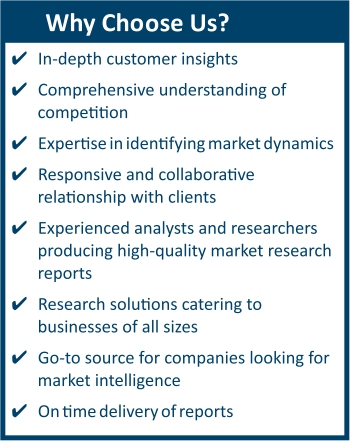 Frequently Asked Questions (FAQ) :
Rubber Flooring Market is projected to reach US$ 252.0 billion by 2031, growing at a CAGR of 6.1