Covid-19 Impact on Robotic Kitchen Market and Market Status
The global Robot Kitchen market size is expected to reach close to USD 4.4 Billion by 2029 with an annualized growth rate of 12.6% through the projected period.
Covid-19 alike other sectors, also influenced Robotic Kitchen Markets. As covid lead to shut downs and lock downs, it affected the logistics and supply chain management, which caused complete disruption in manufacturing process. It hampered its growth as the imports and exports were not allowed at that time. But as the impact of the pandemic lowered, it again started flourishing and will gain a high market size.
Robot Kitchen Software Segment Is Opening Up Varied Opportunities For Market Players
The global kitchen robot market is classified into hardware, software, others on the basis of type. Among these, robot kitchen software segment is opening up varied opportunities for market players. The key factors such as growing interest from grocery stores, senior living communities, demand for innovative products from automated food companies is driving the demand for robot kitchen software.
Residential Segment Experiencing High Demand for Kitchen Robots
The global kitchen robot market is classified into residential, commercial, and other on the basis of application. Among these, the residential segment experiencing rapid demand for kitchen robots. Old Age groups to invest more into this market because the people of higher age need more assistance in work and day to day chores. This age does not allow them to exert more pressure on their body. People with high disposable incomes and less time find the robot kitchen very useful. Nowadays people tend to have less time because of busy schedules. Thus, they do find some assistance in their household chores. But the people with less income levels cannot afford it. This may lead to hamper its growth.
North America To Hold The Highest Market Share By End Of 2029
North America dominates the global robot kitchen market as it holds the highest market share. It is followed by Europe which holds the second position including Italy, Germany and Russia and other countries. Asia Pacific to hold the third position as China is the major country investing heavily in kitchen automation.
The rapid expansion in Artificial Intelligence sector and the increased trend of convenience has created the need of artificial intelligence-based kitchen products driving the global robot kitchen market.
The key factor for rising adoption of robot kitchen is the covid-19 pandemic. This is because the virus-wary kitchens try to put some distance between workers and customers.
In food industry, the growing need for adopting a touch free environment that minimizes contact and ensures infection free environment is improving reliance on kitchen robots. Also, in residential segments, there is growing demand for kitchen technologies that provide more convenience to cooks furthering the development of global robot kitchen market.
People nowadays are more tend to get attracted to technologies that promise convenience and benefits to day-to-day activities. Robotic Kitchen is one of the related choices experiencing rapid market demand. Robot Kitchen or the Robotic Kitchen is the device designed to provide assistance to users with the daily kitchen tasks. Robotic kitchen performs a series of functions which includes the general day to day chores of kitchen. These functions include preparation of food, general cleaning, dishwashing, and other kitchen related works. Additionally, it gives a modular and contemporary look offering a sense of modernization to the customers.
Kitchen robots reduce human labor and efforts, save time and make kitchen work easy and convenient. Intelligent kitchen robots handle dishes, avoid breaking them, cook delicious food, and clean dishes thoroughly. The devices like ovens, dishwashers, food processors and coffee makers which include automatic timers act as proficient robots. These advantages are resulting into thumping growth of global robot kitchen market.
However, these devices and kitchen robots are highly expensive which becomes out-of-pocket for the middle and lower income population. Since the middle and lower income population is greater worldwide than the higher class population, robot kitchen has least demand in such countries. This is likely to act as a key hindrance to global robot kitchen market growth.
At the same time, the major driver of global robot kitchen market is high demand for kitchen robot by the old age groups and working population. As kitchen robots provide a great assistance in the daily household chores to the age old groups and working population, the robot kitchen is experiencing more demand anticipated to be a growth opportunity to the global robot kitchen market.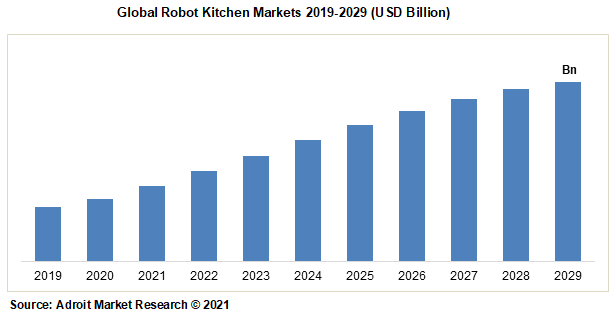 The prominent market players in the Global Robot Kitchen Markets are Moley, Samsung, HeroX, NVIDIA, Sony, QSR Automations, Miso Robotics, and Spyce. Furthermore, the robot kitchen market research study includes information related to latest trends and innovations, opportunities, scope and threats. This study will help firms to aid them in effective decision making.
Recent Developments and Latest Innovations
World's first Robotic Kitchen was launched on Jan 12, 2021, "Moley Kitchen", a product of 6 years research, which can learn up to 5000 recipes and even cleans the dishes.
May 2021 witnessed the collaboration of Miso Robotics with Path spot which would help them to innovate environmentally sustainable devices.
Robot Kitchen Market Scope
| | |
| --- | --- |
| Metrics | Details |
| Base Year | 2020 |
| Historic Data | 2018-2019 |
| Forecast Period | 2021-2028 |
| Study Period | 2018-2028 |
| Forecast Unit | Value (USD) |
| Segment Covered | Type, Application, Regions |
| Regions Covered | North America, Europe, Asia Pacific, South America, Middle East and South Africa |
| Key Players Profiled | Moley, Samsung, HeroX, NVIDIA, Sony, QSR Automations, Miso Robotics, Spyce |
Key Segmental of Global Robot Kitchen Market
Type Overview, 2019-2029 (USD Billon)
Application Overview, 2019-2029 (USD Billion)
Regional Overview, 2019-2029 (USD Billion)
North America
Europe
Germany
France
UK
Rest of Europe
Asia Pacific
China
India
Japan
Rest of Asia Pacific
South America
Mexico
Brazil
Rest of South America
Middle East and South Africa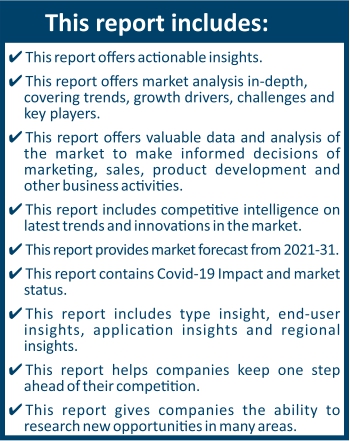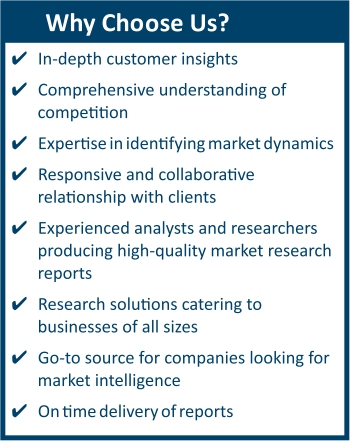 Frequently Asked Questions (FAQ) :
North America dominated the market for robot kitchen market and accounted for the largest revenue share.
The top companies that hold the market share in robot kitchen market are Moley, Samsung, HeroX, NVIDIA, Sony, QSR Automations, Miso Robotics, Spyce and among others.
To get latest version of robot kitchen market report can be obtained on demand from the website.
The base year for the report is 2021 in robot kitchen market.