Owing to the benefits of Revenue cycle management software is used by many health care facilities as a centralized infrastructure for accessing patient data and allowing patients to connect with their accounts. These are common advantages of RCM software. Employee training modules, Claims tracking, Patient onboarding, Insurance validation, Performance reports, Denial notice, Online payment transactions, Compliance tracking, Automatic appointment reminders Healthcare providers may communicate with patients about their payment and claim status more easily with revenue cycle management. Patients who understand where they stand in the revenue cycle are more prepared for the financial implications of a clinical visit or medical treatment.
The global Revenue Cycle Management market is projected to reach USD 658.7 billion by 2030, growing at a CAGR of 11.6%
Covid-19 Impact & Market Status
The outbreak of Covid19 has led countries to impose blockades and travel restrictions, leading to variable patient numbers and uncertainties in claims. Increasing the complexity of RCM has a positive impact on outsourcing of RCM solutions. The increased stress on RCM professionals and staff is driven by the escalation of claim denials, constant changes to the Covid19 guidelines, and the introduction of new code. In addition, the sudden introduction of remote work has led to reduced inefficiencies. The adoption of virtual engagement technologies such as telemedicine and the shift to value-based care for healthcare systems are expected to pave the way for future growth prospects for RCM. In addition, the rising demand for telemedicine services in the middle of the COVID-19 epidemic is causing a slew of problems when it comes to insurance coverage. In addition, several ICD-10 codes for COVID-19 in patients have been added. This issue posed a number of problems in terms of adhering to new COVID-19 billing criteria and effecting revenue cycle management in healthcare settings. During the COVID-19 pandemic, this aspect might slow product uptake and market growth.
Integrated to Witness Fastest Growth
Based on the type outlook this market is divided into integrated and standalone. The revenue cycle management market was dominated by the integrated type segment, which generated the most revenue. Integrated solutions combine multiple financial processes into a simplified and synchronized structure on a single platform, resulting in a uniform data collecting and processing procedure. From increasing collections to preparing alternate payment and reimbursement systems, integrated revenue cycle management offers a variety of advantages. According to a survey conducted by Black Book Market Research, fully integrated revenue cycle management, practice management, and electronic health record (EHR) systems are the way of the future. Successful integration schemes enable healthcare personnel to boost efficiency while lowering expenses, increasing collections, and increasing net operating margins. Integrated services are expected to grow the fastest in the coming years due to increased demand for improved healthcare systems efficiency, healthcare facility expansion, and rising healthcare costs.
Software Segment to Emerge as the Most Lucrative Segment
This market is segmented into software and services based on the product viewpoint. The revenue cycle management market was driven by the software that generated the most revenue. As data silos grow and the amount of data collected by large numbers of healthcare providers grows, process digitization and workflow streamlining are needed to improve efficiency and patient care. As the amount of unorganized data grows, integration becomes necessary and the demand for RCM software solutions increases. Multiple data silos make effective data analysis difficult and increase the risk of data loss. RCM software solutions facilitate the process of processing large amounts of data and evaluating the data and creating meaningful mitigation actions. This allows staff to quickly document and review performance and make effective decisions related to the course selection process.
Web-based to Remain Atop
This market is divided into three categories based on delivery sentiment: web-based, on-premises, and cloud-based. The revenue cycle management market was led by the web-based delivery method segment that generated the most revenue. Web-based solutions are more popular than on-premises solutions because they require no additional hardware or storage and can be installed remotely and controlled centrally. Web-based deployment methods offer two benefits: low setup costs and quick deployment.
Most Revenue Was Generated by the physician's back office.
The physician back office category, which generated the most revenue, dominated the revenue cycle management market. According to the Association for Service Management International, clinic management systems are becoming more common in US clinics. Physicians and their personnel, including as nurses, consultants, and office managers, utilize these technologies on a regular basis to help their units run well. The market for revenue cycle management is likely to be driven by a growing focus on expanding the number of physicians and healthcare facilities across the area. Medical reimbursement, rising operational costs, and patient satisfaction are among issues that private physician offices face. To meet medical and financial needs, private medical practices outsource RCM solutions and services.
North America to Render Ample Investment Avenues
North America led the revenue cycle management market, accounting for the majority of revenue. Due to the presence of significant players, this region accounted for the majority of market share in the worldwide market. Furthermore, increased use of the software/service in the United States will aid regional market growth. The majority of industry income comes from growing medical practise in the United States. Regulatory reforms, such as the 2015 ICD10 change, have brought about a digital revolution in healthcare systems, significantly increasing demand for healthcare IT solutions, including revenue cycle management systems to improve efficiency and service delivery.
This procedure collects a lot of information about upfront costs, visits, claims, denials, payment rates, and more. Revenue cycle management tracks a patient's account throughout the life cycle as the patient receives services and makes payments. If the vendor has access to revenue cycle data, the vendor can evaluate the pattern and find ways to improve the process. Determining patient insurance eligibility and processing payments are both part of the revenue cycle management process.
Revenue cycle management is the financial process that healthcare businesses utilize to track patient care events from registration and appointment scheduling through complete payment of a debt utilizing medical billing software (RCM). "All administrative and clinical activities that contribute to the capture, coordination, and collection of health services revenue" is how the revenue cycle is described. It's a cycle that defines and explains a patient's life cycle (and subsequent revenue and payments) from admission (registration) through final payment in a typical healthcare interaction.
The revenue cycle begins when a patient schedule an appointment and concludes after the medical professional has received all payments. Revenue cycle management errors might result in the healthcare provider receiving late or no payments at all. Because the revenue cycle process is complicated and subject to regulatory supervision, healthcare providers can outsource revenue cycle management to organizations that specialize in managing healthcare provider revenue cycles using specialist agents and unique technology.
In 2021, the worldwide revenue cycle management (RCM) market was estimated to be worth USD 105.86 billion. The market is expected to increase at a CAGR of 11.4 percent over the forecast period, from USD 115.64 billion in 2022 to USD 246.40 billion in 2029. Advanced RCM solutions are in high demand due to the fast rising era of digitalization in healthcare. Multiple data silos and disorganized workflows in healthcare settings are creating opportunities for industry expansion and growth. As the payment of medical services gets more exact, the need of having an effective RCM solution grows.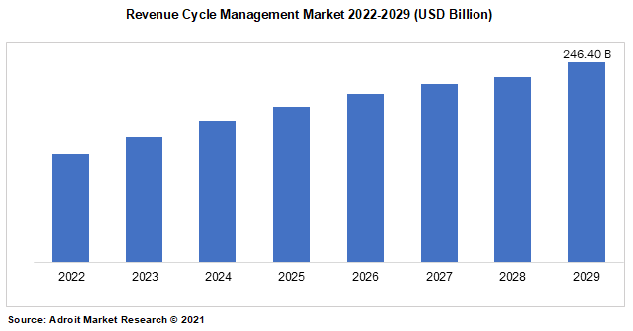 The key players in this market are R1 RCM Inc ,Epic Systems Corporation, AllScripts Healthcare, Experian Health NXGN Management, LLC, CareCloud Corporation, McKesson Corporation, Quest Diagnostics, Inc., The SSI Group, Inc., Athenahealth, Inc., ,. These are the global players of revenue cycle management.
Latest Innovations in the Revenue Cycle Management Market
Artificial intelligence and data analytics are new technologies that help vendors achieve fairer rewards, streamline operations, and maximize the strategic use of employees' talent in the revenue cycle. As a first step towards a designed sales cycle, deepen your understanding of the descriptive and diagnostic data you already have.
Revenue Cycle Management Market Scope
| | |
| --- | --- |
| Metrics | Details |
| Base Year | 2020 |
| Historic Data | 2018-2019 |
| Forecast Period | 2021-2028 |
| Study Period | 2018-2028 |
| Forecast Unit | Value (USD) |
| Revenue forecast in 2028 | USD 246.40 billion. |
| Growth Rate | CAGR of 11.4% during 2021-2028 |
| Segment Covered | By Type, Based on Product, Based on Delivery Mood, Based on End User, Regions |
| Regions Covered | North America, Europe, Asia Pacific, South America, Middle East and South Africa |
| Key Players Profiled | R1 RCM Inc ,Epic Systems Corporation, AllScripts Healthcare, Experian Health NXGN Management, LLC, CareCloud Corporation, McKesson Corporation, Quest Diagnostics, Inc., The SSI Group, Inc., Athenahealth, Inc |
Key Segments of the Revenue Cycle Management Market
By Type Outlook Overview, 2022-2029 (USD Billion)
Based on Product Outlook Overview, 2022-2029 (USD Billion)
Based on Delivery Mood Outlook Overview, 2022-2029 (USD Billion)
Web-based
On-premise
Cloud-based
Based on End User Outlook Overview, 2022-2029 (USD Billion)
Diagnostic Laboratories
Physician Offices
Hospitals
Others
By Region Overview, 2022-2029 (USD Billion)
North America
Europe

UK
Germany
France
Rest of Europe

Asia-Pacific

China
Japan
India
Rest of Asia-Pacific

South America
Mexico
Brazil
Rest of South America
Middle East and South Africa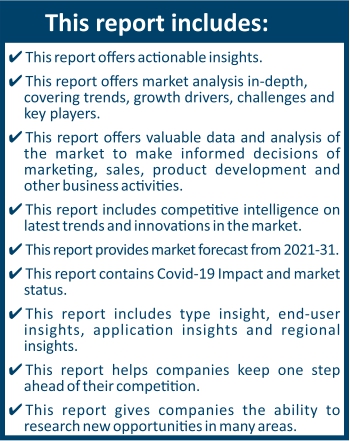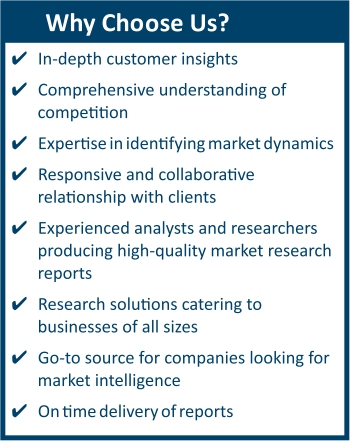 Frequently Asked Questions (FAQ) :
The market value of Revenue Cycle Management market in 2029 was USD 246.40 billion.
The Revenue Cycle Management market is growing at a CAGR of 11.4% over the forecast period.
The top companies that hold the market share are R1 RCM Inc ,Epic Systems Corporation, AllScripts Healthcare, Experian Health NXGN Management, LLC, CareCloud Corporation, McKesson Corporation, Quest Diagnostics, Inc., The SSI Group, Inc., Athenahealth, Inc