Increased knowledge about vitamins and supplements for health, as well as an increase in the number of people suffering from Retinols or vitamin A deficiency, are the primary factors driving market demand over the forecast period.
The global Retinols market is anticipated to increase at a 5.4% CAGR to reach value US$ 1.5 Bn in 2032
Covid-19 Impact & Market Status
Dietary supplements are becoming increasingly popular across the world, and purchases of nutritional supplements have increased considerably in most countries as a result of the COVID-19 epidemic. According to an MDPI survey, the global dietary supplement business was worth at approximately USD 101.3 million in 2018 and is expected to increase four folds in 2020, fueling demand for Retinols. Furthermore, dietary supplement use has been continuously increasing throughout the world, with around 50% to 75% of the market using them on a routine basis, boosting market expansion.
Feed Grade Will Propel The Global Retinols Market Growth
Vitamins are provided to animal feed in small amounts to help them grow, thrive, and perform. Ruminants require various vitamins as their productivity increases. As a consequence, livestock farmers frequently use feed additives like Retinols to increase the antioxidant capacity of their animals and avoid financial losses.
Dietary Supplements Followed By Animal Feed Will Stay Atop In The Global Retinols Market.
Individuals with Retinols deficiency may have vulnerable infections or illnesses such as night blindness, diarrhoea, or nausea. It's used to make dietary supplements, cosmetics, drinks, and other processed goods in the food and beverage, livestock feed, and pharmaceutical sectors. However, as people become more conscious of their own health and the importance of improving immunity to combat viruses, market for Retinols supplementation and treatments is increasing. As a result, various companies in the food, beverage, and pharmaceutical industries have begun to use the benefits of Retinols to extend their product line and worldwide reach. As a result, even during the epidemic, demand for Retinols surged dramatically.
The surge in worldwide dairy and meat product consumption is driving the demand for feed fortification. On the other hand, due to the rising prevalence of micronutrient deficiency diseases among the world population and a shortage of nutrients in food, which can contribute to malnutrition, the increase in food fortification is increasing. One of the primary factors fueling the market growth is the increase in Retinols uses in the supplement sector.
Natural Retinols Will Hold The Highest Market Share In The Global Retinols Market.
From 2022 to 2029, the natural Retinols market is estimated to grow at a substantial CAGR of over 6%, reaching around USD 45 million by 2029. As individuals become more aware of the advantages of natural goods, natural Retinols is predicted to expand in popularity. Changing consumer behaviour and eating patterns are driving increased need for fortified foods and supplements, which will sustain natural Retinols demand.
APAC Region Is Dominating The Global Retinols Market.
In recent years, Asia-Pacific has experienced excellent expansion. The industry is being driven by factors such as rising living standards and extensive consumer education on the usage of health supplements enriched with micronutrients such as vitamins, minerals, and other nutrients. Another aspect that may boost the market is an influence on consumer attention more towards a healthy diet as a result of rising economic standards fueled by growing urbanisation. The market for nutritional supplements is also being driven by the region's ageing population and dropping birth rate.
Over the projected period, the rising Asia Pacific pharmaceutical industry is likely to fuel demand for Retinols. By 2029, the APAC lmarket is expected to reach USD 235 million. Market demand will be boosted by the increased frequency of photoreceptor pigment disease and the region's expanding pharmaceutical industry. In addition, the government has implemented a number of laws to combat growing spread of Retinols deficient disorders, such as the absence of rhodopsin, a photosensitive pigment.
Global Retinols market is also predicted to rise due to growing demand for anti-aging skincare treatments. Retinols aids the human body in preserving skin health.
Vitamin A or also known as Retinols is a fat soluble vitamin that is used to treat ocular conditions such as myopia, hypermetropia, cataracts, , farsightedness, night blindness, and age - related macular degeneration of the eye. Retinols also contains anti-oxidant properties, boosts the immune system, decreases the likelihood of cancer, also aids in bone building.
Because of the expansion and formation of the food and beverage sector, global Retinols market is growing. Furthermore, market expansion is fueled by factors such as a rise in the elderly population, healthcare spending, the incidence of ophthalmic illnesses, and healthcare awareness. Government rules governing overall approval of pharmaceutical items, on the other hand, stifle market expansion. New development prospects are expected to emerge from ongoing R&D operations.
The global Retinols market will benefit from increased health awareness, affordability as a result of employment creation, and government efforts. Consumers have discovered its advantages in lowering the risk of prostate, lung, and other cancers, as well as lifestyle disorders such as measles, diabetes, cardiovascular disease, obesity, diarrheal infections, and Age related Macular Degeneration.
Because of the presence of retinoic acid, which activates and changes embryonic skin cells and genes into mature epidermal cells, Retinols aids in human body in maintaining excellent skin health. Isotretinoin (13-cis retinoic acid), for example, is extensively used to treat acne because of its ability to lower sebaceous gland output and growth. Furthermore, vitamin A has the capacity to reduce the quantity of lines and wrinkles, which is a symptom of ageing.
The product demand is being hampered by an increase in the number of health complications caused by excessive Retinols use. Retinols is essential for a healthy immune system, adequate eyesight, and the reproductive process. It also aids the proper functioning of organs including the lung, heart, and kidneys. However, too much Retinols can damage the human body in a variety of ways.
Over the forecast period, rigorous government restrictions on Retinols labelling and application are expected to limit Retinols market demand. For example, various standards govern the consumption and labelling of vitamin A or Retinols amount in dietary supplements, which may have an impact on the nutritional supplement and Retinols industries' growth. Furthermore, supplement producers must pay particular attention to the amount of Retinols utilised in their products, as some forms of Retinols can be harmful in excessive amounts. Excessive preformed Retinols can cause dizziness, nausea, headaches, coma, and death if consumed in large amounts. This element has the potential to reduce product demand thereby hampering the global Retinols market.
The increased consumer knowledge of the importance of comsuming supplemnets and vitamin rich foods is significantly increasing the demand of Retinols anticipated to be growth opportunity to the global Retinols market.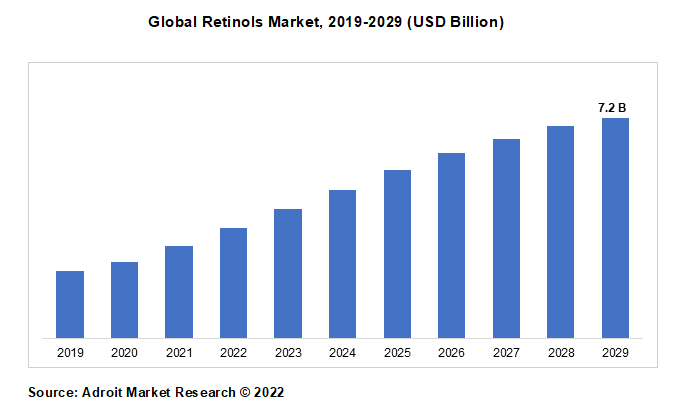 The key players in global Retinols market are Xiamen Kingdomway Group, Kempex Holland BV, Provimi North America, Zhejiang Medicine, Zhejiang NHU, Prinova Group, Bluestar Adisseo, BASF, and DSM among others.
Latest Innovation in the Global Retinols Market: A Snapshot
Lake Chemicals and Minerals has been named the exclusive distributor of DSM's mineral, carotenoid, nutritional lipids, nutraceuticals, speciality goods, and antioxidants. The goods will be used in the food, nutritional, and supplement industries in the Republic of Ireland. This plan will aid the organisation in expanding their market share and revenue along with that increase the reach throughout the country.
With the signing of an agreement between Framlenco Group and Bluestar Adisseo Co., Ltd. in August, new vistas for creating vitamin-fortified animal feed components opened up. As a result, the Retinols market may benefit.
Retinols Market Scope
| | |
| --- | --- |
| Metrics | Details |
| Base Year | 2022 |
| Historic Data | 2021-2022 |
| Forecast Period | 2022-2032 |
| Study Period | 2021-2032 |
| Forecast Unit | Value (USD) |
| Revenue forecast in 2031 | US$ 1.5 Bn |
| Growth Rate | CAGR of 5.4 % during 2022-2031 |
| Segment Covered | By Type, By Application, Regions |
| Regions Covered | North America, Europe, Asia Pacific, South America, Middle East and Africa |
| Key Players Profiled | GlaxoSmithKline Inc., Mylan Pharmaceuticals Inc., Sun Pharmaceutical Industries Ltd., Janssen Pharmaceuticals, Inc., Bausch Health Companies Inc., Ortho Dermatologics |
Key Segments of the Global Retinols Market
Product Overview, 2019-2029 (USD Billion)
Food Grade
Feed Grade
Pharmacheutical Grade
Application, 2019-2029 (USD Billion)
Food & Beverages
Dietary Supplements
Animal Feed
Personal Care & Cosmetics
Others
Type Overview, 2019-2029 (USD Billion)
Regional Overview, 2019-2029 (USD Billion)
North America
Europe
Germany
France
UK
Rest of Europe
Asia Pacific
China
India
Japan
Rest of Asia Pacific
South America
Mexico
Brazil
Rest of South America
Middle East and South Africa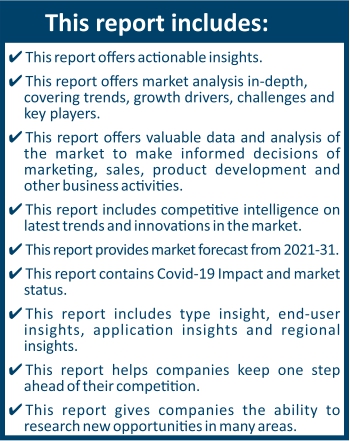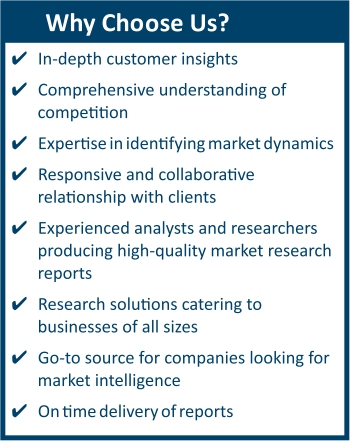 Frequently Asked Questions (FAQ) :
The market value of retinols market in 2029 was USD 4.9 billion.
The retinols market is growing at a CAGR of 5% over the forecast period.
The application of the retinols market food & beverages, dietary supplements, animal feed, personal care & cosmetics and other.
Asia-Pacific region dominated the market for retinols market and accounted for the largest revenue share.
The top companies that hold the market share in retinols market are Xiamen Kingdomway Group, Kempex Holland BV, Provimi North America, Zhejiang Medicine, Zhejiang NHU, Prinova Group, Bluestar Adisseo, BASF & among others.