The value of the Retinal Implants market is projected to grow to USD 72.48 billion with an estimated CAGR of 11.2% by 2029
Factors driving the growth of the retinal implants market include growing burden of eye diseases across the globe, development of new healthcare facilities in evolving economies and technological advancements in ophthalmology implants.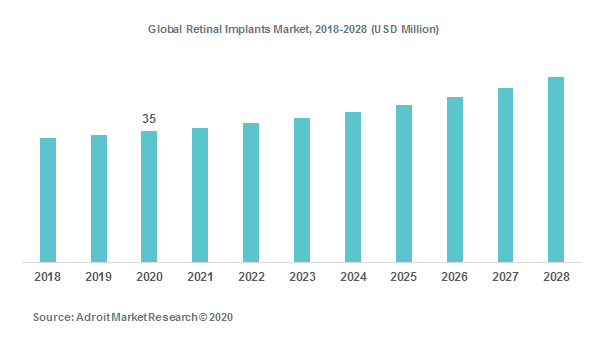 Although considerable progress has been made in treating vitreoretinal disorders with modern surgical or pharmacological approaches, there are still some untreatable conditions which lead to blindness. One of the major causes of untreatable blindness is the manifestation of progressive retinal degeneration as in retinitis pigmentosa (RP) and RP-like dystrophies. It is estimated that worldwide 1.5 million individuals are affected by RP.
Regionally, North America accounted for the largest market share of the global retinal implants market attributable to the growing research encroachments to develop innovative solutions. Leading players of the global retinal implants market include Second Sight Medical Products, Inc., VisionCare, Inc., Pixium Vision, Nano Retina and Labtician Ophthalmics, Inc.
Retinal Implants Market Scope
| | |
| --- | --- |
| Metrics | Details |
| Base Year | 2021 |
| Historic Data | 2019-2020 |
| Forecast Period | 2022-2029 |
| Study Period | 2019-2029 |
| Forecast Unit | Value (USD) |
| Revenue forecast in 2029 | USD 72.48 billion |
| Growth Rate | CAGR of 11.2 % during 2021-2029 |
| Segment Covered | Product Type, End User, Regions |
| Regions Covered | North America, Europe, Asia Pacific, South America, Middle East and Africa |
| Key Players Profiled | Abbott (U.S), Bionic Vision Technologies (U.S), Drägerwerk AG & Co. KGaA (Germany), Labtician Ophthalmics, Inc. (Canada), Nano Retina (Israel), Koninklijke Philips N.V. (Netherlands), Pixium Vision (France), Retina Implant AG (Germany), Second Sight (U.S), VisionCare, Inc. (U.S), Visus Technology, Inc. (U.S), Boston Retinal Implant Project (U.S), IMI Intelligent Medical Implants AG (Germany), Cicor Management AG (Switzerland) |
Key segments of the global retinal implants market
Device Type Overview, 2018-2028 (USD Million)
Retina implant alpha AMS
Implantable miniature telescope
Argus II
Others
Regional Overview, 2018-2028 (USD Million)
North America
Europe

Germany
United Kingdom
France
Rest of Europe

Asia Pacific

China
Japan
India
Rest of Asia Pacific

Latin America
Middle East & Africa
Reasons for the study
Technological advancements in the field of retinal implants
Increasing funding for research
Increasing occurrence of vision loss
What does the report include?
The study on the global Retinal implants market includes qualitative factors such as drivers, restraints and opportunities
The study covers qualitative and quantitative analysis of the market segmented on the basis of device type. Moreover, the study provides similar information for the key geographies.
Actual market sizes and forecasts have been provided for all the above-mentioned segments
The study includes the profiles of key players in the market with a significant global and/or regional presence
Who should buy this report?
The report on the global retinal implants market is suitable for all the players across the value chain including product manufacturing companies, suppliers/distributors, R&D labs, CROs, healthcare organizations, medical reimbursement and insurance providers
Venture capitalists and investors looking for more information on the future outlook of the global retinal implants market
Consultants, analysts, researchers, and academicians looking for insights shaping the global retinal implants market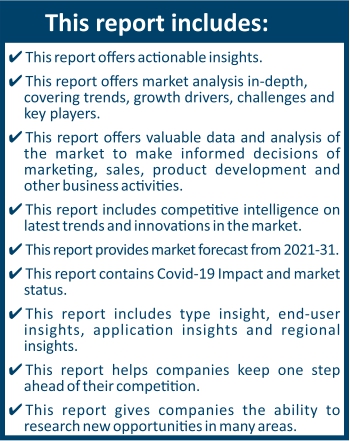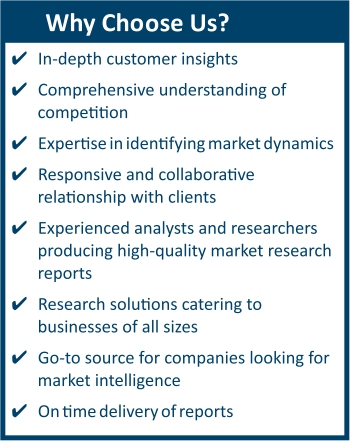 Frequently Asked Questions (FAQ) :
The market value of retinal implants market in 2028 was USD 76.8 million
To get latest version of retinal implants market report can be obtained on demand from the website
The major contenders in the global market are Second Sight Medical Products, Inc., VisionCare, Inc., Pixium Vision, Nano Retina and Labtician Ophthalmics, Inc.
The last 10 years of visual prosthesis research has demonstrated that the interdisciplinary approach of combining engineering and medical know-how has an important contribution to make in a field where no treatment is available for blind patients. Several research groups have are coming up with prototypes for retinal implants which in the future will be evaluated in terms of safety and efficacy. The quality of vision or visual acuity or visual field properties largely depend on a number of factors of the individual patient and not only of the technical implant. A large number of open questions remain, the most important being the long-term stability and function of such a device, the biological behaviour of the interface between the electrodes and the target tissue, and the target tissue itself.
On the basis of technology, the global retinal implants market is segmented into device type.
The Implantable Miniature Telescope (IMT) is designed to be a permanent solution for patients with advanced age-related macular degeneration (AMD). Advanced AMD is characterized by irreversible damage to the macula, or central retina, and an associated deterioration in central vision. Daily activities requiring detailed central vision, such as reading, watching television and recognizing faces, become particularly difficult for people with advanced AMD. While central vision can be blurred or even missing, the peripheral vision of AMD patients generally remains intact. AMD can affect one or both eyes, and the disease can progress slowly or rapidly.
North America dominated the market for retinal implants in 2020. Health care costs in the United States have grown substantially for decades and are expected to continue to grow in the future. For the federal government, rising health care costs constitute the principal challenge of fiscal policy, no other single factor will exert more influence over the long-term balance of the federal budget. The effects of rising health care costs are not limited to public programs, however. Private payers have experienced similar growth in costs.
Over 28 million adults in the United States suffer from one or more age-related eye diseases. With the growing older population and increasing incidence of diabetes, this number is projected to rise. By 2022, the number of people with visual impairment and eye diseases could increase by 50% or more. Still, eye care access and utilization in the United States varies according to factors such as income, race, insurance, and having known vision or eye problems. Race/ethnicity and low-socioeconomic status appear to be independently associated with increased visual loss, placing poor ethnic minorities at highest risk.