The global Railway Cybersecurity market is projected to reach 13.90 billion by 2030, growing at a CAGR of 8.6%
Owing to the benefits of railways cybersecurity it is difficult for personnel to work once networks and personal devices are slowed to a crawl by harmful computer programs and cyberattacks for the working of webpages as well as for company to run. You may majorly minimize desecrations and the sum of added time mandatory to rectify the breach by putting in place a variety of cyber security procedures, such as boosted firewalls, bug scanning, and automatic backups.
Covid-19 Impact & Market Status
Due to travel limits and anticipated subpar financial performance of market players in 2020, the COVID-19 pandemic's propagation has had a detrimental effect on the worldwide railway cybersecurity industry. Key railway component manufacturers and solution providers have indicated that they would stop producing and offering their services. The demand for mass transportation and rolling stock will decline, which will cause the deployment of cyber security projects on the train to be delayed even further. Additionally, it is anticipated that the research and development budget allocation would be considerably influenced, which will impede the development of creative railway developments. Government spending levels and railroad operator demand are the two main determinants of demand for cyber security solutions for railroads. The supply chain execution, regulatory and legislative changes, reliance on labour, working capital management, and liquidity and solvency management are the main risk concerns for market participants in railway cybersecurity. In February 2021, the second wave of COVID-19 hit harder than the first strain and is anticipated to have a more severe overall impact on the economic outlook.
On Board Type to Remain Atop
Due to the rising demand for cloud-based services, analytics, and mobile and internet technologies in emerging nations, the on-board sector is anticipated to become the market segment with the quickest rate of growth throughout the projection period. Growing complexity is anticipated along with the big data applications' explosive expansion. The market for the on-board sector will be driven by expanding data pools, cutting-edge technology, and the ongoing desire to reduce costs.
Network Security to Develop as the Most Rewarding Sector
The market's highest market share belongs to the network security category 33.33 percent of the market was made up of the network security sector. By employing real-time data and high-speed communication linkages between rail networks, trains, and other rail facilities, railway network security controls and automates all traffic and enables centralized rail network management. This system performs a number of tasks, including operation management, maintenance support, and traffic planning. The safety structure also deals with cyber-attacks and catastrophe supervision. Consequently, throughout the course of the forecast period, all these qualities will drive the expansion of the railway network security segment.
Passenger Trains to Ensure Revenue Maximization
During the projected period, the market's largest share will be accounted for by the passenger train sector. During the estimation period, the market for railway cybersecurity is predicted to be led by the passenger train segment. Since the passenger rail network has an open architecture, numerous access points, and a large user base, its security is more complicated than that of the freight segment. Recent passenger train intrusions in places like London and New York have brought attention to the significance of rail cybersecurity. Worldwide, governments support network security resolutions for their passenger and cargo railroads.
APAC Dominating the Market
Geographically, Asia-Pacific holds the largest market share for railway cybersecurity globally and is expected to lead the sector in the next years. These nations have encountered various obstacles to the development of a railway cybersecurity infrastructure over the last few decades. This basic issue will result in data breaches, as well as issues with freight information and analytics, rail analytics, and passenger entertainment. Additionally, the market demand is projected to be driven by the growing use of cutting-edge technology, rising expenditures in rail infrastructure, and spike in demand for passenger and freight capacity. Additionally, on the strength of urban transit and high-speed rail, the current rail network has been rapidly expanding, particularly in China and India.
Real-time warnings and ongoing monitoring are essential components of a successful cybersecurity solution for rail systems because they give train operators complete system awareness and give them the power to respond promptly to possible threats.
A group of tools or services known as "railway cybersecurity" are often used to safeguard against cyberattacks the networks, systems, and software associated to the railroad industry. Safeguards against interior dangers, the human characteristic remains to be the cyber security system's frailest linkage. Insider risks can come up from existing or past workers, third-party merchants, or even reliable allies, and they can be inadvertent, careless, or absolutely malicious. Sidewise, the quick growth of remote work, private devices used for corporate tenacities, and even Internet of Things devices in isolated locations might make it convenient for these occurrences and outbreaks to go unobserved until it's late specially in railways where time matters the most. Nevertheless, by proactive and constant monitoring networks and handling access, threats may be acknowledged and dealt with beforehand.
Cyberattacks are typically concentrated on altering, obtaining, or erasing railway-related information for illegal use. In order to achieve operational efficiency, digital smart technologies have been recently combined with railway infrastructure and related solutions. Growing urbanization, intelligent cities, intelligent transportation, and intelligent railway management all have an impact on the development of internet-driven systems in the railway sector. Since the railway sector relies on the transmission of data through its infrastructure and linked systems to carry out its operations, data protection is a top priority.
The size of the worldwide railway cyber security market is expected to be USD 17.1 billion in 2029, with a CAGR of 7.97% from 2022 to 2029. The global increase in railway projects, the growing number of cyberattacks, and the spike in demand for passenger and freight capacity are all likely to contribute to the growth of the railway cybersecurity market. High installation costs, however, limit market expansion. On the other hand, creating strategic alliances with train operators and service providers and enhancing the infrastructure of emerging nations' railways are anticipated to present market participants with abundant development potential.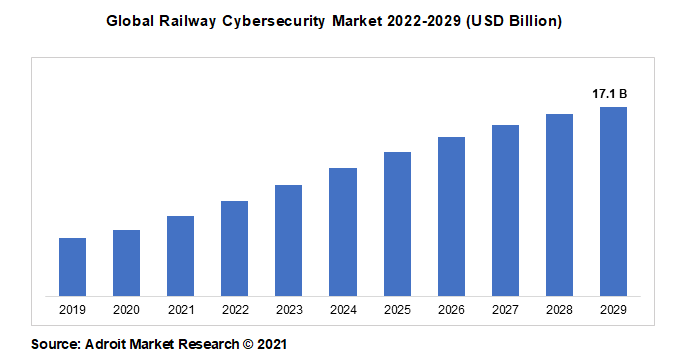 The vital market companies are International Business Machine Corporation (IBM), Cisco Systems, Inc., Nokia Corporation, Raytheon Technologies Corporation, Siemens AG, Thales Group, Webtec Corporation, Hitachi Ltd., Huawei Technologies Co., Ltd. These are the international market leaders in the railway cybersecurity market.
Latest Innovations in the Railway Cybersecurity Market: A Snapshot
Wabtec created the FDL Advantage, a fuel-efficient engine improvement package for their FDL locomotive platform. Another option is called Modular Control Architecture - Fleet Migration (MCA FM), which is an upcoming control system replacement that can be used throughout the whole base of locomotives built by Wabtec. Both of these technologies contain software and capabilities for next-generation data. In order to address future mobility concerns, several nations have included a few technologies into their transportation infrastructure and are focused on R&D and breakthroughs in rail infrastructure technology.

A gateless entrance system by Cubic Transportation Systems allows passengers to board trains swiftly and pay via software utilizing face recognition and Bluetooth. Microchips are now being used by Swedish SJ railroads to instantly authenticate tickets. It is anticipated that using cutting-edge technologies for ticketing systems will increase productivity and comfort for travel. Such program might enhance the entire travelling experience and promote the development of rail security.
Railway Cybersecurity Market Scope
| | |
| --- | --- |
| Metrics | Details |
| Base Year | 2020 |
| Historic Data | 2018-2019 |
| Forecast Period | 2021-2028 |
| Study Period | 2018-2028 |
| Forecast Unit | Value (USD) |
| Revenue forecast in 2028 | USD 17.1 billion |
| Growth Rate | CAGR of 7.97 % during 2021-2028 |
| Segment Covered | Type, Security Type, Application, Regions |
| Regions Covered | North America, Europe, Asia Pacific, Middle East and Africa, South America |
| Key Players Profiled | International Business Machine Corporation (IBM), Cisco Systems, Inc., Nokia Corporation, Raytheon Technologies Corporation, Siemens AG, Thales Group, Webtec Corporation, Hitachi Ltd., Huawei Technologies Co., Ltd. |
Key Segments of the Railway Cybersecurity Market
Type Overview, 2022-2029 (USD Billion)
Security Type Overview, 2022-2029 (USD Billion)
End Point Security
Application Security
System Administration
Network Security
Data Protection
Application Overview, 2022-2029 (USD Billion)
Passenger Trains
Freight Trains
Region Overview, 2022-2029 (USD Billion)
North America
Europe

UK
Germany
France
Rest of Europe

Asia-Pacific

China
Japan
India
Rest of Asia-Pacific

South America
Mexico
Brazil
Rest of South America
Middle East and South Africa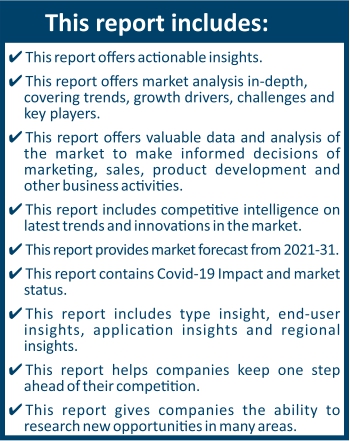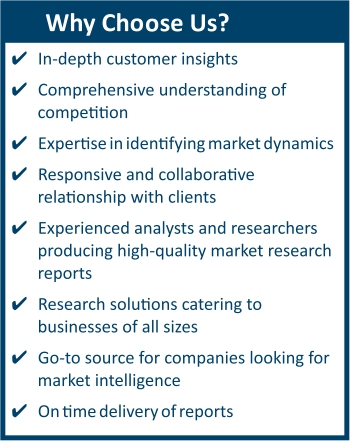 Frequently Asked Questions (FAQ) :
The market value of railway cybersecurity market in 2029 was USD 17.1 billion.
The railway cybersecurity market is growing at a CAGR of 7.97% over the forecast period.
Asia-Pacific dominated the market for railway cybersecurity market and accounted for the largest revenue share.
The top companies that hold the market share in railway cybersecurity market are Business Machine Corporation (IBM), Cisco Systems, Inc., Nokia Corporation, Raytheon Technologies Corporation, Siemens AG, Thales Group, Webtec Corporation, Hitachi Ltd., Huawei Technologies Co., Ltd & among others.
To get latest version of railway cybersecurity market report can be obtained on demand from the website.