Owning to the benefits of The possibility of light weighting railway axles was researched in effort to reduce rail cars' unsprung bulk. Reduced unsprung mass translates to a lighter train, which helps to decrease track damage, energy consumption, and overall operating expenses. To give a more track-friendly design, two options were investigated for light weighting railway axles, hollow axle design and material replacement utilizing modern composite materials.
The Railway Axles market is expected to grow at a CAGR of 5% to reach US$ 5.8 Bn in 2030.
Covid-19 Impact & Market Status
The outbreak has had a severe and unprecedented global impact, and demand for rail axles has decreased everywhere as a result the Railway Axle Market Will Stagnate. The COVID-19 Pandemic is to blame. The COVID-19 outbreak has put passenger railroad operators in a dire financial situation. This is mostly owing to severe social distancing restrictions and a steep drop in ticket revenues, which has resulted in increased in transportation capacity and, as a result, a scarcity of operational money, particularly investment funds. The ever-increasing deficits of municipal corporations, in particular, may cause the cancellation of future and present investment plans.
Roller Axles Segment is Expected to Become the Most Lucrative
The roller axle segment is expected to dominate the market. The market is divided into hollow axles, roller axles, etc. depending on the rail type. The roller axle sector has the largest market share due to its widespread use by manufacturers in vehicles. The roller axle has an advanced sealing mechanism that is intricately intertwined with the surrounding components. They are robust, practical, and simple to use. The AAR (American Railroad Association) has approved the freight car roller axle, and it is widely utilized in markets all over the world. Because of their exceptional strength and dependability, axles have been used in rail containers for a very long time.
Wagon Segment to Remain Atop
The wagon segment is expected to dominate the market. The market is divided into locomotives, high-speed locomotives, and wagons based on the type of application. The wagon sector occupies most of the world market. Rapid urbanization, the growth of rail infrastructure, and the implementation of technologically sophisticated innovations in the transport sector, especially in developing countries, have created a large market for railroad wheels and axles for passenger and freight cars. A wagon is a driverless railroad vehicle used to transport goods and people. Rail vehicles are faster, safer and cheaper than road transport. The wagons have a great carrying capacity and can transport many loads of products at once.
The Asian Pacific regions to Render Ample Investment Avenues
With rising urbanization, rising disposable income, and expanding industrial sectors, the Asia-Pacific region currently controls the majority of the worldwide market. Large firms' presence in the Asia-Pacific area is anticipated to improve the local economy. The region is home to businesses like Taiyuan Heavy Industry and Datong ABC Castings Company Limited that are actively seeking for new chances. In addition, these companies attach great importance to research and development. In addition, the two companies have partnered with other organizations to increase exports and produce technologically innovative items. Companies invest strategically to improve their skills. The existence of railway wheel and axle producers in Asia Pacific countries offers industry growth potential due to their manufacturing and sales requirements. Over the course of the forecast period, these variables are anticipated to propel the Asia Pacific market to a sizable CAGR.
The first method demonstrated that increasing the outer diameter of a hollow axle by 30% above the solid axle diameter results in a mass reduction of 56% for a hollow steel axle design. The second method looked at how much mass might be saved by using a hollow axle instead of a solid axle. The viable materials for the application were identified using a systematic method to material selection for the design requirements and limitations of a railway axle.
A railway axle is a single rigid beam that is one of the most important design safety components of a bogie, with wear resistance as the design driver. The axle is responsible for transmitting driving torque to the wheels, regulating wheel alignment, and supporting the vehicle body. Axles for European rail networks are usually made from vacuum-degassed steel grade EA1N,10, either through open die forging or rolling. After that, the surfaces are post machined to make a concentric and balanced axle.
Axles used to be solid in cross section, however hollowed axles are increasingly being employed to lightweight rail carriages. Furthermore, whereas an axle is developed by inertial loading, it is an excellent option for a composite solution.
The railway transportation system has seen significant modifications in recent years as demand for train transit has expanded dramatically. They play a significant role in the long term future in addition to being an essential part of the national infrastructure. Having dependable rolling stock and infrastructure equipment is crucial for achieving a high degree of safety.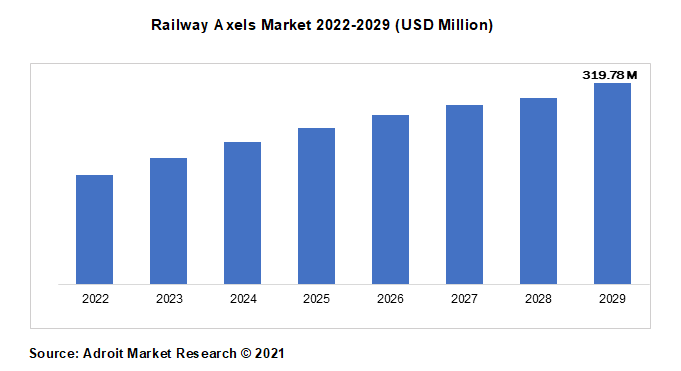 The key players in the market are Kolowag, Masteel, Rail Wheel Factory, Bombardier transportation, CAF, Semco, Comsteel, Lucchini RS, Amsted Rail, Swasap. These are the global market players in the railway axles market.
Latest Innovations in the Railways Axles Market
Mechatronics railcars with reduced weight, two axles and only one suspension have been proposed with the aim of reducing investment and maintenance costs. Composite wheelset body connection structures are used as structural and suspension elements. Active steering is used to move the wheelset and improve cornering performance. To overcome the stability difficulties of the feedback technique, a feedforward control approach based on uncompensated lateral acceleration and curvature has been developed. The two-axle vehicle replaces Madrid Metro's existing Class 8000 vehicles. Simpack is used to model a new vehicle, paying special attention to the representation of the connection structure between the wheelset and the body.
Both wheels are locked together and connected to the fixed axles of a traditional wheelset, preventing relative rotation between them. As the train approaches a curve or branch track at a junction, the train must decelerate so that the wheels are guided along the track and the wheels do not vibrate. Researchers are currently working on creating independently rotating wheels with separate actuation systems to help steer the wheelset along curved courses.
Railway Axles Market Scope
| | |
| --- | --- |
| Metrics | Details |
| Base Year | 2022 |
| Historic Data | 2020-2021 |
| Forecast Period | 2022-2030 |
| Study Period | 2020-2030 |
| Forecast Unit | Value (USD) |
| Revenue forecast in 2030 | US$ 5.8 Bn |
| Growth Rate | CAGR of 5 % during 2022-2030 |
| Segment Covered | wheel type, Region. |
| Regions Covered | North America, Europe, Asia Pacific, South America, Middle East and Africa |
| Key Players Profiled | Amsted Rail Company, Inc., ArcelorMittal S.A., Bonatrans Group a.s., CAF, Construcciones y Auxiliar de Ferrocarriles, S.A., Comsteel, CRRC Sifang Co., Ltd., Kolowag, Lucchini RS S.p.a., Bharat Forge Ltd. (Kalyani Group), Nippon Steel & Sumitomo Metal Corporation, Rail Wheel Factory – Indian Railways |
Key Segments of the Railways Axles Market
Type Overview, 2022-2029 (USD Million)
Roller Axles
Hollow Axles
Others
Application Overview, 2022-2029 (USD Million)
Passenger Car
Wagon
Locomotives
Regional Overview, 2022-2029 (USD Million)
North America
Europe

UK
Germany
France
Rest of Europe

Asia-Pacific

China
Japan
India
Rest of Asia-Pacific

South America
Mexico
Brazil
Rest of South America
Middle East and South Africa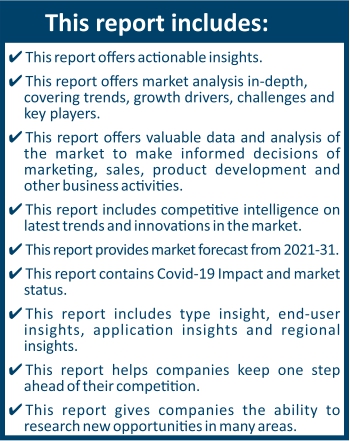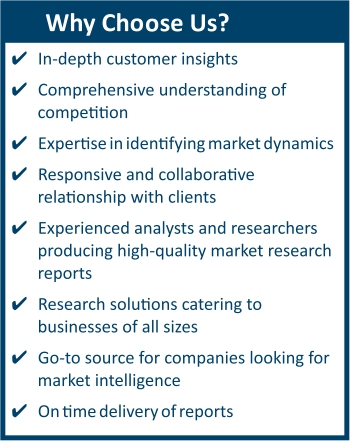 Frequently Asked Questions (FAQ) :
The market value of railway axles market in 2029 was USD 319.78 million.
Asia Pacific dominated the market for railway axles market and accounted for the largest revenue share.
The top companies that hold the market share in railway axles market are Kolowag, Masteel, Rail Wheel Factory, Bombardier transportation, CAF, Semco, Comsteel, Lucchini RS, Amsted Rail, Swasap & among others.
To get latest version of railway axles market report can be obtained on demand from the website.
The base year for the report is 2021 in railway axles market.