In radiology departments, the radiology information system is heavily utilized for data administration. Resources management, patient scheduling, procedure billing, and results distribution are just a few of its many functions. The radiological department's numerous processes are automated and managed by this kind of health or hospital information system.
Covid-19 Impact & Market Status
Global healthcare spending grew as a result of the COVID-19 pandemic because it highlighted the value of public healthcare services. In addition, once the COVID-19 vaccine enters the market, fewer cases of COVID-19 are anticipated in the near future. Businesses involved in developing radiology information systems have reopened as a result. Within the first quarter of 2022, the industry will therefore start to support itself.In order to respond to urgent problems and implement new working procedures after COVID-19 infection instances start to fall, businesses must concentrate on safeguarding their personnel, operations, and supply networks. The COVID-19 pandemic is projected to improve public awareness of the importance of running healthcare facilities efficiently, which will have a beneficial impact on the market for radiology information systems.
The Integrated Segment to Dominate the Global RIS Market
It is divided into two distinct types, standalone and integrated, according to kind. Due to the inclusion of RIS-PACS solutions and the fact that a single worklist is created at registration, the integrated sector has the biggest market share. All business platforms benefit from improved workflows as a result of this. When it comes to offering support to the emergency department's (ED) workflow, the emergency information system is crucial. The entire medical imaging industry is anticipated to be completely transformed by RIS in this manner. In the ensuing years, it's anticipated that the aforementioned radiology software will operate with more cash flow.
The Cloud-Based Segment Ruling the Sector
The deployment modes are divided into three categories: web-based, on-premise, and cloud-based. Over the projected period, the cloud-based segment is anticipated to increase rapidly. Cloud-hosted solutions are incredibly cost-effective when compared to direct buying models. This is due to the fact that users can subscribe to the most recent model of a radiological information system for less money than they can buy the entire model. Cloud-based solutions can be easily accessed internet and operated efficiently with just a world wide web computer because the information is kept on remote server. Patients and healthcare professionals can access information whenever they want thanks to cloud-based delivery. Small to intermediate hospitals often have limited budgets for hardware, so cloud-based radiology data systems are particularly well-suited to their needs because they are more affordable.
The hospital sector will control the market in terms of end-use
Depending on the end users, it is separated into hospitals, office-based doctors, and medical payers. Over the projection period, hospitals were the segment's leading end-use. The primary function of RIS is to maintain current patient records in hospitals through databases that contain all the information necessary for planning, health care, picture locating, and outcome reporting. The integration of all hospital databases that link all the systems and pieces of equipment in a care setting is handled by large healthcare IT companies.
The North American segment will control the market, according to region
For the purpose of doing a geographical analysis, the market is divided into five regions: South America, Europe, North America, the Middle East and Africa, and Asia-Pacific. With the major share in 2020, North America was the dominant region for radiology computer systems. Over the course of the anticipated timeframe, rapid growth is anticipated in the Asia-Pacific region. This is explained by a growth in healthcare facility cost and an increase in population.
Another of the most significant influences on the economy is the increasing incidence of chronic illnesses such as diabetes, cardiovascular disease, arthritis, and cancer as a consequence of increasing fast-food ingestion and unhealthy lifestyles.
A radiology information system (RIS), an interconnected software programme, is used to handle imaging techniques and the data it generates. To control work process and billing, a RIS is frequently used in combination with an image cataloguing and radio system. It is especially beneficial when storing diagnostic imaging records and related data at numerous places. A RIS can track a patient's entire journey through the radiology department. The authorised radiology staff can review these records, and electronic medical records (EMRs) might save and recover images and findings.
Additionally, radiology information systems have the advantage of making invoicing and record-keeping tasks more effective. In addition, hospitals and other healthcare facilities are rapidly utilizing cloud computing and related services to improve the effectiveness of their operations. Additionally, the substantial investment made in healthcare facilities in industrialized nations drives the market share for radiology information systems.
Because to the expanding global population, there are now a significantly greater number of people who suffer from chronic diseases. Furthermore, during the past few decades, there has been a marked rise in the number of people with chronic illnesses like arthritis, diabetes, and heart disorders. This raises the need for radiological testing and significantly aids in the expansion of the market for radiology information systems.
The development of technology and rising spending in the healthcare IT industry are anticipated to drive the global market for radiology information systems forward and offer favorable growth prospects. Additionally, industry participants stand to gain financially from the incorporation of artificial intelligence (AI) in RIS. Better patient care, more consistent radiologist support, and more effective workflow can all be the results of integrating AI into RIS.
Notwithstanding a variety of factors, the increased risk of cyberespionage and the possible disciplinary of patient-related personal data limit RIS acceptance and market growth. The radiology information systems (RIS) market is anticipated to increase, but is predicted to be constrained by a lack of qualified IT workers and high healthcare expenses. Additionally, interoperability problems will provide a difficulty that could impede the development of the market for radiology information systems (RIS). During the projection period, it is expected that the global market for radiology information systems will expand at a CAGR of 7.91% and reach USD 2.14 billion by 2029.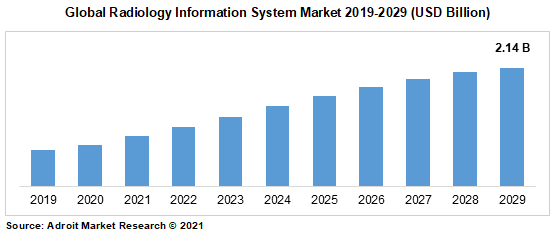 The market for radiology information systems is moderately competitive. A select handful of the key players now control the majority of the market in terms of market share. Siemens Healthineers, Cerner Corporation, GE Healthcare, Epic Systems Corporation, IBM (Merge Healthcare Incorporated), Medinformatix, Koninklijke Philips NV, Mckesson Corporation, and Allscripts Healthcare Solutions are a few of the major participants. To attain expansion in the global market, these businesses have implemented techniques including partnerships, mergers, and acquisitions, among others.
Latest Innovations in the Global Radiology Information System Market: a Snapshot
In March 2022, The Healthcare Information and Management Systems Society (HIMSS) Global Health Conference and Exhibition in 2022 saw the debut of Intelerad Medical Systems' Enterprise Imaging and Informatics Suite, which could offer radiologists a cutting-edge option for managing medical images.
In February 2022, The DRX Compass, a precise, practical, and customizable digital radiology solution introduced by Carestream Health India, is intended to give radiologists a completely new level of productivity.
Radiology Information System Market Scope
| | |
| --- | --- |
| Metrics | Details |
| Base Year | 2021 |
| Historic Data | 2019-2020 |
| Forecast Period | 2022-2029 |
| Study Period | 2019-2029 |
| Forecast Unit | Value (USD) |
| Revenue forecast in 2029 | USD 2.14 billion. |
| Growth Rate | CAGR of 7.91 % during 2021-2029 |
| Segment Covered | Type, Deployment, End-use, Regions |
| Regions Covered | North America, Europe, Asia Pacific, South America, Middle East and South Africa |
| Key Players Profiled | Siemens Healthineers, Cerner Corporation, GE Healthcare, Epic Systems Corporation, IBM (Merge Healthcare Incorporated), Medinformatix, Koninklijke Philips NV |
Key Segments of the Global Radiology Information System Market
Type Overview, 2019-2029 (USD Billion)
Deployment Overview, 2019-2029 (USD Billion)
Cloud-Based
On-Premise
Web-Based
End-use Overview, 2019-2029 (USD Billion)
Physician
Healthcare
Hospital Players
Office-based
Regional Overview, 2019-2029 (USD Billion)
North America
Europe
Germany
France
UK
Rest of Europe
Asia Pacific
China
India
Japan
Rest of Asia Pacific
South America
Mexico
Brazil
Rest of South America
Middle East and South Africa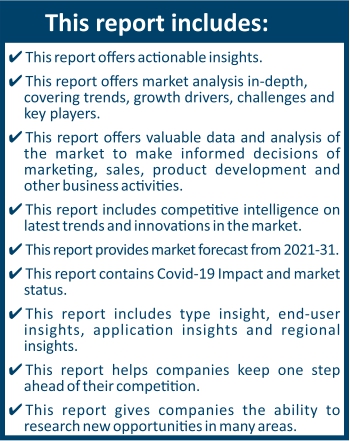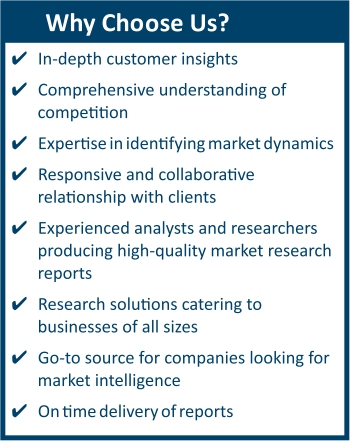 Frequently Asked Questions (FAQ) :
The market value of radiology information system market in 2029 was USD 2.14 billion.
The radiology information system market is growing at a CAGR of 7.91% over the forecast period.
The top companies that hold the market share in radiology information system market are Siemens Healthineers, Cerner Corporation, GE Healthcare, Epic Systems Corporation, IBM (Merge Healthcare Incorporated), Medinformatix, Koninklijke Philips NV & among others.