The global protein assays market was valued at USD 2,009.7 million in 2018. Factors driving the growth of the protein assays market include growing pharmaceutical and biotech R&D expenditure and increasing protein binding assays in drug discovery & development.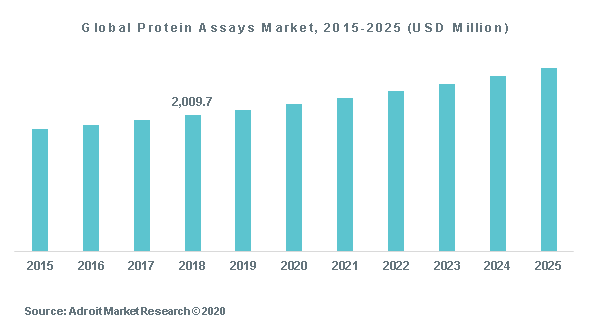 Protein quantitation is often necessary prior to handling protein samples for isolation and characterization. It is a required step before submitting protein samples for chromatographic, electrophoretic and immunochemical separation or analyses. When it is necessary to determine the total protein concentration in a sample, one of the first issues to consider is the selection of a protein assay method. The choice among available protein assays usually is based on the compatibility of the method with the samples to be assayed. The objective is to select a method that requires the least manipulation or pre-treatment of the samples containing substances that may interfere with the assay.
The global protein assays market is categorized based on type, technology, application and end user. Based on type, the market is segmented into dye-binding assays, copper-ion-based assays, test strip-based assays, and other protein assays. Dye-binding assays accounted for the largest market share in 2018. This growth can be attributed to its rapid outcomes, easy to perform at room temperature and compatibility with most salts.
Region wise, North America was the largest market in 2018; however, Asia Pacific is expected to witness the highest CAGR by 2025 owing to rising government investment in academic & institutional research. Major players operating in the global protein assays market include Thermo Fisher Scientific, Bio-Rad Laboratories, Inc., Merck KGaA, Cell Signaling Technology, Inc., General Electric Company and PerkinElmer Inc. among others.
Key segments of the global protein assays market
Type Overview, 2015-2025 (USD Million)
Dye-binding Assays
Copper-ion-based Assays
Test Strip-based Assays
Other Protein Assays
Technology Overview, 2015-2025 (USD Million)
Absorbance-based Protein Assays
Colorimetric-based Protein Assays
Fluorescence-based Protein Assays
Application Overview, 2015-2025 (USD Million)
Drug Discovery and Development
Disease Diagnosis
Other Applications
End User Overview, 2015-2025 (USD Million)
Pharmaceutical & Biotechnology Companies
Hospitals
Clinical Laboratories
Academic Institutes
Other End Users
Regional Overview, 2015-2025 (USD Million)
North America
Europe

Germany
United Kingdom
France
Rest of Europe

Asia Pacific

China
Japan
India
Rest of Asia Pacific

Rest of the world
Reasons for the study
Increasing private-public partnerships for proteomics research
Increasing adoption of protein assays to diagnose various diseases
Increasing pharmaceutical & biotech R&D expenditure
What does the report include?
The study on the global protein assays market includes qualitative factors such as drivers, restraints and opportunities
Additionally, the market has been evaluated using the Porter's five forces analysis
The study covers qualitative and quantitative analysis of the market segmented on the basis of type, technology, application and end user. Moreover, the study provides similar information for the key geographies.
Actual market sizes and forecasts have been provided for all the above-mentioned segments
The study includes the profiles of key players in the market with a significant global and/or regional presence
Who should buy this report?
The report on the global protein assays market is suitable for all the players across the value chain including raw material suppliers, R&D labs, pharma, biopharma, medical device manufacturers, healthcare organizations, distributors and suppliers
Venture capitalists and investors looking for more information on the future outlook of the global protein assays market
Consultants, analysts, researchers, and academicians looking for insights shaping the global protein assays market
An immense opportunity exists for the protein assays market in emerging economies. These economies are investing in R&D and manufacturing with a focus on developing world-class R&D capabilities. South Korea for instance, is focusing on establishing itself as a biotech hub by investing in novel technologies.
The government of South Korea is expected to invest USD 320 million (KRW349 billion) in biotech. Of the total investment, approximately USD 60 million (KRW59.4 billion) is targeted for pharmaceutical R&D, to back development of 100 novel drugs by 2026. Concurrently, the government, along with industry players and foreign investors, seeks to create an R&D fund worth USD 900 million (KRW1 trillion) to provide financial assistance to health care startups and to initiate a technology transfer covering the entire drug development process. Regulatory authorities are also aiming to simplify gene therapy and organ transplantation regulations to accelerate research and commercialization of various novel technologies. All these measures together are likely to boost domestic biopharma R&D giving a way to protein assays market, thus enabling the sector to emerge as a new growth engine for the nation.
All the above highlighted measures have become necessary, with the nation witnessing an increased adoption of innovative technologies across the life sciences sector. The Korea Pharmaceutical and Biopharma Manufacturers Association (KPBMA) has launched a joint task force to purchase an AI platform to streamline the drug discovery process and improve its efficiency.
Based on technology, the protein assays market, is segmented into absorbance-based assays, colorimetric protein assays and fluorescence-based protein assays. The absorbance-based protein assays held the largest market share in 2018. Absorbance-based quantification of proteins is common to many applications in basic science and clinical research. Proteins absorb ultraviolet light at 280 nm. This attribute may be utilized as a basis for fast and convenient photometric quantification of protein samples with unknown concentration.
The protein assays market, by application, is categorized into disease diagnosis, drug discovery & development and other applications. The disease diagnosis category is likely to grow at the highest CAGR by 2025. Disorders associated with high or low serum concentrations of specific proteins other than albumin are numerous. Transferrin and ferritin are used to assess iron status; ceruloplasmin reflects copper transport and storage; cardiac troponins reveal myocardial damage; tumor markers such as prostate-specific antigen (PSA), alpha fetoprotein (AFP), carbohydrate antigen (CA) markers, carcinoembryonic antigen (CEA), and so forth are used to detect, and monitor treatment of cancer; fibrinogen and coagulation factors are used to assess hemostatic function; and various enzymes reveal tissue damage and necrosis. In addition to being the most abundant protein in serum, albumin has several important characteristics. Albumin helps maintain osmotic balance between intravascular and interstitial spaces; therefore, a deficiency in albumin ordinarily results in edema as water is redistributed to tissues. Albumin also functions as a transport protein for calcium, unconjugated bilirubin, thyroid hormones and many drugs.
The global protein assays market is spread across North America, Europe, Asia, and the Rest of the World. North America dominated the market in 2018 and was closely followed by Europe. However, Asia is expected to witness the highest CAGR during the forecast period. Increasing R&D expenditure in life science, is a prime factor fueling growth in this region.
The Asian markets continue their endeavor to emerge as an R&D powerhouse, with many markets across the region pushing for greater investment to foster innovation in the sector. In Australia, the Government is planning to invest USD 26.6 million to develop new medical solutions and improve health outcomes. Japan has set aside a budget to stimulate efficient and low-cost drug discovery. South Korea is relentlessly focusing on establishing itself as a biotech hub, with a growing focus on novel technologies such as gene editing. In addition, South Korea is adopting artificial intelligence (AI) to streamline drug discovery and improve process efficiency. At the same time, several of the Asian countries are continuing efforts to bolster local manufacturing capabilities to give a boost to their economies. The Indian Government has introduced several measures to reduce its import dependence for both generics and medical devices. Singapore's Government has invested USD 2.4 billion to improve its indigenous production capabilities. And China is developing its biomedical infrastructure. The Asian markets continued to roll out measures for price controls and to increase patient access to affordable health care, as addressing unmet medical needs remains a priority in the region.