The global market for programmatic job advertising software was valued at about USD 828.3 million in 2020, and it is predicted to increase rapidly during the forecast period, reaching a value of roughly USD 7,618.2 million by 2028. Over the projected period of 2018-2028, the market is estimated to develop at a CAGR of roughly 30.97%. For the above-mentioned forecast period, a market for each sector size has been supplied. To understand their influence on demand for the projected period, key industry dynamics, important advancements in technology in the areas of automation, data management, and computer software were assessed in markets. Correlation, regression, and time-series analysis were used to determine growth rates. For market sizing, we employed a bottom-up strategy, evaluating consumption patterns for various end-uses. All market estimations and industry analyses have been backed up by extensive primary research with major industry players and consumers.
Programmatic job advertising software automates the development, distribution, and analysis of recruitment advertisements, resulting in time and money savings. Using AI and A/B testing, the program also assists in optimizing every stage of the job advertising process. Rising demand for employment possibilities in a variety of industries in growing nations such as India and China is attracting the attention of job agencies and recruiters, affecting the expansion of the programmatic job advertising software industry. Integration of innovative technology into job advertising software, on the other hand, is expected to attract more recruiters, benefiting the participants in the programmatic job advertising software market.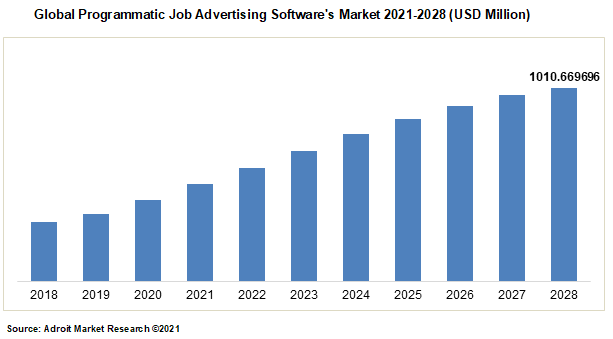 Appcast, Inc 61, ClickIQIndeed, OnRecruit, Joveo, JobAdX, PandoLogic, Inc, Recruitics, Symphony Talent, Talent, Talroo are some of the main companies in the Global Programmatic Job Advertising Software Market.
North America has the largest revenue share and is a key market for technology-based industries. In 2020, the area will account for around 48.8% of the global market's sales. By 2028, Asia Pacific will be the fastest-growing market, with a CAGR of roughly 34.40%.
The market is divided into two groups based on type: service and software. In the year 2020, the Service Based sector will have the biggest market share. With a CAGR of approximately 31.3 %, the Service Based type sector produced about USD 487.8 million in 2020 and is predicted to reach around USD 4,572.9 million by 2028.
The market is divided into five kinds based on end-users. End users in BFSI, Education, Healthcare, IT and telecom, Retail, Utilities, and Other With a CAGR of approximately 31.13% , the IT and telecom market was valued at USD 228.4 million in 2020 and is predicted to reach around USD 2,120.3 million by 2028.
The expanding market, with its burgeoning startups and market consolidation, has sparked fierce competition among the competitors. As a result, large businesses are more likely to compete by inventing more and capturing a larger market share. This is expected to be one of the segment's most important growth drivers.
Key Segments of the Global Programmatic Job Advertising Software's Market
Global Programmatic Job Advertising Software's Market by Type
Global Programmatic Job Advertising Software's Market by End-User
BFSI
Education
Healthcare
IT and telecom
Retail
Utilities
Others (Manufacturing, Hospitality and Others)
Global Programmatic Job Advertising Software's Market by Region
§ U.S.
§ Canada
§ Germany
§ France
§ United Kingdom
§ Italy
§ China
§ India
§ Japan
§ South Korea
§ Southeast Asia
§ Brazil
Mexico
Rest of Latin America

Middle East & Africa
§ Gulf Countries
§ Africa
§ Israel
§ Rest of MEA
Reasons for the study
To evaluate, examine, and analyze competitive developments such as strategic alliances, joint ventures, mergers, new product developments, and acquisition.
To offer a prospective outlook on market size in major regions and key performing nations.
To investigate the variables influencing the growth of the Global Programmatic Job Advertising Software's Market, as well as the market drivers.
What does the report include?
Market definition, description, an overview of market growth affecting elements, and forecast.
Market segmentation, dominating segment, and region, followed by nation, as well as market value, share, year-over-year growth, CAGR, forecast, and contribution to the market.
Profiles of main market players, their latest advancements, strategy, financial data, core capabilities, regional presence, and product portfolio.
Insights, data, and forecasts that may be used to develop company strategies, identify business risks, spot trends, capitalize on market opportunities, generate business goals, and comprehend target customers/end users.
Insights on current innovations, target market regulations, pipeline goods, market investment, and political and economic variables that may affect market growth
Who should buy this report?
System Integrators
Analytics consulting companies
Application builders
Distributors
Independent Software Vendors
Licensing providers
Intellectual property core
Market research and consulting firms
Consumer desire for innovation and personalized services provides a chance for businesses to develop better goods, particularly in the case of the COVID-19 pandemic, in order to grab market share. The advent of COVID-19 has resulted in a significant slowdown in infrastructure construction. Furthermore, demand for international jobs and accompanying money transfers is constantly increasing. Many companies use this software since it makes it easier to choose the best applicants and reduces other costs. This shows that the market for programmatic job advertising software has a bright future but will be badly impacted by the pandemic, particularly in the years 2020 and 2021. The paper gives a comprehensive overview of the sector, using both qualitative and quantitative data. It provides a global market overview and forecast for Programmatic Job Advertising Software, broken down by type and application. It also gives market size and forecasts for the global Programmatic Job Advertising Software market, as well as market size and forecasts for five key regions: North America, Europe, Asia-Pacific (APAC), Middle East and Africa (MEA), and South America, through 2027. (SAM). The market is then sub-segmented by nations and segments within each region. The research examines and forecasts 18 nations throughout the world, as well as the present trend and prospects that exist in the region.
Programmatic job advertising is the use of technology to purchase, deliver, and optimize "job" adverts. They also cut advertising costs and examine the relevant budget automatically over the internet. In layman's terminology, it's the use of a machine-driven, rule-based approach to ensure that the most qualified job seekers are targeted with the most relevant job adverts through the appropriate channel at the appropriate time and at the acceptable cost.
Recruiting teams have been put under a lot of financial pressure during the COVID-19 outbreak, which has had a direct impact on their ability to hire on time and meet deadlines. Most firms' human resource departments are on a shoestring budget. As a result, agencies are scrambling to find new, more cost-effective ways to hire talented workers. Finding and recruiting the right individuals is crucial, regardless of the job description. Rising unemployment as a result of the epidemic's market slowdowns has resulted in a large pool of candidates willing to work in a range of jobs. This, on the other hand, makes it extremely difficult for a recruiter to sift through hundreds of applications to find the ideal candidate.
Chapter 1 Research Methodology
1.1 Methodology/Research Approach
1.2 Market Size Estimation Methodology
1.3 Forecasting Methodology
Chapter 2 Global Programmatic Job Advertising Software's Introduction and Market Overview
2.1 Study Deliverables
2.2 Study Assumptions
2.3 Scope of the Study
Chapter 3 Market Outlook
3.1 Market Segmentation
3.1.1 Market Drivers
3.1.1.1 Expanding your reach
3.1.1.2 Saving money
3.1.1.3 Targeting ideal candidates
3.1.2 Market Challenges
3.1.2.1 Lack of awareness
3.1.3 Market Opportunities
3.1.3.1 Better payment structures
3.1.3.2 Multi-channel attribution
3.1.3.3 Integrations with applicant tracking software
3.2 COVID-19 Impact Analysis
Chapter 4 Global Programmatic Job Advertising Software's Market Overview, By Type
4.1 Global Programmatic Job Advertising Software's Market Overview, By Type
4.1.1 Global Programmatic Job Advertising Software's Market Share, by Type, 2020 & 2028
4.1.2 Global Programmatic Job Advertising Software's Market by Type, 2018-2028 (USD Million)
4.2 Software
4.2.1 Global Programmatic Job Advertising Software's Market for Software, 2018-2028 (USD Million)
4.3 Services
4.3.1 Global Programmatic Job Advertising Software's Market for Services, 2018-2028 (USD Million)
Chapter 5 Global Programmatic Job Advertising Software's Market Overview, By End-Users
5.1 Global Programmatic Job Advertising Software's Market Overview, By End-Users 28
5.1.1 Global Programmatic Job Advertising Software's Market Share, by End-Users, 2020 & 2028
5.1.2 Global Programmatic Job Advertising Software's Market by End-Users, 2018-2028 (USD Million)
5.2 BFSI
5.2.1 Global Programmatic Job Advertising Software's Market for BFSI, 2018-2028 (USD Million)
5.3 Education
5.3.1 Global Programmatic Job Advertising Software's Market for Education, 2018-2028 (USD Million) 31
5.4 Healthcare
5.4.1 Global Programmatic Job Advertising Software's Market for Healthcare, 2018-2028 (USD Million)
5.5 IT and telecom
5.5.1 Global Programmatic Job Advertising Software's Market for IT and telecom, 2018-2028 (USD Million)
5.6 Retail
5.6.1 Global Programmatic Job Advertising Software's Market for Retail, 2018-2028 (USD Million)
5.7 Utilities
5.7.1 Global Programmatic Job Advertising Software's Market for Utilities, 2018-2028 (USD Million) 35
5.8 Other End Users
5.8.1 Global Programmatic Job Advertising Software's Market for Other End Users, 2018-2028 (USD Million)
Chapter 6 Global Programmatic Job Advertising Software's Market Overview, by Region
6.1 Global Programmatic Job Advertising Software's Market Share by Region, 2020 & 2028
6.1.1 Global Programmatic Job Advertising Software's Market by Region, 2018-2028 (USD Million)
6.1.2 North America
6.1.3 North America Programmatic Job Advertising Software's Market Size by Country, 2018-2028
6.1.3.1 North America Programmatic Job Advertising Software's Market Size (USD Million) by Country 2018-2028
6.1.3.2 North America Programmatic Job Advertising Software's Market by Type, 2018-2028 (USD Million)
6.1.3.3 North America Programmatic Job Advertising Software's Market by End-Users, 2018-2028 (USD Million)
6.1.4 U.S.
6.1.4.1 U.S. Programmatic Job Advertising Software's Market Size and Projections, 2021-2028
6.1.5 Canada
6.1.5.1 Canada Programmatic Job Advertising Software's Market Size and Projections, 2021-2028
6.1.6 Europe
6.1.6.1 Europe Programmatic Job Advertising Software's Market Size (USD Million) by Country 2018-2028
6.1.6.2 Europe Programmatic Job Advertising Software's Market by Type, 2018-2028 (USD Million)
6.1.6.3 Europe Programmatic Job Advertising Software's Market by End-Users, 2018-2028 (USD Million)
6.1.7 Germany
6.1.7.1 Germany Programmatic Job Advertising Software's Market Size and Projections, 2021-2028
6.1.8 France
6.1.8.1 France Programmatic Job Advertising Software's Market Size and Projections, 2021-2028
6.1.9 UK
6.1.9.1 UK Programmatic Job Advertising Software's Market Size and Projections, 2021-2028
6.1.10 Italy
6.1.10.1 Italy Programmatic Job Advertising Software's Market Size and Projections, 2021-2028
6.1.11 Rest of Europe
6.1.11.1 Rest of Europe Programmatic Job Advertising Software's Market Size and Projections, 2021-2028
6.1.12 Asia Pacific
6.1.13 Asia Pacific Programmatic Job Advertising Software's Market Size by Country, 2018-2028
6.1.13.1 Asia Pacific Programmatic Job Advertising Software's Market Size (USD Million) by Country 2018-2028
6.1.13.2 Asia Pacific Programmatic Job Advertising Software's Market by Type, 2018-2028 (USD Million)
6.1.13.3 Asia Pacific Programmatic Job Advertising Software's Market by End-Users, 2018-2028 (USD Million)
6.1.14 China
6.1.14.1 China Programmatic Job Advertising Software's Market Size and Projections, 2021-2028
6.1.15 Japan
6.1.15.1 Japan Programmatic Job Advertising Software's Market Size and Projections, 2021-2028
6.1.16 India
6.1.16.1 India Programmatic Job Advertising Software's Market Size and Projections, 2021-2028
6.1.17 South Korea
6.1.17.1 South Korea Programmatic Job Advertising Software's Market Size and Projections, 2021-2028
6.1.18 Southeast Asia
6.1.18.1 Southeast Asia Programmatic Job Advertising Software's Market Size and Projections, 2021-2028
6.1.19 Rest of Asia Pacific
6.1.19.1 Rest of Asia Pacific Programmatic Job Advertising Software's Market Size and Projections, 2021-2028
6.1.20 Latin America
6.1.21 Latin America Programmatic Job Advertising Software's Market Size by Country, 2018-2028
6.1.21.1 Latin America Programmatic Job Advertising Software's Market Size (USD Million) by Country 2018-2028
6.1.21.2 Latin America Programmatic Job Advertising Software's Market by Type, 2018-2028 (USD Million)
6.1.21.3 Latin America Programmatic Job Advertising Software's Market by End-Users, 2018-2028 (USD Million)
6.1.22 Brazil
6.1.22.1 Brazil Programmatic Job Advertising Software's Market Size and Projections, 2021-2028
6.1.23 Mexico
6.1.23.1 Mexico Programmatic Job Advertising Software's Market Size and Projections, 2021-2028
6.1.24 Rest of Latin America
6.1.24.1 Rest of Latin America Programmatic Job Advertising Software's Market Size and Projections, 2021-2028
6.1.25 Middle East and Africa
6.1.26 Middle East and Africa Programmatic Job Advertising Software's Market Size by Country, 2018-2028
6.1.26.1 Middle East and Africa Programmatic Job Advertising Software's Market Size (USD Million) by Country 2018-2028
6.1.26.2 Middle East and Africa Programmatic Job Advertising Software's Market Size (USD Million) by Type, 2018-2028
6.1.26.3 Middle East and Africa Programmatic Job Advertising Software's Market by End-Users, 2018-2028 (USD Million)
6.1.27 GCC Countries
6.1.27.1 GCC Countries Programmatic Job Advertising Software's Market Size and Projections, 2021-2028
6.1.28 Africa
6.1.28.1 Africa Programmatic Job Advertising Software's Market Size and Projections, 2021-2028
6.1.29 Israel
6.1.29.1 Israel a Programmatic Job Advertising Software's Market Size and Projections, 2021-2028 59
6.1.30 Rest of MEA
6.1.30.1 Rest of MEA Programmatic Job Advertising Software's Market Size and Projections, 2021-2028
Chapter 7 Company Profiles
7.1 Appcast, Inc
7.1.1 Company Overview
7.1.2 Product Offerings
7.1.3 Recent News and Development
7.2 ClickIQ Indeed
7.2.1 Company Overview
7.2.2 Product Offerings
7.3 OnRecruit
7.3.1 Company Overview
7.3.2 Product Offerings
7.4 Joveo
7.4.1 Company Overview
7.4.2 Product Offerings
7.5 JobAdX
7.5.1 Company Overview
7.5.2 Product Offerings
7.5.3 Recent News and Development
7.6 PandoLogic, Inc.
7.6.1 Company Overview
7.6.2 Product Offerings
7.7 Recruitics
7.7.1 Company Overview
7.7.2 Product Offerings
7.7.3 Recent News and Development
7.8 Symphony Talent
7.8.1 Company Overview
7.8.2 Product Offerings
7.8.3 Recent News and Development
7.9 Talent
7.9.1 Company Overview
7.9.2 Product Offerings
7.10 Talroo
7.10.1 Company Overview
7.10.2 Product Offerings
Chapter 8 Conclusion