Process monitoring systems market growth has been considerably impacted by the constantly growing manufacturing sector and the trend toward industrial automation. The on-site examination of the goods while they are being manufactured is known as production monitoring in real-time. Real-time product monitoring increases production efficiencies and, as a result, production capabilities.
COVID-19 Impact and Current Market Status
For many end users, including the automotive, healthcare, and aerospace industries, the COVID-19 pandemic is driving up demand for production monitoring systems combined with cloud deployment. Due to the pandemic, there is a huge increase in the need for medical equipment. India and Russia talked about facilitating the urgent equipment requirements on both sides in April 2020 as part of their initiatives to control COVID-19. Both parties agreed to communicate regularly in order to monitor and support the equipment's urgent demands. This reduces the demand for software solutions that are frequently used on the cloud.
Additionally, RecycleGO worked with Mask Force NYC in April 2020 to provide quick relief to medical professionals as a result of the COVID-19 epidemic in the United States. For Mask Force NYC, RecycleGO quickly established a worldwide supply chain and distribution network. RecycleGO used its dual-system logistics operations software to coordinate the distribution of the masks when the masks landed in New York in April. Dispatchers, mission control, and its route optimization programme all use this logistics software.
Production Monitoring Market Segment Analysis – By Component Type
Based on the type of component, the market is divided into solutions and services. In 2020, the Services category will hold a bigger portion of the market, accounting for around 65.2%. The category was able to secure a substantial share of the market thanks to the rising demand for integration and deployment services, which are the core and essential elements of providing product monitoring services. In addition to other advantages connected with this type of services, the effectiveness of asset monitoring and the optimization of product management have raised demand for these services among end-user industries, which also raises the share of this category. The category of services includes managed services, security management, infrastructure management, professional service, consulting, support and maintenance, integration and deployment, and education and training.
During the projected period, a greater growth rate is anticipated for the Solutions section. The Internet of Things (IoT), machine learning, and big data, which are advantageous for manufacturers to give with the solutions, are examples of platforms for system operation that have advanced, contributing to the growth enjoyed by the solutions segment. Additionally, asset management, mobile workforce management, smart security, and surveillance are among the solutions provided.
Production Monitoring Market Segment Analysis - By Strategy Size
According to Strategy, the condition-based monitoring market had a dominant share of 62.21% in 2019 and was expected to develop at a faster rate. The ability of these systems to gather and retain data in an accurate observation-based manner without interfering with the activities of the company should be credited with the segment's leadership position in condition-based monitoring. The segment's growth is also a result of its capacity for autonomous diagnosis and predictive nature. Due to the company's forecasting techniques and additional reimbursement-based solutions, Preventive Maintenance holds a comparatively reduced proportion.
Production Monitoring Market Segment Analysis - By End-Use Size
The several end-use areas that are broken down include oil and gas, automotive, pharmaceutical and life sciences, healthcare, government and defence, telecommunications and IT, manufacturing, food and beverage, electronics, and others. The oil & gas segment is predicted to hold the largest market due to the requirement of closely monitoring each and every step involved in the processing and refinement of natural gas and petroleum as well as the harsh and hazardous working environment that is well-suited for automation. Continuous measurement and data collection are necessary for the automobile sector to analyse, improve, and ensure business continuity. This will only be possible with the implementation of these technologies to monitor and manage manufacturing operations. Reliable items are required for healthcare equipment and related businesses. This typical benchmarking is carried out by these technologies.
Production Monitoring Market Segment Analysis - By Application Size
Based on the applications they utilise, the sector is classified into four categories: control and automation management, business process optimization, supply chain and logistics management, and incident and emergency management.Through the use of evidence-based solutions, business process optimization supports the decision-making process by reducing time and resource waste. Due to the intense rivalry, businesses were forced to concentrate on this application, which accounts for 32.37% of the market. The Control and Automation section, which is in charge of keeping an eye on the uniformity and quality of processes, particularly in the food and pharmaceutical industries, is credited with having the second-highest market share. All business operations, from the processing of raw materials to the distribution of the finished goods, are governed by the supply chain. The supply side is the section that is growing the fastest, and by streamlining operations, businesses can gain a competitive edge. Business companies may be proactive and make the right decisions thanks to incident and emergency management functions, which can lead to profitable growth.
Production Monitoring Market Segment Analysis - By Geography
According to region, the North American landscape has a share of 45.12%, which is the highest. Due to their rapid industrialization, capital-intensive manufacturing methods, technological advancements, and large research and development efforts supported by well-rounded startup funding, the US and Canada are more competitive than other regions. The presence of established market participants and players strengthens North America as well. Due to the use of these systems, Europe receives the second-largest share. Automation is about to bring inconsistency and reduce costs for the automotive industry and other end customers. With a The APAC area is anticipated to develop at the fastest rate, 10.23% CAGR. The presence of a vast network of businesses in countries like China and India, as well as the multi-domain application, help to explain this.. This industry has expanded as a result of the quickening industrialization trends that satisfy consumer demand on a large scale and promote economic prosperity. The Middle East, Africa, and Latin America's economies are predicted to have profitable growth during the projected period.
Forecasts indicate that the global market for production monitoring would expand at a rate of 9.5%, reaching USD 11.11 billion in 2029. Through a system of solutions and software, the Production Monitoring has made it possible to anticipate the real-time operation and operations.
Data is gathered from various production line units and sent to the teams operating the production line by production management. As part of process optimization, this information is subsequently used to increase the productivity of the production line. The production monitoring system provides numerous post- and pre-production advantages, including longer production times, quality assurance, less downtime, and quicker troubleshooting. This contributes to the system's growing importance across a range of end-use sectors. Additionally, it is anticipated that a number of cutting-edge technologies, including as cloud computing, artificial intelligence (AI), big data analysis, machine learning, virtual reality, and others, would be used and will have a positive impact on the industry.
The market will develop as more people use internet of things (IoT)-based solutions to monitor and manage additive manufacturing processes. Government spending on manufacturing sector growth has expanded globally, which would further benefit the market for production monitoring. The global market is likely to develop as a result of smart sensor use, technology acceptance, and rising internet penetration. Operations managers can coordinate floor performance, inventory management, and personnel training with the use of the production monitoring system. Additionally, the system gives managers access to overall equipment effectiveness (OEE), which gives them the knowledge they need to know about maintenance requirements and functional capacity. By ensuring capacity building and company continuity, a production monitoring system's potential to lower overall operating costs is expected to stimulate market expansion.
The demand for businesses to minimise their cost of production and maintain investments and capacity building processes ensures the growth. It is necessary to continually assess the apparatus and complicated machines utilised in processes. In the era of quick industrialization, it meets the needs of the masses by giving businesses a competitive advantage. This highlights the urgent need to prevent all delays and inaccuracies. This can be avoided by systematising the monitoring, analysis, and execution of processes. A firm now performs an expanding variety of managerial tasks, such as asset management and supply chain management, and the inability to effectively coordinate between these tasks has increased demand for these Structures. Constraints including limited technical awareness and a lack of manager training, however, limit the progress.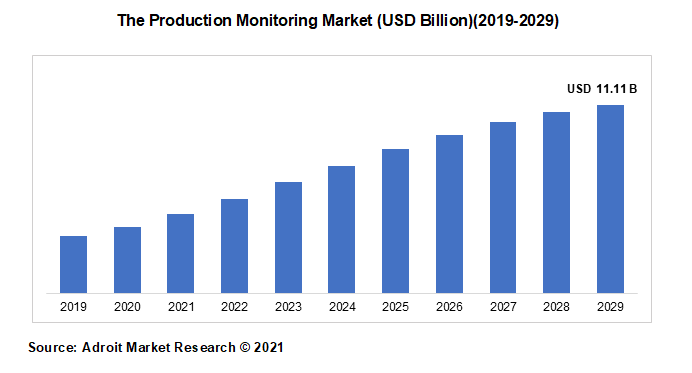 The production monitoring market is being operated by a variety of big and small businesses that use both organic and inorganic business tactics. To meet client needs, major firms intend to spend in research and development operations. Market participants might improve their market position by developing new items. To expand their product and business portfolios, a number of suppliers use cutting-edge commercial methods like alliances, collaborations, and associations. Additionally, a lot of suppliers are working hard to develop their production monitoring systems using cutting-edge technology like virtual reality and artificial intelligence. Adam Software, Canto Inc., Celum, Cognizant Technology Solutions, OpenText Corporation, North Plains Systems, Oracle Corporation, QBank, Webdam Inc., Mediabeacon Inc., IBM Corporation, Widen Enterprises Inc., and others are notable companies that are part of the global digital asset management market.
Production Monitoring Market Scope
| | |
| --- | --- |
| Metrics | Details |
| Base Year | 2020 |
| Historic Data | 2018-2019 |
| Forecast Period | 2021-2028 |
| Study Period | 2018-2028 |
| Forecast Unit | Value (USD) |
| Revenue forecast in 2028 | USD 11.11 Billion |
| Growth Rate | CAGR of 9.5 % during 2021-2028 |
| Segment Covered | by Component, Regions |
| Regions Covered | North America, Europe, Asia Pacific, Middle East and Africa, South America |
| Key Players Profiled | Capgemini, Oracle, Infosys, Verizon, Siemens, Rockwell Automation, Emerson Electric Co., Schlumberger Limited and Aspen Technology, Inc |
Recent Developments of Production Monitoring Market
In March 2020, NEC Corporation and Siemens AG struck a contract to use the internet of things (IoT) to provide manufacturing companies with process monitoring and analytical solutions.
Direct MQTT interfaces were added to Oracle's offering in July 2020, along with new features that enable the company to import and export organisational data.
Production Monitoring Market Scope
| | |
| --- | --- |
| Metrics | Details |
| Base Year | 2021 |
| Historic Data | 2019-2020 |
| Forecast Period | 2022-2029 |
| Study Period | 2019-2029 |
| Forecast Unit | Value (USD) |
| Revenue forecast in 2028 | USD 11.11 billion |
| Growth Rate | CAGR of 9.5 % during 2021-2028 |
| Segment Covered | Component, Strategy Type, End-Use Type, Application Type, Regions |
| Regions Covered | North America, Europe, Asia Pacific, Middle East and Africa, South America |
| Key Players Profiled | Adam Software, Canto Inc., Celum, Cognizant Technology Solutions, OpenText Corporation, North Plains Systems, Oracle Corporation, QBank, Webdam Inc., Mediabeacon Inc., IBM Corporation, Widen Enterprises Inc., |
Key Segments of the Production Monitoring Market (2019-2029)(USD Billion)
Component Overview,2019-2029(USD Billion)
Strategy Type Overview, 2019-2029(USD Billion)
Condition-based
Preventive maintenance
End-Use Type Overview, 2019-2029(USD Billion)
Oil and gas
Automotive
Pharmaceutical and Life Sciences
Healthcare
Government and Defense
Telecommunications and IT
Manufacturing
Food and beverages
Electronics
Others
Application Type Overview, 2019-2029(USD Billion)
Control and Automation Management
Business Process Optimization
Supply Chain and Logistics Management
Incident and Emergency Management
Regional Overview, 2019-2029 (USD Billion)
North America
Europe
Germany
UK
Italy
Spain
Russia
Rest of Europe
Asia Pacific
China
India
Japan
Australia
Rest of Asia Pacific
South America
Brazil
Mexico
Rest of South America
Middle East and South Africa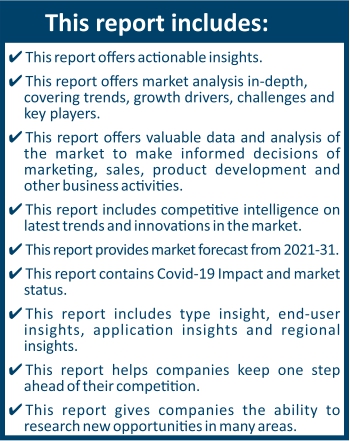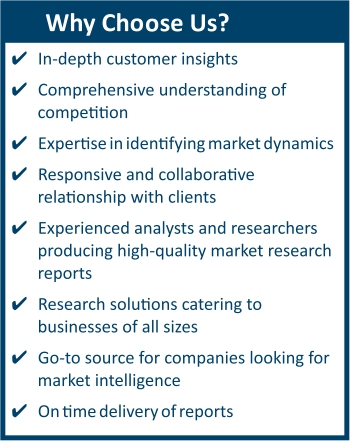 Frequently Asked Questions (FAQ) :
The market value of production monitoring market in 2029 was USD 11.11 billion.
The production monitoring market is growing at a CAGR of 9.5% over the forecast period.
The application of the production monitoring market Business Process Optimization, Logistics and Supply Chain Management, Emergency & Incident Management and other.