Using a production checkweigher scale helps to ensure accuracy in weight as these weighments are sometimes so crucial that they decide whether a plant is profitable or not. This is crucial for businesses that sell goods at retail levels since the product weight is shown on the box. There is nothing worse than when a company has a negative reputation due to a minor, expensive error, yet regrettably it does happen.
Covid-19 Impact & Market Status
The COVID-19 epidemic has had a significant impact on the industrial sector since governments all over the world have forced the closure of firms. To combat the decline in raw material costs during the shutdown, the big industrial groups have reduced capital investment. Given that it is heavily used in several industrial applications it has had a direct influence on the market for production checkweighers. The major market participants are, however, taking steps to lessen the effect of the COVID-19 epidemic on their production businesses. Minebea Intec is helping the biopharmaceutical business CanSino to assure accurate dosage, quick transmission, and dependable weighing findings under these trying circumstances. Even in the midst of the current epidemic, these reasons ultimately increased the need for production checkweighers across industrial sectors. As a result, the prognosis predicts that the market for production checkweighers will develop rapidly over the long future.
Intermittent Checkweighers to Emerge as the Most Lucrative Segment
The market is split into Intermittent Checkweighers and In-Motion Checkweighers based on type. Because it weighs an item, records the weight, and then releases it, intermittent checkweighers are the most profitable. Depending on the type of equipment being utilized, the device may process up to several thousand items each hour. In comparison to other varieties, such as in-motion machines that are only intended for fixed areas or work cells where products are never removed, it has a number of advantages.
Pharmaceuticals to Remain Atop
To weigh capsules, sachets/sticks, standing pouches, containers, sachets, etc., the expanding pharmaceutical sector throughout the world heavily relies on production checkweighers. Pharmaceutical industry is seeing a rise in the need for production checkweighers due to the increased demand for precise product weighing to meet quality control standards and prevent exorbitant fines. In the pharmaceutical business, production checkweighers are made to increase precision and dependability while reducing product giveaway. Pharmaceutical businesses are becoming more and more interested in using production checkweighers in their operations. This is due to tighter FDA regulations for quality control and drug manufacture that place a greater emphasis on safety requirements. One can see from the surge in investments in this industry that the relevance of automation technology for the manufacture of pharmaceuticals has risen.
The Asia Pacific regions to Render Ample Investment Avenues
Due to the expanding packaging industry, rising consumer awareness of food product labelling and packaging, rising packaged food demand, and the expanding need for automation in the global food processing industry, the production checkweigher market in Asia Pacific is anticipated to witness the fastest growth during the forecast period. The expansion of the food and beverage sector is anticipated to fuel the production checkweigher market in APAC, which is anticipated to be fueled by growing urbanization, rising disposable income, and changing customer tastes and eating habits. It is because the packaging sector is expanding in China, India, and other nations. In addition, the market expansion is anticipated to be fueled by the deployment of industry 4.0 for automated production operations throughout the manufacturing sector.
The fact that a production checkweigher is a long-term, cost-effective option for your organization is one of the most notable arguments for its advantages. This is due to the fact that they are less expensive than having several employees manually weigh and sample stuff. The automated system not only inspects each package individually but also records information about the pack for future product tracking. By verifying every pack rather than just an average weight sampling, a production checkweigher will cut down on the amount of labour you need and provide you piece of mind.
An item's weight during the manufacturing method on the production line is checked using a production checkweigher, a weight measurement device. The entire manufacturing cycle is often completed by a checkweigher's feed, weighing, and reject belts. It is especially used as a component of a quality control system for manufacturing. To make sure that the manufacturing site complies with the packing standards and laws throughout production, its weighing results are necessary. While manual checkweighers are used for manufacturing of small batches, automatic checkweighers are employed for high-speed production lines. It is used in a variety of sectors, including the chemical, food and beverage, medicinal, and other industries. The end of the manufacturing lines is where the production checkweighers have been utilized the most. However, it is necessary in the first stages of several industrial applications, such as baking. It reduces industrial output waste across sectors, which is driving up demand for it on the international market.
Savings are the major advantage of utilizing a Production checkweigher scale. Because resources are not lost and procedures do not need to be repeated, the ability to create a product at a correct weight result in cost savings. The supermarket will impose significant fines on suppliers that fail to provide the right goods the first time, every time. You can maintain compliance by using an inline production checkweigher and/or metal detection device.
The market for production checkweighers was projected to be worth USD 790.9 million in 2029. Production checkweighers are frequently used within industrial production lines to improve cost savings and efficiency while also avoiding harsh fines. They assure correct compliance with several requirements. One of the most popular industrial automation solutions, checkweighers also increase packaging quality and rate by collaborating with other cutting-edge, integrated technologies to produce cost savings across the whole manufacturing process. The expansion of numerous industries, including the FMCG sector, department stores and e-commerce sectors, pharmacy sector, popularity of online shopping, and strict restrictions established on the packaging industry and with regard to product packaging; the rising global population and the corresponding rise in demand for various consumer goods.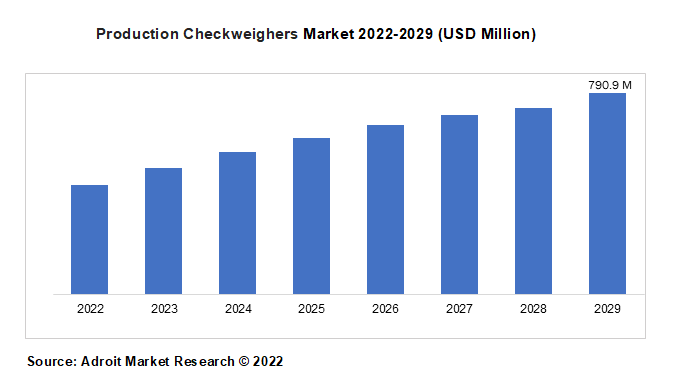 The key market players in this market are Anritsu, Ishida, Thermo Fisher, Minebea Intec, Varpe Contral Peso, Cassel Messtechnik, Multivac Group, Wipotec-Ocs, Bizerba, Oma Systems, Yamato, Precia Molen, All-Fill Inc. These are the global market players in the production checkweighers market.
Latest Innovations in the Global Production Checkweighers Market
Fortress Technology revealed its entry into production checkweighers at PACK EXPO Connects with the introduction of its first Raptor "smart" weigher series. With an intelligent conveyor separator and user-friendly digital process monitoring technology, Raptor checkweighers were created for innovative producers embracing the digital revolution. They improve inspection efficiency, pinpoint operational inefficiencies, and lower product giveaway. The Raptor includes cutting-edge weight management technology as one of its features to provide complete traceability.
To allow high weight control throughout food production facilities, Thermo Fisher Scientific Inc. incorporated multi-frequency metal detectors into production checkweighers. With the help of the metal detector's multi-scan technology, users may quickly pick and scan approximately five frequencies between 50 and 1000 kHz.
Production Checkweighers Market Scope
| | |
| --- | --- |
| Metrics | Details |
| Base Year | 2020 |
| Historic Data | 2018-2019 |
| Forecast Period | 2021-2028 |
| Study Period | 2018-2028 |
| Forecast Unit | Value (USD) |
| Revenue forecast in 2028 | USD 790.9 million |
| Segment Covered | Type, Application, Regions |
| Regions Covered | North America, Europe, Asia Pacific, Middle East and Africa, South America |
| Key Players Profiled | Anritsu, Ishida, Thermo Fisher, Minebea Intec, Varpe Contral Peso, Cassel Messtechnik, Multivac Group, Wipotec-Ocs, Bizerba, Oma Systems, Yamato, Precia Molen, All-Fill Inc |
Key Segments of the Production Checkweighers Market
Type Overview, 2022-2029 (USD Million)
Intermittent Checkweighers
In-Motion Checkweighers
Application Overview, 2022-2029 (USD Million)
Pharmaceuticals
Food & Beverage
Daily Chemical
Regional Overview, 2022-2029 (USD Million)
North America
Europe

UK
Germany
France
Rest of Europe

Asia-Pacific

China
Japan
India
Rest of Asia-Pacific

South America
Mexico
Brazil
Rest of South America
Middle East and South Africa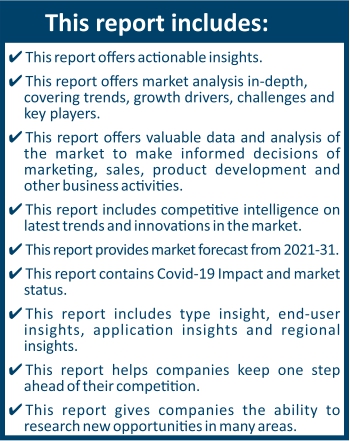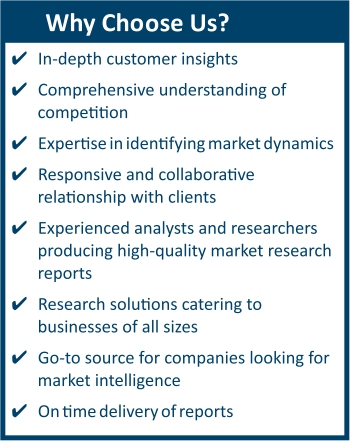 Frequently Asked Questions (FAQ) :
The application of the production checkweighers market Pharmaceuticals, Daily Chemical, Food and Beverage & others.
Asia Pacific dominated the market for production checkweighers market and accounted for the largest revenue share.
The top companies that hold the market share in production checkweighers market are Anritsu, Ishida, Thermo Fisher, Minebea Intec, Varpe Contral Peso, Cassel Messtechnik, Multivac Group, Wipotec-Ocs, Bizerba, Oma Systems, Yamato, Precia Molen, All-Fill Inc & among others.
To get latest version of production checkweighers market report can be obtained on demand from the website.
The base year for the report is 2022 in production checkweighers market.