The global probiotics in animal feed market have been expanding with high revenue in recent years and it is anticipated to expand upto 8 USD Billion at a CAGR of 9% by 2028. The demand for probiotics in animal feed in fortified meals is expected to continue strong due to increased consumer knowledge of their advantages and willingness to pay premium goods containing probiotics in animal feed. Probiotics in animal feed have been shown to increase overall animal health. With rising global demand for eggs and chicken meat, the poultry industry has grown progressively over the last decade.
Compound feeds are in great demand in Asia Pacific, North America, and Europe, owing to increased demand for meat and meat products, as well as the growing importance of protein-rich diets among people globally. According to the FAO (Food and Agriculture Organization), demand for food items would increase by 60% by 2050, while demand for animal protein will increase by 1.7% each year. China, Mexico, Brazil, India, the United States, Spain, and Russia are the world's largest feed producers. Demand for red meat and chicken has increased in these nations, contributing to the market's expansion.
Innovation has been a significant emphasis area in the feed business, particularly for additives, with regulatory authorities such as the Food and Drug Administration (FDA) and the EFSA (European Food Safety Authority) continually involved in research and classification of sustainable feed additives. Feed producers are supplying the best ingredients and technology to generate novel additive combinations in order to fulfill the rising demand.
Based on the findings of the field tests, 70% of feed producers have begun mixing different feed additives in order to profit from the combined outcomes. One of the causes for the increased need for probiotics in animal feed is the modernization of the livestock sector. The primary constraint is the rigorous requirements for probiotics in animal feed products in order to fulfill international quality standards.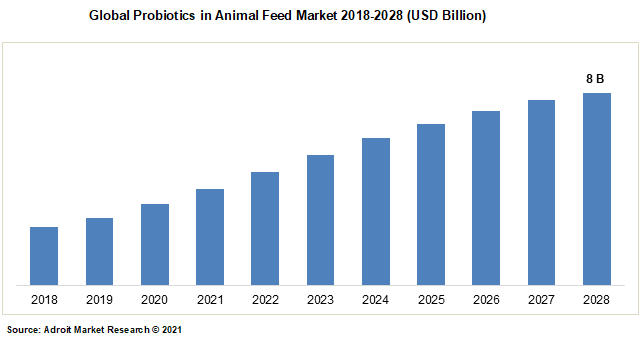 The key service providers of the global probiotics in animal feed market are Alltech, Adisseo, Land O'Lakes, Evonik Industries, DuPont de Nemours, Kerry, Chr. Hansen Holding A/S, Novozymes, Lesaffre, Lallemand, Protexin, DSM, Novus International, Unique Biotech, ASAHI GROUP HOLDING, Pure Cultures, Suguna Foods Private Limited., Vit-E-Men Company, Provita Eurotech, and others. Product launches have prepared the way for the product's adoption. The competitive landscape for probiotics in animal feed gives information by competitors. Company overview, revenue analysis, investment in R&D, market potential, application dominance, new market initiatives, production sites and facilities, global presence, production capacities, product launch, company strengths and weaknesses, and product width and breadth are all included in the details.
Key Segments of the Global Probiotics in Animal Feed Market
Source Overview, 2018-2028 (USD Billion)
Livestock Overview, 2018-2028 (USD Billion)
Ruminants
Swine
Poultry
Pets
Aquaculture
Other livestock
Form Overview, 2018-2028 (USD Billion)
Regional Overview, 2018-2028 (USD Billion)
North America
Europe
France
UK
Germany
Rest of Europe
Asia Pacific
China
Japan
India
Rest of Asia Pacific
South America
Brazil
Mexico
Rest of South America
The Middle East and Africa
Reasons for the study
The study investigates key advancements in the probiotics in animal feed industry, as well as organic and inorganic growth techniques.
It investigates mergers and acquisitions, as well as probability, analyst viewpoints, and opinions.
What does the report include?
The study contains a discussion of the major drivers, limits, and opportunities, as well as an assessment of their impact.
Current and future probiotics in animal feed market trends are extensively researched in order to assess overall attractiveness and find profitable trends in order to get a stronger foothold in the global market.
The study of Porter's Five Forces illustrates the significance of consumers and suppliers in the probiotics in animal feed industry.
Who should buy this report?
Managers in the probiotics in animal feed industry interested in discussing the present and future worldwide market data.
Market data is sought by industry managers, government agencies, analysts, and researchers to aid in the planning of future operations.
Frequently Asked Questions (FAQ) :
Asia Pacific accounted for the largest share of the probiotics in animal feed market
Global probiotics in animal feed market is projected to grow at a CAGR of 9%, to reach 8 USD Billion by 2028
Alltech, Adisseo, Land O'Lakes, Evonik Industries, DuPont de Nemours, Kerry, Chr. Hansen Holding A/S, Novozymes, Lesaffre
The use of probiotics in animal feed is now generally acknowledged. Rapid advances in molecular biology and gene sequencing are allowing researchers to delve further into the hunt for new probiotic uses for animals, such as in feed and consumer-packaged health products for companion dogs. Probiotics are increasingly being used in commercial animal feed for cattle and poultry in order to modify the gut flora and general animal health. Growing knowledge among pet owners, cattle farmers, and hobbyists about the benefits of probiotics for animal health is a significant potential for probiotics manufacturers.
Companion animals, such as cats and dogs, are typically fed high-carbohydrate diets. Their health and well-being, like that of humans, is dependent on the populations of microbes in their stomachs. Probiotic bacteria strain to aid in the maintenance of healthy quantities of beneficial bacteria in the gastrointestinal system. Hence, it protects the gut against harmful bacteria. Spore formers and yeast-based substances are also probiotic ingredients. These additions aid in vitamin synthesis, toxin control, the elimination of dangerous bacteria, fiber digestion, and nutrient absorption.
Spurt in probiotic based animal feed consumption has been on a steady rise for farm animals such as poultry, cattle, horses, pigs and the like. The rise has been observed for over a decade and the result of feed fortification based on probiotic based diet has improved animal gut health, digestion, immunity and overall performance and output. These factors are fueling high potential growth in the global probiotics in animal feed market.
When introduced to feed in sufficient quantities, active probiotic bacteria can provide several health advantages. Ruminants, for example, benefit greatly from the inclusion of probiotics in feed during weaning and the early stages of lactation.
Source Segment
The yeast segment is expected to expand the quickest in the coming years. The use of yeasts in poultry, whether directly in feed or in drinking water, offers various benefits and advantages, including maintaining and strengthening digestive system functioning. Yeasts, such as Saccharomyces cerevisiae, have also been demonstrated in studies to lower the population of gut pathogens by inhibiting the development of harmful bacteria.
Livestock Segment
Based on the livestock segment, the poultry segment will produce highest revenue in the future. Poultry meat consumption has risen throughout the years due to its lower fat content when compared to beef and veal. Antibiotics used as feed additives to assist cattle and poultry grow faster have been banned by the USFDA (US Food and Drug Administration). As a result, major businesses are focusing more on delivering high-quality probiotics in animal feed for animals such as chickens.
Form Segment
The dry form in the animal feed category is expected to expand the quickest over the projection period. Dry probiotics are favored in animal feed because they are easier to transport, have a longer shelf life, and have lower moisture content than liquid probiotics, which are inappropriate for human consumption. Aside from that, dried probiotics are likely to be a profitable potential for producers in the next years, particularly in North America.
The Asia Pacific region is expected to have the biggest market size during the mentioned forecast period. Developing countries, particularly those in the Asia Pacific region, provide high-growth prospects in the probiotics in animal feed market, owing to increased consumer knowledge of the need for supplementation and the prevalence of different illnesses. To capitalize on market prospects, related firms are expected to engage in forwards or backward integration. The output of poultry and cattle meat products is expected to be greatest in China and India, boosting the market for probiotics in animal feed in these countries.