The global private contract security services market size was valued at USD 198.12 billion in 2018 owing to the rise in new private infrastructures and overall growth in the crime levels and security threats. The exponential growth in the global economy over the past two decades has led to a growing need for security measures for industrial facilities, offices, IT parks and other government infrastructures like an airport, underground stations, shopping centers, and public utilities. The sector has significantly improved its operational capacities to complement government machinery to ensure that citizens and their resources are safe and secure to meet this requirement.
1.2 Key factors impacting the global private contract security services market
Growing crime levels and security threats
Changes in terrorist modus operandi, organized crime or the occurrence of "new types" of disaster/crisis are the main drivers of demand for safety equipment in general, as well as the kinds of security capacity and solutions required on the market. In certain areas, the high level of homicide is mainly due to organized crime, drug trafficking and violent cultures of youth gangs. More use of firearms is often linked to the illegal activities of organized criminal groups, often related to drug trafficking.
FIG. 1 Intentional homicides in the world (per 100,000 people), 2016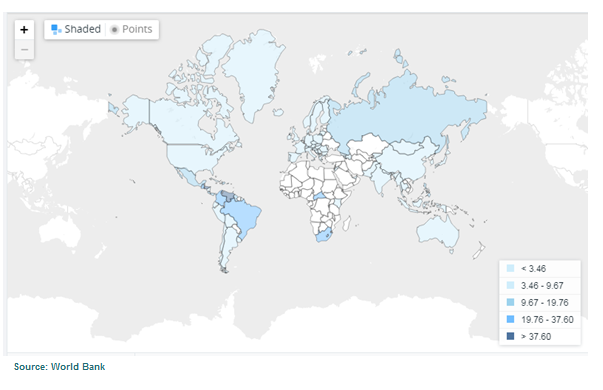 The Rise in development of Private Infrastructures
Over the last decade, global growth in private infrastructure has driven the demand for security services in various countries. In order to meet the demands of rising populations, world invests almost 14 percent of global GDP in infrastructure and property. For the next 15 years, the global investment in infrastructure, especially in the emerging and developing economies, will be estimated at up to USD 90.00 trillion, and there will be a huge increase in urbanization. Therefore, in the next few years, the market for private security services is bound to grow.
Private Contract Security Services Market Scope
| | |
| --- | --- |
| Metrics | Details |
| Base Year | 2019 |
| Historic Data | 2017-2018 |
| Forecast Period | 2020-2025 |
| Study Period | 2015-2025 |
| Forecast Unit | Value (USD) |
| Revenue forecast in 2025 | USD 35.12 billion |
| Growth Rate | CAGR of 3.8% during 2021-2028 |
| Segment Covered | Service Type, End-User, Regions |
| Regions Covered | North America, Europe, Asia Pacific, Rest of world |
| Key Players Profiled | U.S. Security Associates, Inc, Allied Universal, G4S Secure Solutions, SOS Security, Inc, MITIE Total Security Management Ltd, Vision Security Group Ltd., R.A.D Security AG, Fidelity Security Group (Pty) Ltd., TSU Protection Services and Titan Security Europe. |
Segment overview of Global Private Contract Security Services Market
Service Type Overview, 2015-2025 (USD Billion)
Manned guarding
Transport services
Alarm monitoring services
Others
End-User Overview, 2015-2025 (USD Billion)
Private enterprises
Private households
Public sector
Regional Overview, 2015-2025 (USD Billion)
North America
Europe
Asia-Pacific
Rest of world
Reasons for the study
The purpose of the study is to give an exhaustive outlook of the global private contract security services industry.
We have been following the global security market. Private contract security services are gaining immense importance across various sectors as new infrastructures are investing more in security services.
Rapid growth in technological advancements has led to the rise of new private contract security services solutions which are dynamic and provides the customer with a meaningful proposition.
What does the report include?
The study on the global private contract security services market includes qualitative factors such as drivers, restraints, and opportunities.
The study covers the qualitative and quantitative analysis of the market segment such as service type, end-user, and region. Moreover, the study provides similar information for the key geographies.
Actual market sizes and forecasts have been provided for all the above-mentioned segments
The study includes the profiles of key players in the market with a significant global and/or regional presence
Who should buy this report?
This study is suitable for industry participants and stakeholders in the security industry, who want an in-depth insight into the private contract security services market. The report will benefit:
Executives of any security services companies
Managers within financial institutions looking to publish recent and forecasted statistics pertaining to security threats
Venture capitalist looking into investing capital
Government organizations, regulatory authorities, policymakers and financial organizations looking for innovative solutions in the field of security services
Analysts, researchers, educators, strategy managers, and academic institutions looking for insights into the market to determine future strategies
Security services offer a variety of services, including security with guards, armored transportation and private investigation. Since the mid-1990s, demand for private security services has increased due to increasing outsourcing of security services by corporate and government clients. In recent years, however, the industry has had to battle greater competition from innovation in security tech.
Technology is a major driver of the development of the security industry. The sector is characterized by proprietary technologies that are a crucial factor for the competitive position of companies. Technological development and innovation not only meet market needs but can also stimulate new demand and create new markets. There is increasing demand for some security applications to move away from human operator equipment/systems to more automated systems. This can be partly due to, for example, equipment operators ' financial (labor) costs. In addition, human elements can be acknowledged as the weakest link in the overall performance of security systems and processes.
In order to sustain its growth, private security services are intensively staffed and demand a considerable number of personnel. One of the key issues affecting the industry is the availability of a quality workforce. A majority of security guards are not paid much higher salaries than the minimum wages specified. So attracting and retaining staff is difficult. Also, attrition is the main cause for concern in the security services industry. This is due to a poor understanding of the business environment and the lack of development opportunities that enable employees to grow.
One complaint in the security industry has been that there is no common European certification system for safety equipment and that there is no mutual recognition mechanism in each country. Similarly, the EU (national) and US certification systems have no mutual recognition. There have also been complaints that the processes used by the national certification bodies lack transparency, and the certification tests have provided inadequate feedback.
Various security service providers provide allied services such as electronic security products like CCTV installation, operation, and service maintenance. While revenues from this segment are generally not significant for large security service companies, they will become more important as companies decide to cut operating cost and invest more in technology products. Despite the challenges, it is anticipated that the security services industry will maintain its dynamic growth. Leading companies expect strong organic growth in the fields of manned guards and cash services. Their capacities in support services such as facility management and pesticide control or added value services such as consulting and training are being increased. In the past, the industry has witnessed a spate of acquisitions and infusion of private equity funds and will have substantial future potential.
Market Opportunities:
Increased market requirements for integrated security and interoperability solutions.
Increasing size with adequate flexibility in security projects to integrate additional capabilities when new threats emerge.
The development of commercial applications will encourage new markets arising from increased identification needs (such as fraud or terrorism) and online business security.
Enhanced cooperation between regulators, end-users, industrial suppliers and industry nurtures pioneering approaches and adoption of new technological methods.
Product development and innovation are driven by the reliability of infrastructure to test, validate and optimize new technologies for specific security sectors (e.g. field-laboratories for first response equipment, forensics, surveillance systems, etc.).
Manned guarding contributes the most to the private service industry and will play a major role in the private security services sector. Solid growth is expected to stem from a sustained perception of safety threats and an increase in the wages of workers under statutory guidelines. Procurement and the maintenance of quality workers is the key challenge for the industry. It is expected that the increase of alternative jobs and the rapid increase in labor required to promote industrial growth will make labor procurement and conservation more difficult. The industry is now significantly fragmented by the adoption of the PSARA Act in the States and will organize more organized activities in user industries. Compliance with regulations, in particular with wage standards, should improve and influence margins that are already under pressure due to strong competition.
There is a growing market in the installation and maintenance of alarm and CCTV systems. In general, self-regulation in the commercial and top ends of the domestic market has worked well because of the pressure to comply with the influence of the insurance industry and the police. In terms of public safety, it is particularly important that those who install alarms in private homes, where often there may be only one occupant, be of good character. Those who are installing or maintaining alarms and CCTV systems can gain a unique insight into systems capable of facilitating or committing crimes. Security companies also tend to offer an entire security ' package, ' including alarms, CCTV and safety guards, and it would be wrong if one part of a company were licensed, but the other part did not.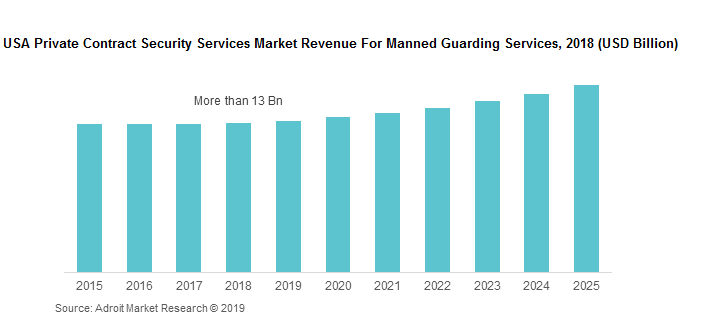 In the last 20 years, in particular, the private security sector has gone up in size and extent. The use of safety equipment or manned guard is more effective in protecting individuals and businesses themselves and their properties. Increasingly, large organizations, including the Government, use outside companies for specialist functions such as cash movement rather than performing such functions. Major developments have occurred in the use of private firms to escort prisoners and run prisons. In order to fulfill these demands, the private security industry has expanded and adapted.
South Africa: Key Developing Market
With almost 9,000 registered companies, South Africa has the largest private security sector in the world. A growing number of private security companies operating in South Africa have characterized the large growth in the private security subsector during the past 10 years, driven by growing demand for private security services and facilitated by lower barriers to entry into the subsector.
One of the world's highest violent crime rates is in South Africa. On average, 52 persons were killed there each day last year. Highly restrictive gun legislation makes owning a firearm for self-defense lawfully very difficult. Many Southern Africans, therefore, depend on private security firms. The South African private security industry employs approximately half a million people. That is more than double the size of the South African Police Service.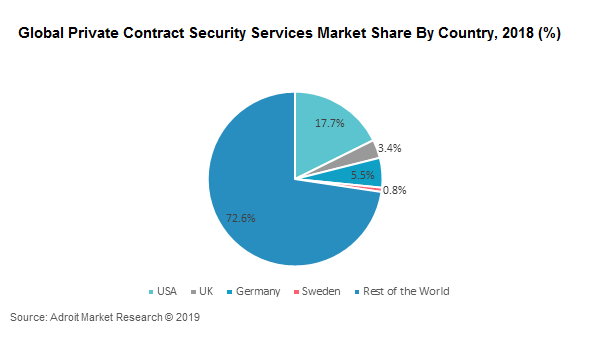 The USA is the largest market, accounting for more than USD 30.00 billion in 2018, making it the main contributor to North America's private security services market growth. Factors such as growth in private infrastructures (malls, shopping centers, S
ports Stadiums, etc.) and increased demand for private household security services are expected to drive the overall private security services in the US during the forecast period.
The private security industry in the UK has grown in size and scope, particularly over the last 20 years. Individuals and companies are taking greater steps to protect themselves and their property through the use of security equipment or manned guards. Large organizations, including the Government, are increasingly using outside companies for specialist tasks such as the movement of cash rather than carrying out such functions themselves. There have been major developments in terms of using private companies for prisoner escorts and running prisons. The private security industry has expanded and adapted to fill these demands.
As the industry has grown it has made substantial efforts to regulate itself, with the support of the Government of the day. The industry has recognized that there need to be benchmarked to which the quality of the service which a company provides can be judged and certificated. It has promoted and adopted a wide range of British and European Standards and Codes of Practice specific to particular sectors and a large number of companies are also inspected to the international quality standard BS EN ISO 9000 (formerly BS5750) which clearly defines responsibilities and procedures to be followed by a company in delivering the service they provide.