Covid-19 Impact
During the COVID-19 violence, various businesses and organizations experienced temporary and permanent closures. The growing concern about the loss of non-public data to hackers pushes the requirement for data privacy software in developing countries. As a result of the rising incidence of cybercrime and the adoption of data privacy legislation in several countries to reduce the exploitation of customers' personal data, businesses are turning to the software. Various nations, for example, have adopted health care rules to manage the personally identifiable information (PII) of COVID personnel. Companies may communicate information about COVID-positive personnel if they follow these rules. Through the employment of software, organizations can verify their shared content. Therefore, by the year 2020, software saw a slow rate because of rapid changes within the workplace. However, after 2020, the software is predicted to grow exponentially.
The value of the Privacy Management Software market is projected to grow to $ 28.2 Billion with an estimated CAGR of 40.2% by 2030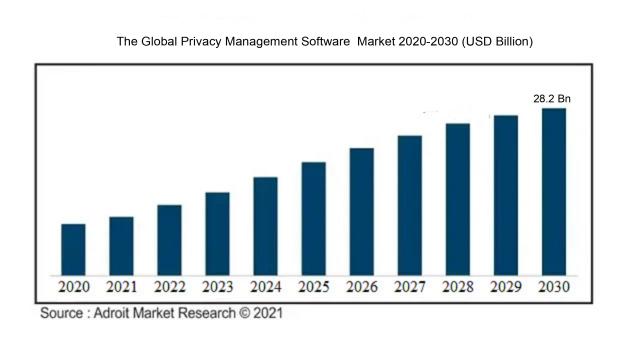 The On-Premises Segment is Likely to Have the Highest Market Share
Based on Deployment Type, the market is split into clouds and on-premises. The structures are expected to reflect a stable CAGR, thanks to its reliable and secure internal capabilities. Cloud-based software is probably going to realize significant growth during forecasting because it supports automated privacy management suits. As businesses grow during this era, organizations are using cloud-based software to extend their ability to store large amounts of knowledge. Cloud-based software also provides status and privacy policy details and a tracking system. This can be likely spice up the cloud-based software market.
The Software Segment is Likely to Have the Highest Market Share
Businesses face challenges in processing customer data and data. Lack of data about software between small and medium enterprises (SMEs), startups, and native organizations can hamper the market growth. Also, SMEs have limited allow IT services and solutions. This prevents the complete adoption of the software. This could hinder the requirement for software and its market growth.
The Asia Pacific region is likely to Have the Highest Market Share
The Asia Pacific is predicted to grow at a rapid rate during the forecast period. Japan, China, India, Singapore, and other countries are specializing in establishing strict consumer privacy laws, which is able to also help to expand the market. Europe is predicted to rise to a big CAGR during the forecast period because of the introduction of the GDPR in many European countries.
Data privacy management software could be a form of software that enables businesses to store sensitive data in accordance with the law. Software privacy management software enhances efficiency and accuracy by automatically automating complex or high-volume privacy processes like privacy impact assessment, data protection impact assessment, and business evaluation. The software solution helps to trace, manage, and organize data and processes, which are important for various companies.
Owing to the increasing risk of data theft and loss, the market for data privacy management solutions is one of the fastest-growing. This data privacy management application has features that help with responsibility and compliance. This also helps businesses report on the state of their privacy system by providing quantifiable scales based on the evidence provided by the privacy management software.
Advanced IoT Device Recognition Strengthens Market Software Data Growth Market. Demand for data security software is growing, because of the proliferation of loT devices in industries like manufacturing, BFSI, healthcare, and more. In keeping with McKinsey & Company, by 2028, loT-connected devices are expected to rise to 43 billion. Similarly, the widespread use of 5G technology would almost certainly increase the potential for important industry participants to extend their products.
Clients and organisations may use LoT technology to share and manage real-time data. The wireless network allows real-time data and activity-related data to be shared. The adoption of loT has seen a dramatic increase in many areas like smart stores, smart home appliances, smart city projects, and health monitoring, which have increased the requirement for loT safety. Therefore, growing loT devices and applications may drive the requirement for software.
Data Privacy management software are becoming more important as the manufacturing of IoT devices, BFSI, healthcare, and other industries grows. According to McKinsey & Company, 43 Billion IoT-connected systems will be installed by 2023. Similarly, broad use of 5G technology is expected to encourage major industry players to increase their offers. The wireless network allows data and activities to be exchanged in real time. As a consequence, as the number of IoT devices and applications develops, the applications market is expected to expand. This can afford a rapid increase within the field of information privacy management within the coming years. The existence of cybercrime is traced back several years. Over the years, the threat has become a serious problem for people, organizations, which is why, and society as an entire. Therefore, data protection principles also evolved into stricter laws. These estimates will improve the acceptance of privacy management software by organizations.
With the amount of ice and therefore the brightness of knowledge stored by the fashionable system, breach of privacy and security poses a further threat not only to users but also to system operators and designers. Organizations develop software that may help them run their operations without much hassle, but in the event of misconduct, the software should be ready to hold the user accountable. The growing need for accountability is therefore forcing organizations to adopt privacy management software which will allow them to extend their independence and hold their own accountability. This may drive the privacy management software market within the forecast period.
Since the official launch of the GDPR, the privacy management software market has already seen some regions come in enforcement, including California, South America, and the Asia Pacific. In an exceedingly healthy world, a world business culture can result in a global level of information privacy. Instead, at the worldwide level, the privacy management software market may have foreseen how international companies make access to data privacy in their business operations. a number of the businesses within the area have worked hard to implement strict standards around the world, providing that benefit to any or all. Some are expected to assess the chance and act regionally, while the remainder may still offer a hypocrisy program because of the limited number of cases during which large fines were imposed. The privacy management software market is expected to grow throughout the projected period, according to this trend.
Some of the major player operating in the global Privacy management software Market includes AvePoint, Inc. (New Jersey, United States), TrustArc, Inc. (California, United States), OneTrust, LLC (Georgia, United States), RSA Security LLC (Massachusetts, United States), IBM Corporation (New York, United States), Securiti.AI (California, United States), BigID, Inc. (New York, United States), Protiviti, Inc. (California, United States), and SureCloud (London).
Key Developments in the Global Privacy Management Software Market
• One Trust, LLC published the dates for the PrivacyConnect chapter meetings in February 2021 to discuss privacy, security, and governance expertise. The chapters of Privacy Connect cover 6 continents and 100 cities.
• SureCloud launches Advanced Compliance Management Solution with next-generation pre-map content and automation in January 2021. The answer monitors and reports organizations to work under all laws and regulations.

• March 2021 - IBM Corporation introduced IBM OpenPages Data Privacy Management supported advanced technology to satisfy privacy policies and data challenges. The answer is predicated on Al, to reduce, validate and classify data as rules.

• AvePoint, Inc., has introduced their new Software-as-a-Service (Pl) Software-as-a-Service solution to prevent sensitive data from being exposed. This data access control solution contains excessive data sharing.
Privacy Management Software Market Scope
| | |
| --- | --- |
| Metrics | Details |
| Base Year | 2022 |
| Historic Data | 2020-2021 |
| Forecast Period | 2022-2030 |
| Study Period | 2020-2030 |
| Forecast Unit | Value (USD) |
| Revenue forecast in 2030 | $28.2 Billion |
| Growth Rate | CAGR of 40.2 % during 2020-2030 |
| Segment Covered | By Application, Deployment, Vertical, Region. |
| Regions Covered | North America, Europe, Asia Pacific, South America, Middle East and Africa |
| Key Players Profiled | WashTec AG (Germany) Daifuku Co. Ltd (Japan), Otto Christ AG (Germany), Istobal S.A. (Spain), Ryko Solutions Inc (U.S.), MK SEIKO CO. LTD (Japan), D&S Car Wash Equipment Company (U.S.), PECO Car Wash Systems (U.S.), Washworld Inc.(U.S.), Autoequip Lavaggi S.R.L. (Italy) |
Key Segments of the Privacy management software Market
Component Overview (USD Billion)
Deployment Type Overview (USD Billion)
Size of Enterprise Overview (USD Billion)
Small and Medium Enterprise
Large Enterprise
Application Overview (USD Billion)
Risk Management
Compliance Management
Reporting & Analytics
Others
Industry Vertical Overview (USD Billion)
BFSI
Media and Entertainment
Manufacturing
Healthcare
IT & Telecommunication
Government and Defense
Retail & E-commerce
Others
Regional Overview (USD Billion)
Europe

UK
Germany
France
Rest of Europe
The Asia Pacific

China
Japan
India
Rest of Asia Pacific
South America

Brazil
Mexico
Rest of South America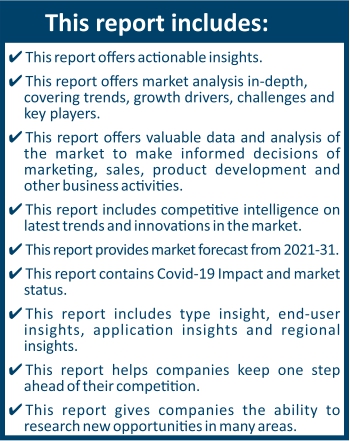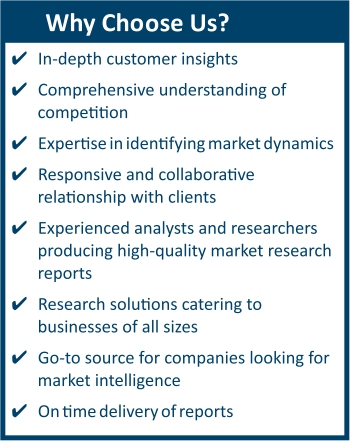 Frequently Asked Questions (FAQ) :
The application of the privacy management software market risk management, compliance management, reporting, analytics and Other.
The base year for the report is 2021 in privacy management software market.
Asia Pacific dominated the market for privacy management software market and accounted for the largest revenue share.
The top companies that hold the market share in privacy management software market are AvePoint, Inc. (New Jersey, United States), TrustArc, Inc. (California, United States), OneTrust, LLC (Georgia, United States), RSA Security LLC (Massachusetts, United States), IBM Corporation (New York, United States), Securiti.AI (California, United States), BigID, Inc. (New York, United States), Protiviti, Inc. (California, United States), and SureCloud (London).
To get latest version of privacy management software market report can be obtained on demand from the website.