The market for precision casting is expanding as a result of various factors. First, one of the biggest markets for castings is the auto sector. Castings are in greater demand as a result of the rising demand for automobiles. The precision casting market is also significantly fuelled by the aerospace industry. The expanding tourism industry is a major contributor to the rising demand for aircraft. Precision castings are becoming more and more popular as a result of this. Furthermore, a large customer of precision castings is the medical sector. Precision castings are in higher demand as a result of the rising need for medical equipment and implants.
An expendable mould is used in the lost-wax technique known as precision casting to create very accurate metal components. This method is widely employed in a variety of fields, including aerospace, building equipment, medicine, and others. Precision casting market expansion is anticipated to be fuelled by the increasing demand for lightweight and robust components across a number of end-use industries.
Compared to other casting techniques like die casting and sand casting, precision casting has a number of advantages. Greater design flexibility is made possible because practically any shape can be accurately duplicated. Precision castings can be made with extremely thin walls and offer superior surface finishes and dimensional accuracy.
Precision casting is a kind of metal casting method that produces pieces with a very high degree of repeatability and precision. Additionally, the castings made using this procedure have excellent surface finishes. Since dimensional accuracy and surface smoothness are critical in many applications, precision casting is an appealing manufacturing choice.
During the forecast period, the market for precision casting is anticipated to expand at a CAGR of about 4.2%. Precision casting's market was estimated to be worth more than USD 7.8 billion in 2020, and it is anticipated to grow to more than USD 10.9 billion by 2031.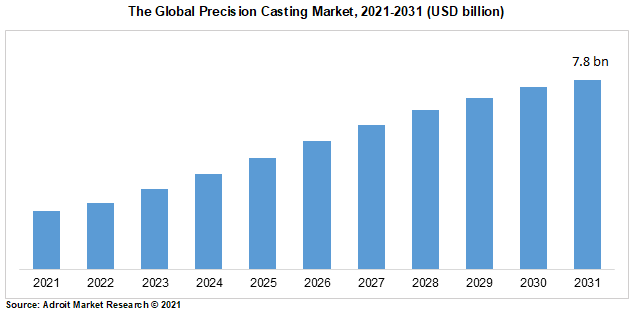 The precision casting business is facing a number of obstacles that are limiting its expansion. The high cost of precision casting equipment is a significant market issue, to start. Another difficulty for the market is a lack of skilled workers. The market's expansion is being constrained by a lack of qualified workers to run precision casting machinery. Additionally, the market has difficulties due to fluctuating raw material prices. Aluminium, steel, and iron are just a few of the raw materials whose costs are prone to change, which is limiting industry expansion. However, possibilities for the expansion of the precision casting market are anticipated to arise from the rising demand for castings from the automotive, aerospace, and medical sectors.
Schott AG, Tosoh Corporation, Heraeus Holding GmbH, Precision Casting Industries Co. Ltd., and Höganäs AB are a few of the top companies mentioned in the precision casting market study. Rhi Magnesita N.V., NSG Group, Saint-Gobain S.A., Vesuvius plc, Krosaki Harima Corporation, Morgan Advanced Materials plc, Pyrotek Inc., and Electro Abrasives LLC are a few additional well-known businesses operating in the precision casting field.
Segment Analysis
Silica Sol Investment Casting to Grow
The three primary types of precision casting are investment casting in silica sol, investment casting in water glass, and others. The industry for silica sol investment casting is estimated to grow at the highest CAGR over the projected period. Its expansion can be attributed to its unique features, which include excellent dimensional precision and a smooth surface finish. Water glass investment casting is a popular type of precision casting because it can produce complicated designs.
Automotive Industry to Lead
The automotive industry has been one of the largest markets for precision casting. The increased demand for automobiles, notably in North America and Asia Pacific, is driving growth in the precision casting industry worldwide. A rise in demand for precision casting in automotive applications is also projected as a result of tight pollution restrictions and the need for lightweight automobiles. The aerospace industry is also anticipated to aid in the growth of the global precision casting market over the course of the forecast. The growing demand for aircraft from the airline and military & defence sectors is expected to present significant prospects for industry participants working in this sector.
Asia-Pacific Region to Provide Maximum Growth
With growing demand from numerous end-use sectors, precision casting has a promising future. Over the projection period, it is anticipated that the automotive industry would be the primary user of precision casting products. Due to the region's expanding car and construction machinery sectors, the Asia Pacific region is anticipated to dominate the global precision casting market.
COVID-19 Impact and Market Status
Both the supply and demand of precision casting have been significantly impacted by the worldwide coronavirus (COVID-19) outbreak. A slowdown in industrial activity as a result of the lockdown ordered in several nations to stop the virus' spread has impacted the demand for items made of precision casting. The supply chain for the raw materials needed for precision casting has also been disturbed by the closing of international borders, which has further hampered market expansion. The precision casting business, however, is anticipated to pick up steam in the upcoming months as companies restart operations and governments around the world gradually loosen restrictions.
Latest Innovations in the Global Precision Casting Market: A Snapshot
• Vesuvius plc purchased the American business Aalco Metals Limited in September 2019. With access to a variety of aluminium alloys and other metals, the acquisition is expected to assist Vesuvius plc in expanding its product line.
• Under the trade name Supremax Pure, Schott AG introduced a new line of high-purity fused silica materials for use in investment casting in March 2019. The new products are made to satisfy the demands of consumers who seek unmatched uniformity and purity for their investment casting applications.
• As of October 2018, Yutong Group Co. Ltd. owned 100% of the shares in Heraeus Holding GmbH, a German firm. It is anticipated that this acquisition will increase Heraeus' position in Asia and broaden its selection of products for automotive applications.
Fully Automatic UV-Curing Equipment Market Scope
| | |
| --- | --- |
| Metrics | Details |
| Base Year | 2022 |
| Historic Data | 2021-2022 |
| Forecast Period | 2022-2031 |
| Study Period | 2021-2031 |
| Forecast Unit | Value (USD) |
| Revenue forecast in 2031 | USD 7.8 billion |
| Growth Rate | CAGR of 4.2 % during 2021-2031 |
| Segment Covered | by Type, By Application, Regions |
| Regions Covered | North America, Europe, Asia Pacific, South America, Middle East and Africa |
| Key Players Profiled | Applied Materials, Inc., Tokyo Electron Limited, Jusung Engineering Co., Ltd., Lam Research Corporation, Teradyne, Inc., KLA Corporation, Süss MicroTec SE, and NuFlare Technology, Inc. |
Key Segments of the Global Precision Casting Market
Type Overview, 2021-2031 (USD Billion)
Silica Sol Investment Casting

Water Glass Investment Casting

Others
Application Overview, 2021-2031 (USD Billion)
Automobile

Aerospace

Medical

Construction Machinery

Others
Regional Overview, 2021-2031 (USD Billion)
North America
Europe
Germany

France

UK

Rest of Europe
Asia Pacific
China

India

Japan

Rest of Asia Pacific
South America
Mexico

Brazil

Rest of South America
Middle East and South Africa
Frequently Asked Questions (FAQ) :
Precision Casting Market is projected to reach USD 7.8 billion by 2031, growing at a CAGR of 4.2 %
The Precision Casting market is growing at a CAGR of 4.2 % during the projection period
Key companies covered in the Precision Casting market are Thermo Fisher Scientific, Inc., Agilent Technologies, Aurora Biomed, Inc., AUTOGEN, INC., Danaher, BioTek Instruments, Inc., Analytik Jena AG, Corning Incorporated, Eppendorf AG, Formulatrix, Inc.