The global powder coating market size surpassed the value of USD 10.0 Billion in 2018 and expected to expand at a moderate CAGR from 2019 to 2025. With the innovation pertaining to technological advancement and rising income levels across the globe, the demand for household appliances has been increasing. Such a positive development is expected to further boost the requirement for powder coatings in the appliance industry.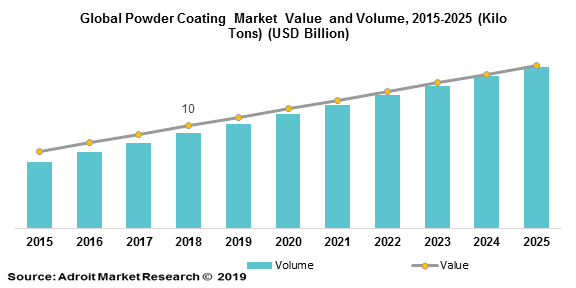 Powder coating is a type of free flowing, dry powder which can be applied on a variety of metal surfaces including aluminum extrusions, automobiles and bicycles, household appliances, drum hardware, and other equipment and machinery. The powder coating is preferred over conventional paints & coatings as it produces a thicker coating layer without sagging or running.
The growth in the automobiles production in the Asia Pacific region specifically into electric vehicles augment the powder coating market. The automotive OEM market is anticipated to witness a steady growth in the future, owing to increased competition among players, growing demand for vehicles, supportive government policies, development of transportation infrastructure, and rapid economic growth. Such drivers accelerate the growth of the powder coatings market globally.
Recent strategic developments of key players have positively influenced the powder coatings market dynamics. For instance, in 2019, PPG Industries acquired Whitford Worldwide Company, a global manufacturer of nonstick and low-friction coatings for consumer products and industrial applications. This acquisition is aimed to enable PPG to enhance its research and development capabilities, product offerings, and comprehensive industry reach in the expanding coatings sector. Additionally PPG Industries acquired Hemmelrath, coatings manufacturer for automotive original equipment to offer new products to its customers in the automotive coatings. In November 2019, Akzo Nobel N.V. acquired the aerospace coatings assets of Mapaero, based in France. This acquisition is likely to benefit the former to strengthen its worldwide position in aerospace coatings.
Powder Coatings Market Scope
| | |
| --- | --- |
| Metrics | Details |
| Base Year | 2020 |
| Historic Data | 2018-2019 |
| Forecast Period | 2021-2028 |
| Study Period | 2018-2028 |
| Forecast Unit | Value (USD) |
| Revenue forecast in 2028 | USD 10 Billion |
| Growth Rate | CAGR of 5.8% during 2021-2028 |
| Segment Covered | By Application, Regions |
| Regions Covered | North America, Europe, Asia Pacific, Rest of the World |
| Key Players Profiled | PPG Industries, Sherwin-Williams, Nippon Paint, AkzoNobel, Asian Paints, Axalta Coating Systems, Jotun, BASF Coatings, Kansai Paint, etc. |
Key Segments of the Global Powder Coatings Market Report
By Application Overview, 2015-2025 (Kilo Tons) (USD Million)
Consumer goods
Architectural
Automotive
General industries
Furniture
Others
Regional Overview, 2015-2025 (Kilo Tons) (USD Million)
North America
Europe
Asia Pacific
Rest of World
Reasons for the study
The purpose of the study is to give an exhaustive outlook of the global powder coatings market.

We intend to present how powder coatings has evolved and how it may impact execution of Industry 4.0

The study aims to identify the disruptive technologies, their adoption trend, impact on traditional approaches and monitor the transition of the industry
What does the report include?
The study on the global powder coatings market includes qualitative factors such as drivers, restraints, and opportunities

Additionally, the market has been evaluated using Porter's Five Forces and Value Chain Analysis

The study covers a qualitative and quantitative analysis of the market segmented on the basis of type and end-user. Moreover, the study provides similar information for the key geographies

Actual market sizes and forecasts have been provided for all the above-mentioned segments

The study includes the profiles of key players in the market with a significant global and/or regional presence
Who should buy this report?
This study is suitable for industry participants and stakeholders in the global powder coatings market. The report will benefit:
Every stakeholder involved in developing and distributing powder coatings solutions

Product managers looking to publish recent and forecasted statistics pertaining to the global powder coatings market

Government organizations, regulatory authorities, policymakers and financial organizations looking for innovative global powder coatings solutions

Analysts, researchers, educators, strategy managers, and academic institutions looking for insights into the market to determine future strategies
Competitive landscape of the global powder coatings market depicts significant fragmentation. The market comprises large multinational players offering innovative products that matches the demand of their customers. These manufacturers are increasingly emphasizing on the research and development of powder coatings by abiding to the stringent regulations. Due to the growing competition, companies are also seeking alternatives to enhance business profits and reduce additional costs.
Powder coatings provide good resistance from corrosion and scratching. It is often used in modular furniture such as metal furniture thumbtacks, computer cabinets, and mechanical pens and pencils. The shop owners often use powder coatings for their display racks, shelves, vending machines, and store fixtures.
Among all the end-user industries, the industrial demand for powder coatings is regarded to be the highest due to extensive use of powder coatings in the industrial application. Powder coating has the properties of being performance efficient and aesthetically favorable. The consumer appliances are made up of industrial powder coated parts are being the biggest portion of the powder coating market. Due to the extensive industrial use of powder coatings, the segment is also anticipated to witness the maximum growth in the coming years.
Market players have recently launched new products to meet consumer expectations. For instance, in September 2019, AkzoNobel N.V. introduced Interpon D X-Pro, a scratch-resistant powder coating for matt and satin finishes for the architectural market. This powder coating is less susceptible to abrasions during handling and transportation. Furthermore, in June 2019, Sherwin-Williams launched Powdura 4000 Anodite powder coating. This coating product delivers a smooth, ultra-matte, and powder-coated finish designed to look like anodized metal surfaces.
Based on the application, the market includes categories: Consumer Goods, Architectural, Automotive, General Industries, Furniture, and Others. The Consumer Goods segment and automotive segment together topped the application segment with more than 40% market share in 2018 and is anticipated to expand at an impressive rate on the basis of both consumption and revenue during the forecast period. The upsurge in the sales of consumer goods such as microwave, refrigerator, iron, and other items are driving the demand for powder coating. The powder coating doesn't emits any hazardous gas and they are solvent free and hence, it is suitable for these appliances. It also increases the durability of consumer appliances apart from being environment friendly.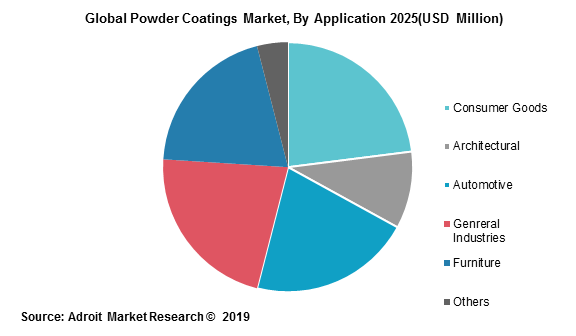 In the automotive segment, Asia Pacific is slated to be highest producer of electric vehicles in the coming years. India and China are regarded as the highest consumption of powder coatings globally in the automotive market. China is the largest consumer of powder coatings and the country's automotive industry is increasing at a faster pace. Around 419 million vehicles is going to be registered by 2022 and more than 500 million vehicles by 2030 in China, per the analysis by the University of California published in 2018. Additionally, according to Indian Brand Equity Foundation (IBEF), the automotive industry (along with component manufacturing) in India is anticipated to be valued at INR 16.16 -18.18 trillion ($251.4-282.8 billion) by 2026. This was due to investment initiatives by the big players. For e.g., Hyundai is planning to invest $1.0 billion in India by 2020. SAIC Motor has also announced to invest $310.0 million in India. Ashok Leyland planned a capital expenditure of INR 1,000 crore ($155.2 million) to introduce 20-25 new models across different commercial vehicle categories in 2018-19.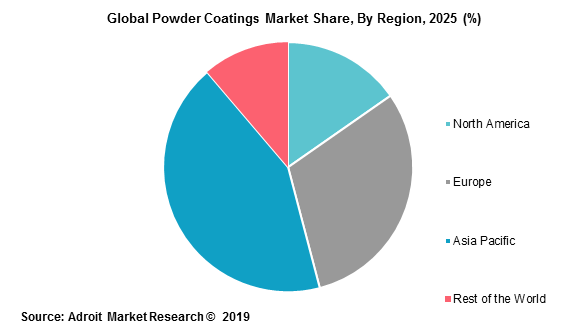 Based on the region, the global powder coating market is segmented in the North America, Europe, Asia Pacific, and Rest of World (RoW). The Asia Pacific region led the market with more than 40% market share in terms of both volume and value in 2018, followed by the Europe, North America, and Rest of World respectively. Over the forecast period, Asia Pacific is likely to dominate the global powder coating industry, attributable to rise in the consumer goods and furniture markets and improving standards of living in the countries such as India, Japan, and China. Also, growing investments by the automotive producers in the countries, such as India, Malaysia, Indonesia, and Thailand, is driving the automotive industry. Besides, the growth of construction industry in these countries are accelerated by the rising population, growing service industry, leading to an increase in migration, and deficit of residential buildings in the Asia Pacific region.
Furthermore, as per the Indian Brand Equity Foundation (IBEF), India is slated to become a leader in shared mobility by 2030, owing to the opportunities for electric and autonomous vehicles. This was attributable to rising middle class and increasing young population that resulted in such a strong growth. The Foreign Direct Investment (FDI) stood around $20.85 billion from April 2000 – December 2018. Moreover, the government of India has taken initiatives to boost the automotive sector. The Ministry of Heavy Industries, Government of India has shortlisted 11 cities for introducing electric vehicles (EVs) in their public transport systems under the scheme known as Faster Adoption and Manufacturing of (Hybrid) and Electric Vehicles in India (FAME). Hence, the demand for powder coatings from such markets has been rising in the region due to such powerful demand and growth of these end-user industries.
The major players of global powder coating include PPG Industries, Sherwin-Williams, Nippon Paint, Akzo Nobel N.V., Axalta Coating Systems, Jotun, BASF Coatings, Asian Paints, Kansai Paint, Valspar etc.