The global portable toilets market is projected to reach a market value of US$ 9,851.4 million by the end of 2025 owing to increasing construction activities worldwide. Increase in construction renovation and construction activities has resulted in an increased need for well-organized sanitation amenities. During the past years, the portable toilets industry has foreseen a marvelous growth due to rising awareness regarding proper sanitation practices among consumers coupled with fast adoption of mobile toilets especially at outdoor events.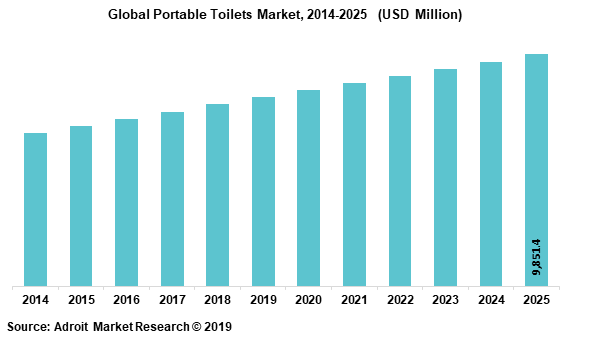 Rising spending by the governments on providing appropriate toilet and sanitation services majorly at political functions and gatherings is anticipated to bolster the demand for power or trailer mobile toilets. Additionally, power mobile toilets are easy to transfer through tractors or trucks and are fortified with dispenser kits, electricity, proper ventilation and dump valves which is expected to upsurge its acceptance over the foreseeable years. On the other hand, handling moving toilets are projected to predict a robust growth owing to their ease of transportation, low cost, less weight as well as ease of availability in mass numbers. Further, rising applications of lightweight handling toilets especially at outdoor gatherings and events such as political meets, music festivals and camping sites are further expected to augment the overall demand in the near future. The power or trailer toilets segment held a share of 54.5% in 2017 and is projected to remain dominant throughout the forecast period owing to increased governmental spending on effectual toilet facilities, expanding awareness among consumers and rising number of portable toilet manufacturers.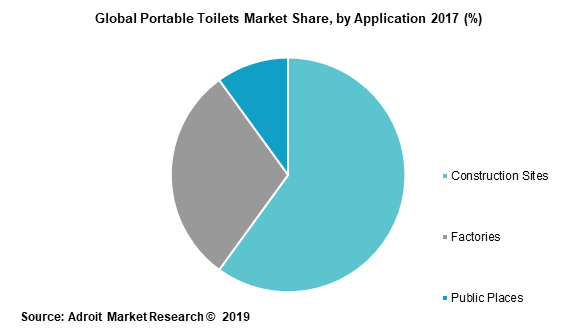 In terms of application, the construction sites segment held the largest share in the global market in 2017 and is expected to gain noteworthy share over the foreseeable years. This is mainly owing to rising number of construction and construction renovation activities majorly in the developing countries of Asia-Pacific combined with severe regulations on the connection, fitting and installation of efficient sanitation and lavatories systems at such sites to guarantee finest health of workers and to maintain appropriate hygiene.
With the rapidly increasing population and rising urbanization, the demand for housing construction is snowballing at a substantial rate. Thus, rising growth of the construction industry is concurrently bolstering the sales of portable toilets. In order to provide efficient sanitation facilities to workers, portable toilets are seeing huge demand. The global portable toilets market is disjointed due to the presence of international as well as local players. The major players in the market include Armal Srl, Satellite Industries, Wilkinson Supply Co., PolyJohn Enterprises, etc.
Portable Toilets Market Scope
| | |
| --- | --- |
| Metrics | Details |
| Base Year | 2019 |
| Historic Data | 2017-2018 |
| Forecast Period | 2020-2025 |
| Study Period | 2015-2025 |
| Forecast Unit | Value (USD) |
| Revenue forecast in 2025 | USD 10 Billion |
| Segment Covered | Type, Application, Regions |
| Regions Covered | North America, Europe, Asia Pacific, Latin America, Middle East & Africa |
| Key Players Profiled | Satellite Industries, Sanitech Toilet Hire ADCO International, PolyJohn, B&B Portable Toilets, Shorelink International, Camco Manufacturing Inc., ARMAL among others |
Key segments of the global portable toilets market
Type Overview, 2014-2025 (USD Million)
Lifting or Handling Moving Toilets
Power or Trailer Mobile Toilets
Application Overview, 2014-2025 (USD Million)
Construction Sites
Factories
Public Places
Regional Overview, 2014-2025 (USD Million)
North America
Europe

UK
Italy
France
Germany
Rest of Europe

Asia Pacific

Japan
India
China
Southeast Asia
Rest of Asia-Pacific

Latin America

Brazil
Mexico
Rest of Latin America

Middle East & Africa

GCC
Rest of Middle East & Africa
Reasons for the study
The purpose of the study is to give an exhaustive outlook of the global portable toilets industry.
We have been studying the portable toilets industry. As an extension of this market, we found out that portable toilets are in widespread demand and have notable importance as a hygienic sanitation solution.
The rising number of portable toilets outlets especially across U.S., Japan and UK are projected to accelerate the development of portable toilets market over the foreseeable years.
What does the report include?
The study on global portable toilets market includes qualitative factors such as drivers, restraints, and opportunities
Additionally, the market has been evaluated using the value chain and Porter's five forces analysis.
The study covers qualitative and quantitative analysis of the market segmented on the basis of product and application. Moreover, the study provides similar information for the key geographies.
Actual market sizes and forecasts have been provided for all the above-mentioned segments.
The study includes the profiles of key players in the market with a significant global and/or regional presence
Who should buy this report?
This study is suitable for industry participants and stakeholders in the portable toilets market. The report will benefit:
Managers within financial institutions looking to publish recent and forecasted statistics pertaining to portable toilets market.
Venture capitalist looking into investing capital.
Government organizations, regulatory authorities, policymakers and financial organizations looking for hygienic solutions.
Analysts, researchers, educators, strategy managers, and academic institutions looking for insights into the market to determine future strategies.
Increasing investment on construction activities especially in emerging economies such as China and India is one of the major factors driving the global portable toilets market. Deployment of portable toilets at construction sites enhance the overall productivity of workers and are considered easier to reposition depending upon the requirement. Several aspects such as demand for better hygiene and sanitation coupled with rising growth of international tourism are projected to boost the demand for portable toilets at docks, streets, public areas and other places with tourist attractions. Amongst public areas, portable toilets are mainly deployed in large scale events. Organizers favor providing portable toilets since people stay longer at large scale events due to better convenience and thus spend more money and time at the event. Increasing investments by the governments of several economies such as Russia, Brazil as well as other developed countries of Europe to enhance the sanitation facilities is one of the prime factors driving the overall growth of portable toilets across the globe. Additionally, rising number of events as well as increased number of portable toilet manufacturers are some other major factors driving the overall demand.
Growing travel & tourism industry across the world
The travel & tourism industry is flourishing day by day across the world. It is one of the world's largest industries. In 2016, it contributed around USD 7.6 trillion to global economy. Some of the most popular tourism destinations are US, France, Thailand, and others. European countries receive the greatest number of international tourists every year. In 2017 670.6 million international tourists visited Europe. They come here to visit places, attend concerts and visit different tourist destinations.
The number of travelers and tourists is expected to increase globally. With increasing tourists, the demand for portable toilets at tourist's destinations such as beaches, or other public places is expected to increase. As tourists contribute significantly towards a countries economy and to maintain the proper inflow of tourists is very much dependent on the type of facilities and convenience the tourist get at the destination. Proper sanitation facility is one of the most important facility as it helps in keep the destination clean, hygienic and attractive for the tourists.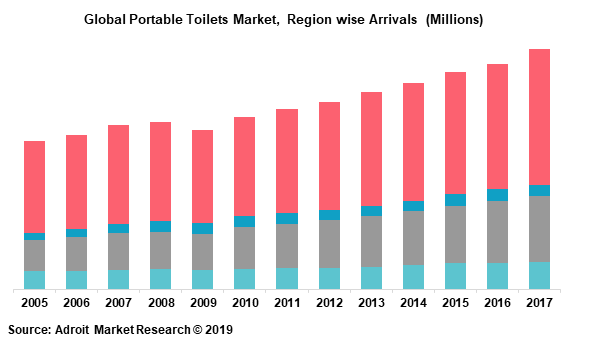 The power or trailer mobile toilets segment dominated the global portable toilets market. This is majorly due to the aesthetic features provided by power or trailer toilets. These toilets are easy to move as these are attached with a movable trolley, powertrain or a vehicle. Moreover, such toilets have additional features such as electricity supply, water management, odor management, etc. Lifting or handling moving toilets segment is anticipated to witness the fastest growth of 7.0% over the forecast period. Lifting or handling moving toilets are majorly deployed at events taking place at secluded and isolated areas. Moreover, lesser investment plans for sanitation in underdeveloped and some developing countries is in turn increasing the demand for lifting or handling moving toilets.
In terms of application, construction sites segment accounted for the major share in the global market. This is majorly due to increasing construction activities across the globe. Increasing number of construction projects especially at untapped lands and isolated areas is one of the key aspects driving the demand for portable toilets. Moreover, builders and construction employers are liable to adhere to several worker welfare guidelines set by the governments which make them deploy portable toilets at their sites. Additionally, increasing awareness among workers is another key factor driving the overall sales of portable toilets at construction sites. Factories segment is anticipated to register the fastest growth of nearly 7% over the forecast period owing to increasing number of regulations regarding efficient human waste disposal and sanitation facilities.
In terms of geographical divergence, Europe and Asia-Pacific are highly mature regions and account for more than one third of the overall portable toilets revenue. Rising adoption of portable toilets in Europe especially due to increased tourism is one of the prime factors driving the European market. Although, Asia-Pacific is anticipated to foresee the fastest growth on account of increasing construction activities coupled with rapid industrialization in the region. Additionally, increasing interest of major portable toilet manufacturers in setting up manufacturing facilities in Asia-Pacific due to favourable governmental policies as well as increasing inclination of market giants to expand their reach in the Asia-Pacific region is expected to bolster the overall demand. Asia-Pacific accounted for a market share of 28.5% in 2018 and is anticipated to account for 28.8% registering a CAGR of 6.7% over the forecast period.