The global point of care testing for infectious disease testing market was valued at USD 2,168.4 million in 2018. Consistent growth in prevalence of infections, technological innovation, shift in providing patient centric services and growing demand for portable testing systems are some of the key growth indicators of this market. Conversely, stringent regulations, and longer duration consumed for commercialization of novel tests hinder the market growth. The ongoing surge in the incidence and prevalence of highly communicable diseases and high susceptibility of geriatric and pediatric patients such diseases is also a contributor to the growth of this market.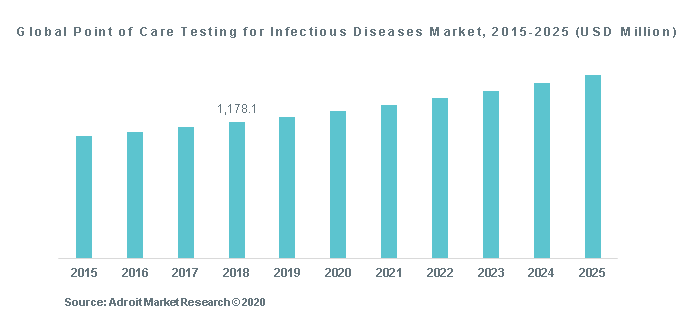 development in the field of point of care devices has been significant over the years with growing focus on quick results, better efficacy and miniaturization. Introduction of self-testing kits and portable devices has further increased the outreach of diagnostic tests while simultaneously assisted in disease containment in remote regions. market players are increasingly putting efforts in developing solutions that shall deliver results within minutes for deadly influenza infections and tropical diseases. This has also led to decreasing the burden on central laboratories to meet the growing demand for healthcare. These factors as a result, augment the demand for point of care testing for infectious diseases in the global market.
Key Segments of the Global Point of Care Testing for Infectious Diseases Market
Infection Type Overview, 2015-2025 (USD Million)
HIV
Clostridium difficile
HBV
Pneumonia or Streptococcus associated infections
Respiratory syncytial virus (RSV)
HPV
Influenza/Flu
HCV
MRSA
TB and drug-resistant TB
HSV (Herpes Simplex Virus)
Others
Usage Area Overview, 2015-2025 (USD Million)
Hospitals
Clinics
Home Care
Clinical Laboratories
Assisted Living Facilities
Others
Regional Overview, 2015-2025 (USD Million)
North America
Europe

Germany
United Kingdom
France
Rest of Europe

Asia Pacific

China
Japan
India
Rest of Asia Pacific

Latin America

Brazil
Mexico
Rest of Latin America

Middle East & Africa
Reasons for the study
Swift adoption of rapid diagnostic kits
Increase incidence and prevalence of severe communicable and tropical diseases
Growing awareness and penetration in developing markets of Asia Pacific and Middle East
What does the report include?
The study on the global point of care testing for infectious disease testing market includes qualitative insights such as drivers, restraints, challenges and opportunities
Additionally, the market has been evaluated using the Porter's five forces analysis
The study covers qualitative and quantitative analysis of the market segmented on the basis of infection types and usage area. Moreover, the study on POC testing for infectious diseases market provides similar information for the key geographies.
Actual market sizes and forecasts have been provided for all the above-mentioned segments
The study includes the profiles of key players operating in the market with a significant global and/or regional presence
Who should buy this report?
The report on the global point of care testing for infectious diseases market is suitable for all the players across the value chain including raw material suppliers, testing kits manufacturers, analyzer manufacturers, healthcare organizations, distributors, and technology intermediaries
Venture capitalists and investors looking for more information on the future outlook of the global point of care testing for infectious diseases market
Consultants, analysts, researchers, and academicians looking for insights shaping the global point of care for infectious diseases market
Majority of the rapid diagnostics tests used worldwide are based on the versatile LFIA platform. However, there are many emerging technologies that are expected to improve the performance, accessibility and adoption among the users in the global market, one among them being microfluidics technology. The emerging microfluidic devices are integrated point of care systems for end to end fluid handling, processing and signal generation. This technology provides a low cost diagnostic tool to be used in home care or remote settings. Microfluidic devices or on-chip immunoassays have similarities to the standard ELISA, molecular diagnostic and LFIA platforms in terms of operation. Yet, the use of microfluidic assays reduces assay complexity and enables multiplex testing and HTS. On-chip immunoassays are particularly promising as it efficiently miniaturizes and integrates several steps such as cell lysis or extraction, purification and amplification of nucleic acids, and detection of reaction.
The ongoing efforts to develop lab on chip diagnostic tools include discovery of new biomarkers, and develop integrated immunoassay design and materials. However, researchers are also required to have equal focus on containing per-test cost.
Among the various infections commonly using point of care testing, HIV generates the largest adoption and revenue in the base year 2018. This trend is anticipated to continue through the forecast period with a prominent but temporary spike due to the ongoing COVID19 epidemic. Conventionally, the demand for point of care testing for infections such as influenza, multiple drug resistant tuberculosis shall consistently rise due to the perpetual incidence of these conditions in emerging economies. In the developed markets of North America and Western Europe, the market share of clinics in terms of adoption of POC tests shall be the highest. The penetration of these solutions in clinics in emerging countries shall also be observed during the forecast period due to growing awareness and improving healthcare expenditure.
North America, followed by Europe are the largest regional markets for point of care testing for infectious diseases. Factors such as domicile of major market players, presence of developed healthcare infrastructure, and better awareness are the key attributes of these regions. On the other hand, Asia Pacific is anticipated to be the fastest growing regional market through the forecast period. The R&D expenditure in the region is consistently growing especially in India, China and Japan. There has also been a phenomenal increase in the incidence of infections in the region and simultaneously government efforts towards containment of such diseases is also increasing. Moreover, several international market players are also keenly interested in introducing their novel assays in Asia Pacific and therefore harness the untapped opportunities.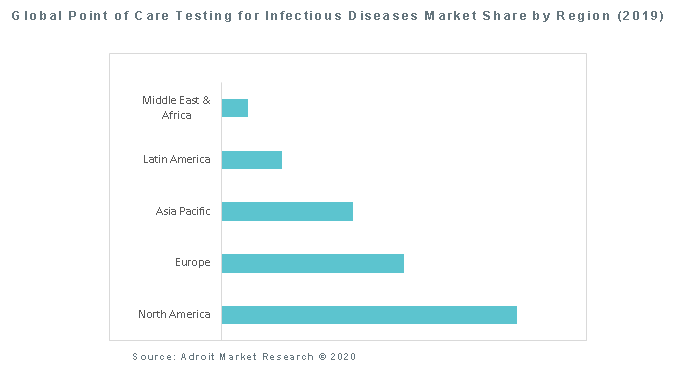 Major companies operating in the point of care testing for infectious diseases market are Thermo Fisher Scientific Inc., Alere Inc., Chembio Diagnostic Systems Inc., Trinity Biotech plc, Quest Diagnostics Inc., F. Hoffmann-La Roche Ltd., bioMérieux SA, Bio-Rad Labs Inc., Cardinal Health, BD & Company, Ortho-Clinical Diagnostics and others.