The global plasma protease C1 inhibitor market was valued at USD 2,932.6 million in 2020 and is projected to grow at a CAGR of 17.7% during the forecast period. Factors driving the growth of the plasma protease C1 inhibitor market include growing emphasis of biopharmaceutical companies on the development of effective therapies for treating various health disorders, increasing product consents and increasing research & development.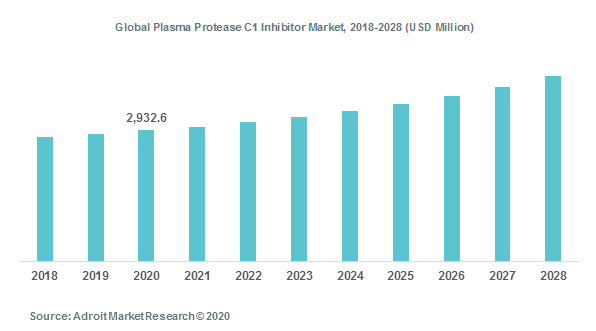 Hereditary angioneurotic edema (HANE) is due to the functional deficiency of the inhibitor of the first component of human complement (C1-Inh). This protease inhibitor is involved in the regulation of several proteolytic systems in plasma including the complement system, the contact system of intrinsic coagulation and kinin release, and the fibrinolytic system.
Regionally, North America accounted for the largest market share of the global plasma protease C1 inhibitor market attributable to the existence of well-established healthcare infrastructure. Leading players of the global plasma protease C1 inhibitor market include include KalVista Pharmaceuticals, Inc., CSL Behring LLC, Lonis Pharmaceuticals, Inc., Takeda Pharmaceutical Company Limited, Pharming Technologies B.V., BioCryst Pharmaceuticals, Centogene AG, among others.
Key segments of the global plasma protease C1 inhibitor market
Drug Type Overview, 2018-2028 (USD Million)
C1-inhibitors
Kallikrein inhibitor
Selective bradykinin b2 receptor antagonist
Dosage Form 2018-2028 (USD Million)
Regional Overview, 2018-2028 (USD Million)
North America
Europe

Germany
United Kingdom
France

Asia Pacific
South America
Middle East & Africa
Reasons for the study
Increasing product approvals/ launches
Increasing research and development
Adoption of inorganic strategies
What does the report include?
The study on the global plasma protease C1 inhibitor market includes qualitative factors such as drivers, restraints and opportunities
The study covers qualitative and quantitative analysis of the market segmented on the basis of drug type and dosage form. Moreover, the study provides similar information for the key geographies.
Actual market sizes and forecasts have been provided for all the above-mentioned segments
The study includes the profiles of key players in the market with a significant global and/or regional presence
Who should buy this report?
The report on the global plasma protease C1 inhibitor market is suitable for all the players across the value chain including product manufacturing companies, suppliers/distributors, R&D labs, CROs, healthcare organizations, medical reimbursement and insurance providers
Venture capitalists and investors looking for more information on the future outlook of the global plasma protease C1 inhibitor market
Consultants, analysts, researchers, and academicians looking for insights shaping the global plasma protease C1 inhibitor market
Angioedema in the absence of allergy continues to represent a medical paradox. This uncommon disorder may manifest as facial, laryngeal, genital, or intraabdominal swelling or swelling of the extremities. Despite its often dramatic presentation, its rarity and its tendency to mimic other, dissimilar disease states often obscure its diagnosis. Even so, the condition has been documented for more than a century. However, work has been undertaken to better understand the genetics, pathogenesis, and appropriate clinical management of angioedema. However, today hereditary angioedema (HAE) and its even rarer acquired form, acquired angioedema (AAE), remain little known in clinical practice and thus frequently misdiagnosed and inappropriately treated, often resulting in unnecessary suffering.
The global plasma protease C1 inhibitor market is categorized based on drug type and dosage form. By drug type, the C1-inhibitors was the largest market in 2020 while the bradykinin B2 receptor antagonist is set to grow at a highest CAGR by 2028. C1-inhibitors are recognized to directly hinder with the attraction of mingling leukocytes through inflammatory reactions and use of C1-inhibitor has been demonstrated to be advantageous in ischemia-reperfusion impairment in a number of organs.
HAE and AAE present an ongoing clinical challenge. Despite the recurrent nature of angioedema attacks, their acute treatment is often suboptimal, sometimes delayed, and often requires lengthy hospital stays. In some countries, including the United States, no safe and effective acute attack therapy is available. Even the prophylactic management of these disorders is inconsistent across centers and nations, and, because of the side effects of antifibrinolytics and steroids currently in use, requires a lifelong, individualized calculation of benefits and risks. These drawbacks are well known to the small community of physicians who deal frequently with these diseases and are a feature of life for those patients who suffer frequent or severe attacks.