Covid-19 Impact
The sudden emergence of the COVID-19 pandemic has resulted in the introduction of draconian lockdown measures across multiple nations, causing interruptions in Pharmaceutical Environmental Monitoring import and export activity.
It's being expected that by 2028, the Pharmaceutical Environmental Monitoring market cap will hit USD 8.33 billion at a CAGR growth of about 7.5%.
COVID-19 has the ability to influence the global economy in three ways: by directly affecting output and demand, by financially affecting enterprises and financial markets, and by disrupting supply networks and marketplaces. Following the COVID-19 crisis, our experts monitoring the situation throughout the world predict that the market would give profitable prospects for producers.
Based on Product
Monitoring Equipment, Software, Microbiology Services, Media, and Others are the four key segments in the pharmaceutical environmental monitoring industry. Pharmaceutical Environmental Monitoring products led the market in 2021. Diabetes occurrences are predicted to rise, and new product introductions will boost category growth.
Based on Region
With a market share of more than 47% in 2019, North America is the largest market for Pharmaceutical Environmental Monitoring. Europe is the second-largest market after North America, with a consumer market share of roughly 26%. The growing usage of Pharmaceutical Environmental Monitoring in the Traditional Pharmaceutical Industry, Biopharmaceutical Industry, Academic and Research Institutes, and other industries is propelling the global Pharmaceutical Environmental Monitoring market.
Environmental monitoring and testing equipment detect surface and airborne pollutants in pharmaceutical cleanrooms and other regulated settings. Environmental monitoring and testing equipment data are frequently utilized for regulatory compliance and production practices for safety and quality assurance.
The categorization of Pharmaceutical Environmental Monitoring covers Monitoring Equipment, Media, Software, and Microbiology Services, with Monitoring Equipment accounting for around 32% of the total in 2019.
Pharmaceutical Environmental Monitoring is increasingly being used in various businesses, including the traditional pharmaceutical industry, the biopharmaceutical industry, and academic and research institutions. Multiple trade fairs and expos have also assisted Pharmaceutical Environmental Monitoring manufacturing businesses to expand their consumer base and contribute considerably to the Pharmaceutical Environmental Monitoring market's growth.
Pharmaceutical environmental monitoring is widely used in the biopharmaceutical and pharmaceutical industries, as well as academic and research institutes. The traditional Pharmaceutical Industry accounts for most Pharmaceutical Environmental Monitoring, accounting for around 49 percent in 2019.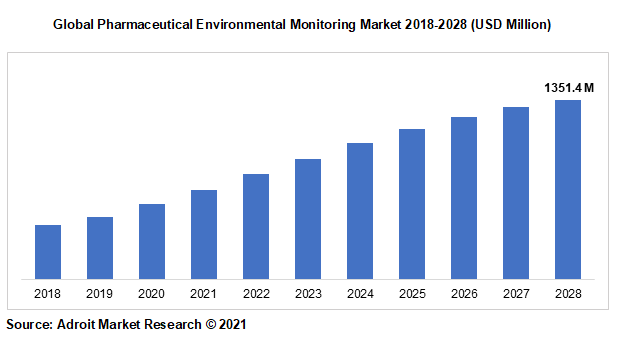 Pharmaceutical Environmental Monitoring Market Scope
| | |
| --- | --- |
| Metrics | Details |
| Base Year | 2020 |
| Historic Data | 2018-2019 |
| Forecast Period | 2021-2028 |
| Study Period | 2018-2028 |
| Forecast Unit | Value (USD) |
| Revenue forecast in 2028 | USD 8.33 billion |
| Growth Rate | CAGR of 7.5% during 2021-2028 |
| Segment Covered | by Component, by Pollution Type, Regions |
| Regions Covered | North America, Europe, Asia Pacific, Middle East and Africa, South America |
| Key Players Profiled | 3M,Aeroqual,Agilent Technologies Inc,Danaher Corporation,Emerson Electric Co,Forbes Marshall,General Electric Company,Honeywell International Inc,Horiba Ltd,Merck Kgaa,Perkinelmer Inc,Shimadzu Corporation,Siemens AG,Teledyne Technologies Incorporated,Thermofisher Scientific Inc |
Key Segments of the Pharmaceutical Environmental Monitoring Market
By Product
Media
Monitoring Equipment
Microbiology Services
Software
By Application
Traditional Pharmaceutical Industry
Biopharmaceutical Industry
Academic & Research Institutes
By Region
North America
Asia Pacific
Europe
South America
Middle East and South Africa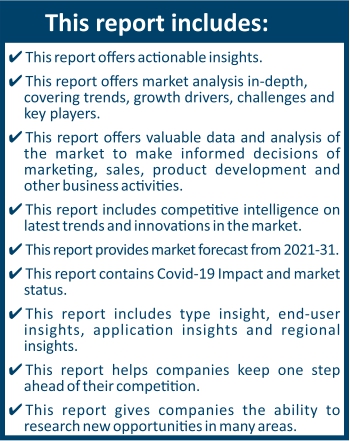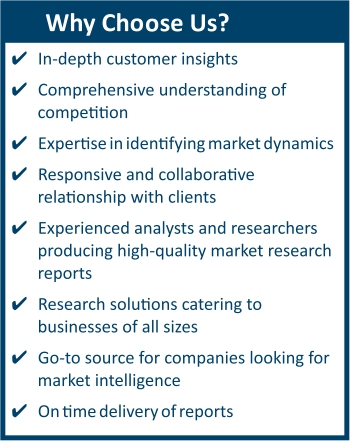 Frequently Asked Questions (FAQ) :
The Pharmaceutical Environmental Monitoring Market is growing at a CAGR of 6.6% by 2028.
North America is the largest market share for Pharmaceutical Environmental Monitoring Market.
Danaher Corporation,Thermo Fisher Scientific,Merck KGaA,Eurofins Sinensis,Lonza,Biomerieux,VAI,Cosasco,Amphenol Advanced Sensors,Vaisala,RMONI are the major companies operating in Pharmaceutical Environmental Monitoring Market.
1. Introduction
o Introduction
o Market Definition and Scope
o Units, Currency, Conversions, and Years Considered
o Key Stakeholders
o Key Questions Answered
2. Research Methodology
o Introduction
o Data Capture Sources
o Market Size Estimation
o Market Forecast
o Data Triangulation
o Assumptions and Limitations
3. Market Outlook
o Introduction
o Market Dynamics
? Drivers
? Restraints
? Opportunities
? Challenges
o Porter's Five Forces Analysis
o PEST Analysis
4. Classification of Pharmaceutical Environmental Monitoring Market by Product, 2018-2028 (USD Million)
o Overview: Global Pharmaceutical Environmental Monitoring Market Size by Type: 2020 Versus 2021 Versus 2028
o Global Pharmaceutical Environmental Monitoring Market Share by Type in 2020
o Monitoring Equipment
o Media
o Software
o Microbiology Services
5. Classification of Pharmaceutical Environmental Monitoring Market by Application, 2018-2028 (USD Million)
o Overview: Global Pharmaceutical Environmental Monitoring Market Size by Application: 2020 Versus 2021 Versus 2028
o Traditional Pharmaceutical Industry
o Biopharmaceutical Industry
o Academic & Research Institutes
6. Classification of Pharmaceutical Environmental Monitoring Market by Region 2018-2028 (USD Million)
o North America
? US
? Canada
o Europe
? Germany
? UK
? France
? Italy
? Spain
? Russia
? Rest of Europe
o Asia Pacific
? China
? Japan
? South Korea
? India
? Australia
? South East Asia
? Rest of Asia Pacific
o Latin America
? Brazil
? Mexico
o Middle East & Africa
? Saudi Arab
? South Africa
? UAE
7. Competitive Landscape
o Company Ranking
o Market Share Analysis
o Strategic Initiatives
? Mergers & Acquisitions
? New Product Launch
? Others
8. Company Profiles
o Fresh Origins
o Products Portfolio
o Recent Initiatives
o Company Financials
• Danaher Corporation
• Thermo Fisher Scientific
• Merck KGaA
• Eurofins Sinensis
• Lonza
• Biomerieux
• VAI
• Cosasco
• Amphenol Advanced Sensors
• Vaisala
• RMONI
9. Appendix
o Primary Research Approach
? Primary Interview Participants
? Primary Interview Summary
o Questionnaire
o Related Reports
? Published
? Upcoming