The global pen needles market was valued at USD 1,450.0 million in 2019 and is expected to grow at a CAGR of 11.7% over the forecast period. The market is anticipated to grow on account of rising prevalence of diabetes. According to the World Health Organization, approximately 422 million people are currently living with diabetes across the globe and is attributed to 1.6 million deaths annually. The pen needles offer several advantages including improved patient satisfaction and adherence, greater ease of use, superior accuracy for delivering small doses of insulin, greater social acceptability, and less reported injection pain. All these factors are anticipated to augur market growth over the forecast period.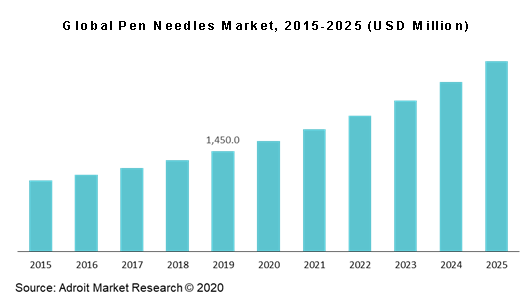 Key players serving the global pen needles market include B. Braun Melsungen AG, Ypsomed AG, Owen Mumford Ltd., Novo Nordisk A/S, BD, Terumo Corporation, Allison Medical, Inc., UltiMed, Inc., HTL-Strefa, Arkray, Inc. among other prominent players.
Key segments of the global pen needles market
Product Overview, 2015-2025 (USD Million)
Standard Pen Needles
Safety Pen Needles
Needle Length Overview, 2015-2025 (USD Million)
4mm
5mm
6mm
8mm
10mm
12mm
Therapy Overview, 2015-2025 (USD Million)
Insulin
Glucagon-like-Peptide-1 (GLP-1)
Growth Hormone
Regional Overview, 2015-2025 (USD Million)
North America
Europe

Germany
United Kingdom
France
Spain
Rest of Europe

Asia Pacific

China
Japan
India
Rest of Asia Pacific

Central and South America

Brazil
Mexico
Rest of Central and South America

Middle East & Africa

GCC
Rest of Middle East and Africa
Reasons for the study
The purpose of the study is to give an exhaustive outlook of the global pen needles industry
The overall segmentation of pen needles market, especially key segments are thoroughly studied.
Presence of major players and their wide product portfolio across developed countries is anticipated to further boost the growth of pen needles market
What does the report include?
The study on the global Pen Needles market includes analysis of qualitative market indicators such as drivers, restraints, challenges and opportunities
Additionally, the market competition has been evaluated using the Porter's five forces analysis
The study covers qualitative and quantitative analysis of the market segmented on the basis of applications, product, technology and end user. Moreover, the study provides similar information for the key geographies.
Actual market sizes and forecasts have been provided for all the considered segments
The study includes the profiles of key players in the market with a significant global and/or regional presence
Who should buy this report?
The report on the global pen needles market is suitable for all the players across the value chain including raw material suppliers, pen needles providers, medical device manufacturers, distributors, suppliers and retailers
Venture capitalists and investors looking for more information on the future outlook of the global pen needles market
Consultants, analysts, researchers, and academicians looking for insights shaping the global pen needles market
The global pen needles market is anticipated to grow on account of growing diabetic patient pool which has led people to take insulin which can be administered with an insulin pen. These devices are easy to use and more user friendly as compared to conventional syringes. The advancement in technology, growing product awareness coupled with favorable reimbursement policies is anticipated to fuel market growth over the forecast period. However, the availability of other modes of delivery, complications associated with the usability of pen needles, poor healthcare infrastructure policies in LMIC and developing economies are some of the restraining factors that are projected to hamper the market growth.
It is projected that the global prevalence of diabetes will double by the end of 2030. Although, type 1 diabetes incidence rates have been stable while the type 2 diabetes patient pool comprises over 80% of all the diabetes cases across developed as well as emerging economies. The growing burden of diabetes across these regions are anticipated to pave revenue generation opportunities for the market players.
The primary advantages of using an insulin pen instead of a vial-and-syringe method include ease of use, greater accuracy in insulin delivery and an overall improvement in patients' adherence to diabetes management, according to findings confirmed by several studies. Because an insulin pen is easier to carry, with less stigma attached than a syringe, patients are less likely to resist using them when away from home. Many users also report that the smaller, thinner needles typically used with insulin pens make the injection process less painful. People with vision problems typically find that the larger numbers on an insulin pen are easier to read than the numbers on a syringe, making it more likely that the proper dosage will be used. Insulin pens are also easier to handle for those with dexterity problems.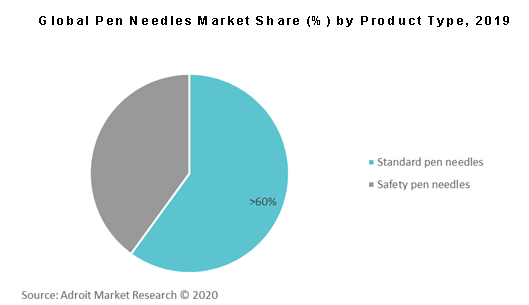 Based on regions, the global pen needles market is segmented into North America, Europe, Asia Pacific, Central, and South America and Middle East & Africa.
North America currently dominates the global pen needles market owing to the presence of a large number of people suffering from diabetes. According to the American Diabetes Association in the year 2018, 34.2 million Americans were having diabetes which equates to 10.5% of the total population. The percentage of Americans age 65 and older remains high, at 26.8%, or 14.3 million seniors (diagnosed and undiagnosed). Furthermore, annually there is an increase of 1.5 patients diagnosed with diabetes. Adroit Market Research further predicts that the favorable reimbursement scenarios over the forecast period will fuel market growth.
Asia Pacific region is anticipated to witness the highest growth rate over the forecast period owing to the growing patient pool across emerging economies of China and India. Also, the market is anticipated to witness lucrative growth opportunities fueled by growing healthcare expenditure, rising disposable income, growing awareness regarding the advantages of pen needles. In India, the people suffering from diabetes are anticipated to surpass the mark of 80 million by the end of 2025. Growing technological advancements coupled with new product launches are projected to boost the market growth. For instance, in the year 2018 Hindustan Syringes & Medical Devices launched "Dispovan Insulin Pen Needle" to provide better comfort for diabetic patients. With the launch of such devices, companies will contribute to making healthcare affordable for the common people.