PBT resins or polybutylene terephthalate resins, are semi-crystalline, synthetic engineered thermoplastics which have very related composition and properties to PET (polyethylene terephthalate). PBT resins belong to the polyester group of resins and have very similar characteristic properties with other thermoplastic polyesters. PBT resins are high-performance material which have higher molecular weight and have stiff, strong, and engineerable plastic properties. PBT resins are present in a wide range of colours from white to bright colours. Polybutylene Terephthalate resins are formulated by using special catalysts coupled with the polycondensation of dimethyl terephthalate or terephthalic acid with 1, 4–butanediol. PBT resins are widely used in several industries such as automotive, medical, electrical and electronics, and others.
The global Growing packaging and electrical industry is driving the growth in PBT Resins market size is expected to reach close to US$ 50 billion by 2029 with an annualized growth rate of 5.9% through the projected period.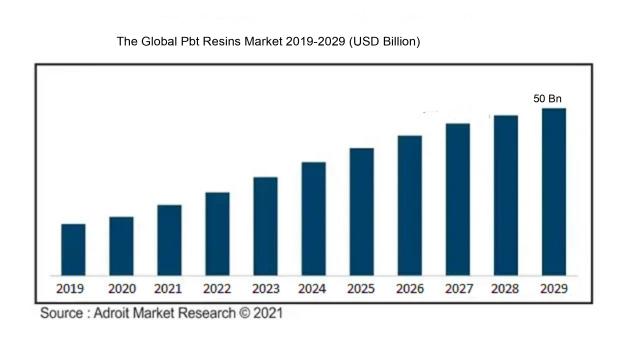 PBT resins are very good for injection molding and come in various grades such as reinforced, filled, impact-modified, and flame-retardant. Glass-reinforced PBT have a two-to threefold of increase in properties such as flexural, tensile, moduli, and compressive strengths as compared to non-reinforced resins. There is a rise in the use of PBT resins for extrusion techniques and injection molding such as rod and slab production, melt-blowing of PBT fibers, brake cable liners, and fiber optic buffer tubes owing to which the demand for PBT Resins is expected to grow over the forecast period.
Growing demand of packaging sheets and films, and electrical & electronics components is driving the PBT Resins market
Polybutylene terephthalate resins are widely used in electrical engineering for housings, as the texture is UV radiation, wear and tear resistant. With the growing consumption of consumer electronics, and other electrical devices, the market for PBT resins is expected to witness a significant growth during the forecast period. PBT resins offer excellent stain resistance, good machining characteristics, high toughness and strength, exceptional stiffness-to-weight ratio, resistance to the changes in the environment, enhanced impact resistance as compared to PET, high electrical insulation properties, and excellent dimensional stability. Polybutylene terephthalate resins are available in a wide variety of grades. These properties make polybutylene terephthalate resins well-suited for various electrical components, connectors, lighting bezels, fiber optic cable jackets, and distribution boxes.
PBT resins are also substituting former crystalline thermoplastics for instance nylon, acetal, and polypropylene, due to the growing necessity for improved and enhanced performance. PBT resins (polybutylene terephthalate) are also competing with various amorphous engineering materials such as polycarbonate and polysulfone. PBT's also have a very high resistance to a extensive range of chemicals at room temperature such as gasoline, aliphatic hydrocarbons, carbon tetrachloride, oils, alcohols, fats, glycols, perchloroethylene, ethers, esters, and dilute bases and acids, owing to which the demand for PBT resins is expected to grow over the forecast period.
Growing demand for consumer electronics in PBT Resins market
PET resin market is being driven by the growing demand for new and robust packaging materials which are substituting traditional packaging materials such as aluminum, glass, metal, paper, and others. Major brands of PBT resins include Ultradur supplied by BASF, BLUESTAR PBT by Bluestar, Crastin by DuPont, Pocan by Lanxess, NOVADURAN by Mitsubishi, LNP LUBRICOMP, VALOX by SABIC, and RAMSTER by Polyram. Consumer goods and applications require versatility, durability, and high resistance to electrical stresses and higher temperatures, which can be achieved by using new and advanced PBT-based resins. PBT resins are widely used in small handheld, potable and wearable devices and appliances.
PBT resins are also extensively used with other polyester alloys to deliver robustness in various parts which are subjected rough handling and to high impact such as appliance closures, kick panels, and lids. PBT alloys are also used in consumer recreation uses such as ski boots, ski tops, jet ski hulls, golf cart cowls, and snowmobiles. PBT resins have exceptional properties and offer great performance, owing to which it is also used in office furniture, iron bases and handles, housings, oven door handles, closure panels, and motor brackets.
Asia-Pacific will lead the growth in the PBT resin market
The growth in the Asia-Pacific region is mainly driven by China, Japan and India and is projected to lead the market with the highest CAGR during the forecast period. China is one of the leading manufacturers of electronics and consumer goods, with a dominant position all over the world. The electronics sector is the most prominent export category, as the country contributes around 8.7% of the total exports globally. With the growing demand for consumer goods and electronics all over the world is expected to drive the PBT resins market during the forecast period.
India is an emerging hub for major manufacturers of various electronics, electrical, consumer goods, and various other industries owing to the presence of cheap labor, growing foreign direct investments, and open government policies. Due to the various emerging campaigns such as "Make in India" by the modi government, there is a rise in the manufacturing industries all over the country. India is one of the promising and lucrative market for several consumer electronics and automobile industries, and the rise in the standard of living of general public is anticipated to drive the growth of these sectors in the coming years. Additionally, growing need for better and improved polymer resins is expected to boost the PBT resin market. PBT resins have major applications in the automotive, electrical, electronics, and consumer goods industries, which is expected to drive the market over the forecast period.
Key Market Players
• BASF SE
• DuPont de Nemours, Inc.
• Lanxess
• Mitsubishi Engineering Plastics
• SABIC
• Polyram Plastic Industries LTD
• Celanese Corporation
• Radici Group
• Toray Industries Inc.
• China National Bluestar (Group) Co,Ltd.
• Others
PBT Resins Market Scope
| | |
| --- | --- |
| Metrics | Details |
| Base Year | 2021 |
| Historic Data | 2019-2020 |
| Forecast Period | 2022-2029 |
| Study Period | 2019-2029 |
| Forecast Unit | Value (USD) |
| Revenue forecast in 2029 | US$ 50 billion |
| Growth Rate | CAGR of 5.9 % during 2019-2029 |
| Segment Covered | by PET Resin Application, PBT Resin Application, Region. |
| Regions Covered | North America, Europe, Asia Pacific, South America, Middle East and Africa |
| Key Players Profiled | SABIC, BASF SE, Indorama Ventures Limited, Mitsubishi Chemical Corporation, Alpek, Nan Ya Plastics, DuPont, Reliance Industries, Far Eastern New Century, and Others. |
Key Segment Of The PBT Resins Market
PET Resin Application, (USD Million)
• Bottles
• Films
• Food packaging
• Others
PBT Resin Application, (USD Million)
• Automotive
• Consumer Appliance
• Electronic & Electrical
• Others
Regional Overview, (USD Million)
North America
• US
• Canada
Europe
• Germany
• France
• UK
• Rest of Europe
Asia Pacific
• China
• India
• Japan
• Rest of Asia Pacific
South America
• Mexico
• Brazil
• Rest of South America
Middle East and South Africa
Frequently Asked Questions (FAQ) :
The major contenders in the global market are BASF SE, DuPont de Nemours, Inc., Lanxess, Mitsubishi Engineering Plastics,SABIC Polyram Plastic Industries LTD, Celanese Corporation, Radici Group, China National Bluestar (Group) Co,Ltd.,among others.
The Global pbt resins market is Segmented on the basis of By Type, By End User, Geography.
the base year for the report is 2019 in pbt resins market.