The global patient lifting equipment market was valued at USD 2.85 billion in 2018. Increasing geriatric population along with growing rate of bariatric surgeries being performed across major economies shall fuel the market for patient lifting equipment in the near future.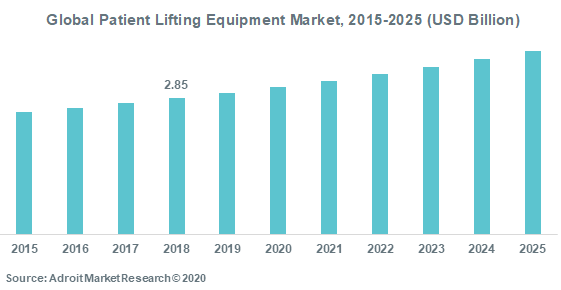 Growing geriatric population pool, increasing number of disabled populations in countries such as India, China and Japan are anticipated to fuel the market for lifting device in coming years.
Rising injury from road accidents, sports injuries, etc. are major growth factors fueling the growth of patient handling equipment business. Disability is a chronic disorder which highly effects personal and professional lives in an individual's health. This is a common expression for disability, restriction of involvement and reduction of action. Approximately 15 per cent of the world's population has a sort of impairment, according to the World Health Organisation (WHO). Such high potential population is anticipated to benefit the equipment manufacturers in coming years.
Key segments of the global Patient Lifting Equipment market
Product Overview, 2015-2025 (USD Million)
Patient Transfer Devices
Medical Beds
Mobility Devices
Bathroom & Toilet Assist Equipment
Stretchers & Transport Chairs
End User Overview, 2015-2025 (USD Million)
Hospitals
Home Care Settings
Others
Regional Overview, 2015-2025 (USD Million)
North America
Europe

Germany
United Kingdom
France
Rest of Europe

Asia Pacific

China
Japan
India
Rest of Asia Pacific

Latin America

Brazil
Mexico
Rest of Latin America

Middle East & Africa
Reasons for the study
Changing government regulations regarding pharma and medical device safety and traceability
· Rise in the number of disable population across highly populated countries
· Increasing awareness regarding bariatric surgery and availability of lifting equipment in Asia Pacific region
What does the report include?
The study on the global respiratory care devices market includes analysis of qualitative market indicators such as drivers, restraints, challenges and opportunities
Additionally, the market competition has been evaluated using the Porter's five forces analysis
The study covers qualitative and quantitative analysis of the market segmented on the basis of applications, product, technology and end user. Moreover, the study provides similar information for the key geographies.
Actual market sizes and forecasts have been provided for all the considered segments
The study includes the profiles of key players in the market with a significant global and/or regional presence
Who should buy this report?
The report on the global respiratory care devices market is suitable for all the players across the value chain including raw material suppliers, Patient Lifting Equipment providers, pharmaceutical and medical device manufacturers, distributors, suppliers and retailers
Venture capitalists and investors looking for more information on the future outlook of the global Patient Lifting Equipment market
Consultants, analysts, researchers, and academicians looking for insights shaping the global respiratory care devices market
Increasing patient lifting equipment demand and penetration in developing markets will give tremendous growth prospects for the global players. While the global demand in the emerging markets is rising at a significant pace, there is still a large unexplored demand in various developed countries as well. With the rapid economic growth and growing policy initiatives in Asia, the big patient handling equipment manufacturers are entering the region's untapped sector.
Currently, countries like China and India hold immense market potential. In the past few years, the healthcare industry in these countries have been experiencing tremendous expansion. The broad customer base and the development of healthcare facilities has drawn manufacturers of medical devices to establish their production sites in above-mentioned nations. In comparison, medical device processing goods in developed regions appear to reduce the total cost of production, thereby raising the expense of the drug without altering the price. Furthermore, Governments around countries work towards comprehensive healthcare coverage, which is likely to increase the uptake of advanced procedures and increase penetration rate of these lifting devices amongst the patient population.
Key vendors are focusing on product development and R&D. For instance, to retain its position in this market, ArjoHuntleigh has been continuously focused on prioritizing product design and user-friendliness in the production of new and current products. Arjo's research and development spending in 2018 rose to USD 16.2 million. This has enabled the organization greatly to perform customer-focused analysis and build innovative approaches to the challenging industry challenges. Such focus areas by key vendors are likely to bring innovative and user-friendly products in the market.
Based on the product, the market is classified into patient transfer devices, medical beds, mobility devices, bathroom & toilet assist equipment, and stretchers & transport chairs. In 2018 patient transfer device segment accounted for majority of the market share and is likely to maintain its position in coming years.
In terms of end users, hospital segment accounted for majority of market share and is likely to maintain its position pertaining to large number of surgical procedures occurring in hospitals compared to counterparts.
In terms of geography, Europe accounted for the largest share in the historic period of the global patient lifting equipment market. Similar trend is expected to continue over the forecast period. The market position is attributed to the existence of an increasing number of specialty clinics offering bariatric surgeries, qualified practitioners and competition for quality treatment coupled with favorable patient protection regulations. Growing the incidence of lifestyle diseases, and rising demand for home healthcare to drive market growth within the region.
APAC market is expected to expand at the most lucrative CAGR during the forecast period. Factors such as the growing frequency of MSD-related accidents to caregivers, the rise of the elderly population, the development of healthcare services and the rising prevalence of chronic diseases specifically paralysis are main factors of demand growth in the Asia Pacific. With increasing awareness regarding product availability in highly populated countries, the demand for patient lifting products is likely to show lucrative growth in coming years.