In order to discover dangers to, damages to, or losses to equipment or systems, inspection, repair, and maintenance (IRM) services are provided across numerous industry verticals.
COVID-19 Impact and Current Market Status
Due to decreased R&D operations across a number of industries as a result of restrictions placed by a number of governments on producers, research institutes, innovation centres, and other entities, COVID-19 has hampered the demand for advanced IP analytical tools. Additionally, during the COVID-19 epidemic, several corporate sectors demonstrated a fall in sales and a loss of profit margin. Due to the financial limitations of small and medium-sized businesses, the demand for analytics solutions and services has also decreased.
However, due to increased developments and expenditures in the healthcare and pharmaceutical industries amid the pandemic, numerous top patent analytics businesses intend to create tailored platforms for the healthcare industry.
The tools are intended to help endusers in the healthcare industry store and examine extensive medical records in order to comprehend how COVID-19 infectious diseases are treated. Several government agencies are implementing cutting-edge technology to comprehend the necessary course of action employing the analytics platform and software.
Patent Analytics Services Market Segment Analysis - By Component Analysis
The global market is divided into solution and services based on component. The solution category is expected to gain a sizeable share of the market throughout the forecast period. The rise in demand for intellectual property management solutions and services across a variety of industries, like healthcare, information systems, and telecommunications, is largely responsible for the growth.
The categories of strategy and management, valuation, assistance, analysis, and others are also used to further categories services. The strategy and management sub-segment holds the biggest market share for patent analytics due to the increased demand for specialized services among SMEs and large-scale businesses.
SMEs and individual inventors account for about 21% of patent applications submitted to the EPO by European applicants, with universities and government research groups contributing another 5%, according to statistics provided by the EPO as of July 2021.
Patent Analytics Services Market Segment Analysis - By size
The market is divided into large-scale firms and SMEs according to enterprise size. Due to an increase in patent applications from eminent companies like Samsung Electronics co., ltd., IBM Corporation, L.G. Electronics, and Intel Corporation, large-scale organizations are expanding at the fastest rate.
In 2020, the U.S. Patent and Trademark Office received applications for about 3,284, 3,178, and 2,373 patents from Intel Corporation, Huawei Technologies Co., Ltd., and Amazon.com, Inc., respectively.
It is anticipated that the IT and telecommunications segment will dominate the market due to the rising number of patent applications for cutting-edge technologies like the European Patent Office (EPO) and Machine Learning, which were filed in the computer technology and digital communication sectors, respectively 14,122 and 13,097 patent applications in 2020.
Additionally, the epidemic has sparked new developments in the healthcare sector. As a result, the market's leading players are concentrating on creating cutting-edge solutions to meet the demand from various healthcare sectors, which is also fueling the sector's market expansion. For instance, Harrity Analytics created a patent analytics platform for IAM Medical in April 2021 that focuses on medical diagnostics in order to comprehend the impact of applications and grants. It is anticipated that a number of other industries, including food and beverage, automotive, BFSI, media and entertainment, and others, will grow significantly during the course of the prediction period.
Patent Analytics Services Market Segment Analysis - By Geography
Europe, Asia Pacific, Latin America, North America, and the Middle East & Africa are the five main geographic areas of the market. After that, they are divided up into several nations. According to projections, North America will dominate the sector in the years to come. The increase is the result of more IP rights being filed in several industries, including healthcare, IT, and telecommunications. In the healthcare and IT & telecommunications sectors, North America is home to several important firms. Due to increased investment in product development, end-use industries in Europe, including healthcare, manufacturing, automotive, and others, are adopting analytics technologies. In 2020, the EPO received 14,295 patent applications for medical technology, a 2.6% increase over 2019. Asia Pacific is predicted to have the highest CAGR increase during the projection period. The region's market is expected to develop as a result of China and India's increasing use of advanced analytics tools. The demand for the product has also been boosted by the rise in filings in China, Japan, India, and other developing nations.
According to a study by the WIPO Organization, China submitted more than 68,720 patent applications in 2020, up 16.1% from the number in 2019. Additionally, the Chinese IP office reported 1.5 million applications in 2020. Additionally, in 2020, Japan and the Republic of Korea each got 20,060 patent filing applications.
The identification enables businesses and the industry to take specific precautions to prevent and address damage that could ultimately result in system and equipment failure. IRM services also reduce equipment losses from systems and increase efficiency.
In 2021, the market for Patent Analytics Services was worth USD 803.2 million. By 2031, the market is anticipated to reach USD 2987.9 milion, with a CAGR of 13.78%.
Intellectual property (IP) searches are frequently analyzed, separated, and automated using patent analytics software. The need for analytics solutions has been spurred by an increase in patent filings globally as a result of increased R&D activity. The World Intellectual Property Organization (WIPO) estimates that there were around 2,75,900 patent applications filed globally in 2020 as opposed to 2,65,800 applications in 2019. The focus of top market players is also on using analytics solutions' technology to offer services like enhanced search and exploration.
By advancing the company's innovative capabilities and processes, Anaqua, Inc. introduced the business innovation platform Suite in April 2021 with the goal of enabling innovators and businesses to become more competitive. The Suite is available as a standalone offering from the AQX IP management platform, which supports all industries including product management, R&D, and intellectual property.
Due to the cloud's capacity to store enormous volumes of data, numerous firms are implementing it to streamline their corporate operations. The leading competitors in the market are focusing on incorporating slashing technologies such as cloud computing, Big Data, and Intelligent Systems (AI) to provide analytical tools.
The World Intellectual Property Organization (WIPO) debuted a brand-new WIPO IP Office Suite that is hosted in the cloud in May 2021. The tool aims to raise the security, dependability, and productivity of collaborating intellectual property (IP) offices.
Market leaders are spending money on adopting cloud computing technologies and raising money to create cutting-edge analytics systems that abide by IP regulations.
For example, Pat Snap revealed that it had obtained a $300 million Series E investment in March 2021. Tencent Investment and Softbank Vision Help financing 2 co-led the funding round with previous backers Vertex Ventures, Shun Wei Capital, Sequoia China, and CPE Industrial Fund.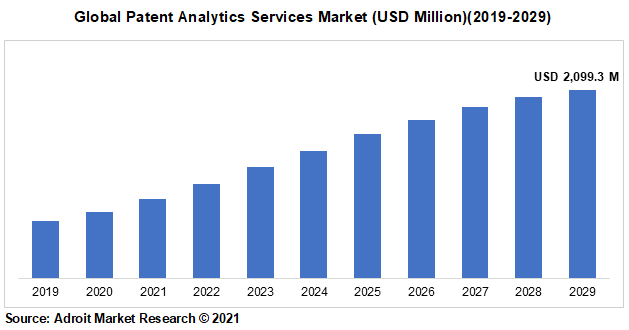 Leading industry players including Clarivate Analytics Plc, IBM Corporation, LexisNexis, and Anaqua, Inc. are developing cutting-edge products and services by merging AI, cloud computing, and other technologies. Harrity & Harrity, LLP, and others. Additionally, the leading firms are diversifying their portfolio of services and solutions by providing solutions in developing nations. To stay competitive in the market, the major competitors are implementing a variety of business tactics for expansion, such as new product launches, mergers, and acquisitions. For example, Ocean Tomo bought Veris Consulting, a Virginia-based financial forensics company, in June 2021. The acquisition seeks to increase the management, consultancy, and financial expert services. Insolvencies, auditing standards, and economic losses are among the extra services Veris Consulting provides.
Gridlogics released PatSeer Pro X in September 2020 to offer qualitative insights that were seamless. With the integration of PatSeer 360 scoring data points, intellectual property professionals provide insights into portfolio optimization, monetization strategies, licencing, and IP management.
Recent Developments of Patent Analytics Services Market
The World Intellectual Property Organization (WIPO) debuted a brand-new WIPO IP Office Suite that is hosted in the cloud in May 2021. The application aims to boost the dependability, efficiency, and security of collaborating intellectual property (IP) offices.
Pat Snap reported in March 2021 that it has obtained a Series E investment of $300 million. Tencent Funding and Soft Bank Vision Fund 2 co-led the investment round with former backers Vertex Ventures, Sequoia China, Shun Wei Capital, and CPE Industrial Fund.
Patent Analytics Services Market Scope
| | |
| --- | --- |
| Metrics | Details |
| Base Year | 2022 |
| Historic Data | 2021-2022 |
| Forecast Period | 2022-2031 |
| Study Period | 2021-2031 |
| Forecast Unit | Value (USD) |
| Revenue forecast in 2028 | USD 2987.9 milion. |
| Growth Rate | CAGR of13.78 % during 2021-2028 |
| Segment Covered | Component, End-user, Enterprise, End-use, Regions |
| Regions Covered | North America, Europe, Asia Pacific, Middle East and Africa, South America |
| Key Players Profiled | Clarivate Analytics Plc, IBM Corporation, LexisNexis, and Anaqua |
Key Segments of the Global Patent Analytics Services Market
Component Overview, 2019-2029(USD Million)
End-user Overview, 2019-2029(USD Million)
Enterprise Overview, 2019-2029(USD Million)
Small & Medium Enterprises (SMEs)
Large Enterprises
End-use Overview, 2019-2029(USD Million)
Financial Services
Government
Healthcare
IT & Telecom
Manufacturing
Media & Entertainment
Retail
Others
Regional Overview, 2019-2029 (USD Million)
North America
Europe
Asia Pacific
South America
Brazil
Rest of South America
Middle East and South Africa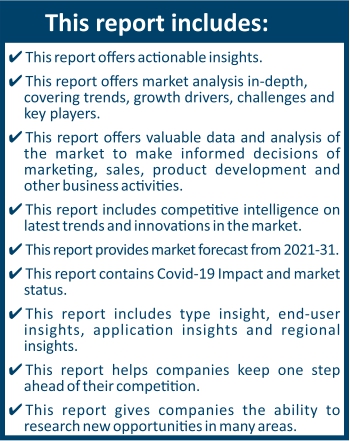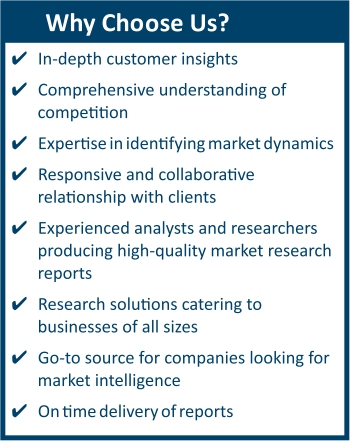 Frequently Asked Questions (FAQ) :
The market value of patent analytics services market in 2031 was USD 2987.9 milion.
The patent analytics services market is growing at a CAGR of 13.78% over the forecast period.
The top companies that hold the market share in patent analytics services market are Clarivate Analytics Plc, IBM Corporation, LexisNexis, and Anaqua & among others.