A Passive Authentication is a form of authentication through which the true identity of the user is tracked and confirmed without the any particular additional actions for the intention to authenticate. however, the activities of users or other observable data are gathered and analysed to evident identity without intervention from users.
The Passive Authentication Market is expected to reach USD 10439 million during the forecast period at a 23% CAGR.
Covid-19 Impact & Market Status
Worldwide outbreak of covid-19 almost impacted all industries across the globe. It is due to rapid spread of coronavirus, the requirement for passive authentication has hiked with switch to work-from-home and subsequently, increasing adoption of collaboration tools such as Zoom, Cisco Connect and many more. Coronavirus proposed various new factors for unethical and malicious attackers to exploit data.it is owing to cyber-security concerns, several industries have witnessed process and security vulnerabilities in remote work-setting. Therefore, in order to curb cyber terror, data theft, phishing, and hacking which rose during epidemic, the advanced passive authentication techniques took place in the market. Numerous key market players inaugurated innovative authentication techniques and identity verification factors which allow secured, effortless utilization and convenience to its users.
North America to Dominate the Global Market
By actively engaging in the development of passive authentication technologies, the North American region is now witnessing number of distinct and innovative start-ups. A start-up called UnifyID, which is indulged in the growth of frictionless online and physical dynamic probability and confidence in technology, has declared its general availability in passive authentication solutions. North America (US, Canada) valued for the largest stake in the market in terms of revenue in 2 019 and is likely to continue its leadership by 2027. This is the result of frequent adoption of bio-metrics, behavioural analytics and smartphone technology.
The BSFI Segment to Retain Its Stake in Terms of Revenue
The BFSI segment, based on industry sector, contributed significant share to the global passive authentication market in 2019 which is nearly 2/5th of the market and will maintain the same during forecast period. this is owing to the spike in cyber crimes concern and demand for data privacy across the world. whereas, the healthcare segment is accounted to witness the highest CAGR of 27.8% from 2022 to 2027. The amalgamation of different widespread technologies in this sector gave a huge scope of effective authentication solutions. The banking sector may utilize authentication solutions by customer queries. Biometric technologies are also fundamentally available to onboard consumers using archives of call recordings for financial-aid companies.
Boom In Data Privacy and Security Concerns
It is owing to the spike in confidential data breach/vandalism, identity theft, hacking and other concerns post technological innovation, the importance of data security is making the growth of passive authentication fundamentally necessary to introduce stringent compliance and regulatory policies that government and other authorities concerned have adopted to shield sensitive data. there are policies launched by European union such as general data protection regulation (GDPR) which enforces 7 principles of lawfulness, fairness and transparency etc. to avoid data attacks by unauthorised users. this is likely to assist companies and developed consumer experience as well as safeguard their privacy.
The Global Passive Authentication Market is anticipated to rise at CAGR of 27% during the forecast period 2021-2028 to attain a market value of over 7 billion.
Rapidly growing up demand of enterprises to offer a developed user experience and the increasing requirement for the frictionless authentication are anticipated to drive the global market across the globe.
The solutions of passive authentication allow retailers to securely authenticate their customers for preventing their financials by leveraging distinct human behavioural factors while improving consumer experiences. however, in terms of market size in, the BSFI industry segment is expected to hold the largest stake as the hiking transactional volumes and the rising need to manage digital assets are anticipated to be the major factors in driving the passive authentication market size of the BSFI industry segment.
The Passive Authentication Solution are launched across several industry verticals like banking, financial services and insurance (BFSI), retail and consumer goods, e-governance, telecom and IT, media and entertainment, healthcare and others (automotive, education, travel and hospitality). the retail and consumer goods industry segment are likely to at highest CAGR amid forecast period.
like every coin has two aspects, the passive authentication market also has disadvantages as well as advantages. the market faces various challenges like data security concerns and stagnant growth in developing and underdeveloped countries. subsequently, these challenges pose hinderance in the growth of the market.
For both organizations and its customers, the passive Passive Authentication has proven time-saving and existing users/consumers are instantly being verified through seamless data collection and pattern recognition. These tools are to detect things such as typing patterns, walking styles, etc. these patterns are associated with machine learning which create a clear and distinct identity signature for the individual. similarly, its sensors onboarded smartphones, PDAs monitors various users', wearables, and movement patterns, which are used to recognise users and giving them access to certain services like faster monetary transactions.
China originated fatal virus (COVID-19) in 2020 caused a severe shutdown and posed financial crunches. the switch to work-from-home gave rise to many cybersecurity risks such as phishing, data stealing, etc. due to these concerns, the market for passive authentication is all set to gain traction. proper authentication of customers is vital for modern business environment to ensure the safety and privacy of significant assets.
The global market of passive authentication is incredibly competitive and is consisting number of regional vendors on the basis of credibility, efficacy and quality of products, the cost of services and solutions. The industrial and commercial sectors have requested major need for reliable authentication, thereby laying down firm foundation for the upliftment of passive authentication market amid forecast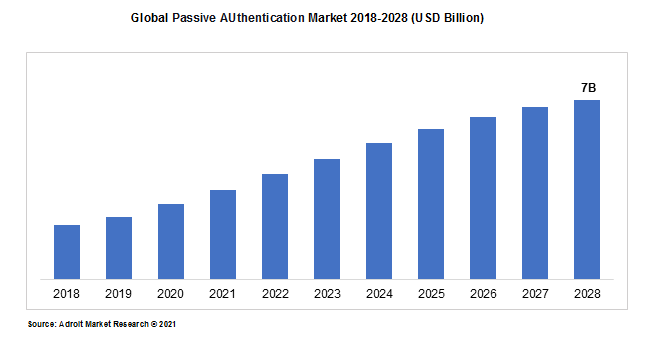 The key market players of the Global Passive Authentication Market are NEC Corporation, IBM Corporation, Cisco Systems Incorporation, Gemalto, FICO, RSA Security LLC, Experian Plc, Equfax Incorporation, Nuance Communications Incorporation, BioCatch ltd.
Major developments In the Global Passive Authentication Market: A Snapshot
In the month of July,2020, a US based company called Fortress Identity launched its digital ID verification and bio-metric authentication-as-a-service (AaaS) with passive facial liveliness. The detection of liveness leverages artificial intelligence (AI) technology to make sure that a computer is communicating with an alive human-being. This platform advantages bio-metric facial recognition and passive facial liveness to matchup the user for transaction authentication and to determine that the user is alive without any specific movement. The sole objective of the company is to deliver friction-less onboarding experience and transaction authentication without compromising with security.
As innovation takes place in technological markets, security concerns also arise. It is owing to the rise in data breaches in banks, the requirement for robust authentication technologies with passive authentication is being ramped up. Most modern smartphones are also being utilized with a wealth of sophisticated technologies such as gyroscopes, touch screens, accelerometers and GPS.
Several identity authentication solutions like Mastercard's NuDetect make use of machine learning to analyse passive biometrics. These consist of things such as individual's typing, how a person holds phone, move their mouse, or use their phones to predict and prevent online fraudulent activities/payments. Mastercard has launched a range of products which utilize passive authentication to help recognize the legitimate users.
Passive Authentication Market Scope
| | |
| --- | --- |
| Metrics | Details |
| Base Year | 2020 |
| Historic Data | 2018-2019 |
| Forecast Period | 2021-2028 |
| Study Period | 2018-2028 |
| Forecast Unit | Value (USD) |
| Revenue forecast in 2028 | USD 7 billion |
| Growth Rate | CAGR of 27% during 2021-2028 |
| Segment Covered | Component, Deployment Type, Business Function, Organization, Industry, end-user industry, Regions |
| Regions Covered | North America, Europe, Asia Pacific, Middle East and Africa, South America |
| Key Players Profiled | NEC Corporation, IBM Corporation, Cisco Systems Incorporation, Gemalto, FICO, RSA Security LLC, Experian Plc, Equfax Incorporation, Nuance Communications Incorporation, BioCatch ltd. |
Key Segments of the Global Virtual Power Plant Market
By Component
Solution
Services

Professional services

Integration and implementation
Consulting
Support and maintenance
Training and education

Managed services
By Business Function
Compliance management
Marketing management
Risk management
Others (operations and IT management)
By Deployment Type
Passive Authentication Market by Organization Size
Small and Medium-sized Enterprises (SMEs)
Large enterprises
By Industry
Banking, Financial Services, and Insurance (BFSI)
Government
Telecom and IT
Retail and consumer goods
Healthcare
Media and entertainment
Others (education, travel and hospitality, and automotive)
By end-user industry
BFSI
Retail
IT and telecom
Healthcare
Government
By Region
North America
Europe

UK
Germany
France
Rest of Europe

MEA

Kingdom of Saudi Arabia (KSA)
South Africa
United Arab Emirates (UAE)
Rest of MEA

APAC

Australia and New Zealand (ANZ)
Japan
China
Rest of APAC

Latin America

Brazil
Mexico
Rest of Latin America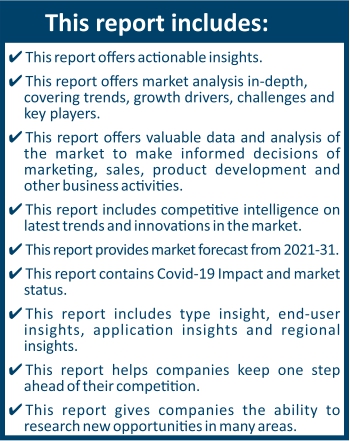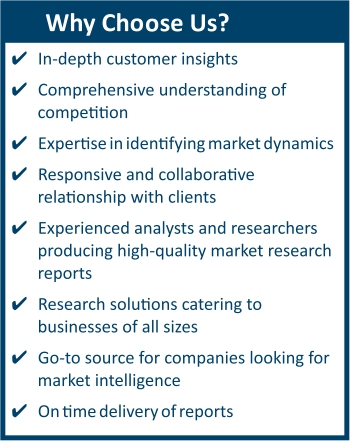 Frequently Asked Questions (FAQ) :
The market value of passive authentication market in 2028 was USD 7 billion.
The passive authentication market is growing at a CAGR of 27% over the forecast period.
North America dominated the market for passive authentication and accounted for the largest revenue share.
The top companies that hold the market share in passive authentication market are NEC Corporation, IBM Corporation, Cisco Systems Incorporation, Gemalto, FICO, RSA Security LLC, Experian Plc, Equfax Incorporation, Nuance Communications Incorporation, BioCatch ltd.
To get latest version of passive authentication market market report can be obtained on demand from the website.