Owing to potential health benefits such as nutritional value, rich amount of antioxidants, and lowered risk from some degenerative disorders, including different kinds of cancer, cardiovascular, and ophthamologic disorders, and a great source of medicinal properties is fostering growth of global paprika extract market.
Covid-19 Impact & Market Status
Covid crisis heavily affected the global paprika market economy decimating the industries production, and demand and supply side operations leading to further impacting the end user industries including cosmetics, pharmaceutical, and food & beverage dependent on paprika extract for manufacturing further products. Lack of use of modern equipment for avoiding time-consuming procedures due to pandemic led mobility restrictions as well as gaps in knowledge on how to brand, reduced sell of products locally and globally impacted the economic state of the global paprika extract market.
However, the producers are coming with new flavor solutions for providing unique taste, paprika extract more attractive and preferable. The companies are identifying and targeting new set of priorities, extending their product lines, and targeting new markets for leveraging company profits and emerging from the pandemic. They are targeting multiple distribution channels including retail, wholesale, direct stores, direct to consumer, e-commerce, and foodservice.
This report on the global paprika extract market is a comprehensive coverage of the technologies, product types, industries, equipment, processes, marketing channels, markets, and other significant information important for making informed business decisions to the market players. The report provides new solutions to incorporate strategies for satisfying demands and needs of both consumers and other industries. Furthermore, the report gives thoughtful insights on the global paprika extract market, facts, historical data, and validated information. The report contains segment-wise growth projections and forecast figures.
Paprika Oleoresin Paprika Extract Type to Emerge as the Most Lucrative Segment
Global Paprika Market is classified into paprika oleoresin, colorant paprika, spice paprika, vegetable paprika on the basis of product type. Among these, the paprika oleoresin is poised to incur the highest revenue streams owing to factors such as demand for food additives, processed meat, bakery products, increased expansion of multi-cuisine restaurants and hotels.
Food & Beverage Industry to Remain Atop
Global Paprika Market is classified into food & beverage, pharmaceutical, cosmetics, daily household on the basis of industry type. Among these, food & beverage segment accounted for highest revenue growth, profitability, and a good entry point to the suppliers and manufacturers of paprika extract, and related products. The key factors such as increased demand for natural food extract, increased demand for lesser salt content additive, multicultural food restaurants, and growing natural color usages improving the reliance on paprika in the food & beverage segment are the significant drivers.
North American Region to Render Ample Investment Avenues
North America held maximum revenue of global paprika extract market in 2020 and is anticipated to hold largest market revenue in forecast span 2021 to 2028. Increasing disbursements of enterprises in R&D, growing mergers and acquisitions, presence of leading manufacturers and suppliers are the key factors leading to superlative growth of North American countries especially United States and Canada in global paprika extract market.
The massive demand for paprika extract in food, pharmaceutical, and cosmetics industry, and the expanding range of applications in which carotenoids can be used, has increased the reliance on paprika extract.
Rapid end-use applications across industries such as cosmetics and personal care products (masking, skin conditioning, toning), food & beverage (natural food coloring, baking, cooking, confectionary, soups, snacks, canned goods), pharmaceutical (irritant balm for external application, analgesic, antioxidant, anti-cancer, and anti-inflammatory), and in daily household are fostering remarkable progress in the global paprika extract market.
Advantages such as superlative nutritional properties, disease curing capabilities, availability of mineral elements, improvement in health due to presence of pharmacologically active compounds, and other beneficial factors has encouraged further adoption of paprika extract. These factors are collectively influencing thumping growth of global paprika extract market, ensuring overall market size of 3.34 Bn USD by 2028 with an annualized growth rate of 6.3% from 2021 to 2028.
Paprika is a deep red, sweet, pungent powder obtained from dried ground fruit pods of Capsicum annum. There are wide range of varieties of paprika that differ in color, shape, size, flavour, hotness, and many other characteristics. Among all the paprika varieties, spice pepper takes a special place and is widely used in food & beverage and pharmaceutical industry due to its unique features such as degree of hotness, taste, aromatic flavour etc.
Factors such as increasing demand for spices, rising awareness of health benefits, increasing consumption value of processed, confectionary, and baked food have improved the demand for paprika extract driving the global market of paprika extract.
However, one of the main disadvantages of spices application is their frequent microbiological spoilage. Paprika extract's application in cosmetics products may also cause skin irritation for sensitive skin or infants, formation of N-Nitrosamines during the manufacture of active pharmaceutical ingredients causing cancer are major challenges limiting the use of paprika extract hampering the growth of global paprika extract market. Furthermore, salt reduction leading to demand for products containing less salt, increased demand for natural food extracts, and approval for paprika extract containing paprika oleoresin as a feed additive for chickens are other significant drivers of global paprika extract market growth.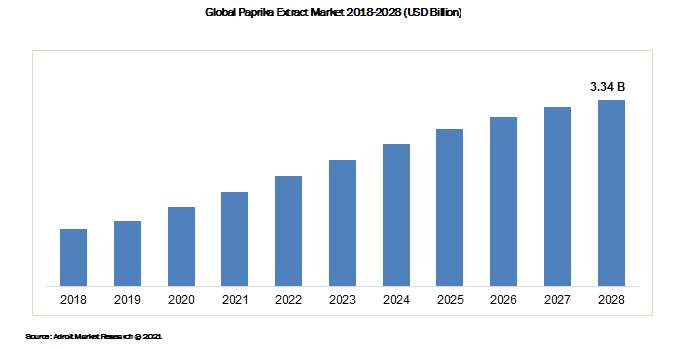 The key manufacturers of paprika extract products and producers involved in paprika extract across the world dominating the global paprika extract market are Chr. Hansen, EVESA, Universal Oleoresins, Ozone Naturals, Givaudan, Kancor Ingredients Limited, Plant Lipids, Adani Pharmachem, Plant Lipids and Naturex, Kancor Ingredients, Kalsec Natural Ingredients, Synthite Industries, and Ingredients Naturales Seleccionados among other well-established and emerging players. The manufacturers are coming with new varieties, different flavours strengthening its position in the global paprika extract market. The companies and industries are identifying and targeting new set of priorities, extending their product lines, and targeting new markets for leveraging company profits and emerging from the pandemic
Latest Innovations in the Global Paprika Extract Coil Market: a Snapshot
In 2019, Casablanca based Swiss multinational manufacturer of flavours, fragrances and active cosmetic ingredients Givaudan created new flavours of paprika extract offering unique taste and aromatic flavours to address the changing demand of its clients.
DDW The Color House, one of the biggest firms in food and beverage industry launched EmulsiTech cloudy paprika. The ingredient is said to have non-GMO, palm-free, and is water dispersible. The ingredient gives a cloudy orange color to soft drinks. The ingredient is now popularly used in manufacturing vegetarian products and making vegan dishes.
In 2020, Chenguang Biotech, the China based natural extracts firm won honor for its contribution to its implementation of modern technology in pepper extraction and for equipment innovation.
Paprika Extract Market Scope
| | |
| --- | --- |
| Metrics | Details |
| Base Year | 2020 |
| Historic Data | 2018-2019 |
| Forecast Period | 2021-2028 |
| Study Period | 2018-2028 |
| Forecast Unit | Value (USD) |
| Revenue forecast in 2028 | 3.34 Bn USD |
| Growth Rate | CAGR of 6.3% during 2021-2028 |
| Segment Covered | Product Type, Industry Type Field, Region |
| Regions Covered | North America, Europe, Asia Pacific, Middle East and Africa, South America |
| Key Players Profiled | Chr. Hansen, EVESA, Universal Oleoresins, Ozone Naturals, Givaudan, Kancor Ingredients Limited, Plant Lipids, Adani Pharmachem, Plant Lipids and Naturex, Kancor Ingredients, Kalsec Natural Ingredients, Synthite Industries, and Ingredients Naturales Seleccionados |
Key Segments of the Global Paprika Extract Market
Product Type Overview, 2018-2028 (USD Billion)
Paprika Oleoresin
Colorant paprika
Spice paprika
Vegetable paprika
Industry Type Fields Overview, 2018-2028 (USD Billion)
Food & beverage
Pharmaceutical
Cosmetics
Daily Household
Regional Overview, 2018-2028 (USD Billion)
North America
Europe
Germany
France
UK
Rest of Europe
Asia Pacific
China
India
Japan
Rest of Asia Pacific
South America
Mexico
Brazil
Rest of South America
Middle East and South Africa