Natural pigment refers to natural coloured material with pigment characteristics. The organic pigment is a pigment molecule, meaning that as a result of wavelength-selective absorption, it changes the reflection or transmission of light. Also, it is not soluble in coating systems and polymers. Organic pigments in most cases have less coverage capacity than inorganic pigments but have a higher intensity and clarity in colour. The main components are hydrogen, carbon, and nitrogen. Organic pigment holds the major market share in the global pigment market followed by inorganic and specialty pigments.
While pigment colour additives are a relatively minor component of cosmetics and toiletries as regards dollar expenses, they are a big reaction for the consumer. As a result, in products sold for natural skin tones, pigments are of particular importance. Their application in cosmetic include enhancement of the facial feature, toe nails, finger, and eye catching optical shadows.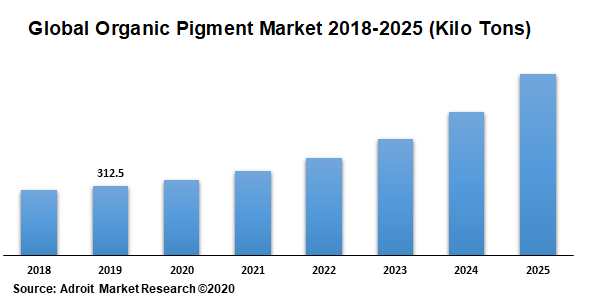 Automotive and architectural market are the key area for the growth of organic pigments over the foreseeable future. Some of the factors contributing to the growth of the organic pigments is share of effect shades growing in comparison with the solid shades. Gray, black, and white are more in demand coupled with sparkling effects. Smooth appearance and liquid metal effect is seen as counter trend to sparkling effects.
Key segments across organic pigment market
Derivative Overview, 2018-2025, (USD Million) (Kilo Tons)

AZO

Phthalocyanine

Others

Applications Overview, 2018-2025, (USD Million) (Kilo Tons)

Textiles

Printing Inks

Plastics

Paint & Coatings

Others

Regional Overview, 2018-2025, (USD Million) (Kilo Tons)

North America

Europe

Germany

UK

France

Rest of Europe

Asia Pacific

China

India

Japan

Rest of Asia-Pacific

Central & South America

Middle East & Africa
Reasons for the study
• The purpose of the study is to give an exhaustive outlook of the global Organic Pigment. Benchmark yourself against the rest of the market.
• Be prepared for how glass industry investments and Organic Pigment will be impacted by socio-political and economic factors over the next few years
• Ensure you remain competitive as new innovations by existing key players boost the market.
What does the report include?
• The study on the global Organic Pigment includes qualitative factors such as drivers, restraints, and opportunities.
• The study covers the competitive landscape of existing/prospective players in the industry and their strategic initiatives for the product development
• The study covers a qualitative and quantitative analysis of the market segmented on the basis of derivative and application. Moreover, the study provides similar information for the key geographies.
• Actual market sizes and forecasts have been provided for all the above-mentioned segments.
Who should buy this report?
This study is suitable for industry participants and stakeholders in the global Organic Pigment. The report will benefit:
• Every stakeholder involved in manufacturing and distributing components or solutions.
• Managers within financial institutions looking to publish recent and forecasted statistics pertaining to the global Organic Pigment.
• Government organizations, regulatory authorities, policymakers and financial organizations looking for T&D investment trends in global Organic Pigment.
• Analysts, researchers, educators, strategy managers, and academic institutions looking for insights into the market to determine future strategies.
The biological pigment market is projected to grow most in paints and coatings because of the increasing demand from industrial coatings, marine coatings, automotive coatings, and decorative coatings. Nevertheless, in construction, especially in the developed and developing countries, it is estimated that organic pigments are used in decorative covering. The inclusion of organic pigments in special shades makes them attractive and beautifully sophisticated. The organic pigments are environmentally friendly and have no dangerous substances in them. Also, the growing application of organic pigment to improve the aesthetics of packing in the packaging industry stimulates market growth.
Derivative Segment
On the basis of Derivative segment, the market is categorized into Azo, Phthalocyanine, and others. Azo dominated the global market in terms of derivative. The largest, most diverse and most significant synthetic organic dye group is constituted by Azo pigments. Azo pigments can be developed almost in any nuance, but the range is limited in practice to the warm side of the colour wheel. The Phthalocyanine is better and cheaper, whilst the few violet Azo pigments are impermanent.
Application Segment
On the Applications, the market is bifurcated into textiles, printing inks, plastics, paint & coatings, textile industry, others. Textiles dominated the global organic pigment application market and is anticipated to show similar trend over the forecast period. Asia Pacific will be the major destination for the increasing sales of organic pigments in the textile industry because majority of the world textile and consumer plastics are produced in this region.
Printing inks and paints and coatings are other key application area of organic pigments. However, consumer tastes for fresh, unique, non-blurry, but environmentally friendly textile colours increase value growth, whereas textile manufacturers are more turned onto these modern, higher-value items. Paints and coating is the fastest growing segment followed by plastics.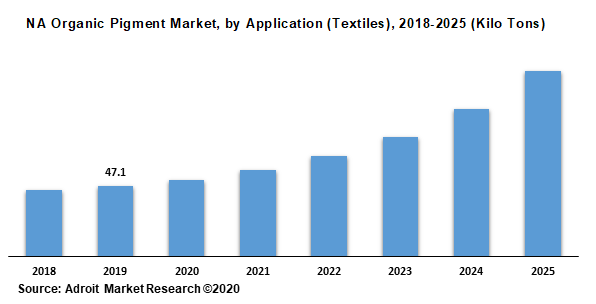 In terms of region the global organic pigment market is segmented into North America, Europe, Asia Pacific, Central & South America, and Middle East and Africa. Asia Pacific accounted for a major market share as of 2019 and is projected to show similar trend over the forecast period. India and China are the key countries responsible for the growth of Organic Pigment in this region. Europe is also projected to show optimistic growth over the forecast period. However, continuous R&D in this region is producing new application of organic pigment.
Global leaders in this market include Dominion Colour Corporation, Toyocolor, Dainichiseika Color & Chemicals, BASF, Clariant, DIC Corporation, Sudarshan Chemical, Heubach GmbH, Trust Chem Co. Ltd., Ferro Corporation, etc. Significant players follow a variety of organic and inorganic strategy for growth to expand their foothold in markets for organic pigments.