A shift in customer choice from chemically created cosmetic products to organically derived goods would be a driving force in the organic makeup remover market's expansion.
Covid-19 Impact & Market Status
The ongoing COVID-19 epidemic has had a significant impact on the beauty and personal care sector as a result of interrupted lockdown measures and a stay-at-home policy implemented by the majority of nations. Demand for organic skincare products has been falling due to a shift in customer tastes away from purchasing high-end goods and toward adopting low-cost, readily available alternatives. Furthermore, as a result of lockdown measures, individuals have been refraining from routine cosmetic practices, which is one of the direct causes for the global reduction in makeup removal goods. However, in response to store closures throughout the world, corporations have been spending heavily in e-commerce retailing and implementing consumer interaction programs in order to resuscitate the industry. Consumers are increasingly interested in product demonstration films and online consulting.
Liquid Segment will Hold Majority of the Market in the Coming Future
Liquid organic makeup removers remove makeup in a single swipe with few side effects. Expanding production of effective and skin-friendly liquid foundation makeup removers made from natural elements that leave the skin nourished and smooth has resulted in sector dominance.
Supermarket Segment will Hold Majority of the Market in the Coming Future
The supermarket segment is expected to dominate the worldwide market. When it comes to cosmetics, a large chunk of the public likes to go to a real store, interact with product experts, and make a purchase. To attract customers and provide them the choice of picking from a range of brands before making purchases, many supermarkets have concentrated on supplying chemical-free and organic items.
The e-commerce distribution channel segment is expected to grow the quickest. Numerous online beauty product advertising initiatives have helped to turn this into a successful market growth channel. This segment's demand is expected to be boosted by increased internet penetration and companies' focus on marketing to reach all client touchpoints.
North America Market is expected to be a High Growth Rate in the near Future
The organic makeup remover market is expected to be dominated by North America. The beauty and cosmetics industry in the United States is highly regulated, and various certification schemes are in place to guarantee that goods satisfy environmental criteria and function as advertised. In addition, the region contains a number of market participants that have been in the sector for a long time. These firms had more time to broaden their product portfolios and invest more in R&D to bring novel goods to market, hence increasing the organic makeup remover market in North America.
The organic makeup remover industry has risen dramatically in Europe as a result of increased environmental consciousness and understanding about the effects of hazardous chemicals on the skin. Organic components have made inroads into a wide range of goods in recent years, and they have now established themselves as a popular cosmetic ingredient. The organic makeup remover market is driven by European clientele who are willing to pay a premium for such things since they are better for the skin and the environment.
Furthermore, the rising necessity to eliminate makeup by the end of the day in order to avoid skin allergies and other associated issues is boosting the global need for organic makeup removers.
Organic or natural makeup removers are created from organic or natural materials. It is recommended to use makeup remover on a daily basis to cure the skin and avoid acne. Conventional makeup removers include chemicals that might irritate the skin or affect hormones. As a result, organic makeup removers are becoming increasingly popular across the world. Many organic cosmetics manufacturers contain bioactive extracts as well as essential oil constituents including avocado oil, jojoba seed oil, horsetail extract, and castor seed oil. It nourishes the skin without causing any negative effects and thoroughly removes makeup, influencing people to choose organic products. Organic makeup removers are available in a variety of forms including remover wipes, micellar water, and natural cleaning oils, and are widely utilized by consumers. The global organic makeup remover market is likely to grow by 2 US$ billion by the end of the estimated period, at a CAGR of 9%.
The market has been driven by growing customer preference for organic goods as well as the rising acceptability of makeup removal in daily skincare routines. People are seeking organic makeup removers that can quickly remove cosmetics, pollutants, and debris without harming their skin. People are becoming more aware of the harmful chemical ingredients found in conventional organic makeup removers, such as parabens, phthalates, denatured alcohols, mineral oils, formaldehyde, phenoxyethanol, polysorbates, and other types of surfactants, solubilizes, and emulsifiers, which are skin irritants and can sometimes cause burning sensations around the face and eyes.
Companies that provide organic beauty care products have been methodically focused on green procedures and practices by adopting eco-friendly ingredient labeling, packaging methods, and certification labeling to preserve transparency and spark consumers' interest. Many startups and small-cap firms prefer investing in e-commerce and social media retailing to extend client offers by entering new markets, owing to the market expansion in the e-commerce arena. To attract customers, the company's website or e-retailers such as Amazon and Nykaa provide various deals, special discounts, and loyalty programs. For instance, CAUDALIE, an organic and natural skincare firm that sells organic makeup remover products, has a membership program called The MYCAUDALIE Loyalty Programme that allows users to purchase items to earn points that can then be traded for gifts or value-added advantages.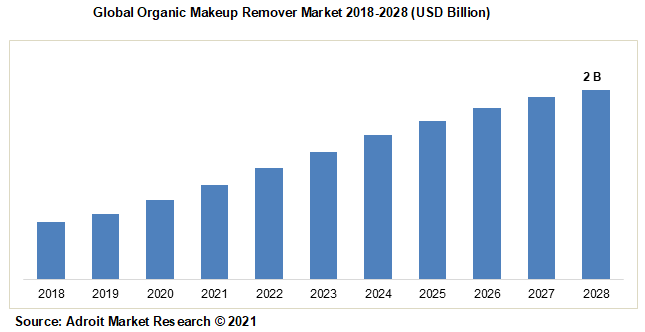 In line with this, this report provides a detailed analysis of several leading industrial Organic Makeup Removers market vendors, such as MYCAUDALIE, Foxbrim Naturals, La Foglia, Vapour Beauty, Estelle&Thild, Organyc, Grown Alchemist, Sky organics, Caudalie, Madara, INIKA, Nature's Brands, Inc., and RMS Beauty. Furthermore, the industrial Organic Makeup Removers market research report contains information on emerging trends, opportunities, breadth, and threats that will impact market expansion. This report is being created to assist organizations in capitalizing and strategizing on any upcoming growth possibilities.
Latest Innovations in the Global Organic Makeup Remover Market: a Snapshot
In August 2020, Lotus Herbals, a cosmetics firm, announced the purchase of Vedicare Ayurveda, an organic skincare and beauty company. Following the takeover, the firm is now promoting its goods under the SoulTree brand, which provides certified organic ayurvedic beauty products.
MARA Beauty introduced Algae Enzyme cleaning oil in the skincare section in January 2020, with moringa, chia, and squalene oils, as well as fruit enzymes such as papaya, pumpkin, grapefruit, and pineapple.
Organic Harvest, a beauty and cosmetics firm, introduced organic micellar water with aloe vera extracts in March 2019. The product is organically certified and vegan.
The goal of the market research analysis is to provide reliable research on the global Organic Makeup Remover market. The report decodes complex data and depicts the current and historical status of the industry, as well as predicted market trends and size. The study looks at every area of the industry, including market leaders, investors, customers, and new entrants.
Organic Makeup Remover Market Scope
| | |
| --- | --- |
| Metrics | Details |
| Base Year | 2020 |
| Historic Data | 2018-2019 |
| Forecast Period | 2021-2028 |
| Study Period | 2018-2028 |
| Forecast Unit | Value (USD) |
| Revenue forecast in 2028 | 2 US$ billion |
| Growth Rate | CAGR of 9% during 2021-2028 |
| Segment Covered | Product Type, Distribution Channel, Regions |
| Regions Covered | North America, Europe, Asia Pacific, South America, Middle East and South Africa |
| Key Players Profiled | Organic Makeup Removers market vendors, such as MYCAUDALIE, Foxbrim Naturals, La Foglia, Vapour Beauty, Estelle&Thild, Organyc, Grown Alchemist, Sky organics, Caudalie, Madara, INIKA, Nature's Brands, Inc., and RMS Beauty. |
Key Segments of the Global Organic Makeup Remover Market
Product Type Overview, 2018-2028 (USD Billion)
Distribution Channel Overview, 2018-2028 (USD Billion)
Hypermarket and Supermarket
E-commerce
Pharmacies and Drug Stores
Others
Regional Overview, 2018-2028 (USD Billion)
North America
Europe
Germany
France
UK
Rest of Europe
Asia Pacific
China
India
Japan
Rest of Asia Pacific
South America
Mexico
Brazil
Rest of South America
The Middle East and South Africa
Frequently Asked Questions (FAQ) :
Global Organic Makeup Remover market is projected to register a moderate 9% CAGR in the forecast period.
The key factors driving the demand for makeup removers worldwide are the increasing use of makeup and the increasing importance of personal grooming.
Organic Makeup Removers market vendors, such as MYCAUDALIE, Foxbrim Naturals, La Foglia, Vapour Beauty, Estelle&Thild, Organyc, Grown Alchemist, Sky organics, Caudalie, Madara
The liquid segment is expected to observe substantial demand over the review period.