It's being expected that by 2029, the Optical Wavelength Services market cap will hit US$ 6.28 Bn at a CAGR growth of about 10.76%.
The global optical wavelength services market is rapidly gaining traction and is estimated to rise up to USD 9 billion at a CAGR value of 10% by 2028. The exponential growth in the market can be attributed to the increasing penetration of internet and smart technology such as smartphones coupled with the surging demand for a strong, easily accessible and faster internet speed which are significantly stoking higher demands for optical wavelength services. Spiking demand for bandwidth-intensive applications is significantly propelling the demand for optical wavelength services. Emergence of virtual connectivity that offers streamlined solutions for cable and switches backed by software specific functionalities are somehow constricting free-flow growth in global optical wavelength services market. Additionally, unstable network bandwidth is also a persistent challenge which is restricting full potential adoption of optical wavelength services across emerging economies. Growing corporate consciousness for maintaining high security infrastructure to arrest the frequent occurrences of data theft is likely to remain a bankable opportunity aiding market expansion in global optical wavelength services market.
Optical wavelength service refers to an end-to-end delivery service that relies on fibre-optic based bandwidth. This category of services includes high speed internet along with data services that are typically a primary need with most significant applications by the telecommunication and IT industry. The broad range of applications that utilize optical wavelength service includes data centre interconnection, video streaming, high resolution requirements, credit card processing and other financial applications. As optical wavelength services are relatively cost-effective, investors are heavily driven towards rampant adoption. Businesses and commercial sector are accelerating the demand for optical wavelength services and the escalating rate of adoption is resulting in controlled business expenditure. The point-to-point service allows utilization of dense wavelength division multiplexing (DWDM) technology which leads to transmission of several high bandwidth channels through a single strand of fiber. As optical wavelength services offer a high-capacity and low-cost service with elevated reliability, commercial sector is turning towards the all affordable and efficient choice. Wholesale ISP services are also one of the utility purposes wherein optical wavelength services allow customer applications such as email or file sharing, VOIP or VPN access, web hosting and data backup.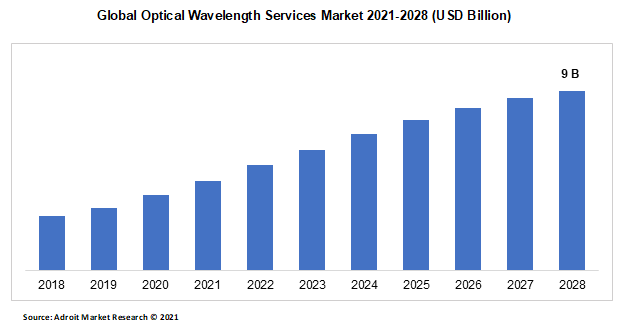 Major players of the global optical wavelength services market are Colt Technology Services, CenturyLink, Comcast, AT&T Intellectual Property, Charter Communications, Crown Castle, Cox Communications, GTT Communications, Jaguar Network SAS, T-Mobile USA, Nokia, Zayo Group, Verizon, Huawei Technologies, Windstream Intellectual Property, CarrierBid, Euro Technologies, ADTRAN, and Texona among others. The optical wavelength services market houses some of the well-established as well as new aspiring players emerging across domestic and global players. Additionally, the historically prevailing robust players are advancing towards innovative and strategic solutions and services in order to sustain within the competitive environment.
Optical Wavelength Services Market Scope
| | |
| --- | --- |
| Metrics | Details |
| Base Year | 2021 |
| Historic Data | 2019-2020 |
| Forecast Period | 2022-2029 |
| Study Period | 2019-2029 |
| Forecast Unit | Value (USD) |
| Revenue forecast in 2029 | US$ 6.28 Bn |
| Growth Rate | CAGR of 10.76% during 2021-2029 |
| Segment Covered | by Bandwidth, by Interface, Regions |
| Regions Covered | North America, Europe, Asia Pacific, South America, Middle East and Africa |
| Key Players Profiled | Zayo,• Nokia,• Verizon,• GTT,• Centurylink,• AT&T,• Sprint,• Comcast,• Crown Castle,• Windstream,• Charter Communications,• Colt Technology,• COX Communications,• Jaguar Network,• Carrierbid. |
Key Segments of the Global Optical Wavelength Services Market
Bandwidth Overview, 2021-2028 (USD Billion)
Less Than or Equal to 10 Gbps
40 Gbps
100 Gbps
Higher than 100 Gbps
Interface Overview, 2021-2028 (USD Billion)
Application Overview, 2021-2028 (USD Billion)
Short Haul
Metro
Long Haul
Enterprise Overview, 2021-2028 (USD Billion)
Regional Overview, 2021-2028 (USD Billion)
North America
Europe
Germany
UK
France
Rest of Europe
Asia Pacific
China
Japan
India
Rest of Asia-Pacific
Latin America
Brazil
Mexico
Rest of Latin America
Middle East and Africa
Reasons for the study
Purpose of this extensive research on global wavelength services market is to conduct a comprehensive study imparting holistic outlook of the global optical wavelength services market.
Ensure that our readers are provided with thorough understanding of the market specificities allowing to remain ahead of the competition with innovative and wise business decisions.
What does the report include?
The study on the global optical wavelength services market encompasses key qualitative factors including the market drivers, restrains, trends, and opportunities.
The report provides competitive outlook of the market comprising of the existing and prospective players accelerating the optical wavelength services market growth through strategic product development initiatives.
The study covers market segmentation based on the bandwidth, interface, application and regions for all of which qualitative and quantitative analysis is done.
Market sizes and share along with forecasts associated with all the aforementioned segmented is included in the study.
Who should buy this report?
The research report on the global optical wavelengths market provides valuable reserve of data and insights for all the players across the telecommunication and IT industry.
Service providers as well as service consumers looking for detailed information of the future prospects of the global optical wavelength services market.
Corporate participants and investors seeking insights of the business landscape and expansion opportunities of the global optical wavelength services market.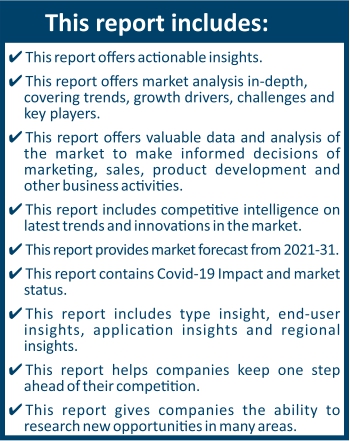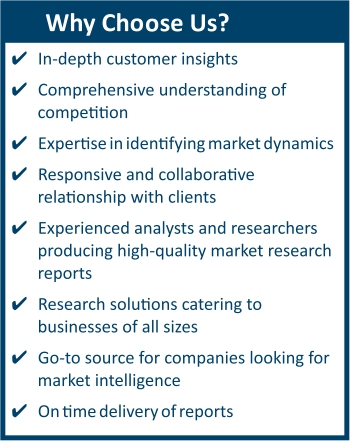 Frequently Asked Questions (FAQ) :
The optical wavelength services market is growing at a CAGR of 10% during the forecast period.
The base year for the report is 2020 in optical wavelength services market
The market value of optical wavelength services market in 2028 was USD 9 billion
Soaring demand for fiber optic-based communication technology along with rising need for high-speed internet across business communication are major drivers boosting the market growth. Increasing requirement for streamlined, highly-efficient and cost-effective communication services is exponentially accelerating the demand for optical wavelength services market. In addition, technological advancements, and innovative concepts are strengthening the communication service portfolio enhancing the standards which are expected to augment the growth of the optical wavelength services market over the forecast period. Businesses observe advantageous outcome through adoption of optical wavelength services as they reduce the business expenditure by buying an individual communication channel. It is also anticipated to expand the scope for business opportunities for optical wavelength services providers. With the view of boosting traction streaming platforms and companies can adopt optical wavelength services to enhance the signal quality and provide better services to the viewers. With rapidly evolving IoT and AI technologies, the data traffic has increased enormously thus resulting in the increased bandwidth demands for SMEs and large companies.
Bandwidth Segment
Based on type of bandwidth, the market is fragmented into four categories namely less than or equal to 10 Gbps followed by 40 and then 100 Gbps and lastly more than 100 Gbps. With increasing demand for bandwidth-intensive application the higher bandwidth segments are expected to grow substantially in the coming decade. The lesser bandwidth segments are expected to continue with an optimum growth while the demand for larger bandwidth applications is estimated to grow exponentially.
Interface Segment
In terms of interface, the market is segmented into Sonet, Ethernet and OTN. The OTN segment is expected to witness exponential rise in demand through the forecast period 2021-2028. The rising applications of optical transport network associated with transporting in intelligent data center networking is boosting the growth of the OTN-based optical wavelength services market segment. OTN is increasingly replacing the conventional WDM transponder-based network such as increased efficiency, security, and reliability of wavelength based private services.
Application Segment
Based on Application, the market is fragmented into short haul, long haul, and metro. The metro application segment is estimated to grow at a significant speed through the forecast owing to the growing bandwidth needs between data centers. Metro services offer high-speed and private networks along with dedicated transport options.
Enterprise Segment
Based on the enterprise, the market presence across large enterprises is expected to observe higher growth rate as compared to the small and medium sized enterprises due to the extravagant bandwidth needs. Large enterprises explicitly address challenges with satisfactory internet services and have critical requirements.
North America has dominated the optical wavelength services market and is expected to continue the graph with increasing market traction as the region is home to massive penetration across small and medium size enterprises. With establishment of major service providers and consumers the region is expected to witness a surge in the demand for high-speed connectivity. Additionally, the region is also anticipated to experience growth in demand for financial data transfer services working in favor of the regional expansion. Asia Pacific is estimated to record noticeable growth through the forecast period with rise in the adoption of optical wavelength service owing to the strong government support of various economies.