Growing technological improvements, a growing preference for non-invasive surgical treatments, and an increase in minimally invasive operations are driving the operating room management market.
The global Operating Room Management market is expected to develop USD 4.4 billion by 2030, at a compound annual increase in price (CAGR) of 11.3% throughout the forecast period.
Covid-19 Impact & Market Status
On a vast scale, the COVID-19 epidemic has struck havoc on many people's lives and businesses. If there is one area that has profited from this disaster, it is the healthcare information technology business. While many firms are fighting to stay viable, those that have implemented operating room management systems are succeeding. To deal with the increased operation load, hospitals are expanding operating room hours and focusing on improving OR use. The ORM software market will benefit from the COVID-19. It will increase the use of ORM software because most hospitals are now focusing on increasing capacity by utilizing technology to increase efficiency.
The Data Management and Communication Segment will hold the Maximum Market Share in the Predicted Period.
In 2020, the operating room management market was dominated by the data management and communication segment. Because of advantages such as quick sharing of patient status during perioperative care stages, scheduling compliance tracking, and sharing of media and information connected to cases between operating rooms or external hospital departments.
The Software Segment is accounted for the Maximum Revenue in the Predicted Period.
This segment is likely to have the maximum market revenue in 2020. The expanding installation of ORM software is responsible for the significant share and strong growth.
The Cloud-Based Solutions Segment will occupy the Majority of the Market Share in the Coming Future.
The cloud-based solutions segment is likely to rise at the greatest rate in the coming future. This segment's rapid development may be ascribed to benefits including scalable data storage, scalable processing power, machine-learning capabilities, and speedier data movement between cloud platforms' enterprises.
The Hospitals Segment will occupy the Majority of the Market Share in the Coming Future.
Due to rising demand for improved sickness treatment, the growing number of hospitals being created in emerging nations, and higher surgical procedural volumes in hospitals, the hospitals sub-segment accounted for the highest share of the global operating room management market in 2020.
North American Market for the Operating Room Management is Likely to grow with the Maximum Revenue
North America has led the market over the past few years, owing to rising hospital spending and increased attention on measures to raise public awareness regarding operating room management. Because of expenditures for providing healthcare organizations with contemporary equipment and increasing infrastructure, APAC is predicted to be the fastest expanding market over the forecast period.
The market is growing owing to the favorable reimbursement rules, increased government and venture capitalist investments, and increased technological knowledge.
The entire cost of healthcare delivery has increased dramatically in recent decades, owing to growing health insurance premiums, increased demand for quality healthcare services, an aging population, and an increase in the frequency of chronic illnesses. Another key reason contributing to increased healthcare expenses is a strong reliance on old and outmoded techniques like paper-based patient records, which leads to higher readmission rates, medical mistakes, and administrative expenditures.
Operating room administration entails software-based solutions that ensure the smooth operation of operating rooms while also increasing their overall productivity and efficiency. Multiple problems are becoming more common as the world's senior population grows. To combat this, the focus in operating rooms throughout the world is on improving cost-effectiveness and efficiency.
In addition, price constraints on hospitals, rising worries about rising healthcare costs, greater patient satisfaction, expanding healthcare infrastructure, and development are some of the market's supporting drivers. There are several restrictions and hurdles that will stymie the overall expansion of the Operating Room Management Market. The global Operating Room Management Market faces possible restrictions from high installation and maintenance costs. Furthermore, a scarcity of trained operating room experts is limiting the market's expansion.
Operating room management companies are expanding their presence in emerging nations due to the growing cancer burden, a less stringent regulatory environment, enhanced healthcare infrastructure, and more medical tourism. The number of hospitals and surgical facilities in emerging nations is likely to expand in the future years as the patient population base grows. In addition, governments in these nations are presently working to develop and modernize their healthcare systems.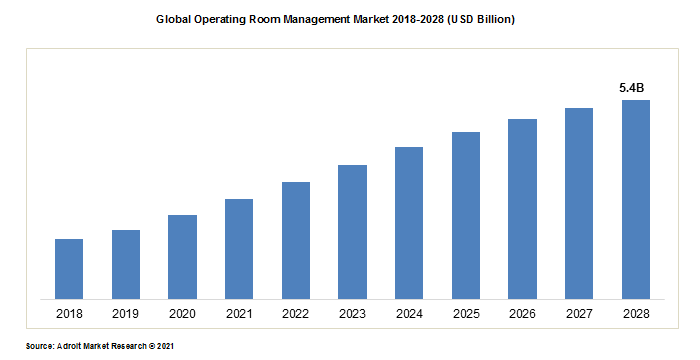 To get a larger market share, leading industry businesses are forming partnerships and buying other vehicle logistics companies through mergers and acquisitions. Furthermore, to get a competitive edge among end-users, industry participants are focused on developing automation technologies. 3M Company, Steris (Cantel Medical Corporation), Antylia Scientific, Merck KGaA, Agilent Technologies, Inc., Danaher Corporation, Sartorius AG, Sterlitech Corporation, and Veolia Water Technologies are among the companies involved. Financial overviews, company goals, corporate biographies, and current events were used to identify these market players.
Latest Innovations in the Global Operating Room Management Market: a Snapshot
MEDITECH (US) and Steward Health Care System will collaborate in 2020. The alliance will focus on MEDITECH's EHR implementation in 18 locations in Arizona, Texas, Utah, Arkansas, and Louisiana. Steward's "One Platform" approach, which aims to unify all 35 hospitals under a single EHR, led to this decision.
In March 2021, Babson Diagnostics declares collaboration with ImageMovers for rapid antigen test reporting. In daily contexts, COVID-19 testing has issues in terms of controlling test subject demographics and outcomes. The ImageMovers app allows businesses that undertake point-of-care testing to quickly collect needed demographic information from persons being tested, upload COVID-19 test findings, communicate results to relevant stakeholders, and automate reporting to federal and state authorities.
The purpose of this global market research study is to provide you with an in-depth look at the Operating Room Management business. Throughout the forecasted time, the research examines the market's growth potential, demography, and capacity. During the assessment period, this component aids in the determination of market size as well as market growth estimates.
Operating Room Management Market Scope
| | |
| --- | --- |
| Metrics | Details |
| Base Year | 2022 |
| Historic Data | 2020-2021 |
| Forecast Period | 2022-2030 |
| Study Period | 2020-2030 |
| Forecast Unit | Value (USD) |
| Revenue forecast in 2030 | USD 4.4 billion |
| Growth Rate | CAGR of 11.3% during 2022-2030 |
| Segment Covered | Component , Device Type, Application, End-Use , Region. |
| Regions Covered | North America, Europe, Asia Pacific, South America, Middle East and Africa |
| Key Players Profiled | Braiblab AG, Barco, Dragerwerk AG & Co. KGaA, Steris Plc., KARL STORZ SE & CO. KG, Olympus, Care Syntax, Arthrex, Inc., Stryker Corporation, Olympus Corporation, Getinge AB, ALVO Medical, Skytron, LLC, |
Key Segments of the Global Operating Room Management Market
Solution Overview, 2018-2028 (USD Billion)
Operating Room Supply Management Solutions
Data Management and Communication Solutions
Anesthesia Information Management System
Performance Management Solutions
Operating Room Scheduling Solutions
Others
Component Overview, 2018-2028 (USD Billion)
Delivery Mode Overview, 2018-2028 (USD Billion)
Cloud-Based Solutions
Web-Based Solutions
On-Premise Solutions
End-User Overview, 2018-2028 (USD Billion)
Hospital
Ambulatory Surgery Centers
Regional Overview, 2018-2028 (USD Billion)
North America
Europe
Germany
France
UK
Rest of Europe
Asia Pacific
China
India
Japan
Rest of Asia Pacific
South America
Mexico
Brazil
Rest of South America
The Middle East and South Africa
Frequently Asked Questions (FAQ) :
Operating room management market is projected to reach USD 5.4 billion by 2028, growing at a CAGR of 13.5% from 2021 to 2028.
3M Company, Steris (Cantel Medical Corporation), Antylia Scientific, Merck KGaA, Agilent Technologies, Inc., Danaher Corporation, Sartorius AG, Sterlitech Corporation, and Veolia Water Technologies are considered to be the leading players in the operating room management market.
The market in the APAC region is expected to grow at the highest CAGR over the next five years.
The report sample for operating room management market report can be obtained on demand from the website. Also, the 24*7 chat support & direct call services are provided to procure the sample report.