COVID-19 Impact
The wind power industry's resilience and flexibility have been put to the strain as a result of the worldwide economic downturn caused by the COVID-19 epidemic. The pandemic is still wreaking havoc on the wind power industry's supply chain. Europe is among the most key market in offshore wind energy, but it's also one of the hardest hit by COVID-19, that has hampered growth due to project delays. Because of the disruptions to European and worldwide trade, investments in the pipeline have been delayed, resulting in increased Capital costs. Offshore wind energy is expected to grow substantially than onshore wind after the pandemic, according the International Energy Agency.
Most Offshore Wind Turbines To Be Installed in Shallow Water Depths
Under the water depth section, the shallow-water-depth wind setup category earned the most income in the global offshore wind farms market in 2021, and so this trend is expected to continue in the years ahead. Because of the greater convenience given by shallow-water installations over deep and transitional-water installations, shallow-water zones are suitable for laying the foundation for wind towers. This also lowers the cost of windmill installation and maintenance, which is critical for keeping the net energy cost of wind energy on par with it or lower than that of fossil fuel energy.
The Shallow Water Segment Is The Largest Contributor In The Offshore Wind Market
In terms of location, the shallow water category accounted for the biggest proportion of a global offshore wind farms market in 2021. Majority of operations are undertaken in shallow locations due to less demanding weather. Additionally, the electrical infrastructure installation in shallow water is easier compared to installing a wind turbine. Due to the lower wind speed available over shallow water, turbines with lower MW capacities are erected in this area.
Europe Dominated the Market Due To Strong Policies And Research and Development Investment
The European Wind Initiatives (EWI), an wind energy R&D initiative developed to take Europe's wind industry to new s, is promoting the development of offshore wind. The EU countries are concentrating their efforts on rebuilding their antiquated electrical infrastructure, and their governments are doing so.
Rising energy demand combined with an increasing penetration of renewable energy sources inside the power generation balance, attempts to minimise dependence on fossil fuel-based energy production, energy efficiency rules, and regulations to assure energy efficiency and usage is increasing the market for global offshore wind turbine market
The global offshore wind turbines market is expected to grow to USD $51 billion by 2029 with an annualized growth rate of XX through the forecast period 2022-2029. The implementation of favourable government policies in various countries, massive expenditures in renewable energy, and continual technological improvements in offshore facilities are all aspects are driving the global offshore wind turbine market.
Offshore wind power is the amount captured from strong winds in a body of water, including an ocean, and turned into electricity for distribution to onshore electrical networks. The floating wind generator is a type of type offshore wind turbine that consists of a platform that supports the entire structure. Offshore initiatives that utilise floating wind turbines were projected to aid in a range of deep-water development tasks.
Offshore wind farms have higher wind velocities than onshore wind farms, offshore wind energy could generate more power at a more consistent rate, which may also help propel the overall wind energy turbines industry.
However, the introduction of clean energy sources such as solar as well as other alternatives is projected to stifle global offshore wind turbine market growth.
Technological advancements such as increasing wind turbine capacity, floating wind turbines, or 3D printing have reduced the overall price of offshore wind power and opened up previously unreachable offshore regions such as deep ocean due to the lack of investment or technology. These advancements are expected to boost deepwater wind power adoption around the world driving the global offshore wind turbine market. Furthermore, the implementation of artificial intelligence, this same internet of things, robotics, as well as data analytics throughout offshore wind turbines is developed to facilitate advanced condition monitoring as well as predictive maintenance, resulting in increased efficiency and lower operational costs, paving the way for enhanced offshore wind turbine implementation in the long term.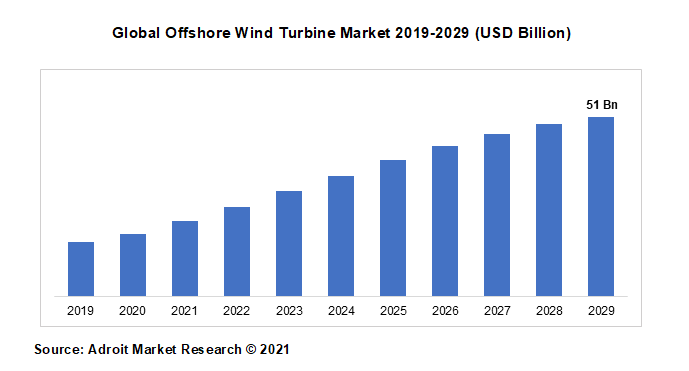 Some of the companies that are profiled in the global offshore wind turbine market are Xinjiang Goldwind Science & Technology, Siemens Gamesa Renewable Energy SA, Vestas Wind Systems, ABB, GE Renewable Energy, Suzlon Energy, and Nordex among others.
Companies are discovering working extensively in this fragmented and highly competitive sector, and investing extensively in research and development. This is helping the firms to build long-term competitive edge for staying financially and economically viable.
Many smaller enterprises in the sector may lack the financial resources required to spend extensively in R&D on their own. They're making up for it by purchasing and merging with other successful firms in the field. They are expanding their whole resource pool, particularly in terms of financial and human capital. These businesses now have the resources, expertise, and research to do the extensive research and development that will be required.
Innovations: Global Offshore Wind Turbine Market
To prompt new developments in offshore wind turbine technology, Aibel and Wind Catching Systems have collaborated together along with Institute for Energy Technology to develop new offshore wind technology solutions for wind farms to support energy conservation at affordable pricing.
Offshore Wind Turbine Market Scope
| | |
| --- | --- |
| Metrics | Details |
| Base Year | 2020 |
| Historic Data | 2018-2019 |
| Forecast Period | 2021-2028 |
| Study Period | 2018-2028 |
| Forecast Unit | Value (USD) |
| Revenue forecast in 2028 | USD 51 billion |
| Segment Covered | Location, Foundation Type, Regions |
| Regions Covered | North America, Europe, Asia Pacific, Middle East and Africa, South America |
| Key Players Profiled | Xinjiang Goldwind Science & Technology, Siemens Gamesa Renewable Energy SA, Vestas Wind Systems, ABB, GE Renewable Energy, Suzlon Energy, and Nordex among others. |
Key Segments of the Global Offshore Wind Turbine Market
Location Overview, 2019-2029 (USD Billion)
Foundation Type Overview, 2019-2029 (USD Billion)
Fixed Foundation
Floating Foundation
Regional Overview, 2019 -2029 (USD Billion)
North America
Europe
Germany
France
UK
Rest of Europe
Asia Pacific
China
India
Japan
Rest of Asia Pacific
South America
Mexico
Brazil
Rest of South America
Middle East and South Africa
Frequently Asked Questions (FAQ) :
The market value of offshore wind turbine market in 2029 was $51 billion.
Europe dominated the market for offshore wind turbine market and accounted for the largest revenue share.
The top companies that hold the market share in offshore wind turbine market are Xinjiang Goldwind Science & Technology, Siemens Gamesa Renewable Energy SA, Vestas Wind Systems, ABB, GE Renewable Energy, Suzlon Energy, and Nordex & among others.
The base year for the report is 2021 in offshore wind turbine market.