Increasing demand for NOx sensor due to changes in government requirements as well as end-user demand patterns is driving the global NOx sensor market.
The NOx Sensor Market is expected to reach USD 2.06 billion during the forecast period at a 7.5% CAGR.
Covid-19 Impact & Market Status
Manufacturing activities were interrupted as a result of the COVID-19 epidemic, and automobile manufacturers also endured major production difficulties as demand slowed in response to the suspension of international flights. Major factors such as increased spend and use on driverless car technology, awareness of pollution detection measures due to NOx exceptional characteristics, as well as its significant use in safety & control applications, are expected to boost the market in the forecasted period.
After the COVID-19 epidemic, there is an increase in manufacturing sector, chemical sector Consumer electronics, automotive, and other sectors will fuel the NOx sensor market's growth.
This report studies in detail about the global performance of the fishing market. Segmentation of the market is included in the report to help market players better understand the global fishing equipment market.
Nitric Oxide type Sensor Is To Expedite Growth Of NOx Sensor Market
Nitric oxide (NO) is a poisonous, non-flammable oxidising gas with a sweet, pungent odour. Nitric oxide is a by-product of the combustion of chemicals in fossil fuel plants and can be produced by the action of nitric acid on metals, such as in metal etching and pickling.
It is employed in the manufacture of nitric acid, as a breakdown agent in some gaseous products, and in semiconductor fabrication. It is created by the oxidation of nitrogenous compounds.
Because nitric oxide spontaneously converts to nitrogen dioxide in the air, some nitrogen dioxide is almost always present when nitric oxide is measured. Since Nitric Oxide is almost present in all types of fossible fuel consumption, it is also prevalently found in factories and manufacturing plants since almost all of them use fossil fuel in their operations, the dangerous nature of nitric oxide makes people cautious about it, hence the market for Nitric Oxide is prevalent across all types of NOx sensor market. Whereas nitrous oxide N2O also known as laughing gas, nitrous is a chemical used in dentistry as an anasthesia or pain reducing agent, it is also used in rocket propellants, racing cars as an oxidiserto increase the power of the engines. Other nitrogen oxides, such as N2O4 and N2O5, are employed mostly at lower temperatures.
Heavy Commercial Vehicles Followed By Passenger Car Type Are To Possess Maximum Market Share in NOx Sensor Market
By vehicle type the market is segmented into passenger cars, light commercial vehicles, heavy commercial vehicles, sport cars, due to the strict government policies & regulation the light & heavy commercial cars followed by passenger car & race cars are regulated in terms of emission in that specific order, also the ratio of run time vrs emission rate for heavy and light commercial vehichles is always more than passenger cars. As we know, when fossil fuel is burnt or used nitric oxide & nitrogen di-oxide gases are present in the emission hence NOx sensor market is driven mostly by the heavy commercial vehichles followed by the passenger car market, however in the recent times the automobile manufacturers have become vigilant and try reducing the emission as much as possible for the betterment of the environment & well being. Another crucial concern is the advent of the EV sector that is cars or vehichles powered by electric which totally omit the use of NOx sensors in vehichles.
The Market Share For Nox Market Will Be Fueled By Safety & Control & Vehicle Security System
Application Segment
In terms of application, the vehicle security system and advanced driver assistance system sectors led the market in 2020 and are expected to develop rapidly over the next few years. The market's growth is attributed to a surge in the adoption of automotive sensors such as temperature, pressure, oxygen, CO, and NO sensors, which are concerned with the safety and security of automotive vehicles, a growing market for the automotive industry around the world, increasing adoption of strict government regulations to reduce gas emissions, and rising technological advancements in driverless car technology.
APAC Region To Drive The Nox Sensor Market
In 2021, Asia Pacific had the greatest market share, and this is likely to continue throughout the projection period. China, Japan, South Korea, and India are the largest contributors to the market's growth. The increase can be ascribed to the increasing use of NOx sensors in a variety of medical and automotive applications throughout the area.
The market in the APAC region is growing due to a growing market for automotive sector, rising acceptance of sophisticated sensor technologies in automotive vehicles, and rising adoption of NOx sensors in indoor and outdoor applications for air pollution measures.
The market is being propelled forward by an increase in the use of NOx sensors in applications such as industrial safety, air quality monitoring, and air purification monitoring. Increased adoption of advanced gas sensors, increased importance of NOx sensors in the automotive and healthcare industries, increased demand for portable and fixed NOx sensors, rising concerns about urban nitrogen dioxide pollution, ongoing investments from various companies to develop gas sensors, and rising adoption of stringent government regulations for emission control and workplace safety are expected to boost market growth during the forecast period.
The increasing need for installing high temperature devices particularly in areas such as powertrain, safety and controls, and alternative fuel vehicles to detect nitrogen oxides in the combustion environments to avoid further damage is improving the reliance on NOx sensors furthering the development of global NOx sensor market.
In the vehicle sector, NOx sensors are used to detect excessive temperatures in the combustion environment. NOx sensors can determine the density of NOx in exhaust gas. These sensors can monitor NOx concentrations precisely and are directly mounted to truck tailpipes, smokestacks, or exhaust pipes. The expansion of the NOx sensor market in the car sector may be due to rising environmental concerns. Furthermore, because NOx gases cause smog and acid rain, as well as being harmful to the environment, governments in several countries have enacted strict regulations to limit NOx emissions, forcing automobile manufacturers to increase the use of NOx sensors to detect and limit these harmful emissions.
The global NOx Sensors market is projected to grow at a market value of US$ 1.15 billion by end of 2029 with an annualized growth rate of 4.87 percent through the forecast period 2022-2029. Owing to factors such as exhaust emissions of diesel and low burn is increasing the demand for nitrogen oxide (NOx) sensors boosting the global NOx sensors market.
The NOx (Nitrogen Oxide) Sensor is a high-temperature sensor that detects NOx levels in diesel-fueled automobiles that are required to meet state emissions requirements. As state emissions regulations for diesel cars become more stringent, having a quality sensor to alert the driver when excessive levels of NOx are present in the engine is essential.
The rising demand for smart nitrogen oxide (NOx) sensors in safety and control will be the primary driver of market expansion. Furthermore, the government is taking numerous initiatives to reduce pollution and emissions, which, combined with the rising demand for smart Nitrogen Oxide (NOx) sensors, particularly in applications such as safety and controls, powertrain, and alternative fuel vehicles, will exacerbate the market value. The growing concern about the environment among the general public is likely to increase the market's overall growth. High production and raw material costs, on the other hand, are expected hamper the global NOx market.
Furthermore, new jobs are expected to be created as a result of increased research and development and increased usage of these types of sensors in the automobile sector. The NOx sensor is utilised in diesel automobiles with urea-based SCR systems as part of the NOx reduction after treatment system. The engine-out NOx gas concentration is immediately measured by the sensor situated upstream of the SCR catalyst, which aids in determining the optimal quantity of urea injection. The NOx sensor located downstream of the SCR catalyst is used to monitor the catalyst's performance. To comply with increasingly stringent NOx emission rules, accurate NOx measurement is in great demand. Similar to a broad range air-fuel sensor, the NOx sensor can also measure O2 content. The global NOx Sensor market is propelled by strict NOx emission regulations in each country. These factors are anticipated to be a growth opportunity to the global NOx sensor market.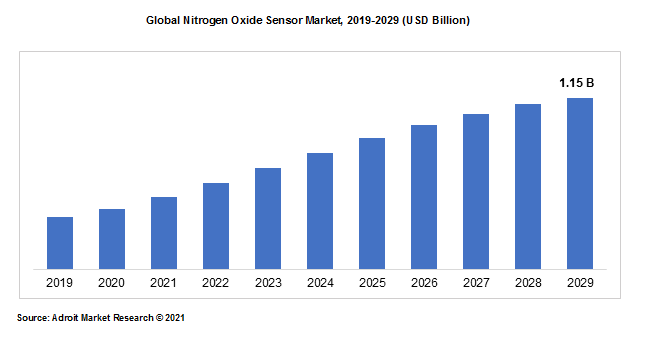 The major players in global NOx sensor market are Ford, Chrysler, Teledyne Advanced Pollution Instrumentation, Bosch Mobility Solutions, Continental Automotive Systems, Toyota, NGK Insulators, Senco, Horiba, and Delphi among others.
The Nitrogen Oxide Sensor market is extremely concentrated, with the top three firms controlling almost 70% nemaley Ford, Chrysler, and Bosch. Companies in the market are using a variety of tactics to extend their presence globally and satisfy the rising demand from end-users, including product development, facility expansions, and mergers and acquisitions.
Latest Innovation in the Global NOx Sensor Market Report: A snapshot
The US Department of Energy (DOE) has selected Delphi Automotive Systems (Troy, MI) and Electricore Inc. (Indianapolis, IN) to receive a $1.85 million cost-sharing research award to develop a low-cost, commercially viable automotive nitrogen oxide (NOx) sensor for cleaner, more fuel-efficient vehicles. The NOx sensor will monitor NOx emissions in current compression-ignition, direct-injection (CIDI) engines, allowing combustion to be controlled and exhaust-emission control systems to be implemented.
NOx Sensor Market Scope
| | |
| --- | --- |
| Metrics | Details |
| Base Year | 2020 |
| Historic Data | 2018-2019 |
| Forecast Period | 2021-2028 |
| Study Period | 2018-2028 |
| Forecast Unit | Value (USD) |
| Revenue forecast in 2028 | US$ 1.15 billion |
| Growth Rate | CAGR of 4.87 % during 2021-2028 |
| Segment Covered | Type, Vehicle Type, End User, Regions |
| Regions Covered | North America, Europe, Asia Pacific, Middle East and Africa, South America |
| Key Players Profiled | Ford, Chrysler, Teledyne Advanced Pollution Instrumentation, Bosch Mobility Solutions, Continental Automotive Systems, Toyota, NGK Insulators, Senco, Horiba, and Delphi among others. |
Key Segments of the Global NOx Sensor Market
Type Overview, 2019-2029 (USD Billion)
Nitric Oxide (NO)
Nitrogen Dioxide (NO2)
Nitrous Oxide (N2O)
Others (N2O4, N2O5)
Vehicle Type Overview, 2019-2029 (USD Billion)
Passenger cars
Light commercial vehicles
Heavy commercial vehicles
Sport cars
others
End User, 2019-2029 (USD Billion)
Powertrain
Body Electronics
Vehicle Security System
Safety & Control
Telematics
Others
Regional Overview, 2019-2029 (USD Billion)
North America
Europe
Germany
France
UK
Rest of Europe
Asia Pacific
China
India
Japan
Rest of Asia Pacific
South America
Mexico
Brazil
Rest of South America
Middle East and South Africa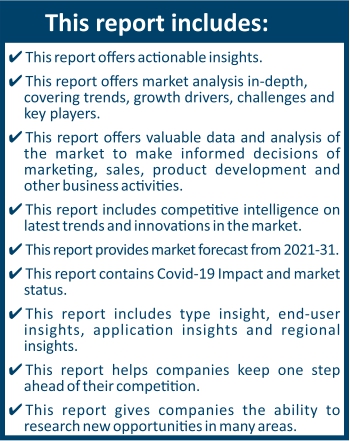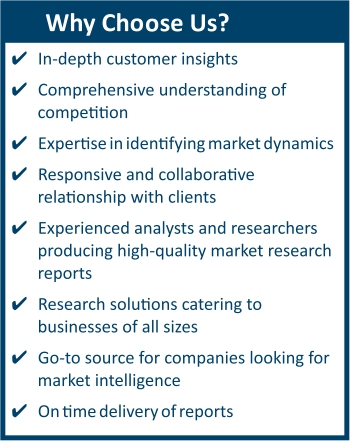 Frequently Asked Questions (FAQ) :
The market value of NOx sensor market in 2029 was US$ 1.15 billion.
The NOx sensor market is growing at a CAGR of 4.87% over the forecast period.
The application of the NOx sensor market powertrain, body electronics, vehicle security system, safety & control, telematics and Other.
Asia Pacific dominated the market for NOx sensor market and accounted for the largest revenue share.
The top companies that hold the market share in NOx sensor market are Ford, Chrysler, Teledyne Advanced Pollution Instrumentation, Bosch Mobility Solutions, Continental Automotive Systems, Toyota, NGK Insulators, Senco, Horiba, and Delphi .