The global Non-Stick Cookware industry dynamics are changing, boost to affordable home and increased spending on home repair along with the growing preference for modular kitchens and popularity of home cooking are together anticipated to drive growth for the market along with other things.
The global market for the Non-Stick Cookware is anticipated to develop at a compound annual growth rate (CAGR) of 5.2% throughout the course of the forecast, to reach USD 15.39 billion by 2028.
Covid-19 Impact:
As the sudden outbreak of the Covid-19 virus took the world by storm, affecting most industries and markets, the food and beverage industry remains one of the worst affected, with massive disruptions in supply chain and vendor landscapes.
The onset of this "Black Swan" event made a huge dent in the global Non-Stick Cookware market as businesses and factories shut, demand subsided, vehicles stopped, and everything came to a halt altogether. Although with economies opening up and the pent-up demand on hand, the market is recovering fast and is expected to grow steadily for the next few years. The same is on the basis of the emerged cooking trend among the consumers during lockdowns across the globe. Lockdowns were a dampener on businesses but cooking utensils and kitchen appliances demand shot up due to people from all walks of life, gender, or ethnicity taking up cooking during that time. Some percentage of that is expected to be retained still with economies slowly opening up and also people understanding the importance of health during this pandemic and now shifting to healthier life choices.
Based on Raw Material,
The non-stick cookware industry can be analyzed through the various raw materials used for making the products. Among the various raw materials, The Teflon-coated segment hods the largest volume share of 47.0% currently. Due to its longevity, this cookware type has been the priority for middle-income families. It helps in easy cooking as the Teflon lining is frictionless.
Among all the available variations of non-stick cookware, the ceramic cookware is witnessing the largest market ex[ansion owing to its beneficial features such as environmental sustenance. In recent times consumer preferences for eye-catchy and attractive cookware with high chemical iertness and odor-free properties are expected to uptick the adoption rates of non-stick cookware. Other variants of non-stick cookware which have chemicals such as PTFE and PFOA are improving the viability of ceramic-based non-stick cookware.
Having said that. Emergence of alternative materials such as stainless steel and aluminum-based cookware is challenging the smooth growth curve of the global non-stick cookware market substantially.
Based on the Application,
The non-stick cookware can also be classified as per the application which is residential and commercial segment is leading in terms of revenue maximization as professionals across the globe prefer high-quality non-stick cookware which is eco-friendly as well as easy maintenance. This along with growing residential adoption of non-stock cookware is anticipated to move the demand further for the market in both segments.
Based on distribution channel,
In recent times, based on the distribution networks, the hyper and supermarkets segment exhibited maximum potential owing to their benefits and better reach across local and global markets alike.
The traditional convenience store also holds a major chunk of the distribution network at least in the emerging economies where the supermarket culture is not so prevalent as of yet. The easy availability of cookware across many sales channels and the increased internet adoption and affordability by consumers have opened up another much easy and consumer-friendly sales channel through e-commerce websites.
Based on the region,
Based on region the non-stick cookware market can be classified into five major regions i.e. North America, Europe, Asia- Pacific, Latin America, Middle East, and Africa. In the year 2020, Europe held the largest revenue share. In Europe, aluminum non-stick cookware is among the most popular category. It is also the region where a large number of aluminium cookware manufacturers are housed.
On the other hand North American and European regions, U.S. and Germany are facing a cultural shift in food culture with health awareness as the center point of discussion which has and is anticipated to be a major growth driver in the market. The Asia-Pacific being the most populous region holds the key to further growth of the industry as rising disposable income are poised to further drive the same.
Non-stick cookware is highly preferred for its immense benefits such as oil-free cooking and ease of washing. Non-stick cookware is scratch-resistant and comes in various colors and variants aligning with user preferences and choices. Non-stick cookware also has uniformity in heat distribution. Materials used in the non-stick cookware are of various types such as ceramic, glass, alloys. In recent times, additional variants such as seasoned and enameled cast iron, anodized aluminum are also used parallelly, ensuring large-scale adoption and growth in the global non-stick cookware market.
The Non-Stick Cookware market is receiving a great demand lately on the back of awareness about the non-stick cookware products reduce oil consumption and help in faster and healthier cooking. Other key qualities of non-stick cookware like easy cleanability, scratch-resistant products, uniform heat distribution, and also various designs and good quality are the helm of the growing demand for these products.
The availability and popularity of induction-friendly options in the non-stick cookware category also have been a major factor aiding the growth. People are moving towards sustainable ways of cooking and the adoption of induction has been very promising over the past few years. Almost all non-stick products nowadays come with induction-friendly options which makes them all the more desirable in the cooking and kitchenware market.
The food and beverage market is an ever-growing market due to increasing disposable incomes, a boost in tourism, and most importantly, the growing population across the globe. An increase in food demand is tied up with the innovations in the cooking industry like non-stick cookware. As consumption patterns shift towards healthy food habits, oil-free cooking is pacing up, encouraging consumers to choose non-stick cookware products. Further, from the point of aesthetics and presentability, nom-stick cookware score higher than traditional cookware, further substantiating top-notch growth. However, the tendency of various non-stick materials to release toxic chemicals into food is a challenge to the growing demand for the non-stick cookware market along with the high cost of these products in comparison to traditional cookware.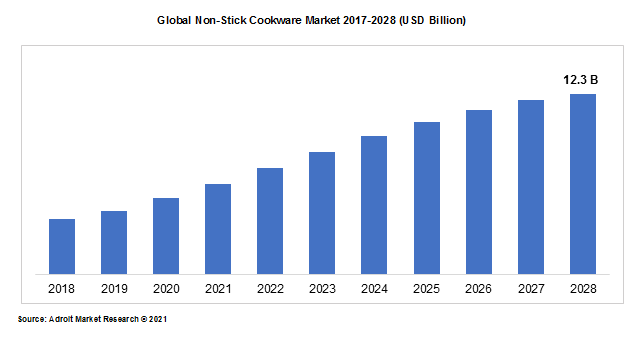 Some of the leading players identified and studies in this report on the global non-stick cookware market comprise Groupe SEB, Tefal, WMF, Newell Brand Inc., Meyer Corporation, Calphalon, Cuisinart, TTK Prestige Limited, etc have integrated their business operations globally to tap into the growing demand.
Latest Innovations: a Snapshot
The latest technology in the non-stick cookware market is the introduction of SteelShield technology which is a notch above the non-stick technology. The technology supports various cookware products such as pans that allow users to have the benefits of cooking in stainless steel and the ease of cleanliness like that of non-stick cookware.
Non-Stick Cookware Market Scope
| | |
| --- | --- |
| Metrics | Details |
| Base Year | 2020 |
| Historic Data | 2018-2019 |
| Forecast Period | 2021-2028 |
| Study Period | 2018-2028 |
| Forecast Unit | Value (USD) |
| Revenue forecast in 2028 | USD 15.39 billion |
| Growth Rate | CAGR of 5.2% during 2021-2028 |
| Segment Covered | Raw Material, Regions |
| Regions Covered | North America, Europe, Asia Pacific, Middle East and Africa, South America |
| Key Players Profiled | Groupe SEB (Tefal, All-Clad Group, WMF),,Tefal,,All-Clad Group,,WMF,,Newell Brand Inc. (Calphalon),,Cuisinart,,Meyer Corporation,,TTK Prestige Limited,,Scanpan USA, Inc.,,Hawkins Cookers,,The Cookware Company |
Key Segments of the Global Food and Beverages Market
Global Non-Stick Cookware, By Raw Material
Teflon Coated
Aluminium Coated
Enameled Iron Coated
Ceramic Coating
Others
Global Non-Stick Cookware, By Application
Global Non-Stick Cookware, By Distribution channel
Convenience Stores
Specialty Stores
Online Retail
Global Non-Stick Cookware, By Region
North America
Europe
Germany
U.K.
Switzerland
France
Russia
Asia Pacific
Latin America
Middle East & Africa
South Africa
Saudi Arabia
UAE
Kuwait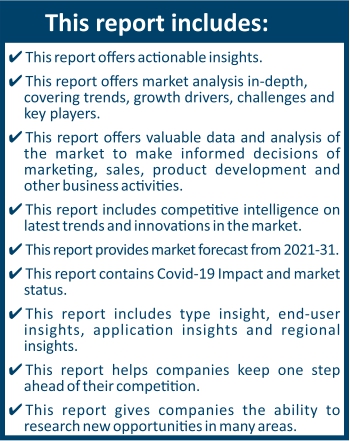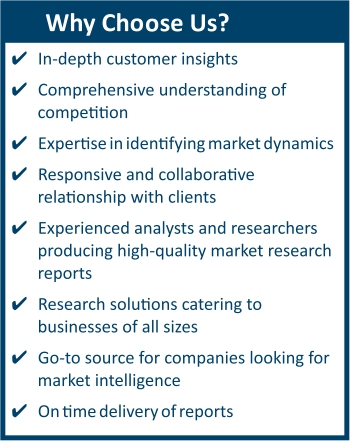 Frequently Asked Questions (FAQ) :
The global non-stick cookware market is expected to grow at a compound annual growth rate of 6.2% from 2021 to 2028 to reach USD 12.3 billion by 2028.
Europe is growing at the highest CAGR over 2021- 2028.
The base year for the report is 2020.
The report sample for non-stick cookware market report can be obtained on demand from the website. Also, the 24*7 chat support & direct call services are provided to procure the sample report.
comprise Groupe SEB, Tefal, WMF, Newell Brand Inc., Meyer Corporation, Calphalon, Cuisinart, TTK Prestige Limited are the leading players in non-stick cookware market.