Owing to benefits such as enabling customers to work on their network without the requirement of maintaining network infrastructure and the provision of advanced technologies, the Network as a Service market is being adopted at a higher rate as compared to its alternatives.
Covid-19 Impact and Market Status
During the covid-19 pandemic, some industries like the pharmaceutical industry flourished while many others were negatively impacted. The economic condition of various countries had been adversely affected. The global pandemic affected the behavior and preferences of customers worldwide. Offline modes of services were given less preference over those which supported the hybrid and online ones. There was a shift from conventional business practices to that online platforms that resulted in the establishment of enterprise network services and solutions for an even more efficient centralized management. The digital infrastructure was supported majorly by the IT sector. Naas offers a cost-friendly structure while providing opportunities to create better services to further develop the network. These services minimize the risks involved with their operation. Technological advancements allow companies to produce more flexible models of consumption with the passage of time.
WAN Type to Remain the Most Lucrative Segment
WAN (wide area network) is a network model that is designed in order to replace legacy WAN that had its reliance on hardware. It puts into utility the use of MLPS (multiprotocol label switching), a type of protocol, which relied on hardware thus, making it difficult to manage. WAN provides a replacement for the hardware services as it is offered through the cloud. It can be figured even with a simple connection without complex software. It is suitable for large to medium-sized enterprises.
SMEs as an Enterprise Size to Remain Atop
Even though the large enterprises dominated the market during 2021, if we consider the forecast period, that is, 2019-29 SMEs are experiencing growth which is at a higher CAGR. Network as a service allows small and medium-sized enterprises (SMEs) to monitor their employees, and maintain and organize their network as well as the security systems. The quality of service is improved by the adoption of these services thus, increasing their demand due to these affordable cloud services.
The Bandwidth on Demand (BOD) Segment is Expected to hold the Largest Share of the Market
In comparison to cloud and SaaS connectivity, the BOD segment is anticipated to encounter growth at a compound annual growth rate that is higher than that of the former. These services work towards the simplification of the interface in an attempt to create service requests and also provide the required bandwidth to improve the services provided to the consumers. It increases the swiftness by using automated provisioning and optimized network capacity planning. It also aims at reducing the cost and complexities associated with network operations and provides faster network configuration by maintaining a systematic procedure and resolving issues from time to time.
North American region is anticipated to provide numerous investment avenues.
North America is expected to continue to dominate during the predicted period. Among the major companies operating in this industry are AT&T, Verizon, and Lumen. Businesses strive to strengthen their infrastructure in order to increase the overall effectiveness of their operations. The options that are provided for cloud deployment in case one wishes to switch to cloud-based infrastructure are public, private, and even hybrid.
The need for a network that provides high-speed coverage as well as a service that is low cost and provides greater scalability has accentuated the need for Network as a Service thus, improving the dependence on this market.
Rapid applications of Network as a Service (NaaS) across industries such as manufacturing, logistics, transportation, BFSI, and the like are fostering remarkable progress in the global Network as a Service market. NaaS is responsible for increasing the uptime, and optimization of the allocation of resources thus, fostering overall growth in the network as a service market system.
Advantages such as the enforcement of varied security services, and optimization of services so as to yield a better performance encourage further adoption of NaaS. As a response to these factors collectively, the global network as a service market is experiencing a compound annual growth rate (CAGR) of 19% during the study period thereby, ensuring an overall size of USD 49.9 billion through the forecast span.
Network as a Service (NaaS) offers a flexible means for the consumption of network infrastructure by enterprises that enable organizations to be at par with innovation and meet rapidly changing business requirements. These services can either be deployed, Co-worked upon, or even managed.
A significant rise in the demand for services in which investment is required only in the real consumption and not the equipment which is not put into direct use thereby, leading to a sense of profit felt by companies is a major factor of the demand for these services across the world. NaaS allows users to streamline new services, and automate the process of order to service, and technology introduction. It also aims at the elimination of human intervention from the process of fulfilling services thus, improving the experience by providing a service activation that is free of errors, and reduces the time to resolve problems.
However, in order to ensure the successful implementation of the business objective of entrepreneurs, they must carry out the necessary security rules and regulations with utmost care. There are times when the suppliers find it difficult to stick to the rules and regulations while safeguarding the information that they are supposed to. It is a challenge for them to adhere to the restrictions imposed on them and keep pace with the advancement of technologies simultaneously.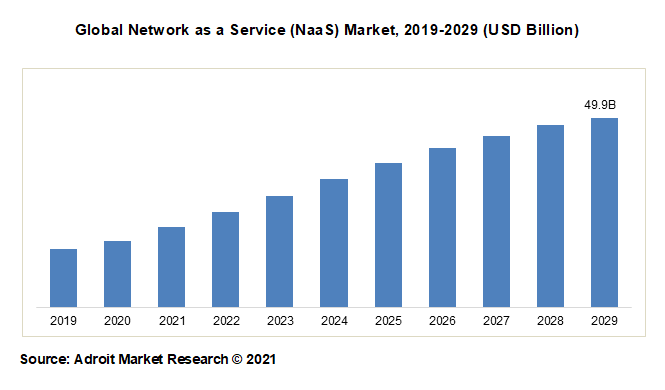 The key players in the border security market are Axians, NTT Communications, Verizon, Vodafone, AT&T, BT Group, Orange Business Services, Lumen, Tata Communications, and Telefonica among others. These players operate in the NaaS market and adopt various strategies including mergers and acquisitions to maintain their positions in the market.
Latest Innovations in the Network as a Service (NaaS) Market: a Snapshot
•TATA Communications launched DIGO in May 2022. DIGO is a platform that is based on cloud communications and aims at enabling digital-first service enterprises to enhance their customer interaction.
•In April 2022, Lumen Cloud Communications (LCC) was launched by Lumen. Group chats, video calling, voice telephone, and smartphone apps were made available through LCC.
Network as a Service Market Scope
| | |
| --- | --- |
| Metrics | Details |
| Base Year | 2021 |
| Historic Data | 2019-2020 |
| Forecast Period | 2022-2029 |
| Study Period | 2019-2029 |
| Forecast Unit | Value (USD) |
| Revenue forecast in 2028 | USD 49.9 billion |
| Growth Rate | CAGR of 19 % during 2021-2028 |
| Segment Covered | Type, Enterprise Size, Application, Regions |
| Regions Covered | North America, Europe, Asia Pacific, Middle East and Africa, South America |
| Key Players Profiled | Axians, NTT Communications, Verizon, Vodafone, AT&T, BT Group, Orange Business Services, Lumen, Tata Communications |
Key Segments of the Network as a Service (NaaS) Market
Type Overview, 2019-2029 (USD Billion)
LAN and WLAN
WAN
Communication and Collaboration
Network Security
Enterprise Size Overview, 2019-2029 (USD Billion)
Application Overview, 2019-2029 (USD Billion)
Bandwidth On Demand (BOD)
Cloud & SaaS Connectivity
Regional Overview, 2019-2029 (USD Billion)
North America
Europe
Germany
France
UK
Rest of Europe
Asia Pacific
China
India
Japan
Rest of Asia Pacific
South America
Mexico
Brazil
Rest of South America
Middle East and South Africa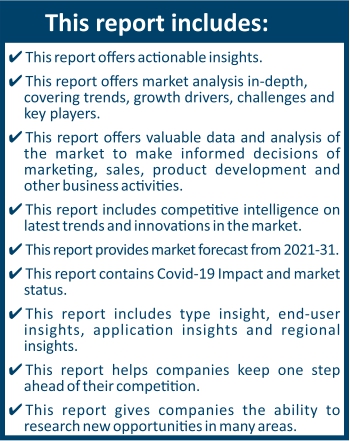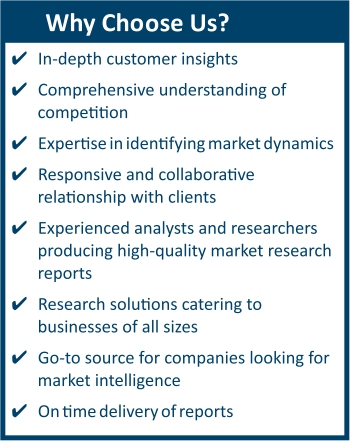 Frequently Asked Questions (FAQ) :
The market value of Network as a Service market in 2029 was USD 49.9 billion.
The Network as a Service market is growing at a CAGR of 19% over the forecast period.
The top companies that hold the market share in Network as a Service market are Axians, NTT Communications, Verizon, Vodafone, AT&T, BT Group, Orange Business Services, Lumen, Tata Communications & among others.