The global neodymium rare earth magnets market generated a market revenue of USD 12.74 billion in 2018. Neodymium magnets are regarded as one of the strongest magnets throughout industries. Owing to their strong magnetic properties, even miniature sized magnets find wide usage in different industrial applications. Some of the key consumption areas for neo magnets include electronic devices, electrical appliances, medical equipment and devices, wind power generation, automotive among others. Other exceptional properties such as super-strength, resistance to demagnetization and performance makes it ideal for use in different sizes and shapes (even as less than 1mm).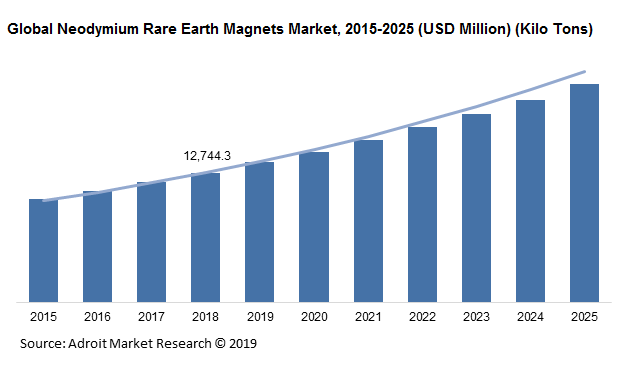 Rapid production and adoption of hybrid and electric vehicles, especially from China is presently supplementing the demand for neodymium magnets, and is likely to showcase a similar strong trend in the coming decade. Unlike temporary magnets that need an external electric supply to generate a magnetic field, these magnets exhibit their own magnetic field which eliminates the use of electric supply.
Asia Pacific accounted for a whooping market share of 74.5% in 2018 and expected to grow with a CAGR of 8.8% from 2019 to 2025. China is leading the race with a revenue market share of 76.7% in 2018. China is the largest extractor of rare-earth elements as well as manufacturer and exporter of finished neodymium magnets. Therefore, China has risen to be not only a hegemon in Asia Pacific, but also a nation capable of significant power projection outside of its normal sphere of influence.
Some of the key players controlling major share of the neodymium rare earth magnet market include Daido Steel Co. Ltd., Shin-Etsu Chemicals and Hitachi Metals, TDK, Nippon Steel & Sumitomo Metal. Neodymium magnets market is in a complex phase and international manufacturers are facing fierce competition from Chinese manufacturers. China is currently enjoying its monopoly in rare earth element mining and exports due to the presence of number of resources and large mines. China has abruptly halted the export of ores, metals and salts in the past decade to Japan, who is another leading consumer of these elements. This step has impacted many countries across the globe that depend on Japan for the final products made from rare earth metals, including the U.S. Owing to this uncertainty in the global trade for rare earth metals, producers were prompted to look for alternative sources to reduce their dependence on China.
Porter's Five Forces Analysis

1.1.1 Bargaining Power of Suppliers
Bargaining power of suppliers is one the forces that shape the competitive structure of an industry. Currently, supplier bargaining power is high, owing to the limited availability of the key raw material (neodymium). Neodymium rare earth magnets market is fragmented by the presence of a multitude of suppliers. Low scope for backward integration has resulted in increased dependency on precursor or raw material procurement. Thus, bargaining power of suppliers is expected to remain moderate to high in the neodymium rare earth magnets market.

1.1.2 Bargaining Power of the Buyer
Bargaining power of buyers is expected to be low to moderate in the neodymium rare earth magnets market. The fluctuating price of rare earth metal along with its alloy mixes such as boron and iron has made magnet insensitive towards its selling price. This factor is expected to result in increasing the number of consumers as well as repeat purchases as secondary back-up by existing consumers. Large quantity of neo magnets required in wind power and electrical & electronic applications is projected to augment the demand, thereby supporting the sales of the magnet.
1.1.3 Threat of New Entrants
The degree of threat of new entrants is considered to be minimal for consolidated market players while it may increase the competition for recent players to a certain extent. However, significant barriers to entry for new players currently exist. High capital investment and integration of existing players across the value chain result in increasing the entry barriers for new players. Thus, the threat of new entrants is expected to be low to medium over the projected period.

1.1.4 Threat of Substitutes
At present, there are substitutes present to neodymium rare earth magnets in the form of samarium cobalt magnets whose life cycle, performance and end-use applications is overall similar to neodymium magnets. Thus, the threat of substitutes is expected to be high to moderate throughout the forecast period.

1.1.5 Competitive Rivalry
The intensity of rivalry among global and regional players is expected to change from moderate to high over the forecast period. Vertical integration of business operations has maintained the rivalry intensity over the recent years. Leading manufacturers, especially from China are moving towards consolidation account for more than 75% of the global market share. These companies have been focusing extensively on developing new technologies to outdo their competition by introducing innovations and integration across the end-use value chain, introduction of new technologies, and reducing the overall cost of the system. Entry of new players via technological innovation, presence of subsidies, and government policies to provide uninterrupted power supply is expected to result in a moderate to high degree of competition within the global market.

The global neodymium rare earth magnet market is segmented based on types and end use. On the basis of magnet types, the market is bifurcated into bonded and sintered neodymium magnets. By end use, the market is segmented into healthcare, electrical devices & electronic appliances, wind power generation, automotive, and industrial motors among others.
Between the product types, sintered neo magnets segment is projected to dominate the global market with more than two third of the market share. Sintered neodymium magnets are among the most powerful magnets commercially available. Owing to this, They are extensively used in the power tool industry, medical devices such as MRI, computer hard drives, optical isolators, wireless electronic devices, miniaturised sensors among others. However, their brittle properties have led to increased usage of bonded neo magnets, which is gaining prominance owing to their suitability for electronic applications.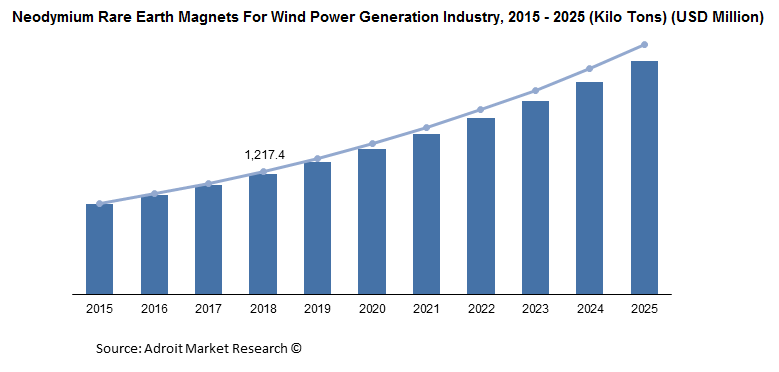 On the basis of applications, presently, electronics segment is estimated to dominate the market, which is projected to be surpassed by the automotive segment by end of the forecast period. Automotive industry is one of the most lucrative industries for neodymium magnets. According to the industry experts, the current estimate accounts for 70 to 150 magnets used per vehicle. Neo magnets are used in several automotive parts including actuators, sensors, motors, power steering, position sensors, engine controls among several others.
Wind power generation is projected to emerge as single largest application rising with CAGR 10.6% over the forecast period. Neo magnets plays a crucial role in increasing the cost efficiency and reliability of the machine by reducing the wind speed needed to produce energy. With the growing wind power installations across the globe, wind power generation is the fastest growth segment in the neodymium magnets market
The regional assessment for neodymium magnets market is given for key regions and countries, namely North America, Europe, Asia Pacific and Rest of the World. Key countries covered include China, India, Japan and Southeast Asia. By region, Asia Pacific is projected to account for dominant market share of ~75% over the forecast period.
Asia Pacific is the major consumer of neodymium magnets across the globe. Being a manufacturing hub for automobiles, electronics devices and mobile phones the region is projected to continue its dominance over the forecast period. Countries such as China, India, Japan, Beijing, and South Korea are the key countries boosting the demand of rare earths in the region. Growth in resource sharing in exploration and refining exists between several Asian countries from between Australia and Malaysia to among India, South Korea, and Japan.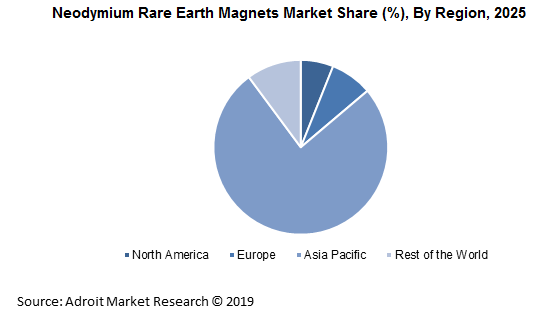 At present, China is projected to be the largest producer as well as consumer of rare earth magnets across the globe with market share of ~77% in Asia Pacific in 2018. China has been dominating this market since many years. China and Japan together accounted for nearly 88%, in terms of consumption in the Asia Pacific neodymium rare earth magnets market in the year 2018. Furthermore, China and Japan together accounted >90% of the worldwide NdFeB magnet production along with feeble amount of production in Europe, U.S. and Canada.
Though China is leading the global rare earths market the global industry is hampered from numerous problems, such as smuggling, and illegal mining, leading the Chinese ministries and departments to adopt zero tolerance approach toward illegal mining of rare earth metals. Owing to this, producers are seeking for alternative materials, which might hamper the neodymium demand in the coming years.
Neodymium Rare Earth Magnets Market Scope
| | |
| --- | --- |
| Metrics | Details |
| Base Year | 2019 |
| Historic Data | 2017-2018 |
| Forecast Period | 2020-2025 |
| Study Period | 2015-2025 |
| Forecast Unit | Value (USD) |
| Revenue forecast in 2025 | USD 12.74 billion |
| Growth Rate | CAGR of 8.8% during 2021-2028 |
| Segment Covered | Type, End Use, Regions |
| Regions Covered | North America, Europe, Asia Pacific, Rest of the world |
| Key Players Profiled | Daido Steel Co. Ltd., Shin-Etsu Chemicals and Hitachi Metals, TDK, Nippon Steel & Sumitomo Metal |
Key segments of the global neodymium rare earth magnet market
Type Overview, 2015-2025 (USD Million) (Kilo Tons)
End Use Overview, 2015-2025 (USD Million) (Kilo Tons)
Healthcare
Electrical devices & electronic appliances
Wind power generation
Automotive
Industrial motors
Others
Regional Overview, 2015-2025 (USD Million) (Kilo Tons)
North America
Europe
Asia Pacific

China
India
Japan
Southeast Asia
Rest of Asia Pacific

Rest of the world
Reasons for the study
The aim of this research study on neodymium rare earth magnets is to give a holistic view on the key industry trends
Since the past few years, we have been analyzing key trends in the rare earth industry, which has been witnessing incremental growth owing to increasing applicability in various segments
Magnets made from alloy of neodymium, iron and boron is one of the strongest magnets present commercially, due to which, it is increasingly deployed in electronics and new generation automobiles
What does the report include?
The research report on the global neodymium rare earth magnets market includes market landscape in the form of market drivers, market restraints, and opportunities
The neodymium rare earth magnets market has been analyzed using tools such as value chain analysis and Porter's five forces analysis. The report also assess manufacturing cost breakdown and global production scenario.
The global study on g neodymium rare earth magnet is categorized by type, application, region (& country)
The study also gives a detailed analysis of company's owning significant share in the global neodymium magnet industry along with their competition status
Who should buy this report?
This report is appropriate for market stakeholders and participants in the neodymium rare earth magnets industry, who seek an in-depth insight into the neodymium magnet market scenario. The study will benefit:
Rare earth mining companies, neodymium magnet manufacturers, suppliers, distributors and consultants/analysts who are involved in the value chain
Authorities within commercial institutions seeking to publish fresh statistics related to neodymium rare earth magnets industry
Regulatory bodies, government organizations, organizations and policymakers looking for recent statistics published on neodymium rare earth magnet industry
Strategy managers, analysts, educators, researchers and institutions looking for discernments in the industry to decide forthcoming trends