The global nanocellulose technology market is en route a successful growth trajectory and is also expected to secure a hefty revenue growth close to USD 1.5 billion by the year 2028 projecting a CAGR growth of 25% over the forecast period from 2018 to 2028. The large expansion of the market growth can be attributed to the increasing environmental concerns and awareness of the eco hazardous industrial and non-industrial components coupled with the momentum gained by sustainable utilization of products which are encouraging the growth of the global nanocellulose technology market.
The global Nanocellulose Technology market is anticipated to increase at a 20.71% CAGR to reach value USD 1.29 Billion in 2028
Also, a significant rise in the demand for bio-based products allowing a considerable reduction in carbon footprint is ultimately accelerating the demand for nanocellulose nudging the market towards scope for scaling up the production and advancement in nanocellulose technology.
One of the key challenges thwarting growth in the global nanocellulose market is the high pricing. Despite existing loopholes and gaps threating overall market fortification in the global nanocellulose market, thriving opportunities in the military applications owing to growing complexities have necessitated reliance on advanced materials for diverse defense applications.
Owing to characteristic features of nanocellulose such as high versatility, global nanocellulose market is nearing rampant end-user applications, thus stumbling upon novel growth avenues throughout the forecast span. Additionally, advanced efforts towards environment remediation are furthering exponential opportunities.
Nanocellulose technology refers to complex cellulose structure composed of several nanosized cellulose particles. Nanocellulose forms the fundamental building block of the natural cellulose material available in the market within the nanometer dimension that is 10-9 meter. The component is naturally occurring complex structure extracted from the cellulose of wide variety of plants, woods/trees and even microorganisms such as algae and bacteria.
Nanocellulose has become an important raw material across various industrial processing and manufacturing applications owing to its capabilities such as desired mechanical properties, appropriate levels of viscosity, forming properties contributing to its appealing features and characteristics encouraging mnaufcaturers to opt for the rather sustainable choice of material.
Biomedical products, electronics and electric components, nanocomposite materials, supercapacitators, electroactive polymers and batteries are among the vast-ranging product manufacturing fields that essentially drive the demand for nanocellulose technology. Nanocellulose technology also provides product designers and manufacturers an environmentally friendly alternative to otherwise conventionally applied binding agents, film binders and adhesives with a relatively stronger bio-hazard profile.
For instance, nanocellulose technology is popularly used in paper products as it enhances the bonding strength between two fiber layers or composites thus acting as a membrane with no permeability in grease-proof papers. Nanocellulose also helps scale up the retention properties of a material whilst enhancing the wet and dry strength of paper and board products.
Global nanocellulose market players are firmly placed alongside the emerging number of young entrants flooding into the market with the sole purpose of disrupting the traditional technological models and systems of extraction and upstream models as well as downstream production processes. The growing threat of the young industry players along with the surging technological advancements with fast-paced market upgradation has led to market consolidation.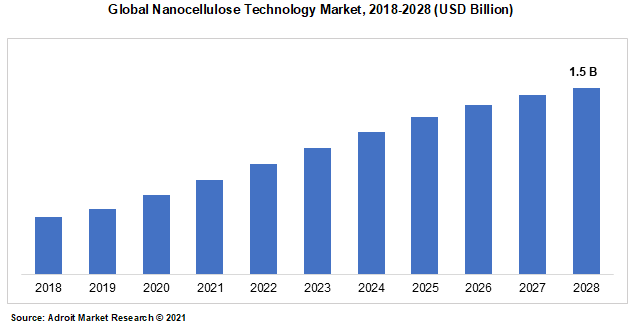 The major players of the global nanocellulose technology market are Axcelon Biopolymers Corporation, Borregaaard, Stora Enso and Sappi Global, UPM-Kymmene Corporation, Oji Holdings Corporation, CelluForce, Melodea, American Process, Innventia AB, FiberLean Technologies, and Nippon Paper Industries.
Global nanocellulose technology market is composed of diverse competitive landscape with well-flourished local players accompanied by global industry participants. Additionally, the previously identified market players are introducing a series of new and innovative strategic solutions along with novel technologies to remain competitive in the global market.
Nanocellulose Technology Market Scope
| | |
| --- | --- |
| Metrics | Details |
| Base Year | 2020 |
| Historic Data | 2018-2019 |
| Forecast Period | 2021-2028 |
| Study Period | 2018-2028 |
| Forecast Unit | Value (USD) |
| Revenue forecast in 2028 | USD 1.5 billion |
| Growth Rate | CAGR of 25% during 2021-2028 |
| Segment Covered | Product Type, Application, Regions |
| Regions Covered | North America, Europe, Asia Pacific, Middle East and Africa, South America |
| Key Players Profiled | Axcelon Biopolymers Corporation, Borregaaard, Stora Enso and Sappi Global, UPM-Kymmene Corporation, Oji Holdings Corporation, CelluForce, Melodea, American Process, Innventia AB, FiberLean Technologies, and Nippon Paper Industries |
Key Segments of the Global Nanocellulose Technology Market
Product Type Overview, 2018-2028 (USD Billion)
Nanofibrillated Cellulose (NFC)
Nanocrystalline Cellulose (NCC)
Bacterial Cellulose
Microfibrillated Cellulose (MFC)
Application Overview, 2018-2028 (USD Billion)
Paints and coatings
Food and Beverage
Paper Processing
Oil and Gas
Composites
Cosmetics
Pharmaceuticals
Regional Overview, 2018-2028 (USD Billion)
North America
Europe
Germany
France
UK
Rest of Europe
Asia Pacific
India
Japan
China
Rest of Asia Pacific
South America
Mexico
Brazil
Rest of South America
Middle East & Africa
Reasons for the study
Chief objective of the study is to deliver a comprehensive survey of the global nanocellulose technology market allowing you to benchmark against the rest of the market competitors.
Ensure you remain updated of the latest industry events maintaining competitive advantage as the key players drive innovations to enhance the market attractiveness.
What does the report include?
The study report on the global nanocellulose technology market broadly covers key qualitative factors including drivers, restrains, opportunities and emerging trends
The study also prominently assesses the competitive landscape comprising of existing as well as prospective players in the global nanocellulose technology market with their strategic initiatives targeting product development.
The study incorporates a qualitative coupled with quantitative analysis of the compartmentalised market segments based on product type and applications. Also, the study delivers a similar analytical survey associated with major geographies.
Accurate market sizes and forecasts are provided for each of the market segment mentioned above.
Who should buy this report?
The report on the global nanocellulose technology market provides a repository of insights and industry relevant data for all the market participants associated with the industry including manufacturers, suppliers, distributors and other intermediaries
Stakeholders, investors and entrepreneurs seeking insights of the future outlook of global nanocellulose technology market
Technology experts, nanotechnology scientists, researchers and experts specializing in material science looking for valuable insights shaping the global nanocellulose technology market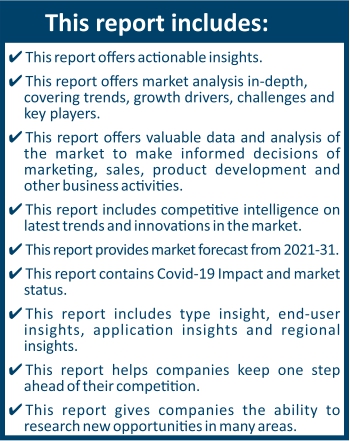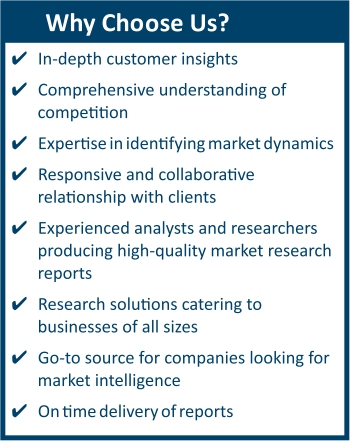 Frequently Asked Questions (FAQ) :
The application of the nanocellulose technology market paints and coatings, paper processing, composites, oil and gas, food and beverage, cosmetics and pharmaceuticals
The nanocellulose technology market is growing at a CAGR of 25% over the forecast period.
The Global nanocellulose technology market is Segmented on the Product Type, Application, Regions
Expanding application scope of the cellulose materials and technology across paper and pulp manufacturing industry along with growing concerns associated with carbon footprint and escalating levels of greenhouse gas emissions are fuelling the growth of the global nanocellulose technology market.
Dramatic fluctuations in the conventionally used raw material components coupled with petrochemical prices vulnerable to the stringent inventory are expected to accelerate the demand for nanocellulose-based materials over the forecast years. In addition, high desirability associated with the portfolio of features offered by nanocellulose such as non-toxicity, biodegradability and the thixotropic property of the nano-sized materials are anticipated to propel the demand for nanocellulose significantly over the forecast period.
Nanocellulose is produced on a large-scale to satisfy the burgeoning industrial demand and the affordability of the product aligned with the massive raw material availability which are expected to effectively establish a smooth supply chain with high efficiency to produce and supply nanocellulose. The trend is expected to gain momentum over the years helping in market expansion globally. Broadening healthcare applications including bio-polymers, antimicrobial films, bio-barriers, sanitary napkins, tampons and wound dressing are further enhancing the demand for nanocellulose technology.
Product Type Segment
Based on the type of product, the market is fragmented into nanofibrillated cellulose (NFC), nanocrystalline cellulose (NCC), bacterial cellulose and microfibrillated cellulose (MFC). The microfibrillated and nanofibrillated cellulose products are expected to rapidly gain traction over the forecast anticipated to witness a surge in demand owing to the product's nano-scale dimensions coupled with the ability of MFC and NFC to allow building of a robust entangled nanoporous network.
The segments are anticipated to grow exponentially as it offers higher yield with relative ease, enhanced strength and stiffness and lastly a higher specific surface area making it an ideal bio-based nanomaterial across nanocomposites production.
Application Segment
In terms of application, the market is bifurcated into paints & coatings, composites, oil & gas, paper & pulp processing, food & beverage, cosmetics and pharmaceuticals. paper and pulp processing industry is likely to secure largest market share over the forecast years.
Demand for nanocellulose across the paper production industry is skyrocketing with its predominant use as an additive and characteristics allowing production of a light weight and durable paper or board successfully reducing the production costs. Papers produced using nanocellulose technology result in low porosity, enhanced printing quality and diminished transparency product.
North America dominated the global nanocellulose technology market in the last decade and is likely to showcase a strong position throughout the forecast years. The regional growth is primarily spearheaded by the United States, largest nanocellulose consumer of the region. The developed economy is driving enormous scales of demand with the infrastructure development of industries such as aerospace and pharmaceutical.
The U.S. is popularly known for its largest biopharmaceutical marketspace successfully securing one third of the global market. the region is also dominated by well established research institutions and production facilities capable of supporting large scale production of cellulose nanofibers. Europe is also expected to stand toe-to-toe next to North America over the forecast years with the fastest expanding nanocellulose market with the rising demand for nanosized materials across the pulp & paper industry and the increasing number of government funded product development projects with surging R&D investments.