In 2018, the global music publishing market size was valued at USD 4.59 billion. Music publishing is a global multi-billion dollar sector that has developed considerably over the past few years. The music publisher was mainly engaged in the sale of printed music around the turn of the century.
The global Music Publishing market is expected to develop not found by Not information, at a compound annual increase in price (CAGR) of not found% throughout the forecast period.
However, the function of today's music publisher is much more extensive and complicated as a consequence of technological change. While recording companies create songs recordings and sell phonograph records in all forms and configurations such as cassette tapes and compact discs. Music publisher basically performs the four functions as work with songwriters, protect and implement the copyright of such authors ' songs, license and market the songs for different companies or users, including reproduction, motion pictures and television programs, and allocate the income generated from the reproduction and uses.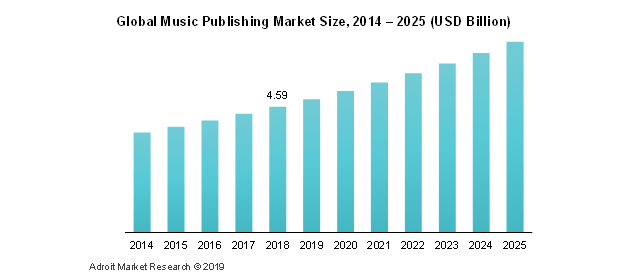 Strengthening internet distribution in developing countries has increased internet penetration over the past few years and the trend is expected to rise over the coming years. Music publishing companies are adopting product expansion strategies in developing countries to increase their customer base. For instance, in Feb 2019, Spotify, a Swedish audio streaming launched in India.
Music Publishing Market Scope
| | |
| --- | --- |
| Metrics | Details |
| Base Year | 2019 |
| Historic Data | 2017-2018 |
| Forecast Period | 2020-2025 |
| Study Period | 2015-2025 |
| Forecast Unit | Value (USD) |
| Revenue forecast in 2025 | USD 4.59 billion |
| Growth Rate | CAGR of 6.13% during 2021-2028 |
| Segment Covered | Royalties, Regions |
| Regions Covered | North America, Europe, Asia Pacific, South America, Middle East & Africa |
| Key Players Profiled | Sony/ATV Music Publishing LLC, Universal Music Publishing Group, BMG Rights Management, Warner Music Group, and others. |
Key segments of the global music publishing market
Royalties Overview, 2014-2025 (USD Million)
Mechanical

Performance

Synchronization

Digital
Regional Overview, 2014-2025 (USD Million)
US

Europe

China

India

South East Asia

Japan

Central & South America

Rest of the World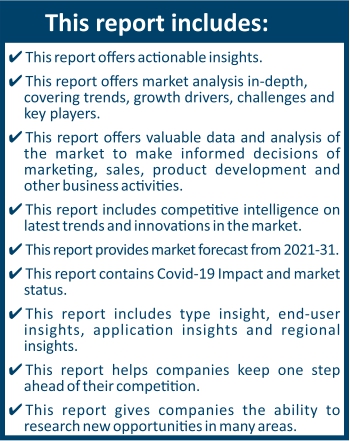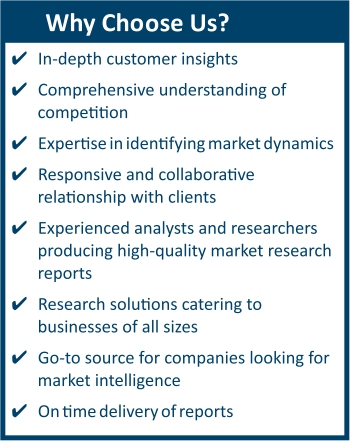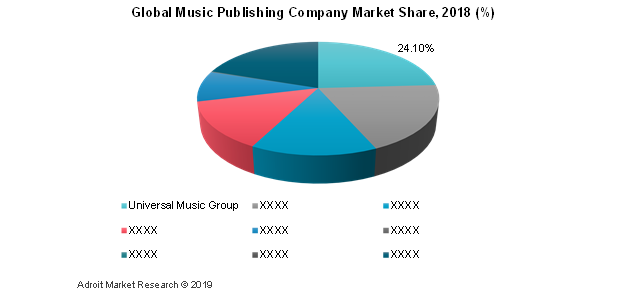 Global music publishing industry is highly concentrated in nature as well-established leading manufacturers accounted for more than 70% of overall market share. There are four group of companies that hold the largest market share in the Global Music Publishing Market. These are Warner Music Group, BMG Rights Management, Universal Music Group, and Sony/ATV Music Publishing. Universal Music Group holds the largest market share of 24.10% in 2018.
Recent initiatives by leading music publishing manufacturers are given below:
In May 2019, Universal Music Group, engaged in music related engagement announced strategic expansion within Southeast Asia to strengthen their market position.
In Feb 2019, Universal Music Group acquires Ingrooves music group. The Ingrooves acquisition is anticipated to be closed before the end of the present quarter and complement UMG's present relations with the worldwide independent music community in production and marketing.
In May, 2019, Warner Chappell Music today announced the purchase of the four Gene Autry Music Group publishing firms.
On May, 2019, Warner Chappell music launched new brand and logo identity. The company expected that changing new and brand identity will reveal customers the creative nature of company.
In January, 2018, BMG Production Music completed acquisition of Nashville's BBR Music Group for around $100m.
In June 2019, BMG Production Music announced rebrand BMGPM. BMGPM can now be recognized through its fresh logo and graphic language, while related ideas include:' the biggest songs you've ever heard of' and' Hidden Hit Makers.' The concept of Hidden Hit Makers is accurately describing the creative process of BMGPM as well as its customers in the creative industries who are the hidden hit music makers behind what customers are watching.
In June 2019, BMG Production Music, one of the biggest broadcaster of TV, film, and radio entered in to partnership with Red Bull Media House, a multi-platform media company.
Music royalties are payments for the right to use their intellectual property to record performers, musicians, musicians, publishers and other copyright owners. There are U.S. copyright laws that offer these exclusive rights to their work to artists. For different kinds of licensing and use, music royalties are also produced. Different types of music publishing royalties are digital, mechanical, synchronization, and performance. The music industry depend on these royalties as a prime form of payment to musicians. Furthermore, agreements define music royalty contract between the distributor and creator.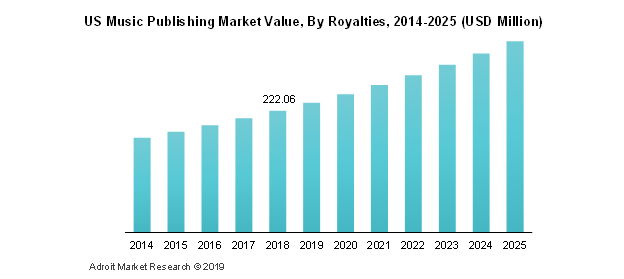 Digital royalties accounted for more than 50% of overall music publishing market share in 2018 and is expected to be the fastest growing segment over the coming years. The least general form of payment that a copyright holder receives is digital royalties. This sort of royalty refers to copyrighted music copied and then circulated to a digital piece like sheet music. In addition, these fees are frequently paid to the copyright holder on the basis of the number of copies made from the digital piece.
Performance royalties are the royalties gained on public performance of a musical work. This public performance happens when a song is live, performed, or recorded on television, radio, live concerts, programmed music services, and Internet. How they are calculated depends on whether the advertising campaign is local, national or state, play frequency, etc. Concert performances are analyzed individually, and performance royalties are allocated to the specific copyright owners involved. These royalties stream is generally called performance royalties.
To a large extent, buying musical works is discretionary. Consumer demand for music products is therefore mostly fluctuating in line with changes in disposable income per capita. A rise in disposable consumer revenue will boost demand for music digital and physical sales. Increasing disposable income in U.S., China, Japan, and India is expected to open new opportunities for the industry over the coming years. Moreover, increasing internet penetration all over the world is expected to drive music publishing industry. For instance, in 2009 global internet penetration was merely 24% and it is reached to more than 50% in 2018.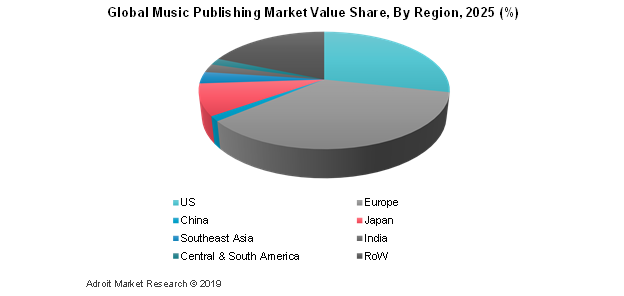 In 2018, U.S. music publishing market was accounted for more than 20% of overall market share. Growing digital media consumption followed by increasing smartphone penetration is expected to increase music publishing market expansion in U.S. and Canada. Additionally, the quantity of time people spend online is growing. In 2008, Americans spent more than 2.5 hours a day consuming digital media with all kinds of devices and that figure was well up in 2018, up to more than 5.9 hours.
Increasing penetration of Wi-Fi installation, internet, smartphone, and growing usage of social media is expected to increase music publishing market reach in Southeast Asia, India, Japan, and Central & South America. Latin America is expected to be one of the promising market for music publishing. Latin Americas web access penetration in 2018 was nearly 25% more as compared to average of rest of the world. Escalating smartphone adoption rate followed by ability to break out from home territories and become globally recognized such as Luis Fonsi's Despacito topped in 47 countries is expected to have promising future.