The global mobile phone insurance ecosystem market is expected to reach a market value of USD 40,722.0 million in 2025. The global market is witnessing robust growth due to the increasing importance of expensive mobile phones and rising theft cases.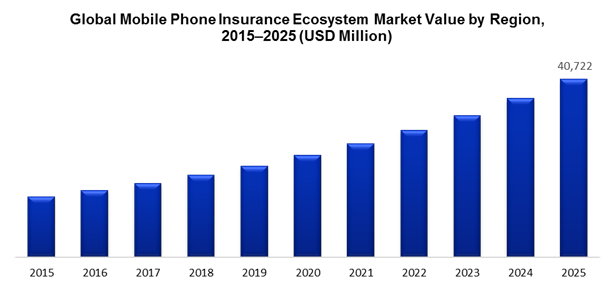 Mobile insurance requires protection against damage to physical equipment, lost or stolen devices, and defects. Mobile telephone assurance ecosystem is a network or inter-connected service or inter-connected systems enabling users in an integrated experience to meet a variety of needs and providing insurers and customers. Insurers use the ecosystem to provide their consumers with improved and timely services. It also helps customers to verify important online information.
The size of the global market for Mobile Phone Insurance Ecosystem is expected to reach $74.5billion by 2030, expanding at a compound annual growth rate (CAGR) of 11.8%.
Mobile phone insurance is essentially a type of insurance coverage that protects the mechanically damaged mobile phones. It further helps in protecting the mobile phone against robbery. Increased living standards and enormous expenditure on luxury consumer electronics are contributing to mobile phone insurance market development. Mobile and smartphones are a trending market and are expected to be witnessing high growth in the coming years as technological developments take place.
It appears that theft rates have significantly increased over recent years. Theft or loss segment accounted for 32.3% in terms of total market share due to increased rates of theft or loss. This has mainly increased due to the growing population and large volumes of sales of smartphones or mobile phones. Due to its penetration across the consumer electronics sector, the segment generated revenues of 5.50 billion USD in the same year. The rate for the electric or mechanical breakdown will also increase significantly because of the sensitive production of few smartphones that have to be processed carefully. The increased mobile phone sales are expected to augment the overall market growth.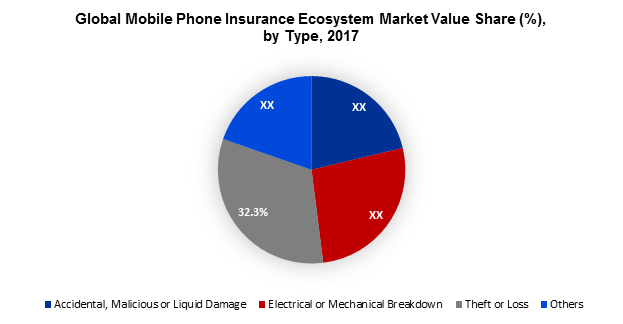 An increasing number of smartphone users and increasing occurrences of phone thefts, electrical and mechanical breakdown, device malfunction and loss are key factors driving growth for the mobile phone insurance ecosystem market. Due to rising mobile phone prices, however, consumers are less inclined to opt for insurance policies and this factor is expected to hamper the market growth to some extent.
Key factors driving global mobile insurance ecosystem market growth are the increasing smartphone users and the increasing incidence of phone theft, accidental damage, device malfunction, and device loss. In addition, smartphones are prone to technical and physical damage and increasing costs of such phones is expected to bolster the demand for insurance policies.
The global market division into five major continents shows that Europe was at the top position followed by North America with the highest number of mobile phone sales in 2017 representing 31.4 percent of total market share. Mobile phone penetration in the region has moved to its peak, witnessing high growth potential. Increasing investment in mobile phones and increasing their distribution, however, creates opportunities for further market development.
Mobile Phone Insurance Ecosystem Market Scope
| | |
| --- | --- |
| Metrics | Details |
| Base Year | 2022 |
| Historic Data | 2020-2021 |
| Forecast Period | 2022-2030 |
| Study Period | 2020-2030 |
| Forecast Unit | Value (USD) |
| Revenue forecast in 2030 | $74.5billion |
| Growth Rate | CAGR of 11.8 % during 2022-2030 |
| Segment Covered | By Type, by Application, By Sales Channel, Region. |
| Regions Covered | North America, Europe, Asia Pacific, South America, Middle East and Africa |
| Key Players Profiled | Apple Inc.; American International Group, Inc.; Assurant, Inc.; Asurion; AT&T Inc.; AmTrust Financial; Brightstar Corp.; GoCare Warranty Group; SquareTrade, Inc.; Taurus Insurance Services Limited |
Key Segment Of The Mobile Phone Insurance Ecosystem Market
By Type, 2022-2030 (USD Million)
• Wireless Carriers
• OEM-provided and Banks
• Others
By Application, 2022-2030 (USD Million)
• Physical Damage
• Theft and Loss
• Others
By Sales Channel, 2022-2030 (USD Million)
• Mobile Operators
• Insurance Companies
• Device Oems
• Retailers
• Others
Regional Overview, 2022-2030 (USD Million)
North America
• US
• Canada
Europe
• Germany
• France
• UK
• Rest of Europe
Asia Pacific
• China
• India
• Japan
• Rest of Asia Pacific
South America
• Mexico
• Brazil
• Rest of South America
Middle East and South Africa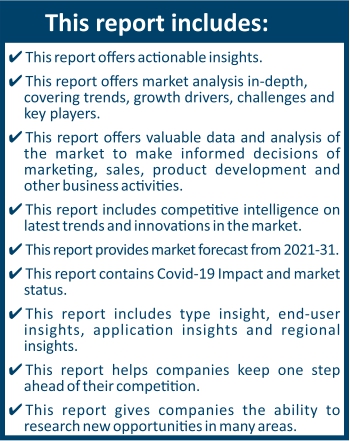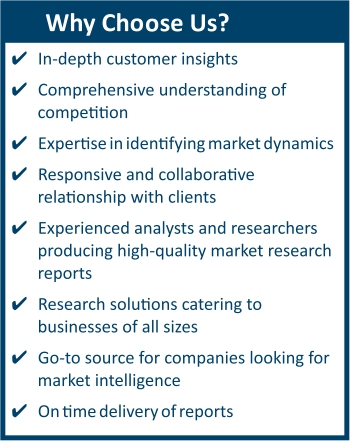 Frequently Asked Questions (FAQ) :
The type of the Mobile phone insurance ecosystem market Accidental, Malicious or Liquid Damage, Electrical or Mechanical Breakdown, Theft or Loss, Others
The market value of Mobile phone insurance ecosystem market in 2025 was USD 40,722.0 million.
The major contenders in the global market are AmTrust International, Allianz, ASSURANT, INC., Apple Inc., Aviva, Asurion, American International Group, Inc., Brightstar Corp., GoCare Warranty Group and Geek Squad among others.
The idea of mobile insurance is quite new, and it is not known to a lot of smartphone owners. Smartphone theft has become a very common event that makes it even more important for owners to have insurance on their devices. For higher priced smartphones, this is even more crucial, because it is extremely lucrative theft objectives. The smartphone sector has undergone major changes over the past couple of years. Smartphones have now become a necessity because they're an item of luxury which helps us with nearly everything we do. Smartphones offered very basic features when they first were introduced. The smartphones are now being rolled out so you can manage your whole personal and professional life on a single device. In terms of spending capability and style, smartphones are now, above and beyond the functionality they offer. Like any valuable article, a smartphone too is likely to be stolen. Besides theft, which is an electronic gadget, smartphones are very susceptible, due to accidents, water spillage, screen cracks and a variety of other reasons, to software or software damages or failures. With all that in mind, it is only wise for you to take insurance of your smartphone to protect it against any damage caused to the appliance internally or externally.
The theft of loss segment accounted for nearly one-third of the total market in 2017 due to increasing instances of mobile phone theft. Increasing crime rates, especially in developing countries coupled with the rising number of phone loss cases, is a major factor driving the growth of this segment. In addition, high prices of smartphones, as well as high resale value and widespread availability of vendors ready to purchase used mobile phones, is a key aspect leading to an increased rate of mobile phone theft. The electrical or mechanical breakdown segment accounted for the second largest share in the global market owing to increasing cases of faults and defects in mobile phones. Voltage fluctuations, carelessness in handling as well as rising instances of company defects are some factors driving the growth of this segment. However, accidental, malicious or liquid damage segment is anticipated to foresee the fastest growth owing to rising occurrences of screen damage, increasing instances of smartphone damage due to fall and screen malfunctioning.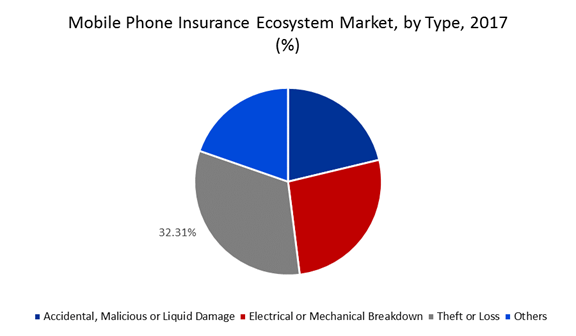 Geographically, the global mobile phone insurance ecosystem market is bifurcated into North America, Europe, Asia-Pacific, Latin America, and Middle East & Africa. Europe dominated the market with a 31.5% share in 2017. The increasing popularity of smartphones in Europe, rising consumer spending as well as an increasing number of mobile phone insurance providers are some major factors responsible for the highest market share of Europe. North America held the second position in terms of market share due to the high prevalence of smartphones, high demand especially from millennials as well as an increasing trend of using IoT across every domain. Governmental compulsion on using specific mobile apps, rising number of smartphones providers from China and South Korea as well as easy access to insurance claims are some key aspects driving the North America mobile phone insurance ecosystem market. However, Asia-Pacific is expected to witness the fastest growth due to rising per capita disposable incomes, rising consumer spending, increasing penetration of western culture, increased usage of smartphones across diverse domains, introduction of various necessary mobile apps especially for train and flight booking, payment methods, etc. and increasing penetration of mobile phones among different age groups. This segment is anticipated to grow at a CAGR of 12.1% over the forecast period.